Mass. Residents 65+ Or With 2 Comorbidities Can Get Coronavirus Vaccine Starting Thursday
Play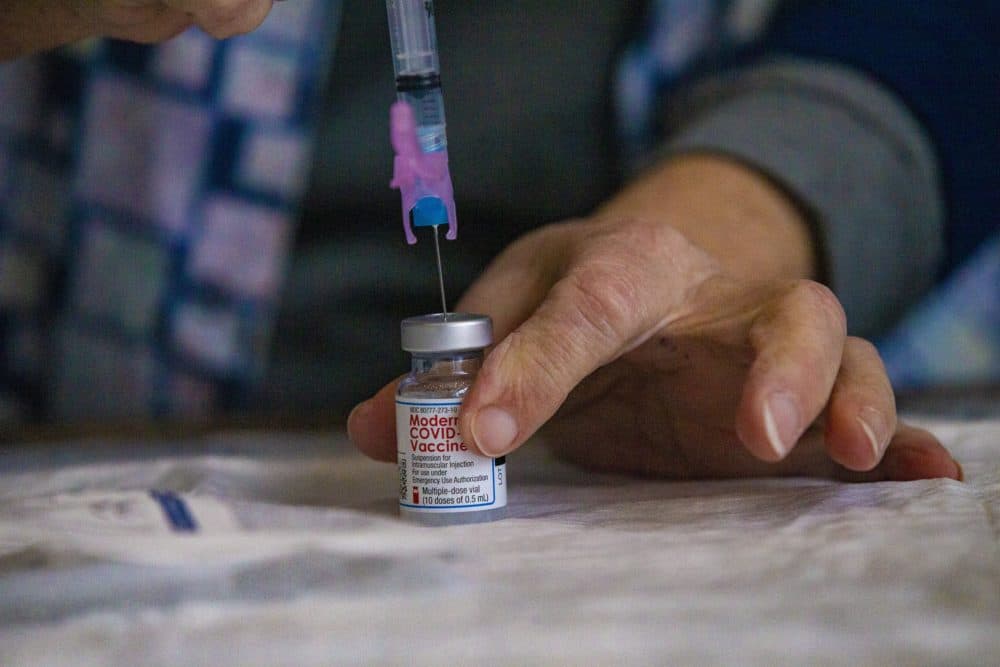 This article is more than 1 year old.
Massachusetts will roughly double the population eligible for COVID-19 vaccines on Thursday, when people 65 and older, the residents and staff of affordable and low-income housing for seniors, and people with two or more health conditions that put them at higher risk will be newly able to make appointments and be vaccinated.
But finding an appointment may be difficult for this group, which includes a million or more residents. Massachusetts received 110,000 vaccine doses from the federal government this week. The state expects an increase to 139,000 doses next week. At that rate, it will take several weeks to vaccinate even half of the people in this group.
In announcing the expanded rollout, Gov. Charlie Baker estimated it would take at least a month for those newly eligible to secure appointments.
"Believe me, we all know this sounds like a long time," Baker said, "but the demand is so much greater than the supply we're getting at this point in time."
Vaccine supply could increase in early March if the FDA clears a third vaccine produced by Johnson & Johnson for emergency use, although initial deliveries could be limited.
Baker said 70,000 appointments will be posted at mass vaccination sites around 8 a.m. Thursday morning with more coming online at regional sites and pharmacies seen on the state's map.
News of the coming expansion sent people flooding to the state's vaccine-booking website — about an hour and a half after the announcement, Baker said there had been 250,000 visits to the site.
He said he thinks the website "will be in good shape" for the added traffic.
Joyce Rain Anderson didn't have time to check on Wednesday but says she plans to sign up "first thing."
"We all have to do what we can to get this pandemic under control and take care of each other," said Anderson, 69, of Brockton. "The vaccine fits into that."
But some newly eligible residents say they'll hold off until vaccines are available at their doctor's office, hospital or at a drive-through location.
"These mass sites are too congested, they're superspreaders," said Susanne Walsh, 73. Walsh is disturbed by pictures she's seen of people waiting in long lines, close together outside these sites or bunched around vaccination stations inside. "People are not being careful," said Walsh, who lives in Norwell.
Baker has suspended deliveries of first doses to hospitals. Hospital leaders say they are working with the Baker administration to determine how and when new appointments will resume.
Local health departments learned Wednesday morning that they won't be getting new doses after March 1st unless they are part of a regional collaborative that can deliver at least 750 doses a day to residents of any municipality. The change does not apply to 20 cities and towns the Department of Public Health has identified as having the greatest COVID-19 burden and the highest percentages of non-white residents: Boston, Brockton, Chelsea, Everett, Fall River, Fitchburg, Framingham, Haverhill, Holyoke, Lawrence, Leominster, Lowell, Lynn, Malden, Methuen, New Bedford, Randolph, Revere, Springfield and Worcester. In these communities, health departments can continue to prioritize local residents for vaccine appointments.
Gov. Baker says he's focusing deliveries on the mass vaccination sites, community health centers and pharmacies to streamline and speed up vaccinations.
"We started with a very deliberate and very particular and what I would describe as a very equitably framed process at the beginning of this, but the big message we got from the public was vaccinate, vaccinate," Baker said, slapping his hand for emphasis. "And there's no question the fastest way to do this is with high-volume sites."
For local health departments, the change means another scramble to adjust plans. Norwood health director Sigalle Reiss says cities and towns expected to continue vaccinating residents as well as teachers and other public employees in the coming months. The state has told local health workers to focus on homebound patients and other hard to reach residents, but Reiss says they need a larger group to make opening vials practical and avoid wasting doses.
"You need the mass sites," said Reiss, who is president of the Massachusetts Health Officers Association. "But it's not zero sum. You need both the smaller local clinics to work with people who can't get to the mass vaccination sites and that's all ages."
Disability rights advocates say the mass vaccine sites aren't easy to navigate for people in wheelchairs or who need breathing assistance. They're also frustrated by the Baker administration's list of eligible medical conditions in this latest vaccination group.
The administration added asthma to a list of 12 conditions for which the CDC says there's clear evidence of increased risk for COVID-19: cancer, chronic kidney disease, COPD, Down Syndrome, heart conditions, immunocompromised state from an organ transplant, obesity, pregnancy, sickle cell disease, smoking (current and prior) and type 2 diabetes. Baker said adding asthma "is an environmental and economic justice issue."
Colin Killick, executive director at the Disability Policy Consortium, says many other states are vaccinating additional residents the CDC says may put patients at increased risk.
"That includes conditions like cystic fibrosis, HIV and other immunocompromised states, spinal cord injuries," he said, "but they are just too rare for there to be hard evidence at this point."
Killick's group has also asked the state to prioritize residents with intellectual and developmental disabilities to be included in the current vaccine priority group.
In reality, patients will decide whether they have two serious medical conditions that increase their risk for a serious case of COVID. Residents who want to enroll will attest to their eligibility by signing a state form. Vaccination site managers and providers say they do not plan to question the eligibility of people who schedule an appointment.
"We're not looking to heavily police or restrict people," said Dr. Chris Andreoli, COO at Atrius Health, the largest independent physician's group in Massachusetts. "We're very much encouraging our patients, when their turn in line comes up, to schedule at the easiest and most convenient place possible."
Andreoli says Atrius does not plan to provide patients with documentation of their conditions because they aren't expected to need such proof to receive a vaccine.
As of Wednesday, the Department of Public Health reported that 893,312 people in Massachusetts had received at least their first dose, and 316,302 were fully vaccinated. Health and Human Services Secretary Marylou Sudders said more than half of the 75-plus population has so far been vaccinated, a threshold that made state officials comfortable adding new eligibility groups.
Baker said the state is still "pretty much on track" with the basic schedule of its original plan, which envisioned the current portion — Phase 2 — running from February to April, and Phase 3, serving the general public, penciled in for April to June. It's not clear if the next group in phase two, essential workers, will have to wait a month before they become eligible for vaccination.
State lawmakers plan to examine the vaccine rollout at an oversight hearing next week, which the COVID-19 and Emergency Preparedness and Management Committee announced in a statement. Top Democrats knocked the plans as frequently changing.
---
Tell us about your experience signing up for a vaccine appointment with this form:
---
With additional reporting from WBUR's Laney Ruckstuhl and State House News Service.
This article was originally published on February 17, 2021.