Fans At Fenway On Opening Day: Baker Plans To Mostly Reopen Mass. On March 22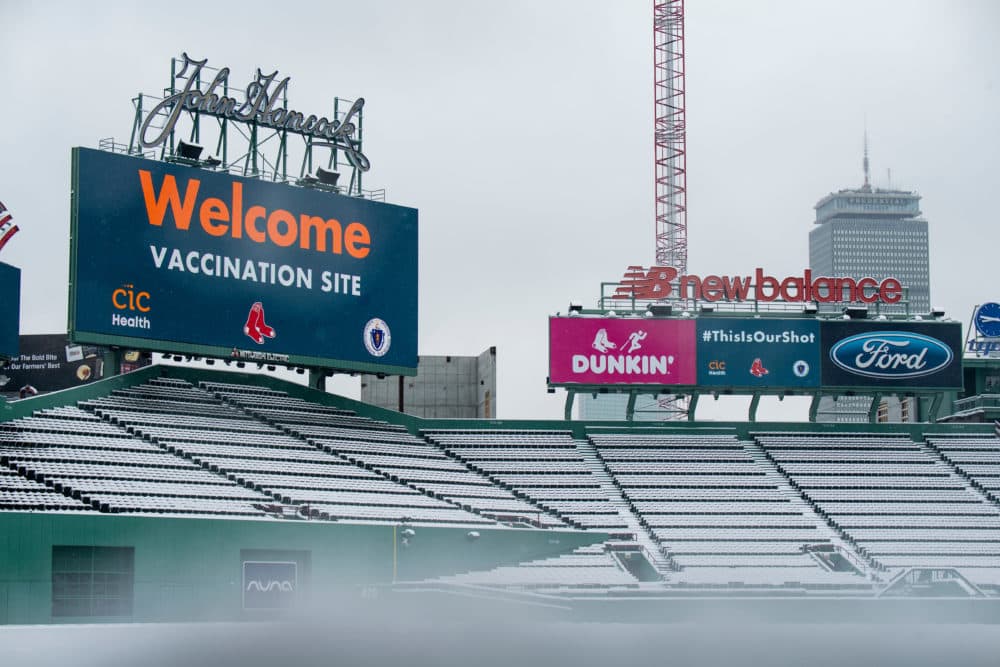 This article is more than 1 year old.
Gov. Charlie Baker is moving forward with significant reopening plans, citing improved coronavirus metrics in the state.
For starters, Baker announced that as March begins Massachusetts would enter the second step of phase three on Monday, meaning indoor performance venues — like concert halls and theaters — and indoor recreational activities — like laser tag and roller skating — will be allowed to reopen once again.
The news also brought some changes to restrictions on restaurants, which can now host musical performances. However, some rules put in place after cases surged following the winter holidays — like a 90-minute limit for indoor dining — will remain in place. All businesses could be filled to a 50% capacity.
In an even more triumphant proclamation, Baker said, for the first time since the pandemic began, that the state will move into the first step of phase four of his administration's reopening plan on March 22, "as long as the public health data continues to get better." Dubbed on the state website as "the new normal," phase four includes a range of recreational activities and does not appear to have a clear delineation of what is included in each step of the phase.
"We're almost there," Baker said, referring to the end of the pandemic. "We're going to continue to move forward. And if all goes according to plan and the feds increase [vaccine] supply, we could be in a very different position a couple, three months from now."
In this first step of phase four, indoor and outdoor stadiums, arenas and ballparks that can seat more than 5,000 people — think Fenway Park, Gillette Stadium and TD Garden — will open to the public at a 12% capacity limit.
"This feels good," Lt. Gov. Karyn Polito said during the press conference, as she detailed rules for some of the affected industries. "Opening Day is in our near future."
Indeed, Opening Day will be on April 1 at Fenway, and if the state's timeline stays firm, about 4,500 fans will be in the seats. The Bruins and Celtics shut down their 2019-20 seasons last March when the pandemic reached the U.S. and finished up on the road in "bubble" environments established by their leagues. Their 2020-21 seasons began this winter in home arenas but without fans.
Fenway and Gillette opened as mega vaccination sites, and when asked by a reporter how they would accommodate both functions this spring, Baker said, "I don't have a hard answer for you on that one today. Obviously, they're important players in this vaccination effort, and we're going to try and figure that one out." (Fenway's vaccination efforts reportedly will end around the start of baseball season. This week, the Baker administration said the Reggie Lewis Center at Roxbury Community College had scaled up its own mega vaccination site operations.)
Overnight summer camps will be allowed to open in step one of phase four, Polito said. Exhibition and convention halls also may host meetings, subject to gathering limits.
"As we continue to move through the plan, we ask that residents continue to wear masks, social distance and practice good hygiene," she said. "We are definitely close to the other end of this, but with COVID still with us, we all need to continue to do our part."
It is not immediately clear which businesses are not included in the first part of phase four of the reopening.
"We understand there are additional businesses that are listed in phase four that are still waiting for a signal from us with respect to their ability to reopen," Baker said. "And we'll continue to work with these industries and to monitor health metrics, and hopefully be able to get them open at some point in the future."
One of the largest events on the spring calendar in the area is the Boston Marathon, which has already been postponed until October.
In addition to venues slated to open on March 22, Polito shared new gathering limits. At event venues and public settings, the limit will expand to 100 people indoors and 150 outdoors. However, gathering limits at private residences will remain at 10 people indoors, 25 people outdoors.
Cities and towns are not obligated to follow the state's reopening plan, Baker said. He added he could understand if some communities were worried about St. Patrick's Day gatherings. (Boston's parade for March 17 has already been canceled.)
On Thursday, Boston officials announced that the city would be diverging from the state's reopening steps. While performance venues and recreation activities will be allowed to open statewide on March 1, the city of Boston will not allow those businesses to open until March 22. Also, live musical performances in restaurants will not be allowed until March 22.
The state's coronavirus metrics have been moving in a positive direction for a few weeks now. There has been a steep decline in new cases and hospitalizations since the post-holiday peak in early January. The positive test rate fell below 2% this week for the first time since October, and currently sits at 1.89%.
Baker cited the vaccine rollout among reasons why it is safe to reopen more businesses, saying Massachusetts has now administered more than 1.5 million doses. The state's plan indicates the vaccine could be available to the general public in April. Currently, Massachusetts is in the second group of phase two of the vaccine rollout, and Baker has suggested it could be weeks before the next group — essential workers including teachers, grocery store clerks and other laborers — become eligible.
Baker has faced criticism of his handling of the vaccine rollout, with a decentralized website that has crashed as more eligible residents has meant more demand.
These reopening announcements come on the same day that Baker faced questions during the state Legislature's first COVID-19 oversight hearing. He defended his handling of the vaccine program, citing the constraints in supply from the federal government and touting his prioritization of certain groups for the shots.
With additional reporting by WBUR's Lisa Creamer, The Associated Press and State House News Service