MFA Acquires Major Work Artist Dana Chandler Created After Black Panther Fred Hampton's Assassination
Before dawn on December 4, 1969 more than a dozen plainclothes Chicago police raided an apartment while members of the Black Panthers slept. A blaze of gunfire filled the rooms, killing two top leaders, including chairman Fred Hampton who had been drugged and was passed out in his bed. The event's brutality shook Chicago and the nation at a racially fraught and politically divisive time in U.S. history.
A few years later in Boston, activist-artist Dana Chandler memorialized the Black Panther leader's assassination in a striking, pulled-from-life sculpture. Now – on Chandler's 80th birthday – the Museum of Fine Arts is announcing the acquisition of "Fred Hampton's Door 2." It's the first of the artist's works to enter the MFA's collection.
Chandler created the piece in 1974 as a statement. It's a bullet-ridden door with frame painted in the symbolic green and red of the Pan-African Flag that represents solidarity among people of African decent. The artist splattered more red paint across his wooden canvas that looks like blood. He also added a pale blue seal to the door's top right corner with four white stars and the words "U.S. Approved."
The artist's first version of "Fred Hampton's Door" was a small-scale printing. A 1970 issue of Time Magazine featured Chandler and the painting, after which it was stolen in Spokane, Washington State from "Expo 74." Liz Munsell, curator of contemporary art at the MFA, said the second iteration was Chandler's way of making the image much harder to lift.
Munsell likens "Fred Hampton's Door 2" to a portal that takes us back in time to the scene of armed, under-cover police rampaging through Hampton's apartment. "This visceral, bodily understanding of this sort of violence is something that perhaps you can't get out of anything besides visual art, and I think that's why it's incredibly important that we now have this sculpture in the MFA's collection to preserve and protect it moving forward."
It feels like my Americanness as a Black artist and Black person is finally getting recognized by this great American museum.

Dana Chandler
A photo doesn't do the work's powerful, physical presence justice, Munsell added. "It's on a one-to-one scale with the architecture of our lives, and it's the type of space that we we move through as bodies on a daily basis," she said, "So it's the kind of object that really resonates for its familiarity." At the same time Munsell mused it's also incredibly eerie, "It really feels like a relic from the past that has this incredibly strong relevance now."
The curator has been working with Chandler and his daughter Dahna, who's also his representative, to make the acquisition since spring of 2018. "It's absolutely safe to say it's Chandler's most important work," Munsell said.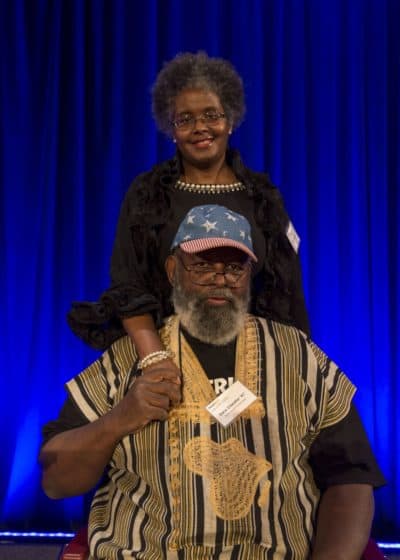 Chandler moved to New Mexico in 2004 after retiring as a professor at Simmons College. In an email, Dahna Chandler wrote she and her father are thrilled that "Fred Hampton's Door 2" has come home to Boston where he created it more than four decades ago, just blocks away from the MFA, in his studio on Leon Street. She said his history with the museum began when he was a seven-year-old patron.
"We are honored to have MFA Boston recognize the piece as seminal for my father as an artist, and value him and the work enough to add it to their distinguished collection," she wrote. Chandler responded to the acquisition: "It feels like my Americanness as a Black artist and Black person is finally getting recognized by this great American museum."
Chandler is known as a painter and muralist who challenged white dominance and brutality against Black people. He grew up in Roxbury where he won awards for his art as a Boston Public Schools student. Chandler joined the Black Power movement after witnessing Boston police violently confront peaceful protesters in 1967. Munsell explained how that event, "catalyzed his politicization as an artist within the larger national and international struggle for Black power and Black survival." The movement combated COINTELPRO, the covert, often illegal efforts by the FBI to crush Civil Rights uprisings in the 60s and 70s.
But Chandler also tried to bring change in other ways. On January 15, 1970 he wrote a letter to the MFA's board of directors and then MFA director Perry T. Rathbone calling them out for the lack of artists of color on their walls. He titled it "A Proposal to Eradicate Institutional Racism at the Boston Museum of Fine Arts."
Others in the creative community joined Chandler's call for diversity and equity including National Center of Afro-American Artists founder Elma Lewis and the NCAAA's curator Edmund Barry Gaither, who became a consultant to the MFA.
"No one was failing to notice the MFA's proximity to the community of Roxbury," Munsell said. "And that was a community that was not feeling welcome inside the museum's doors and not seeing itself represented in the exhibitions, program and collection."
Chandler's pressure helped create a collaborative exhibition at the MFA in the spring of 1970 called "Afro-American Artists: New York and Boston."
Now, five decades later, Munsell said the museum's acquisition of its first Chandler work takes his story in Boston full circle. "Incorporating this sculpture into the MFA's collection is effectively an act of bringing it home." She agreed its unfortunate it didn't happen sooner.
While the state is considered to be politically progressive, it's culturally more conservative, Munsell said.  "Whiteness has dominated in terms of the choices around the exhibition program and acquisitions that the MFA has made, even into the 21st century."
The museum has long faced criticism for a lack of diversity and inclusion in its galleries, which came to a head when a group of students from Dorchester was racially profiled at the MFA in 2019.
Since the pandemic hit Munsell said the museum has been working to acquire art from emerging and overlooked artists. "We did so in the spirit of knowing the artists needed support and funds in their hands now more than ever." Chandler's piece will join 50 other recently-purchased works along with under-recognized holdings in the collection for the exhibition, "New Light: Encounters and Connections," that opens July 3. It will be the first time "Fred Hampton's Door 2" will be seen by the public at the MFA.
The acquisition also taps into heightened awareness surround the Black Power movement brought on by films like "The Trial of the Chicago 7" and "Judas and the Black Messiah." While Munsell said white audiences are paying more attention, "this history has always been American history, you know, and it's just been unfortunately buried by the efforts of everybody from governmental institutions to cultural institutions."
The curator hopes the communities surrounding the museum – in neighborhoods where Chandler came of age and became an artist – will visit the MFA when his newly acquired work is on view. She said, "I'm just so glad this is happening in his lifetime."