'We Are Not Alone': Demonstrators March Against Anti-Asian Hate And Violence In Boston
Over the Massachusetts Turnpike, an organizer asked a crowd of about 200 people, "Who's felt unsafe walking alone?"
A lot of hands went up.
The march put together by the Asian Coalition of Massachusetts was part rally, part march, part pact to keep the community safe.
The event started Saturday afternoon in Boston's South End, where organizers spoke about creating a "Peace Walk" program in which people could sign up to be paired with someone to escort them if they feel unsafe. Attendees want Boston to provide a network of support for the Asian American Pacific Islander (API) community following a rise of anti-Asian hate.
"Our demands are laid out in three different sections: what we needed yesterday, what we need today, and what we need tomorrow," said Fiona Phie, an organizer with the Asian Coalition of Massachusetts. "We're talking about ending the displacement of low-income, BIPOC families, we're talking about ending state violence against API children, families, and people, we're also talking about mutual aid and setting up those mutual aid networks in the Boston area."
Phie also said there was a major goal of liberation away from white supremacy, which she said was an enabling factor in the killings of eight people, including six Asian women, in Georgia last month.
"We used to be called Orientals. We used to be dehumanized like that," Phie said. "Orientalism is an idea and a political framework embedded in white supremacy, imperialism, colonialism that has displaced our people in Asia and a big factor of why we have so many refugee communities here in America."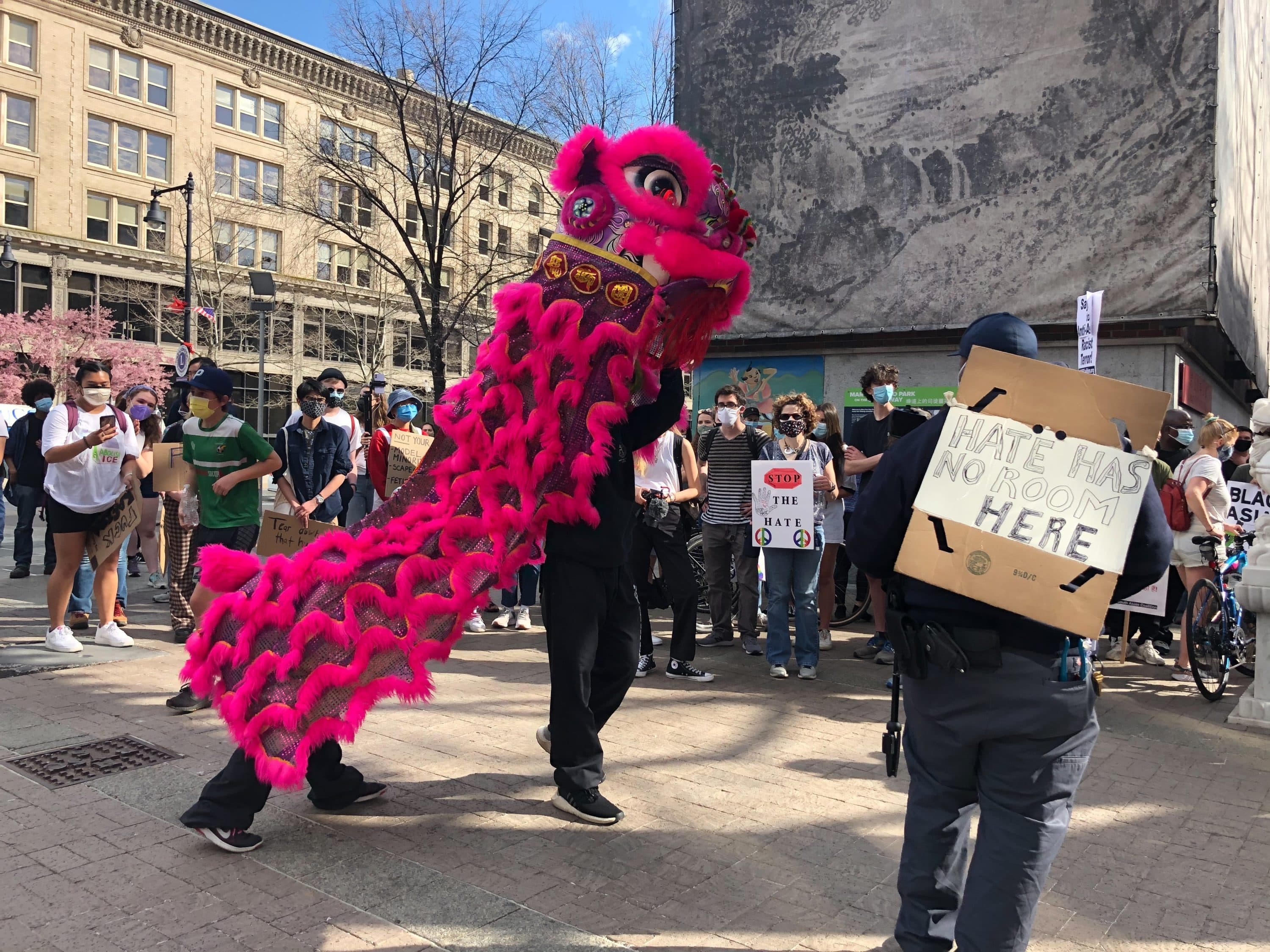 "[The mass shooting] was a testimony of a larger symptom of issues where Asian women specifically experience the fetishization and hyper-sexualization in America, and what the violence looks like — in terms of extreme violence like the mass shooting that happened in Atlanta — but also here in Boston with the amount of predatory things that happen. Here on our streets, in our schools, in our institutions right here."
Phie said liberation can only come from being in community with one another, across race and gender.
Demonstrators marching over a bridge above Interstate-90 hung a large banner that read "RESISTANCE" as vehicles drove under.
During the march, demands to defund the police were also declared. Many demonstrators were upset with the excuse authorities gave for the Georgian gunman, claiming he was having a "bad day." Demonstrators also said that law enforcement regularly harass Asian people, especially those who work in spas.
Courtney Truong, of North Andover, held a sign with a slightly obscured explicative denouncing the "bad day" statement.
"A lot of people thought that Asians were the silent minority," said Truong. "And we're finally fighting back, which I really appreciate. I'm here for the community."
"I think is amazing," she said of the event. "I love the demands that they're making, and I love that I'm getting to see so many people standing up for our community."
The march rallied at the Chinatown gate, many holding signs asking for the hate to stop and pushing for unity. As they approached the gate, one attendee pointed out the inscription on it.
It reads: "We are all equal under the sun."
"There's something very sacred about just this," said activist Micah Rosegrant. "We are in community with each other, we are sharing space ... we are not alone. We are the result of solidarities that have been weaving together across centuries and millennia."