Protesters Gather On Beacon Hill, Demand Prosecution Of Police Officers Who Kill People
Protesters gathered at the State House Thursday evening to call for the investigation and prosecution of officers accused of police brutality and violence.
That includes the killer of Daunte Wright, the man stopped by police outside Minneapolis Sunday. Brooklyn Center Officer Kim Potter, who resigned this week, was charged Wednesday with second-degree manslaughter. Police officials have said the shooting was an accident, and that Potter meant to use her Taser instead of her handgun.
But the group gathered in Boston has also long pushed for further investigations and prosecutions in local cases of police violence. They want prosecutors to reopen the investigations in all cases of police killing people. That includes the killings of Terrence Coleman and Burrell Ramsey-White, two men killed by Boston police in 2016 and 2012. Both shootings were ruled justified by the Suffolk County District Attorney's office.
Hope Coleman, Terrence's mother, said she regretted every day calling 911 for help for her son, who suffered from schizophrenia. She called for the officers involved in her son's death to face charges.
"You shoot somebody, you go to jail, You do the time, like everybody damn else," she said. "And this is not this is not the end. This is the beginning."
Carla Sheffield, Ramsey-White's mother, said in the almost 10 years since her son was killed, little has changed.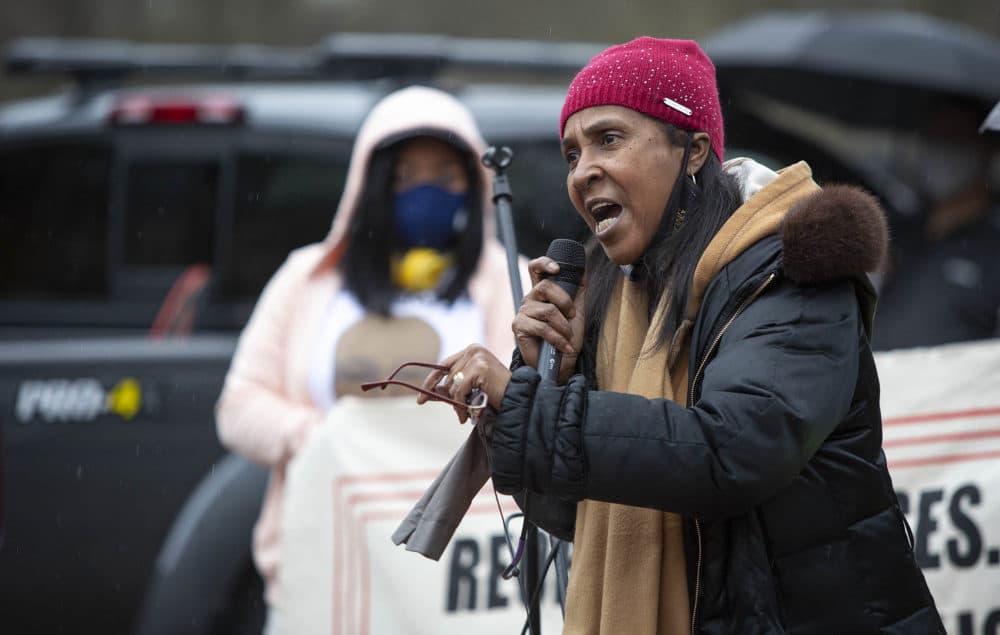 "My son was killed in 2012," she said. "And you haven't stopped killing folks. You haven't stopped killing our Black babies. You haven't got any training. You haven't changed the immunity laws. You haven't done a damn thing."
Brock Satter, the event organizer, reminded the crowd that the state's district attorneys and Attorney General Maura Healey have the power to bring charges in these cases.
"We have to mobilize millions, tens of millions of people to use maximum public and political pressure to demand the government enforce the law when it comes to the crimes of the police," Satter said.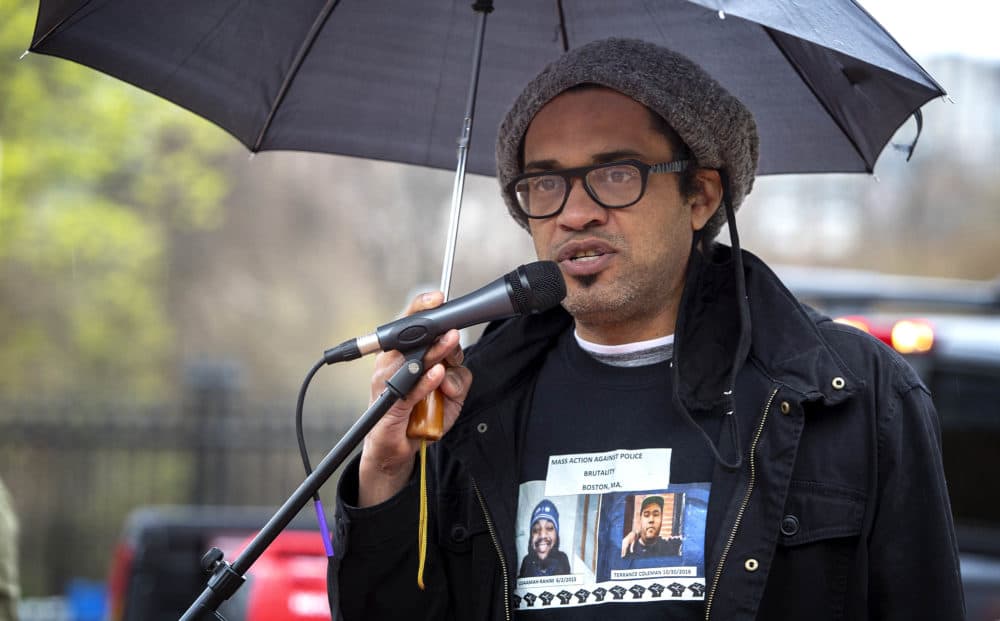 About 100 people stood in a cold drizzle near the steps of the State House. Alexandria Satcher, 26, was at the protest with her sister, Devorah. She said if she and others keep showing up at protests like this, others in power will take it seriously.
"We have a loud message," she said. "We just want justice. We want to see prosecutions. We want liberty and justice for all to be a reality for America."
They hope to see more politicians show up at the protests, too.
Middlesex County District Attorney Marian Ryan is reexamining one police killing. In 2011, Eurie Stamps, a 68-year-old Black man, was shot and killed during a raid at a Framingham apartment. The shooting had previously been ruled an accident. The town later reached a $3.75 million settlement with the Stamps family.
Ryan hasn't yet released her findings.
This article was originally published on April 15, 2021.