As Advocates Push For Gun Control, Business Is Booming For Springfield's Smith & Wesson
Play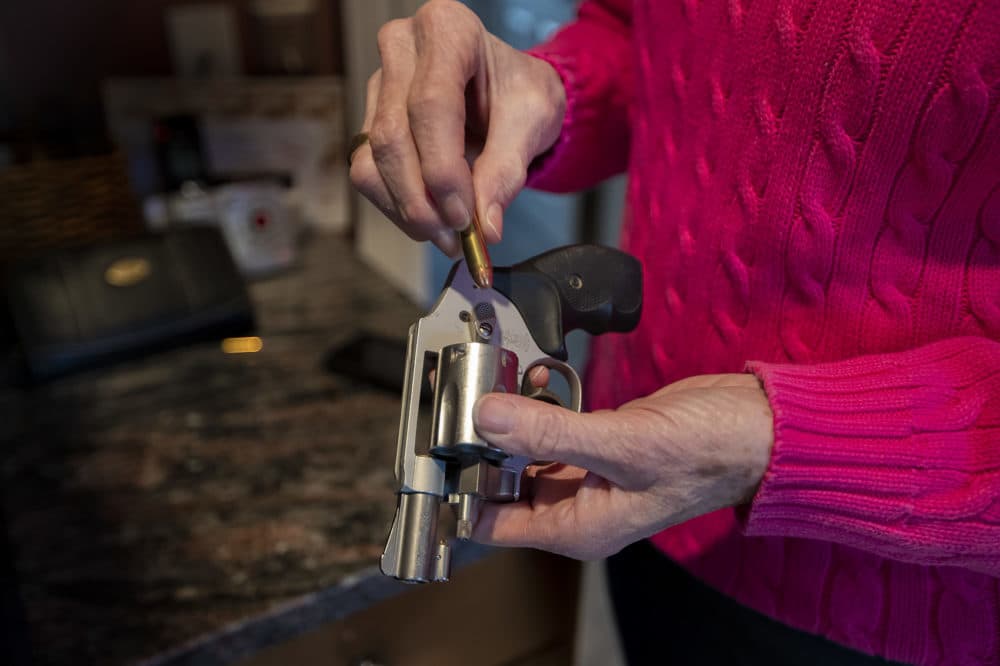 This article is more than 1 year old.
Following mass shootings in Boulder, Colorado and Atlanta, Georgia, there's a new push to pass stricter gun laws in Washington.
But at America's biggest gun maker, Smith & Wesson in Springfield, business has never been better.
In the latest quarter, the company sold more than 600,000 guns and accessories — a quarter of a billion dollars worth of weapons. That represents a doubling of sales from a year ago, the company's third consecutive record-breaking quarter.
Some of the demand appears to be fueled by fear that customers won't be able to buy weapons later if President Biden and Congress agree to limit gun sales.
But Smith & Wesson, which manufactures pistols, revolvers and rifles, said the sales are also fueled by new gun owners, especially women and people of color.
Over the past year, more than 8 million Americans bought their first firearm from Smith & Wesson. And the company sponsors videos aimed at women who are just learning to load and fire a gun.
"The industry is not only growing but also diversifying, with women and minorities making up over 40% of the overall purchases," said Mark Smith, chief executive of Smith & Wesson, as he delivered good news to investors last month.
The big jump in gun sales doesn't surprise Kerrie Ann Auclair, the Massachusetts director of the DC Project, a Second Amendment advocacy group for women.
Auclair also leads a firearms training group in Taunton, called the Well Armed Woman, which she started two years ago with just two members.
"We had our first meet-and-greet that night and we had 30 [women]," Auclair said.  "Now we have almost 60 women. And these past two months, we've had about 10 new women that joined up."
Five of those new members were first-time gun owners, according to Auclair, who said they joined because they were scared of violence last summer, of demands to defund the police — and of a new push to pass laws limiting access to guns.
"They're buying guns [and] the ammo is flying off the shelves," she said. "People are recognizing that, 'Oh my god, I never realized [my right to own a gun is under] threat. I need to go out there and get my license to carry now — before it's taken away from me.' "
Attitudes like that are helping Smith & Wesson, which is part of a deep tradition of gun manufacturing in Massachusetts.
"Massachusetts was the armory for George Washington, so we have a long history of making quality firearms," said John Rosenthal, founder of Stop Handgun Violence.
Rosenthal said it's "insane," however, that Massachusetts is home to one of the country's largest gunmakers, even though it also boasts some of the nation's strictest gun laws in the nation.
For instance, Massachusetts has banned the sale of military-style weapons and large capacity magazines to civilians. But Rosenthal notes that Smith & Wesson sells an AR-15-style semi-automatic rifle, similar to those used in some mass shootings, to distributors in other states.
Rosenthal is backing a proposal that would take the state's assault weapons ban a step further: Not only would it be illegal to own these weapons in Massachusetts, it would also bar gun makers like Smith & Wesson from shipping them to private citizens in other states.
"We have a responsibility that guns and part of guns that are manufactured here in Massachusetts have been used to kill children and people and loved ones across the country," said State Rep. Marjorie Decker, a Democrat from Cambridge, who plans to introduce the legislation next week.
Smith & Wesson did not respond to requests by WBUR to talk about their gun sales. But Jim Wallace, president of the Gun Owners Action League, a Second Amendment advocacy group, said gun laws should focus on criminals and people with mental health issues — rather than limiting everyone's access to guns.
"You know, crime doesn't go down," Wallace said. "The bad guys are still out there."
But gun control advocates argue that Massachusetts has shown that strict gun laws work. They point to a study from the Centers for Disease Control and Prevention that show the state has the lowest rate of gun deaths in the country. Even Gov. Charlie Baker, a Republican, says the state's tradition of strict gun laws could be a model for the rest of the country.
But Massachusetts has another tradition when it comes to guns: supporting manufacturers like Smith & Wesson, which employs 2,200 people. The state gave the company $6 million in tax credits to help it expand more than a decade ago — so it could produce more weapons.
Now, as Smith & Wesson's chief executive Mark Smith told investors last month, that increased capacity has been paying off as the company works to meet growing demand.
"This expanded base of new consumers bodes very well for the industry as we look forward."
This segment aired on April 16, 2021.