Mass. Colleges Rush To Vaccinate Students Before Semester Ends
At least a dozen colleges and universities in Massachusetts, including Brandeis University, are rushing to set up COVID-19 vaccination clinics before the semester ends and students head home for summer vacation.
The schools are trying to work with Pelmeds, a Waltham pharmacy, to make sure students get vaccinated before leaving campus.
Some colleges had previously tried unsuccessfully to obtain doses from the state, which has largely directed its limited vaccine supply to large vaccination sites and clinics in hard hit communities.
But Pelmeds president Bhuren Patel persuaded federal vaccine distributors that the doses were urgently needed on college campuses now: "Listen," he told them, "these are kids going home for summer vacations, we need to get doses into them as soon as possible."
The new effort to contain the virus comes at a time when half of all new cases in the state have been identified in people under 30. And students are less likely to be inoculated than most residents, in part because many just became eligible for doses in Massachusetts this week when the state opened up its vaccination sites to all adults 16 and older.
Besides Brandeis, Pelmeds has had discussions or reached agreements with a number of other schools to set up clinics, including Amherst College, Boston University, Boston College, Tufts University, Wellesley College, Bentley University, Smith College, Mount Holyoke College, Northeastern University, Worcester Polytechnic Institute.
Boston University said it has "had conversations with Pelmeds, but does not have plans to partner with them on a vaccination clinic at this time."
But schools will have to move fast, since the semester is winding down. Colleges that set up clinics this week and next will have just enough time to complete the vaccination-- including the three weeks between Pfizer doses — before students head home.
Brandeis vaccination program director Morgen Bergman says Brandeis has 2,270 doses for the four-day clinic, set up in a spacious open lobby. She calls it a "seat of the pants" effort because the plan was just finalized last Friday.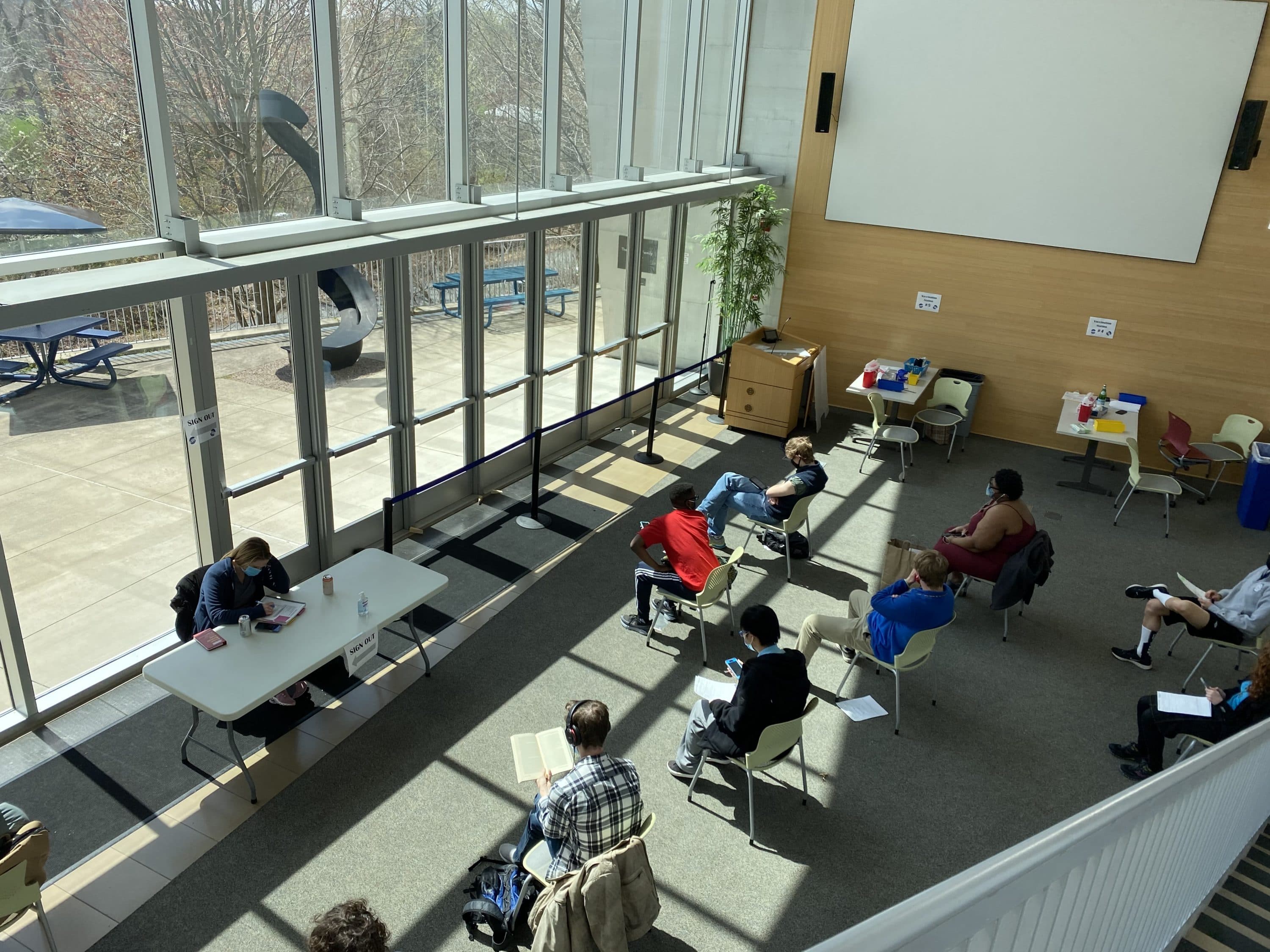 In some cases, the school will also stretch the clock. Bergman says Brandeis will let students stay in the dorms past the normal closing date if they need extra time for their second dose or to recover from the vaccination.
By the end, Bergman expects that 60% to 70% of Brandeis students will have at least one dose before they leave campus.
---
Clarification: An earlier version of this story suggested Pelmeds is working with a number of schools, including Boston University, to set up vaccination clinics. BU and some of the other schools listed in the story have had discussions with Pelmeds, but not reached agreements so far.