In A Chaotic Year, Jazz Pianist Yoko Miwa Found Solace By Making A New Album
Resume
Friday, April 30, is International Jazz Day and musicians around the world are celebrating their genre in an ambitious virtual festival, including Boston pianist Yoko Miwa. She recorded her trio's new album, "Songs of Joy," during the pandemic and it's been topping the jazz radio charts since its release. It illustrates how being locked down for months changed the way Miwa filled her record with fresh, personally meaningful material.
Like countless musicians, Miwa was crushed when the pandemic erased her slate of concerts at venues, including Lincoln Center and her regular weekend gigs at two local restaurants — the now-shuttered Les Zygomates in Boston and the Mad Monkfish in Cambridge. But the acclaimed jazz pianist decided she had to continue performing live for audiences on Fridays and Saturdays, even if it was only on Facebook.
"Basically I did live streaming from my room from March to August every weekend," she said with a laugh, "I didn't skip — even on my birthday." Which perhaps auspiciously is on the same date as the cosmic, experimental pianist, composer and bandleader Sun Ra, May 22.
Miwa's many Facebook streams are archived on her social media accounts, including Instagram. In them, she graciously welcomes her virtual audiences into her home studio. During her first performance, the musician struggled with the camera's orientation and humbly admits that playing for others in an empty room is new to her. Miwa makes the effort to dress up the way she used to when she was on stage at the restaurants. She tells her audience it helps her feel somewhat "normal."
The Yamaha grand piano Miwa plays is a little out of tune. She explains how painful it is to her trained ears and avoids the lower notes on the keyboard that are especially off-kilter. But Miwa perseveres, introducing songs she's about to play and sprinkling in observations about how the sequestered world outside is so bizarre, eerie and quiet. Her catalog of videos captures the pandemic's trajectory like mementos or time capsules.
"But I didn't know this was going to last this long," Miwa said of her weekly virtual performances.
Miwa had a lot more time on her hands during lockdown and felt compelled to engage in something positive to escape her disappointments and sadness. Before the pandemic, she had just signed with a new management company and record label. Then, her scheduled tour and new album were delayed. But more painfully she lost her father, who lived far away in Japan, to Alzheimer's disease. So Miwa, who's been playing with her jazz trio for 15 years, started practicing classical music again as she did as a youth. And she created a goal for herself to stretch her artistic wings.
"I started composing one song a day," she said. "I've got five new originals from doing that on my new album."
Like the videoed performances, the new tracks on "Songs of Joy" channel her feelings about the surreal and sometimes scary state of things while also expressing the exalted power of music as a counterpoint to chaos.
The tracks on Miwa's album are a mix of her own creations and interpretations of other musicians' tunes that have given her comfort and inspiration during the pandemic. Its optimistic title honors session keyboardist Billy Preston who backed artists including Little Richard, Sam Cooke, the Rolling Stones and the Beatles.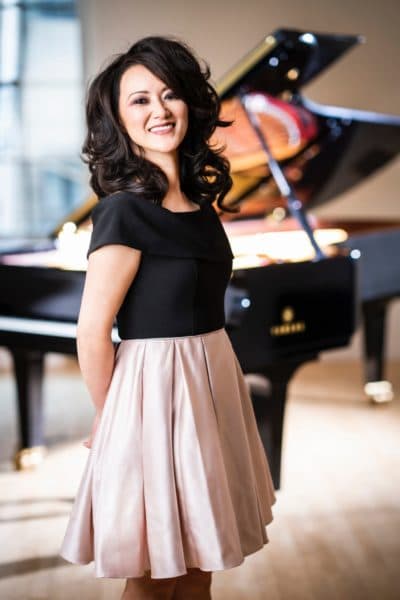 Miwa started studying classical piano as a kid in Japan. She eventually won a scholarship to Berklee College of Music in 1997. Now, 20 years later, Miwa is teaching piano there and has been guiding her students from all over the world remotely throughout the pandemic.
"I feel very lucky I have something I love to do that's also my job," she said, adding teaching has also been a financial and creative lifeline.
On the new album, Miwa pays homage to her teachers, colleagues and idols, including piano hero Thelonious Monk. She offers her own take on his tune, "Think of One," as well as Richie Haven's "Freedom" that he immortalized at Woodstock in 1969. She also puts her own jazzy spin on the 1950s folk song "Babe I'm Gonna Leave You," which was made famous by the rock band Led Zeppelin.
The album's 11 songs travel through the emotional ups and downs Miwa experienced in 2020. She wrote a ballad titled "The Lonely Hours" for her now-gone father who was isolated during many of his final days because of pandemic restrictions. Miwa couldn't travel to see him in Japan before he died.
It lifted Miwa's spirits when her album hit number one on the Jazz Week Jazz Charts after a very hard year that was made even harder without being able to play for flesh-and-blood audiences.
"Especially as a jazz musician it's very, very important to keep performing in front of audiences because that feeds our soul," she said, "but also it's necessary in order to improve our artistry. So we miss it very much. We need it."
But like the selections on her album, Miwa keeps holding onto the potential for joy through her artistry. She's been focusing on practicing and learning so she'll be ready for when her trio can finally be together again with an in-person audience. She hopes that happens soon. But even with restrictions eased for Boston area music venues, Miwa says she still doesn't have any live shows on the books.