New England Conservatory's Only Student From Africa Reflects On Finding And Preserving Her Voice
Resume
Singing in South African languages connects Naledi Masilo to who she is and where she comes from. Since she was a kid in Johannesburg, the vocalist dreamed of studying in the U.S. but her family didn't have the money. When she eventually won a scholarship three years ago to attend the New England Conservatory (NEC), Masilo remembers feeling shocked during the international students' orientation.
"They were showing a map of where everybody's from," she recalled, adding the presenters told the group there were about 400 students from Asia, and about 200 from Europe. Little dots covered those far away places on the map — but there was just one on the entire continent of Africa.
Masilo said she raised her hand and asked, "What? Do you mean in the whole school, or do you mean just, you know, in this classroom that we're sitting in?"
Turns out it was the whole school.
Masilo said she's always been hyper-aware of identity politics. She's emphasized social justice and the African diaspora throughout her life and her music making. There were very few Black people at the NEC and in the jazz department. Masilo had never taken formal singing lessons before and remembers what she confessed to her first teacher, Dominique Eade.
"I'm so afraid of this journey," she admitted to Eade, "because one thing that I don't want to lose is, you know, my voice and my sound as an African — my sound as a daughter of Bakoena ba Molibeli, a daughter of Oomiya — the people that have come before me. And I'm scared that if I come into this formalized type of learning, I will lose that."
Eade took Masilo's worries to heart.
"I knew that even if Naledi was afraid of losing that, that she certainly wouldn't," the seasoned jazz improvisation instructor said, "and that she was finding a home that would nourish and appreciate what those roots were — to whatever degree she wanted to nourish them."
Masilo was already a sophisticated singer, Eade recalled. "Her voice is so much who she is — and so expressive and so beautiful and so multifaceted," she said, "there is a brightness and an idealism to her sound, but also a complexity."
Eade helped her student dive more deeply into South African jazz along with the American canon, and said the other students learned from playing with Masilo, too. That's been a big part of the now 24-year-old's mission.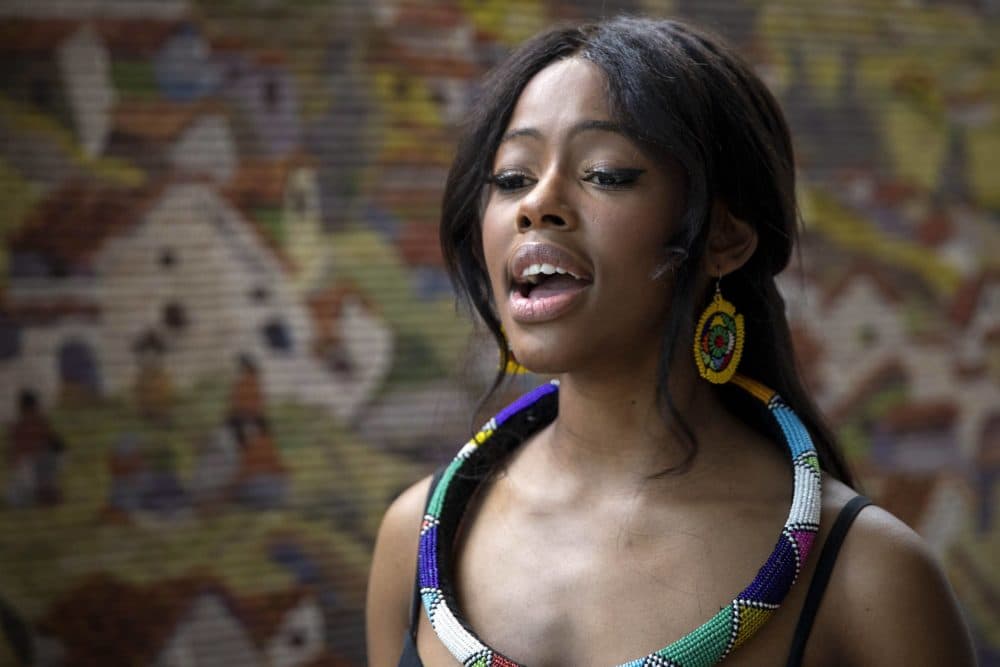 "In every ensemble that I've been in since I've been at NEC, I will at least bring in one song from the South African repertoire, or something that I've written," Masilo said, "and people will be so open to learning it and playing it. It's been such an amazing honor and privilege to share our music and our history and our culture."
The first song Masilo wrote at NEC — when she was feeling homesick — is called "Batho Baka" which means "my people."
"It was just me just being like, 'I want to be home so much! I miss everything!" she recalled. These are her lyrics translated into English:
The trees at home are talking and the soil is playing
The sun at home holds my waist and comforts me
Love is a gift from a nation without much
Greeting is all you need to open one's heart.
Oh, my people!
I have been left behind.
My mother and brother have returned home.
My spirit cannot breathe. Fear has taken over. I am tired.
All I am carrying is a song. I have nothing. I am orphaned.
I miss Soweto, Cape Town Johannesburg.
And oh, my people!
Masilo said she's probably played this is song more than any other, "because any time I think of home, I will just get into that sound and feel like I'm right back where I come from."
Masilo excavated the idea of home over this past year for her senior recital, which had to be filmed rather than performed in-person because of the pandemic. It's called, "Lesakeng: In the Kraal."
Masilo explained how her "kraal" is her family's tight-knit homestead where she grew up surrounded and supported by people who loved her. The video is something of a musical journal chronicling Masilo's journey from her childhood through today. In it, she performs her originals, American standards and legendary South African jazz songs with an ensemble.
From a young age, Masilo said she of course listened to and sang music by the prominent, anti-apartheid activist Miriam Makeba. The young vocalist felt it was important to add the iconic "Mama Ndiyalila" to her performance video.
"Because I can't speak about South Africa without speaking about apartheid and speaking about the political history of the country," Masilo said. "Most of the music that you hear and most of the jazz from South Africa comes from that time."
Masilo's father, who was also musical, exposed his daughter to South African jazz. She said he hosted backyard jam sessions during her youth with well-known artists. Masilo was inspired by American pop musicians, too. She wanted to play piano like Alicia Keys and said Jack Johnson played a pivotal role in her adolescence. Masilo added her rendition of his song "The News" to her program.
"Jack Johnson has always been someone who has always sang about something," she said. "It might be interesting for people to see that name — but it adds a lot to my story."
In middle school, Masilo posted a video of herself singing Johnson's song — with the lyrics, "A billion people died on the news tonight/ But not so many cried at the terrible sight" — after the Boston Marathon bombing. She's long believed musicians can wield power, like politicians. But in high school, her single mother wanted her to pursue a more financially stable job. Masilo recalled when her mom said, "I don't want you to become one of those people on the side of the road with a guitar on your back."
So Masilo studied international relations at the University of Cape Town instead, while also gigging with musician friends at weddings and festivals. But she secretly applied to New York University's music program, got in, then couldn't afford to go.
In 2018, Masilo decided to apply again to U.S. schools and won an NEC dean's scholarship. She's been living with a host family and is grateful for the generous friends and family members who've believed in her along the way.
But Masilo's journey hasn't been easy, and she acknowledges the bluer moments in her life through interpretations of songs including Billie Holiday's "Don't Explain." It's one of the tunes Masilo turns to when she's reflecting on the challenges she faced growing up, including her parents' drawn out divorce when she was a teen.
On top of her rigorous course work at school, Masilo wanted to empower other young women in South Africa who lack support and resources. She applied for and received an NEC grant to create the Dreaming Girls Arts Foundation.
The vocalist was also president of the Black Students Union (BSU) and organized three annual concerts to honor the legacy of NEC alum Coretta Scott King.
Now, Masilo said she feels a sense of responsibility as the only African and one of six Black Student Union musicians who'll be graduating Sunday, May 23. They'll be wearing special stoles at the event to mark their solidarity. But the ceremony will be bittersweet because her mother can't be there because of the pandemic.
"One of the things that I'm really going to miss is the ululating that she would have done if she was in the space," Masilo said, then illustrated the high-pitched, celebratory trilling often heard at South African weddings.
The last song on Masilo's recorded recital program speaks to how far she's come on a trek across the globe that she hasn't made alone.
"'A re Yeng' literally translates to 'let's go!" she explained. "And I'm singing about wanting to have my people with me on this journey. I can't leave without them. Please wait for me."
Masilo's ideas of what home can be have expanded while in Boston, and she plans to stay here after graduating to share more of her culture as a music teacher with the nonprofit Boston City Singers choir.
---
Naledi Masilo's senior recital film "Lesakeng: In the Kraal" is available to stream through June 1.
This segment aired on May 21, 2021.