This Year's Haul From Cape Cod Bay: 13 Tons Of Lost Fishing Gear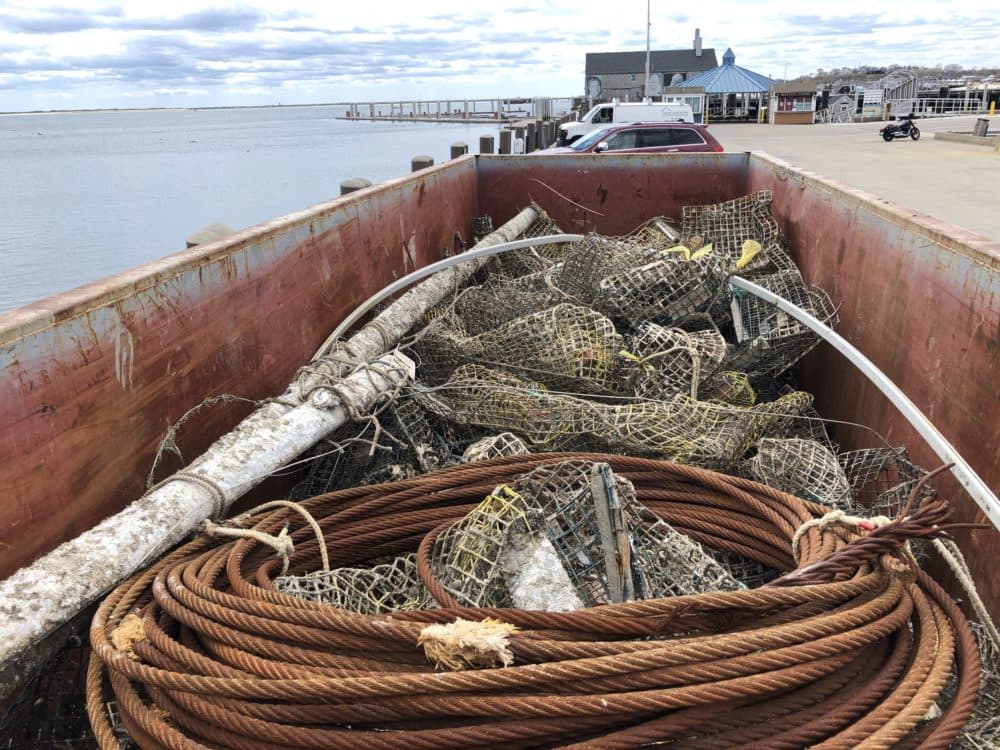 This article is more than 1 year old.
A team from Provincetown's Center for Coastal Studies pulled up 13 tons of lost and abandoned fishing gear from the bottom of Cape Cod Bay this spring. The annual cleanup takes place during the weeks when the bay is closed to fishing to protect migrating right whales.

This year's haul included three anchors, about 180 lobster traps, and tons of plastic rope, nets and other debris.
"Ghost nets," lost rope and other debris can endanger whales, turtles and other sea creatures when they become tangled in it. However, this  particular batch of junk was mostly stuck on the seafloor, out of the animals' way.
The bigger risk, says Laura Ludwig, who runs the Marine Debris and Plastics Program at the Center for Coastal Studies, is that the plastic debris in the ocean can break down into bite-sized bits that whales and turtles eat.
"Most fishing gear is made from plastic, and plastic in the ocean is a known issue. It contaminates the water column and can harm living creatures," Ludwig says. "So we are often looking for ways to remove macro-plastics before they become micro-plastics. They are a lot easier to remove when they're big."
Ludwig has been running the annual cleanup effort in Cape Cod Bay since 2013, working with local lobstermen to recover the gear. This year the team also included a professional grappler from Long Island.

Of the 13 tons of debris recovered, the team was able to recycle, return or upcycle about three tons. This included 75 lobster traps returned to their owners, about 300 bricks used as ballast for lobster traps, some steel cable, and a ton of plastic rope set aside as raw material for artists. In future years, she's hoping to be able to increase the amount of saved debris, maybe by giving or selling banged-up gear to recreational fishermen.
"I am motivated to get plastic out of the ocean. It just so happens that fishing gear is large enough and visible enough that we can do that relatively easily," says Ludwig.
All the balloons, face masks and random single-use plastics are another matter, she says.
"I can't go around and target all of the single-use plastic water bottles that are on the bottom of the ocean."