'This Is Not A Bit' — The 'Not Funny' Side Of Noah Britton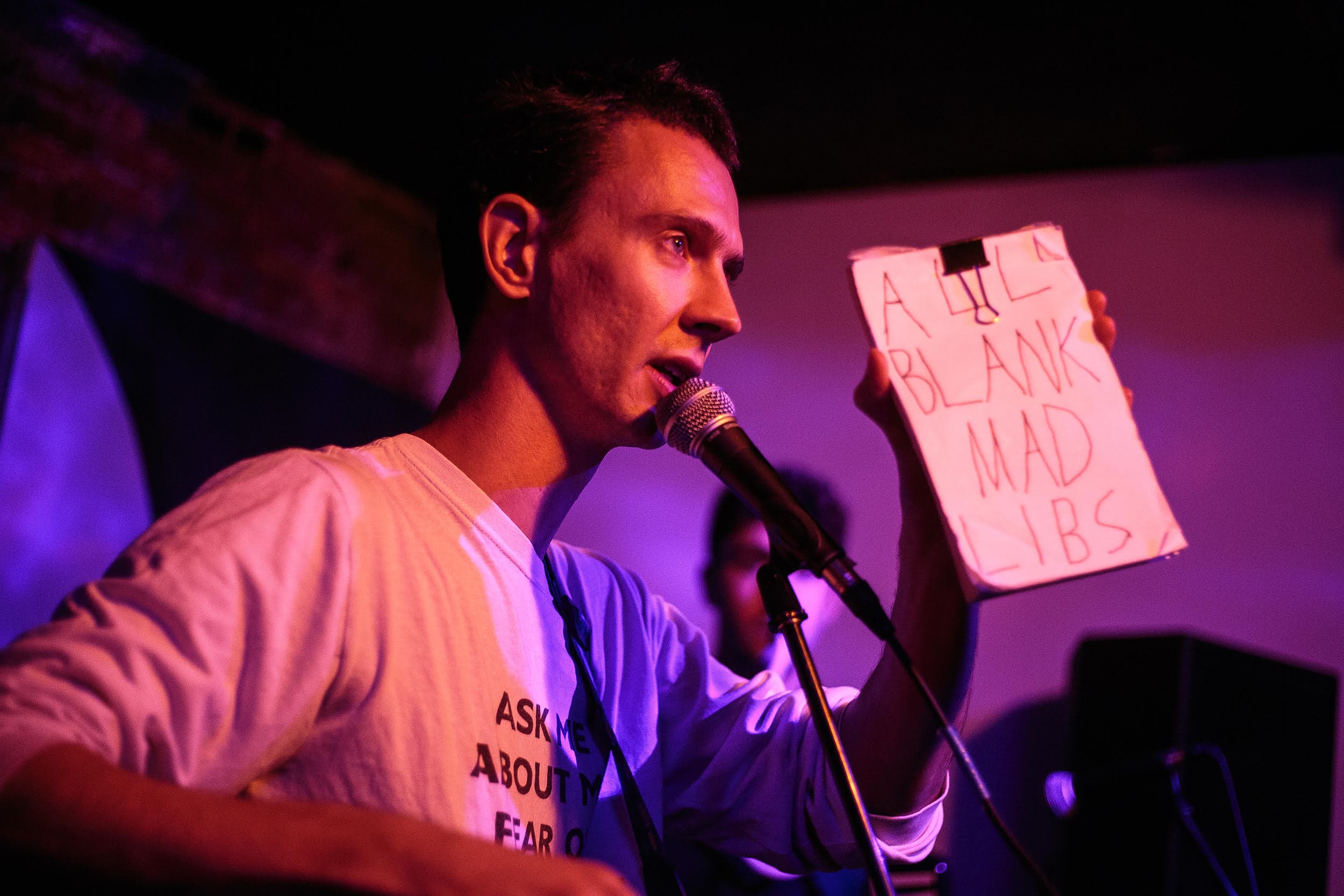 Noah Britton is never short of a punchline. A conversation with the Boston-based comedian and singer-songwriter feels like he's workshopping material for his next stand-up routine, one bit leading to a segue that leads to another bit. "I visited Hamburger University today," he says wryly on the phone from his mother's place in Chicago, setting up the joke. "My old Alma Mater;" the segue. "I got an honorary PhD from them, but it was forged;" the punchline. "I'll send you a picture you can run with the article." And sure enough, just two minutes after our call, I receive a selfie of Britton posed in front of the McDonald's training facility's front entrance.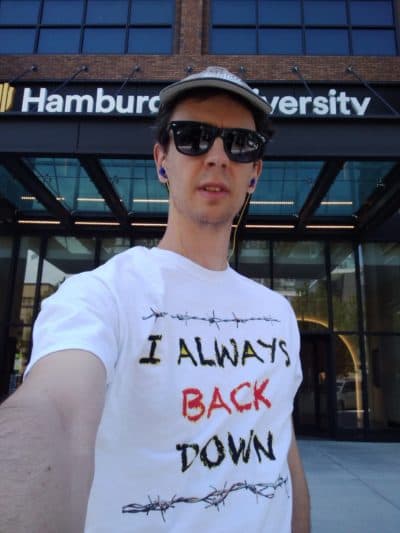 You'd think this kind of continual banter would become exhausting, but it's not. It's quite charming, actually, considering the vast bulk of Britton's creative output comes from a place of earnest affection and dry observationalism. These components have driven Britton's career since the very beginning, from his days making acoustic tapes in his bedroom to his surging career as a comedian and sketch performer in his Python-esque comedy troupe Asperger's Are Us, as documented by both Netflix and HBO. (Asperger's Are Us is a group composed of three other comedians who, like Britton, also have Asperger's syndrome.)
But after years of releasing music under the veil of comedic conceptualism (the debut from his side project Request Freebird was called "Sorry, I Don't Know That One"), Britton shares with us his most honest and unfunny release, an EP titled "I Love You," a folksy, country-tinged body of work led by his hefty bass vocal. "I think it could be a concept album; I didn't write it that way, but you can look at it as a concept album" he considers. "All of the songs are love songs, but of a different type… I like thinking of the album as a concept album where each track is sung by a different member of the family."
"I Love You" begins with both romantic and platonic love on the opener "Enchanted Witch," followed by "You're Not Allowed To Die," the latter representing Britton's deadpan sense of humor (it was written as an encouragement for his pregnant friend who was anxious about giving birth). These songs, as well as the finale "Wings," bare his influences front and center; John Prine and Stephin Merritt shine through on the intro; the second track suggests Calvin Johnson's twee-ness and weighty vocal; the closer's sing-songy melancholia is reminiscent of Phil Elverum's music as Mount Eerie, a profound influence on Britton who he even managed to tap as a feature on the song.
"He's very politely put up with all of us nerdy fan boys over the years," he says of Elverum, his words contorting through a beaming smile.
Elsewhere, narrative-driven, country western-esque songs like "My Son" and "PBS Logos" were created through an improv songwriting exercise Britton refers to as "Guitarmageddon." The jangly "Mom," however, is a song he wrote for Mother's Day last year. It reads like a sweet message written inside a Hallmark card: "Without you I would not even be alive/ I'm so grateful you've helped me countless times/ You'll always be my Mah-ah-ah-ah-mmy/ I love you."
It's the first release that Britton put under his own name, a notable benchmark for an artist who prides himself on subversion. But after nearly a year and a half of the live entertainment void — he considers live shows his only social outlet — he is desperate for an audience. "I think one of the problems with being a conceptual artist is that people don't know where to find you," he observes. "I've been the opposite of good at marketing myself for my whole career — not just bad at it, but actively trying to destroy it — and I'm tired of doing that. I want people to listen to my music because it's good."
"This is not a bit," he says reassuringly. "I think there's no conceptually brilliant art on this that is funny. It's just music, which has always been something I struggle with."
Amidst a string of jokes and countless encyclopedic music references ("If music existed in the late '90s, I've probably heard it"), I ask Britton what he gets out of music that he doesn't get from comedy. "I really like singalongs," he says, adding that crowd participation has always been something he loves. A common bit he performs at his shows is to bring up an audience member to give him a haircut on stage. "I've saved a bunch of money on haircuts," he says, deadpanned.
"Music gives me the side of myself that's not funny," he follows, all jokes aside.
The other facet of Britton's "not funny" side is greatly focused on doing right by others. He mentions Millicent "Mama" Hill, an activist and former teacher who has helped thousands of kids in California by using her home as community space for at-risk youth, in one of his songs. "When I was writing 'Wings,' I was just sobbing," he describes. "I was really feeling like, 'Oh God, there's so many people and they're suffering so much and I wish I could help all of them.' But I only have so much money, and I only have so much time — I'm trying."
"I care about being a good person," he adds after we discuss his involvement in autism education. "I think when I was young, just being autistic and being treated badly, or not having my needs met, really pushed me to say, 'I need to not let this happen to other people.'"
But it's important to understand that Britton's commitment to his art trumps his public service and his need to be funny. And now, with loosening COVID-19 restrictions and the resurgence of live entertainment, he is ready to take "I Love You" to the stage. "During the pandemic, the only thing I missed was playing shows. People are like, 'I wish I could go to a restaurant!' But I don't care about going to a restaurant, I want to go to a show so badly."
"I would so much rather play a packed 200-seat venue with a good audience than win the lottery," he double-downs. "That's just what I need in life."
---
Noah Britton's new EP "I Love You" is out June 18.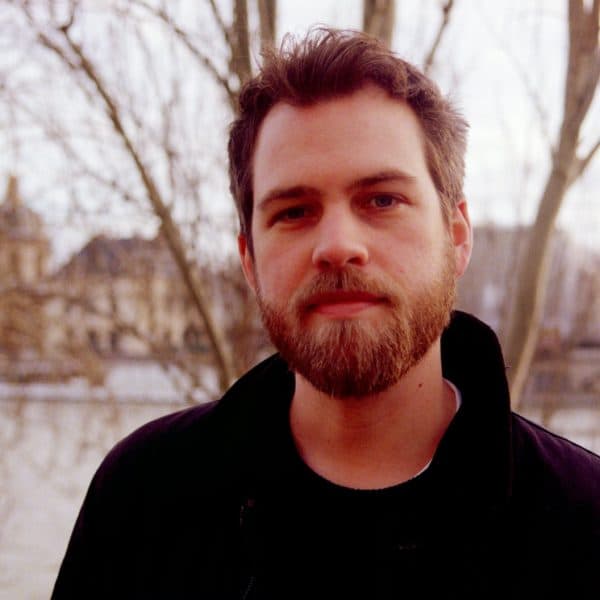 Charley Ruddell Music Writer
Charley Ruddell is a freelance music critic and contributor for WBUR.