Documentary 'Roadrunner' Is Less A Portrait Of Anthony Bourdain And More A Petty Tell-All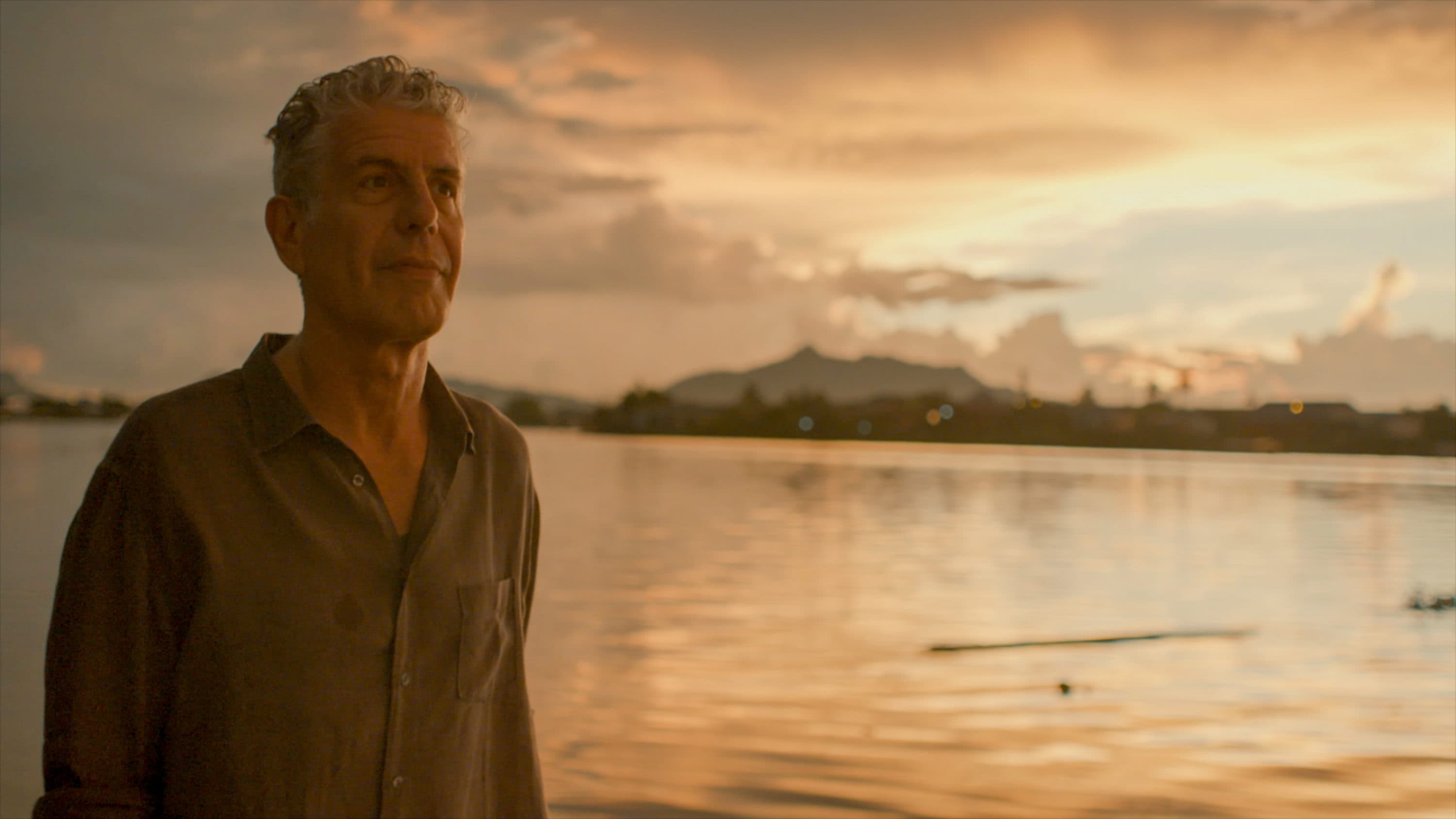 This article is more than 1 year old.
Editor's Note: This review mentions suicide.
---
In his lacerating 2019 standup special "Sticks & Stones," Dave Chappelle begins the show by talking about how "Anthony Bourdain had the greatest job that showbiz has ever produced. This man flew around the world and ate delicious meals with outstanding people. That man, with that job, hung himself in a luxury suite in France." The point, the comedian reminds us, is that "no matter what it might look like from the outside, you don't know what the f--- is going on inside."
Director Morgan Neville's new documentary "Roadrunner: A Film About Anthony Bourdain" picks and prods through acres of archival footage and new interviews with the late chef's friends and family to try and cobble together some sort of explanation for its subject's suicide, which shocked the world in June of 2018. Bourdain was beloved for all the ways he didn't fit the typical TV foodie mold. There was nothing cuddly about this caustic punk rocker, who'd come up as a dirt-poor junkie in the feral New York City of the 1970s. Bourdain was lanky and imposing, with a sardonic baritone that boomed glorious arias of profanity. He talked a lot of trash but he talked it straight. I feel like people connected with Anthony Bourdain so deeply because the guy was always on the level, and that included being up front about his demons. When I heard the news I was saddened, but not entirely surprised.

Produced by his former employers at CNN, "Roadrunner" is an odd and unseemly movie, preoccupied with his death from its opening moments — old b-roll of Bourdain on a Bergman-esque beach saying he doesn't want a funeral — and larded over with doomy foreshadowing at every edit. The film curiously skips the first 43 years of its subject's life, jumping in after the triumph of Bourdain's screamingly funny memoir "Kitchen Confidential" and focusing almost exclusively on the travel shows he hosted for the husband-and-wife team of Christopher Collins and Lydia Tenaglia (both billed as "consulting producers" on this film), who never miss an on-camera opportunity to lavish themselves with credit for his success. Increasingly petty and distasteful as it wears on, "Roadrunner" becomes less a portrait of a troubled genius and more a snippy tell-all about a television crew getting fed up with their mercurial star. I initially worried I might be overly sensitive because of my enormous admiration for Bourdain's work, so I watched the movie a second time and liked it even less.
If you're wondering why a documentary about the most popular chef of his generation spends so little time in the kitchen, you're not alone. Bourdain might have spent the last 20 years of his life known more for hosting television than making meals, but restaurant culture is integral to his identity. There's a certain strain of hyper-competent, workaholic, gallows-humor machismo that's bred over broilers and on crowded lines. Anybody who's ever worked in a kitchen knows how it attracts extreme personalities, addicted to the adrenaline rush of imposing order on a chaotic shift under impossibly stressful conditions. (Expediting on a busy Saturday night is better than therapy for me.) It's where Bourdain got his bluster, and there's no better depiction of this brawny, boozy, pirate ship professionalism than "Kitchen Confidential."
Of course, the brilliance of Bourdain was marrying that bad boy swagger to a sharp, literary intellect and genuine inquisitiveness about other cultures. This wasn't Rick Steves lecturing about Europe to the audience at home — instead you were traveling alongside your pal Tony, knocking back beers with the locals and learning their customs. Bourdain made curiosity seem cool. He made listening seem cool. (The guy was such a badass he could even wear a thumb ring without looking like a total dork. But just barely.)
"Roadrunner" spends a lot of time on Bourdain's voraciously addictive personality, though surprisingly little on his past as a heroin addict. (You'll find a lot more insight in the soul-bearing "Massachusetts" episode of "Parts Unknown," during which the host candidly revisits his addled early years as a dishwasher in Provincetown and attends a recovery meeting on camera.) He was one of those people who only knew how to throw himself into interests headlong, leading to a very funny segment about a sudden obsession with jujitsu that baffled friends and co-workers. But these appetites also always left behind ex-wives, former friends and unfinished creative endeavors for what Bourdain described in his memoir as "the long and often stupid, self-destructive chase for the next thing, whether it was drugs or sex or some other new sensation."
After Bourdain's death, I more than once found myself revisiting the "Hong Kong" episode of "Parts Unknown," which was directed by his then-girlfriend Asia Argento and shot by legendary cinematographer Christopher Doyle in a way that intentionally calls to mind his work on the Wong Kar-Wai movies our host held so dear. (Bourdain's rabid cinephilia was one reason why his shows were so much more visually sophisticated than their cable television competition.) He's giddy in love with this lady, visiting the locations where some of his favorite movies were made, and with the hilariously impish drunkard Doyle as a guide the joyfulness radiates from the screen.

According to "Roadrunner," this was the episode that broke the series. Producer Helen Cho claims if she dies before 40 it will be because of that shoot, and soon the producers and other talking heads have conjured a catty Yoko Ono narrative about Argento, who conveniently was not interviewed for the film. The last half-hour of the picture is tabloid trash, pointing fingers in a fashion that will sound sickly familiar to anyone who remembers the ugliness leveled at Courtney Love in the wake of Kurt Cobain's suicide. One of the few class acts to emerge is Bourdain's friend Éric Ripert, who discovered his body in that hotel suite and refuses to answer the filmmakers' invasive questions about it.
I'm frankly stumped as to why these people think splashing tawdry workplace gossip all over movie screens is the best way to remember their friend, especially in a film that pays so little attention to the writing and cooking that were a large part of his life's work. These misplaced priorities and indecorous speculation don't just feel disrespectful to Bourdain's legacy, but also icky and exploitative, like CNN and the producers are trying to come up with an official version of the story absolving them of any responsibility for what happened in France. An honorable movie would have just accepted that sometimes "you don't know what the f--- is going on inside."
"Roadrunner: A Film About Anthony Bourdain" opens in theaters on Friday, July 15.
---
Resources: You can reach the National Suicide Prevention Lifeline at 1-800-273-TALK (8255) and the Samaritans Statewide Hotline (call or text) at 1-877-870-HOPE (4673). Call2Talk can be accessed by calling Massachusetts 211 or 508-532-2255 (or text c2t to 741741).