With A Fresh Coat Of Paint And A Few Adjustments, The Brattle Theatre Reopens July 2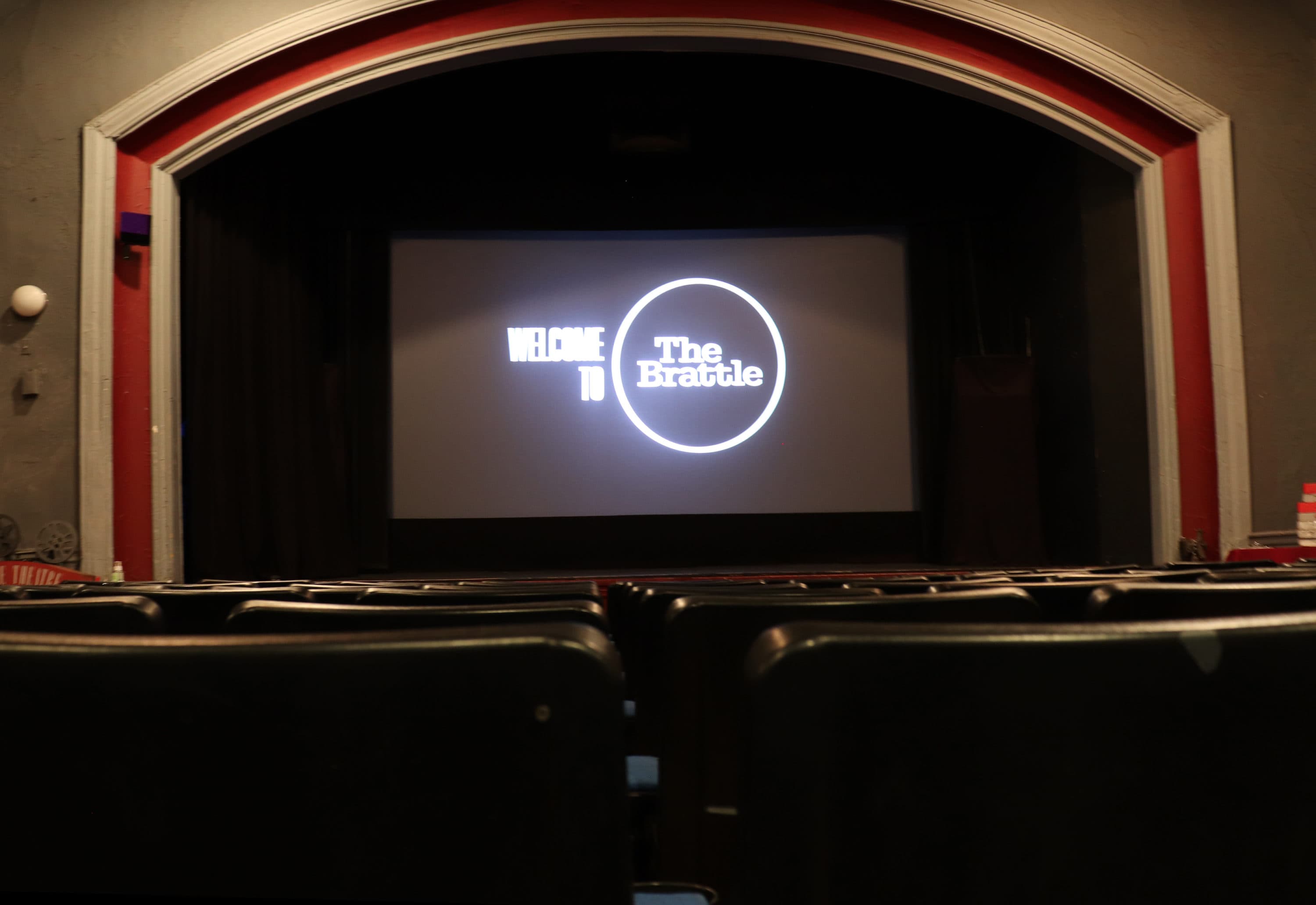 This article is more than 1 year old.
You can exit under the clock now at the Brattle Theatre. On the left-hand side facing the stage — behind that curtain where you used to sometimes catch the projectionist running back to the booth when the reel change bell began to ring — is another avenue of egress to help keep audiences from crowding up on top of each other while filing out after the show. It's one of a few new, post-pandemic precautions as Boston's unofficial film school prepares to reopen to the public on July 2. During the past month, the Brattle's Ned Hinkle and Ivy Moylan have been hosting invitation-only screenings at limited capacity, welcoming members and supporters back to the beloved Harvard Square institution as we all ease our way into the new normal.
There's no more walk-up box office, tickets are online only. Ditto for concessions, which can be purchased via your cell phone and picked up downstairs when they're ready, eliminating time wasted waiting in line. They've got a fresh coat of paint and a nifty new website, but it's still the same old, cozy Brattle, with a few slight adjustments calling to mind our current circumstances. (The cardboard Humphrey Bogart standee in the lobby is wearing a mask. At present, guests are asked to wear theirs in common areas, but may remove them when seated.)
The private June screenings were a festive allotment culled largely from The Brattle Film Podcast host Ian Brownell's personal collection of 35 mm prints. I went to see "Grease" and "Valley Girl" and was overjoyed to experience such silly, exuberant movies while being back in a place that's meant so much to me for so many years. (There will be time for serious art later, these evenings were celebrations.) The screenings provided opportunities for Hinkle and Moylan to gauge the comfort levels of audiences returning to the theater after a scary 15 months, while also stress-testing their new operating systems. But most importantly, they were ways to say thank you to a community that came through when the Brattle needed them most.
Moylan told me that, in a given year, the Brattle Film Foundation typically raises about $90,000 from a pool of 300 or so donors. In 2020, more than 2,000 individuals donated over $450,000 — 70% of that came from contributions under $100, and 30% of donors gave to the Brattle multiple times. As Hinkle explained earlier this year, "We don't get the Affleck and Damon money. That's not us. We are still alive because awesome people write us $150 checks, or write us three $25 checks. We are here because the community wants us to be here, and we have a community because we want to be here."
The Brattle reopens on Friday night the only way it could, with "Casablanca." The 1942 classic is the movie most associated with the theater, going back to the 1960s when the Brattle kick-started the cult of Bogart by running the film during reading weeks before Harvard's final exams. Soon, fans were showing up in costume and singing along with "La Marseillaise." It still sells out multiple screenings every Valentine's Day, with storied histories of in-theater wedding proposals, while murals from the long-gone downstairs restaurant named after the film now adorn the auditorium's back walls. Screening "Casablanca" after spending so long in the dark feels like the rekindling of a beautiful friendship.
Of course, it wouldn't be the Fourth of July at the Brattle without "Jaws," as well as the enveloping surround sound experience when dozens of audience members attempt to crush their Narragansett beer cans in sync with Robert Shaw's Captain Quint. (It's tougher than he makes it look. And I've had plenty of practice.) Hinkle has also worked in a quick "Reunion Weekend," the Brattle tradition timed to Harvard's alumni gatherings, bringing back films turning 25, 50 and 75 years old. This month, Jean Cocteau's mesmerizing 1946 "Beauty and the Beast" and 1996's "Harriet the Spy" will unspool before everybody's favorite bad mother-shut yo' mouth, "Shaft" celebrates his silver anniversary. (We can dig it.)
You can also always count on the Brattle for cool counterprogramming. Timed to the release of the onerously idiotic "F9: The Fast Saga" is director Justin Lin's too-little-seen debut, "Better Luck Tomorrow." This controversial 2002 Sundance sensation is actually the secret origin of Sung Kang's Han Seoul-Oh, a character Lin liked so much he ported him over to "Tokyo Drift" once he started directing "Fast & Furious" sequels. Han died in that film but was later resurrected for the fourth and fifth "Fast" installments, got killed again in the sixth and miraculously appears alive and well in the new, ninth movie for reasons I couldn't explain if you held a gun to my head. Whatever the case, "Better Luck Tomorrow" is a brutally effective high school noir about the pressures of being a model minority, and one can easily imagine a happier alternate universe in which Han's more interesting criminal "family" ended up with eight sequels.
For the rest of the summer, the Brattle will be offering a belated presentation of their annual "(Some of) The Best of…" providing area audiences with what, in many cases, will be our first chance to experience some of last year's finest films on a big screen with an audience. Selected titles include my personal favorite movie of 2020, "Bacurau," along with crowd-pleasers like "Another Round" and "First Cow." They've also got Christopher Nolan's "Tenet" in all its incomprehensible 35 mm glory, as well as extremely rare theatrical screenings of Spike Lee's incendiary "Da 5 Bloods." So many movies got lost in last year's streaming shuffle, this is a wonderful opportunity to finally watch them the way they were meant to be seen.
And I dearly hope we'll never have to go another 15 months without being at the Brattle. Here's looking at you, kid.
---
For showtimes and ticket information visit the Brattle's website.