St. Vincent Nurse Strike Becomes Longest In Mass. History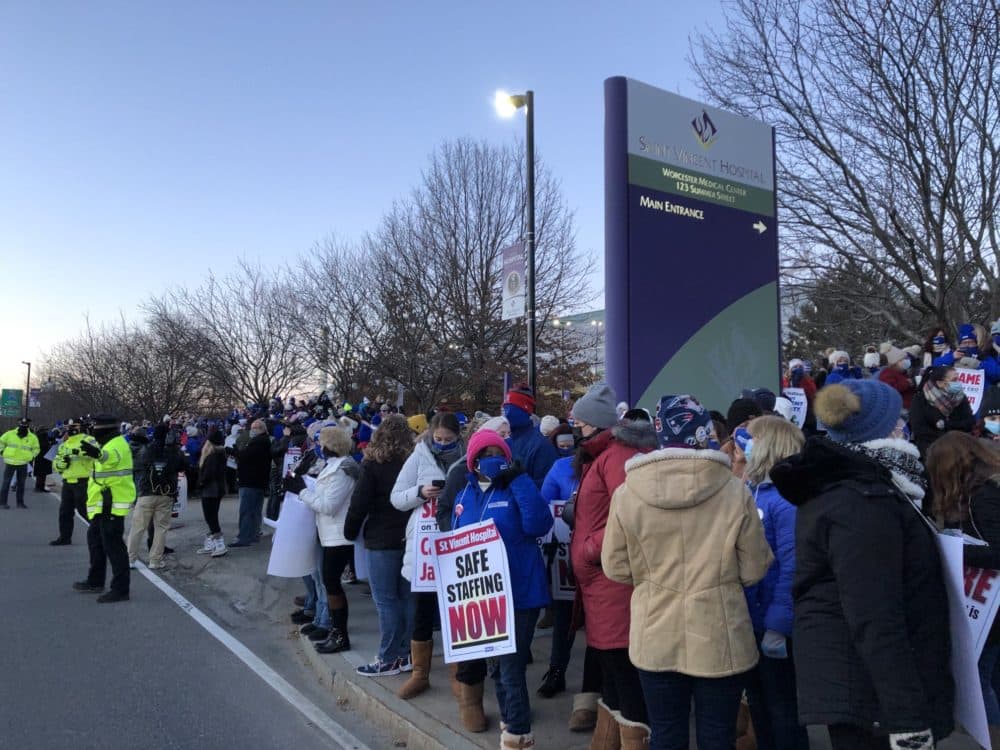 This article is more than 1 year old.
The ongoing strike of hundreds of union nurses at St. Vincent Hospital in Worcester is now officially the longest such work stoppage in state history.
The Massachusetts Nurses Association strike reached 177 days on Tuesday, which the union says breaks the previous record set by a strike at Burbank Hospital in Fitchburg in the 1980s.
The union has also filed an unfair labor practice charge against St. Vincent's parent company, Tenet Healthcare, claiming it has been trying to "coerce, intimidate and retaliate against the nurses to undermine their legal right to advocate for safer working conditions." It's the latest in a series of several unfair labor practices charges the MNA has filed against Tenet, with allegations including threats and retaliation against nurses for striking, and rewarding nurses who are not taking part in the strike.
"These charges are extremely serious as they allege significant unlawful interference in the strike, and extremely troublesome behavior by hospital management," Marlena Pellegrino, a registered nurse at the hospital and co-chair of the nurses local bargaining unit, said in a statement.
St. Vincent Hospital denies any wrongdoing.
"Filing unfair labor practice charges is a common tactic by unions to attempt to convert a strike to an un 'unfair labor practice strike,' which would require the hospital to fire the 164 permanent replacement nurses it has hired," the hospital said in a statement.
Earlier this month, it seemed like the strike was nearing its end with the two groups coming to a tentative agreement during its latest round of negotiations. But that came to a standstill when the hospital said approximately 100 of the striking nurses will not be returning to their prior jobs and that it will keep the replacement nurses it hired.