Tell Us About A Tree You Love. How Does It Benefit You And The Environment?
Trees are among the planet's strongest warriors in the fight against climate change. We walk by them, perhaps pausing in their shade or noticing their beauty. We rarely pause to calculate how much pollution they're removing from our air, how much oxygen they produce, or how much carbon dioxide they are guzzling and storing away.
There's a growing body of research that suggests trees not only benefit our planet, but also our physical and mental well-being.
Tell Us About Your Tree
We want to know about the trees you care about, why they're special to you and how you think they benefit you or your neighborhood. We hope to share your stories at wbur.org and on social media.
To participate, email WBUR multi-platform editor Meghan Kelly (meghan@bu.edu) a photo or two of your favorite tree along with a short explanation about how it helps you, your loved ones or your neighborhood. Note: Please include "tree project" in the subject line. We prefer horizontal images, if you can pull it off, but we get that trees are vertically shaped.
And if you share your tree photos and stories on social media, tag us @wbur. We'd love to see what you post.
For bonus points, read the instructions below to use an online tool called "MyTree" to calculate the work your tree is doing for the environment.
Your Tree Stories
Earlier this summer, WBUR connected with four Bostonians about how the trees near their homes enhance their lives.
To add some scientific data to the mix, each of the participants used the MyTree tool to calculate how much CO2 their tree is storing and other benefits. (We explain below how you can use this tool, too. You won't need much beyond a few minutes, a smartphone and measuring tape.)
Eugenia And Her Eastie Ginkgo Biloba Tree
A young ginkgo biloba tree on Eugenia Corbo's street in East Boston was failing. So Corbo and her two children "adopted" it.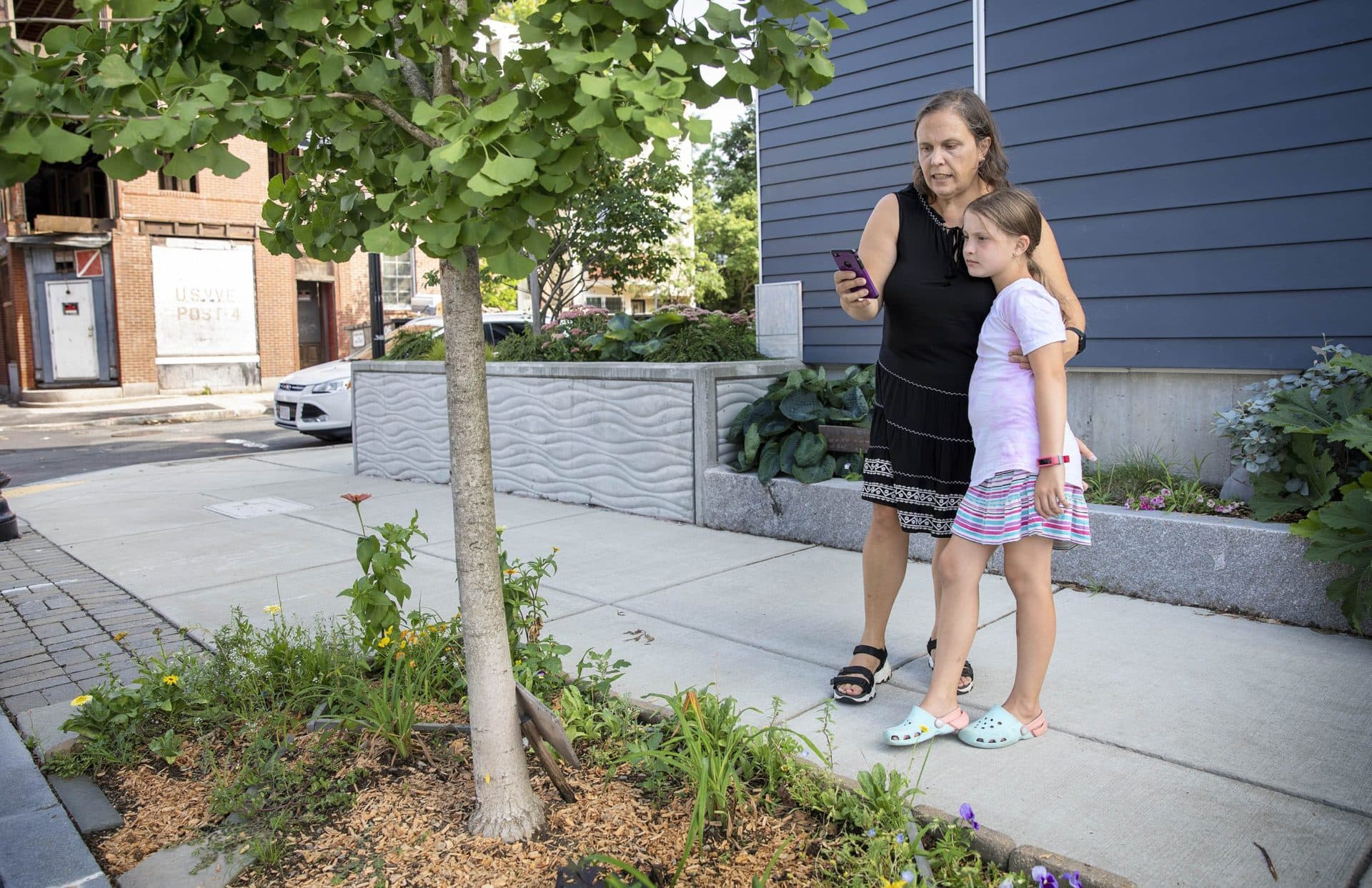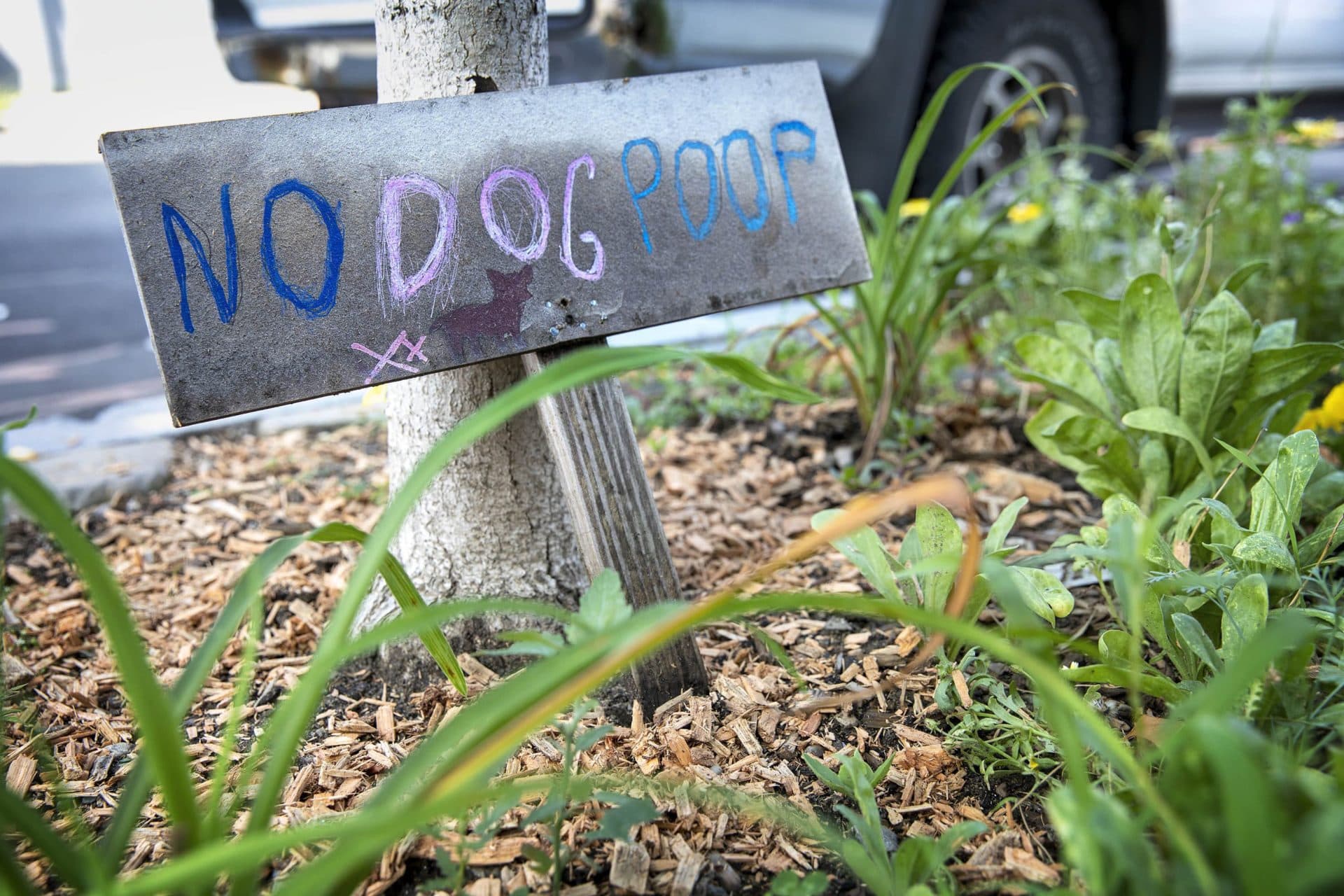 The kids built a small brick enclosure to prevent trampling, posted "No Poop" signs, planted flowers and watered. Corbo hopes to persuade neighbors to do the same.
"We love trees," says Corbo. "Anything we can do to get more trees in Eastie is a good thing."
Trees cover less than 10% of the land in most of East Boston, among the lowest rate in Boston. Corbo says Eastie needs more of the cooling, cleaning and calming effects of trees. When you walk among trees, you just feel more at peace, she says.
Sarah And Claire's 'Mother Tree'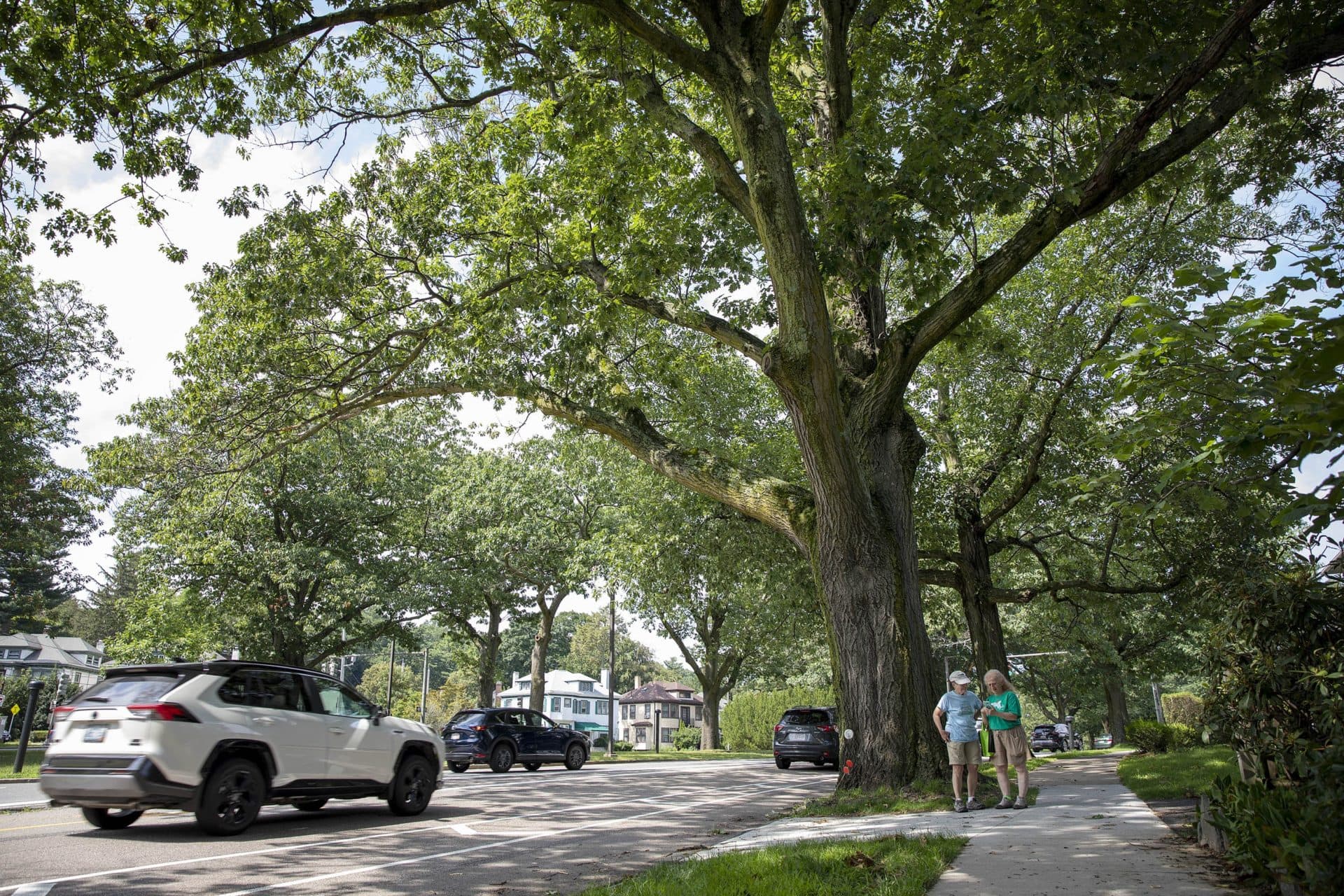 Sarah Freeman and Claire Barker have lots of favorite trees, but this northern red oak on the Arborway in Jamaica Pond stands out. Barker is awed by the tree's size and the cool relief she feels beneath its branches.
"It's like night and day in terms of how you feel on a hot day," Freeman says.
Barker says she's amazed this oak seems to thrive despite decades of stress from car accidents, road salt and snow plows.
"Maybe we could call her a mother tree," says Barker. "May she live forever."
Robin's Dixie Cup Pine Transformed Into A Giant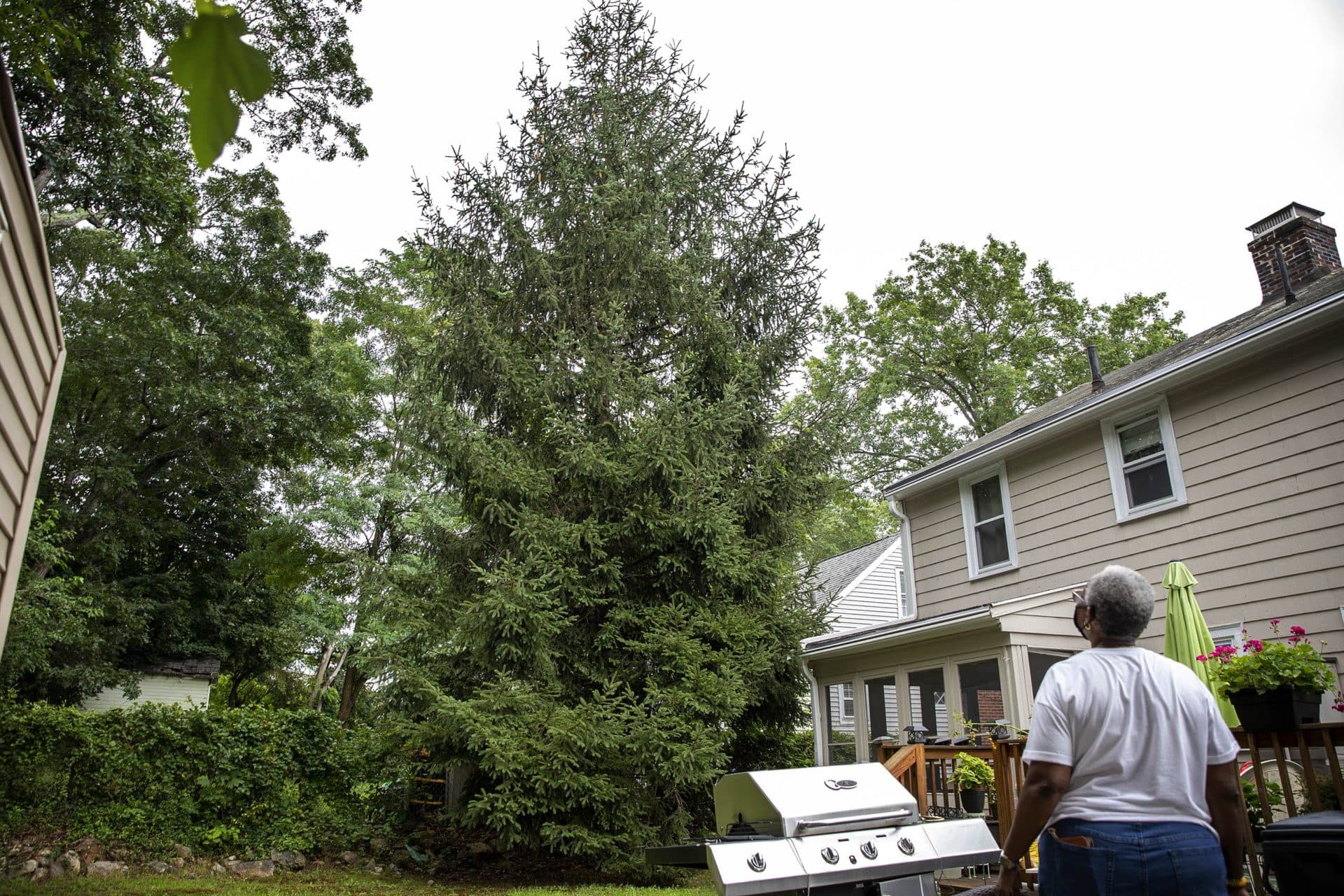 Robin Williams picked up two Dixie cups, each holding a tiny pine sapling, at an Arbor Day fair in 1991. She planted both in her backyard. One didn't make it.
The other now towers above her home in Hyde Park, offering shade, a sanctuary for birds, protection from storms and peace of mind.
"It makes everyone a little bit happier," Williams says. "When you're looking for strength, you can't do better than looking at a tree."
Caitlyn's Cooling, Blooming Kentucky Yellowwood In Southie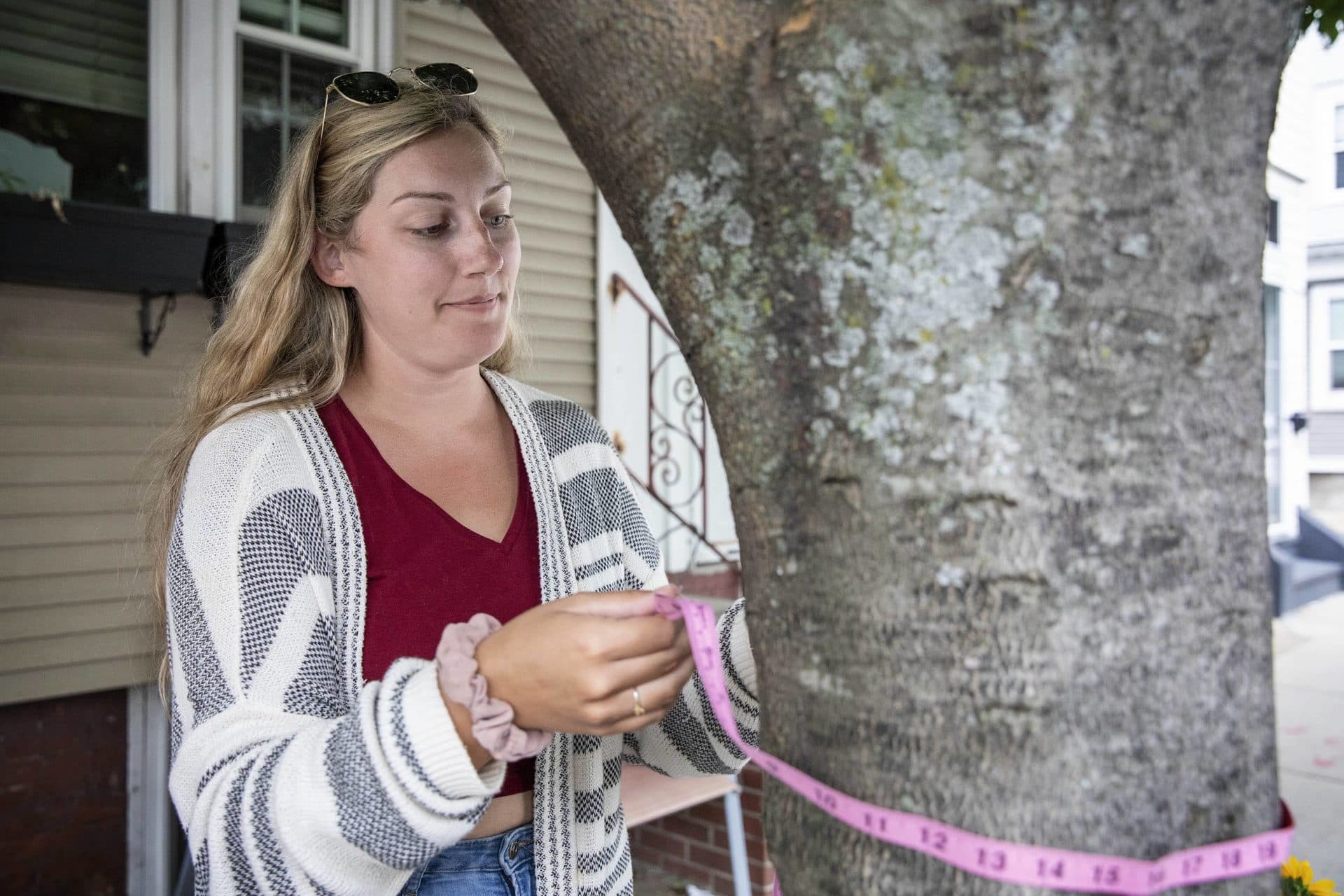 Caitlyn Murphy has lived in South Boston her whole life and knows that trees dotting the gridded neighborhood's concrete sidewalks can be hard to find. Southie is among the city's neighborhoods with the least tree coverage.
And, after some research, she's pretty sure the tall tree that shades her home and helped her avoid paying for air conditioning this summer is Southie's only Kentucky yellowwood.
Last spring, the tree delighted Murphy and her neighbors when it bloomed its "little hanging white flowers" and filled the air with a fresh scent. Murphy says it would hit passersby rounding the street like "a ton of bricks."
"A lot of the kids when they would walk by would notice when the wind would blow, the petals would blow off. So they'd be like, 'It's snowing!' " she recalls. "It was very cute."
How To Use The MyTree Tool
First, pick your tree. Then, grab a smartphone and tape measure. Head outside.
Open the MyTree tool created by the U.S. Forest Service.
Enter the location of your tree.
For Project or Group Name you can say WBUR Trees or skip this step.
Select the type of tree (new, existing or skip this step).
Select the species. Just oak or maple is fine. If you have no idea or want the exact species, take a picture of one of the tree's leaves and upload it to the app "Leafsnap."
Next, you'll need to put in the condition of your tree. (A guess is fine; we aren't arborists.)
Wrap your tape measure around the trunk and enter that number, in inches.
Answer a few more questions about how much sun your tree gets, how far it is from a building, give your tree a name — and you're done.
(Note: If your tree is close to a building, MyTree may ask the direction of the tree in relation to that building. You can use the compass on your smartphone to figure this out, or decide if it's north or south of your house by thinking about where the sun sets.)
"When you look at a tree, and you appreciate its beauty, it's also amazing what else trees are doing, for the environment, for your health, your comfort and your well-being," says Alexis Ellis who leads the U.S. Forest Service i-Tree team. "It's great to understand that. If you don't, it's fine that you're enjoying the trees around you but there is a whole other element to the trees."
Here are three ways to think about your tree's results:
Check out the amount of ozone your tree pulled from the air. A couple of ounces doesn't sound like much but exposure to even tiny amounts of ozone, commonly called "smog," can be harmful. Ozone is usually measured in parts per billion (ppb) and the EPA limit is 70. So your tree is doing a lot of cleaning for you and your neighbors!
Take a look at the amount of carbon dioxide your tree helped avoid by cooling your home. A standard window air conditioner, running eight hours a day for more than half of the year, produces more than 3,000 pounds of CO2 annually.
At the bottom of your page, you'll find the lifetime CO2 total for your tree. To put this in perspective, the average car emits 20 pounds of CO2 with every gallon of gas burned.
Again, if you want to share what you find and any reactions, send those to meghan@bu.edu with the subject line "tree project."
And finally, if you'd like to tell us a bit about trees' impact on your physical or mental health, you can record a short clip using your phone and email that to us as well.
You'll use Voice Memos if you have an iPhone, or Smart Recorder if you have an Android. Please hold the phone so that it is touching your cheek, old-fashioned phone call style, while you record. Please start with your name and where you are from. Email your file to marthab@wbur.org. Thanks again!
With reporting from WBUR's Barbara Moran and Lisa Creamer