In The Huntington's 'Hurricane Diane,' The Surreal Housewives Of New Jersey Meet Their Match
Saving the world is knotty business, but Greek demigod Dionysus, or Diane, is ready to give it a go in the Huntington Theatre Company's "Hurricane Diane" (through Sept. 26), Boston's first main indoor theater production since the pandemic shut things down. Madeleine George's hilarious narrative finds Diane (Rami Margron) — described by George as "a butch dyke" and god of agriculture, wine and song — angling to combat the effects of climate change by shaking up the lives of four housewives living in a cul-de-sac whose houses share identical floorplans.
The women seem to find comfort in their ordinariness and fear the scorn of other members of their clique if they were to "step outside the box." They resist Diane's sensual pull at first when she tries to infiltrate their world and their gardens with her bravado, charm and well, permaculture.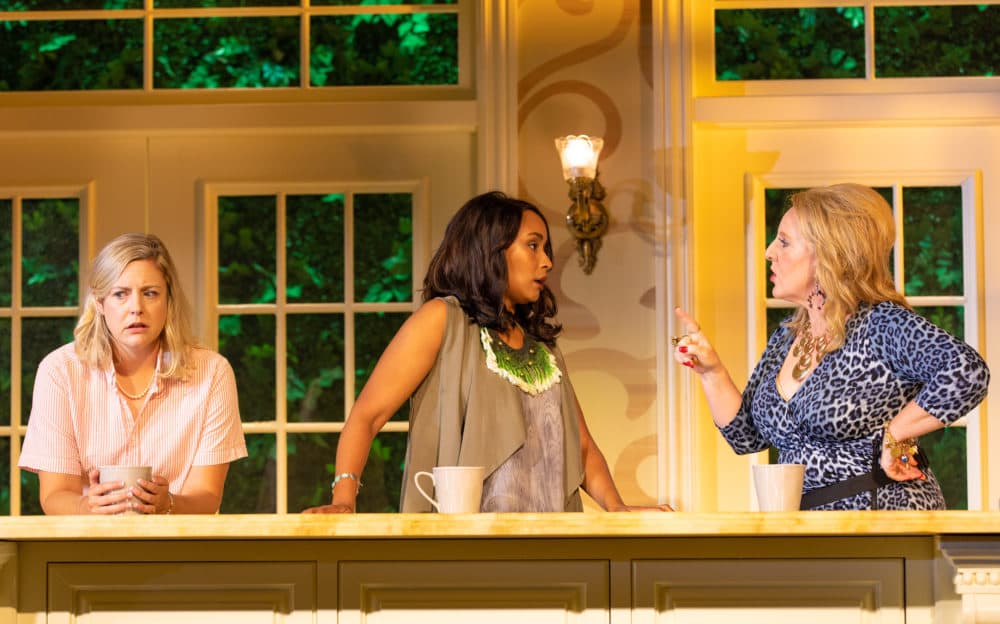 Margron starts the play wrapped in a regal robe and masculine-like purple chest to give the audience a little context. She was born fully formed from her father's thigh, and in her heyday she was worshipped by many. She also brought ruin to those who opposed her. During her thousands of years of living, she's been a "sailor, stripper, rock star, mayor." Prior to arrival in the Jersey suburbs, she resided outside of Burlington, Vermont, while running a landscaping business. For her, Vermont was a paradise with hiking trails and curbside composting. It seems the best part was "living off the grid with a bunch of lesbian separatists in consensus-based community."
Jenny Koons expertly directs George's wildly entertaining tale and Margron, who has appeared in Netflix's "High Maintenance" and TV's "Ray Donovan," is magnetic. The trained dancer is in full command of their body's fluid movements. Their crackling energy spills off the stage while they conjure up spells to make their magic work faster. They lead a stellar cast with Esme Allen as the "special, but typical" Carol Fleischer, Marianna Bassham as Beth Wann, Kris Sidberry as Renee Shapiro-Epps and Jennifer Bubriski as Pam Annunziata.
In between Diane's push to take over the cul-de-sac one backyard at a time, audiences learn a little more about these women with seemingly picture-perfect lives whose friendship was forged and bonded over a terrible storm that ended in a barbecue. Carol works in compliance for a company embroiled in scandal. Beth's lost her way since her husband departed, Renee's the first editor of color at HGTV magazine with a lady love in her past, and Pam is a doomsday prepper who dons every manner of leopard there is.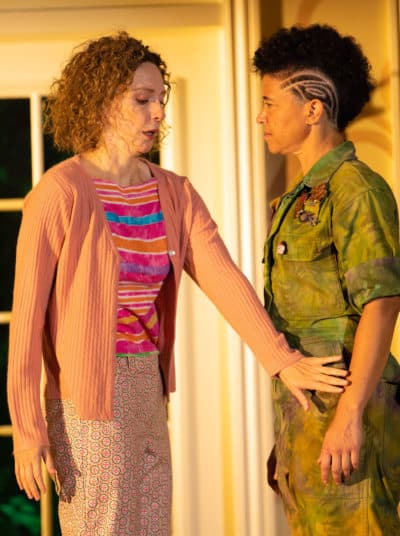 Essentially, this is a story with an urgent message to take care of the world before we destroy it. But George, whose play "The (curious case of the) Watson Intelligence" was a finalist for the 2014 Pulitzer Prize, is masterful. Her excellent writing of "Hurricane Diane" allows the characters to teach without preaching and uses wit to make the message more palatable and fun.
There's a fairly tame bacchanal with writhing, dancing, sexual trysts and chanting, but there's also talk of what Diane remembers about the world when there were more forests than roads and when plants and trees, like pawpaw and ash that Diane wants to bring to the cul-de-sac, were more plentiful. But getting the group to forego their beautifully manicured lawns for yards that mimic healthy ecosystems is tough. Change usually is.
Before the play's end, there's a long, dark period of quiet that seems to mimic the calm before the storm. It feels like a warning of sorts beckoning for us to heed nature's call to pay attention before it's too late.
---
The Huntington Theatre Company's "Hurricane Diane" runs through Sept. 26 at the Calderwood Pavilion at the Boston Center for the Arts. Masks and proof of vaccination are required.
Correction: An earlier version of this review misstated Rami Margron's pronouns. The review has been updated. We regret the error.