Unofficial Results Reported In Other Mass. Cities
Play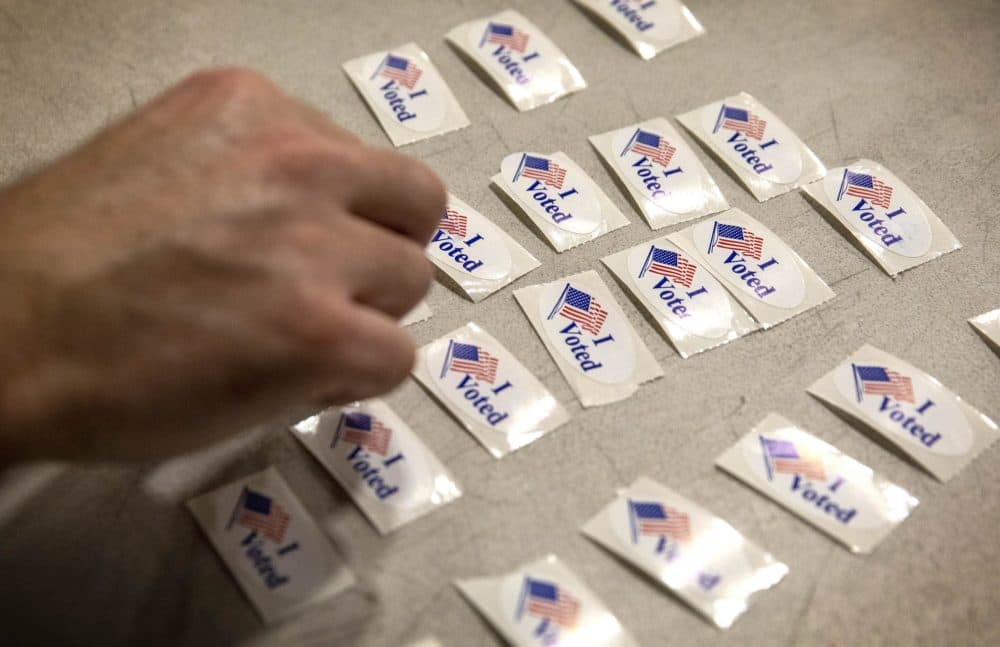 This article is more than 1 year old.
More than a dozen cities across Massachusetts held preliminary elections Tuesday to narrow the field of candidates running for mayor or city council.
In Boston, the field of five major candidates for mayor was narrowed down to Michelle Wu and Annissa Essaibi George. (Read more about Tuesday's outcomes in the preliminary mayoral race, and the preliminary city council races.)
Here's a look at some of the unofficial results in the other notable races around the commonwealth. (The state will certify the unofficial reports in the towns' and cities' elections in the coming weeks.)
Somerville: Unofficial results show Will Mbah and Katjana Ballantyne will advance to the November election to compete for the city's open seat for mayor. Mary Cassesso missed the cut, coming in a close third. The city tweeted the results just after 9 p.m.
Brockton: Incumbent Robert Sullivan will face Councilor-at-large Tina Cardoso in the general election, according to unofficial results reported around 9:45 p.m. by election commissioner Cindy Scrivani.
Lynn: The City Clerk reported its unofficial results after 9 p.m. Long-time school committee member Jared Nicholson and City Councilor Darren Cyr will face off in November to replace outgoing Mayor Thomas McGee. The two edged out first-term school committee member Michael Satterwhite in the preliminary election.
Salem: Unofficial results show four-term incumbent Mayor Kim Driscoll cruised in the preliminary and will face challenger Steve Dibble in November.
Newton: Mayor Ruthanne Fuller and challenger Amy Mah Sangiolo will both appear in November's general election, according to unofficial results posted on the city's website after 9:30 p.m.
Framingham: Incumbent Mayor Yvonne Spicer, who is seeking a second term, will face off against challenger Charlie Sisitsky, a former Framingham city councilor, in the November election, according to unofficial election results released by the city around 9:50 p.m.
Medford: Incumbent Mayor Breanna Lungo-Koehn and Medford City Councilor John Falco Jr. will face off in the November mayoral election, according to unofficial results released by the city at around 11 p.m.
Earlier On Election Day
In Somerville, Charlie Hyman ran the campaign of mayoral hopeful Cassesso. With so much focus on Boston's contest, he said it's frustrating how little coverage the race has gotten in the media.
"The Boston mayoral election has overwhelmed and overshadowed this important election, especially in regards to press coverage," Hyman said. "It just means that all the information that comes to voters, with very few exceptions, comes from the campaigns."
That sentiment resonates with Sisitsky, who's running to be Framingham's next mayor.
"Unfortunately, Framingham is covered by a regional paper that doesn't focus strictly on Framingham anymore," Sisitsky said.
In many of these cities, politicians have been urging voters to cast their ballots early in person or via mail. New election rules put in place during the pandemic allow voters to vote by mail for any reason. Those rules are set to expire later this year.
Yvette Lewis, of Hyde Park, cast her ballot into an outdoor drop-off box at the library in Mattapan on Monday. Lewis said she loves voting in person, but COVID has prompted her to use the mail-in system.
"I like to be in the [polling place] with everyone because you get that adrenaline," she said. "But since COVID I thought I would just use the ballot box."
Polly Griffin, who works for Quincy's election department on election logistics, said this year they have to manage additional considerations around health guidelines because the poll locations have students or events happening simultaneously.
"It was actually kind of easier for us to set up for the presidential last year because we didn't have the factor of people being there," she said. "But this year, we kind of just created a COVID box, which basically just has some supplies and hand sanitizers, wipes, paper towels, masks, things like that. So if someone doesn't have that, they can always put that on."
This article was originally published on September 12, 2021.