Suffolk County Sheriff says courtroom in his jail will soon open to help address 'Mass. and Cass' addiction crisis
Resume
Suffolk County Sheriff Steve Tompkins' plan to outfit his jail with a new addiction treatment program — along with a makeshift courtroom to process criminal cases — appears to be on the verge of reality. Construction is underway, and Tompkins expects the facility to be ready in a matter of weeks.
It was just a month ago when Tompkins first suggested using available space at the jail as a way to respond to what the city describes as a growing crisis of hundreds of people living on Boston streets in the area known as "Mass. and Cass." Tompkins said he's met with area business leaders and state and city officials over the past few weeks and that his plan is quickly coming together.
"If you ask me, we'll be going by Thanksgiving," Tompkins said while giving a tour of the space last week. "We have no choice. I refuse to walk out of here and see somebody dead, and I don't want that on our doorstop. I'm not having it."
Although that timeline is weeks away, some legal experts are questioning how and on what grounds people would be sent to his treatment facility. Tompkins said people would not be involuntarily committed, but instead would be offered voluntary treatment instead of harsher sanctions.
Building 8 And A New Courtroom
Standing in a large room with metal tables and stools secured to the linoleum floor, it's clear that work is moving along to convert part of what's called "Building 8" on the sheriff's jail campus into a treatment program for some of the people living around the intersection of Massachusetts Avenue and Melnea Cass Boulevard.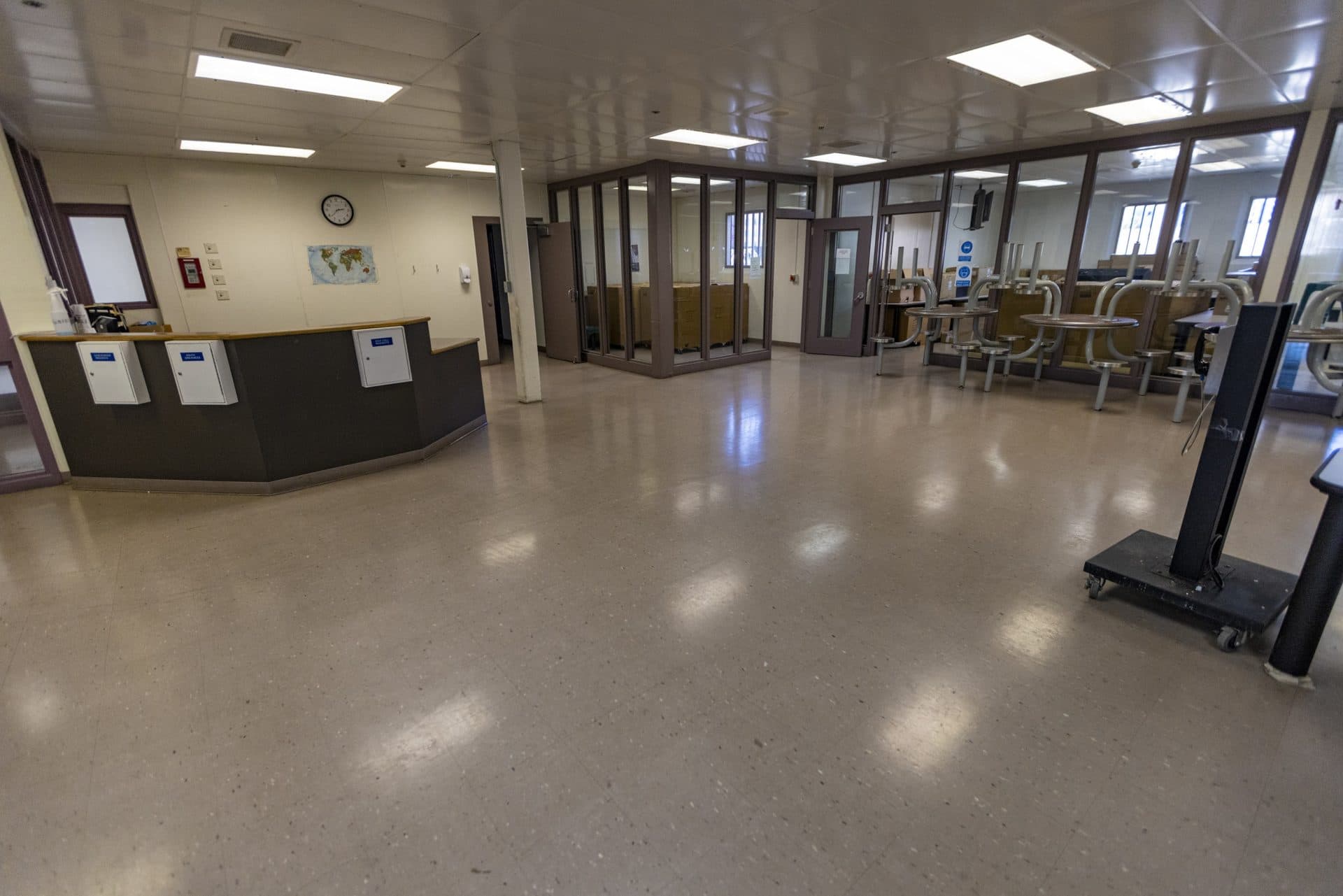 The neighborhood contains a concentration of services for people with mental health and substance use disorders, many of whom are homeless and living inside tents. Tompkins said the tents proliferated over the past year, and so he feels he has to act.
"We're looking to help the people who right now are on my doorstep, who are engaged in a humanitarian crisis," Tompkins said. "When open air drug usage is normalized, society has to do something about that."
"We're looking to help the people who right now are on my doorstep, who are engaged in a humanitarian crisis. When open air drug usage is normalized, society has to do something about that."

Sheriff Steve Tompkins
Previously, Building 8 held federal immigration detainees, but Tompkins' new plan would create a treatment program that could house — on two floors, divided by gender — up to 100 men and women. Three-person cells would be used as rooms, Tompkins said, which won't be locked. The building is separate from the rest of the jail.
"So you see, this doesn't look like your typical — what people would think of — Alcatraz," Tompkins said. "It's more like a college dorm with a breakout room for programming and smaller rooms where people can have individualized counseling."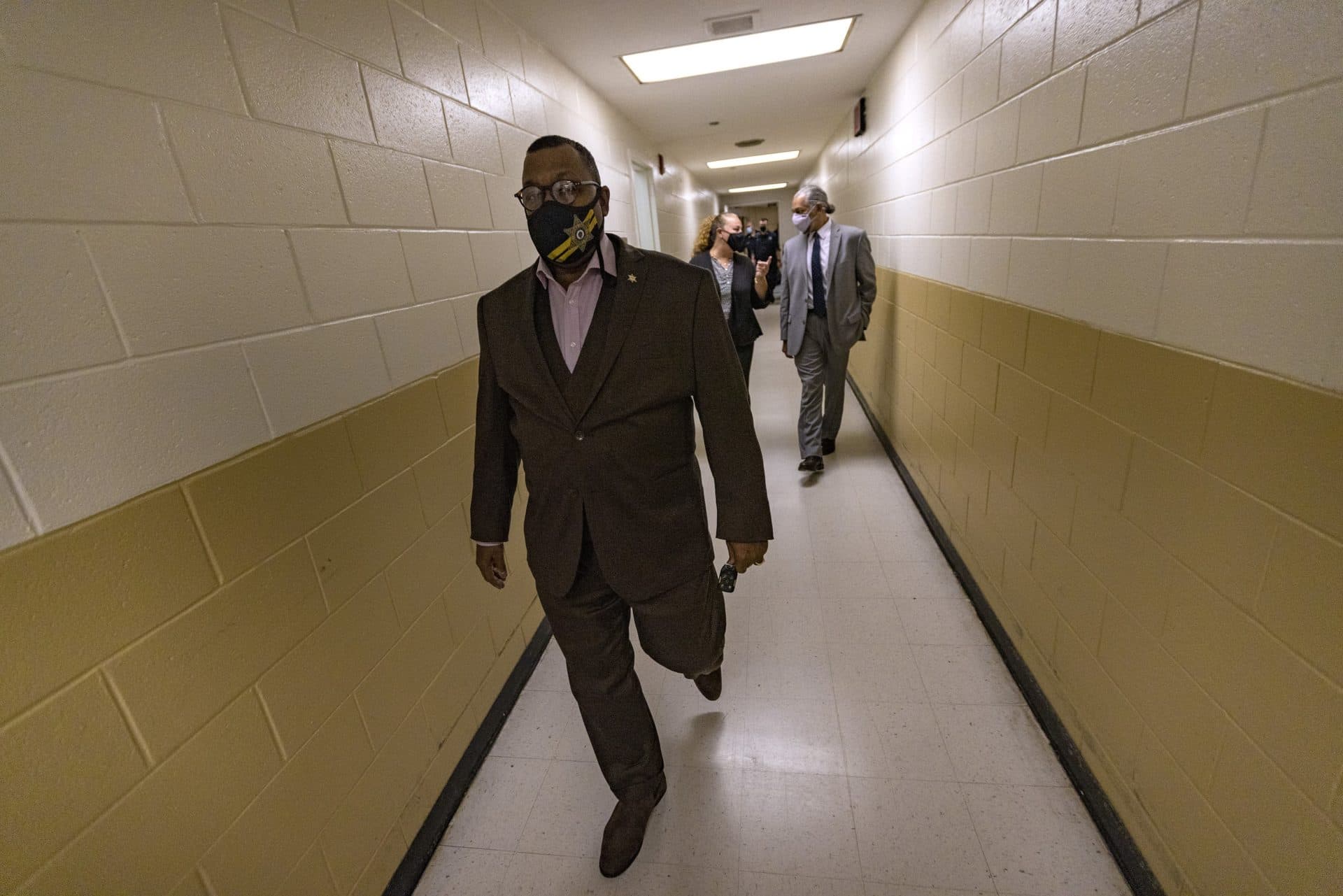 Tompkins' department estimated that about 135 people in the "Mass. and Cass" area have outstanding criminal warrants. Those people would be brought to the jail and processed in a so-called "stabilization court," which Tompkins showed during the tour. It has been partially set up in a room inside the jail and has a separate entrance on Atkinson Street. According to Tompkins, judges would remotely oversee these court sessions and determine who might be eligible for treatment at the jail.
"So the courts will send paperwork with them to say, 'OK, this is a really bad person who should be in jail,' or, 'OK, this is a low-level nonviolent offender who has a substance use or mental health issue,' and that's the person who might go to Building 8," Tompkins said. "So, that's how it will work, but we're going to get our marching orders from the courts."
The Massachusetts Trial Court said it is in talks about a court session, but it does not have further details. The Suffolk County district attorney's office said the logistics are still under discussion. The Committee for Public Counsel Services, the state's public defender agency, said many details are still being worked out, and it's not clear that sheriff's program can be operating in a matter of weeks.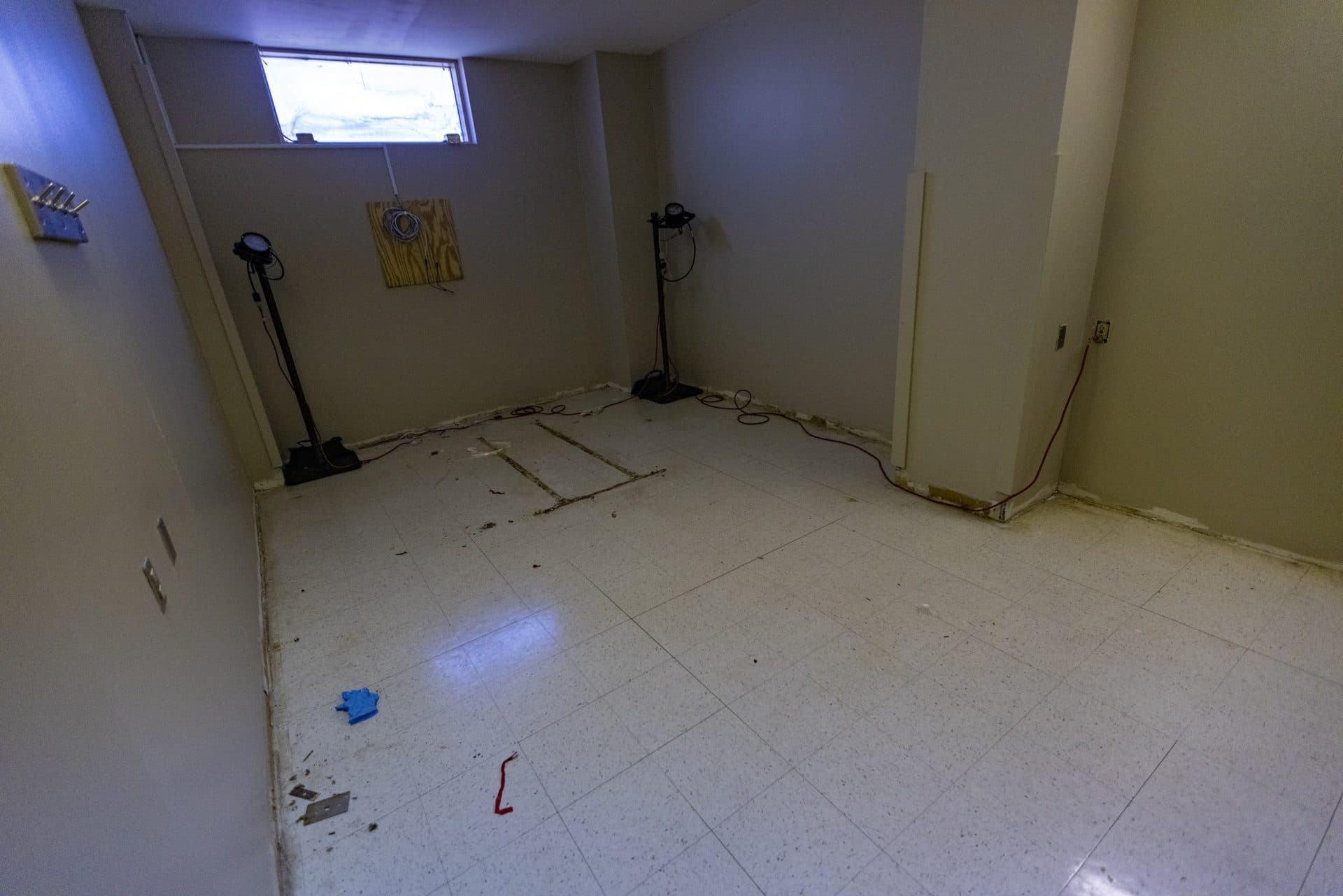 Legally, the sheriff's plan is murky. Tompkins said people brought in would not be sent to Building 8 under the state law known as Section 35, which allows for involuntary civil commitments to addiction treatment. He said participants would enter his program voluntarily. However, once people were brought to Building 8, Tompkins said they would not be permitted to leave and could be kept for up to 90 days — just as the Section 35 law stipulates.
Some legal advocates are concerned about this aspect of the plan, in addition to how the determination will be made as to who goes to the sheriff's program and who does not.
"Whether you call it Section 35 or you call it something else, it sounds a lot like involuntary treatment," said Lizz Matos, executive director of Prisoners' Legal Services of Massachusetts.
Though in some criminal cases defendants are offered treatment in lieu of harsher  sanctions, advocates said the exact legal mechanism by which someone would go to treatment at Tompkins' jail was not clear. Matos added that research shows involuntary addiction treatment is not as effective as voluntary treatment, which she said would be better provided in a health care setting than in a jail.
"No one likes the situation at 'Mass. and Cass,' and no one should. But the solution is not this," Matos said. "Nothing about this plan is going to stop it from being a revolving door problem."
The state is currently facing a lawsuit over its use of correctional facilities for men committed under Section 35, none of whom have been charged with crimes. The state stopped sending civilly committed women to jails and prisons after a similar lawsuit.
"Whether you call it Section 35 or you call it something else, it sounds a lot like involuntary treatment."

Lizz Matos, Prisoners' Legal Services
Matos also pointed to a recent letter health professionals sent to public officials urging them to not to use involuntary treatment to deal with the issues at "Mass. and Cass." But, Tompkins maintained there are limited options to get people off the streets before winter.
Tompkins also took issue with advocates who questioned why his jail is taking this on while under investigation over four recent deaths of people in its custody. Tompkins said he is limited in what he can say because of the investigation and medical privacy laws, but he said those who died were at the jail for a short time and came there already sick.
"We are trying to help people," Tompkins said. "Take them somewhere else if they have a place to go. I'll even send my vans to help take them there. But in the absence of having that right now, we will act as that bridge until people find someplace else to go."
Boston's Efforts To Move People And Their Tents Out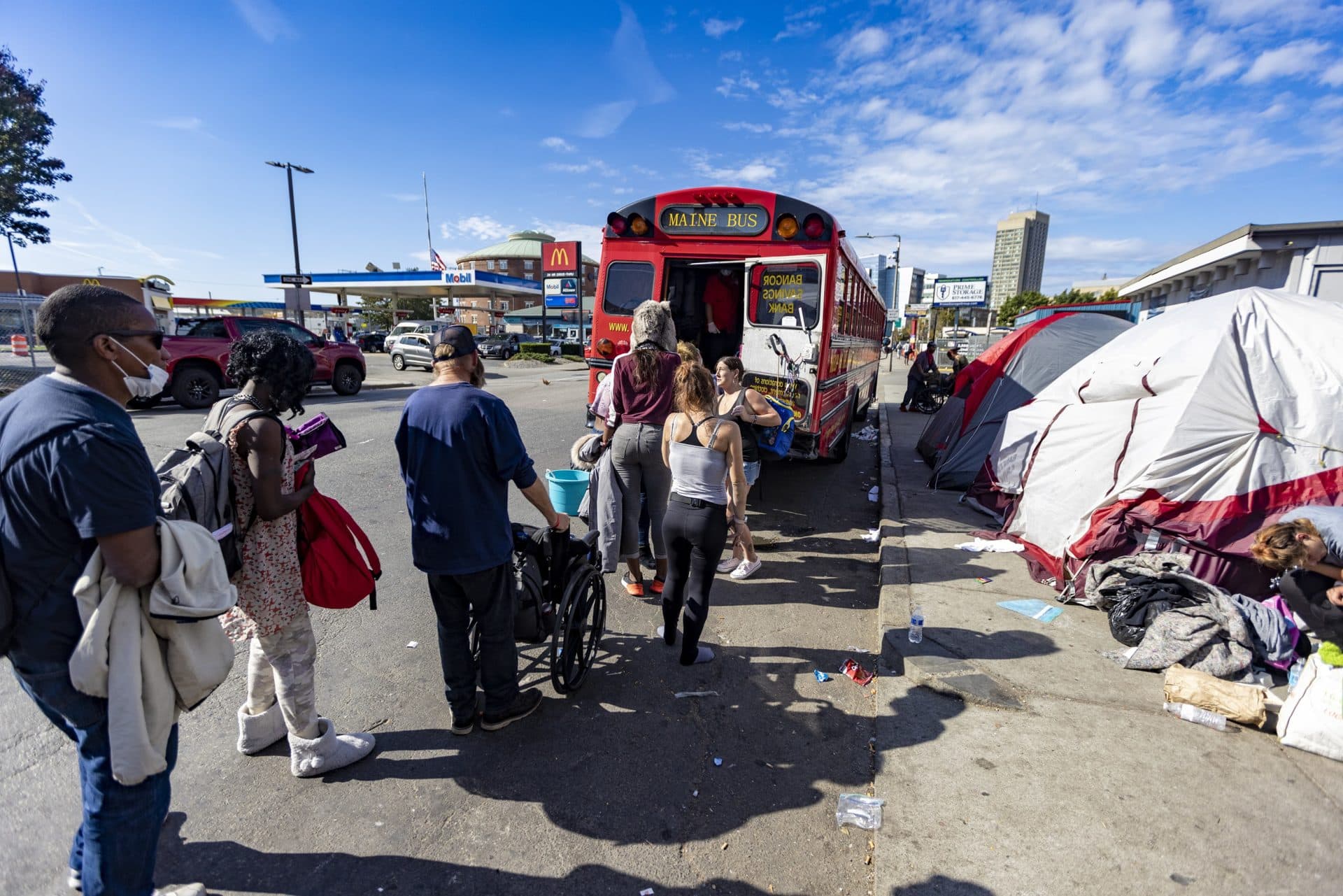 Acting Boston Mayor Kim Janey last week issued an executive order to remove some of the encampments around "Mass. and Cass." The order declared the neighborhood a public health emergency and called for city workers to help people find temporary housing or treatment before removing their tents.
But on Thursday one man said city officials removed his tent and his belongings, and he had nowhere to go. He'd been living there for months, he said.
A spokesperson for Janey said tents were not removed without notice, and that enforcement of the mayor's order is a last resort.
"Tents are not appropriate housing and are not permitted in public ways," said an emailed statement from Janey's office. "The City regularly posts notices informing the public that tents must be removed. This information is also communicated directly by outreach workers who provide options for shelter and services. Tents or other personal property that are cleared from public ways by the City will be stored for property owners free of charge."
Gov. Charlie Baker said he is working with the city on the area's issues and continues to meet with those involved.
"The Baker-Polito Administration appreciates the steps Mayor Janey outlined this week to address the crisis at Mass & Cass and will continue to work with the City of Boston and other stakeholders to support the City's response," said an emailed statement from Sarah Finlaw, Baker's communications director.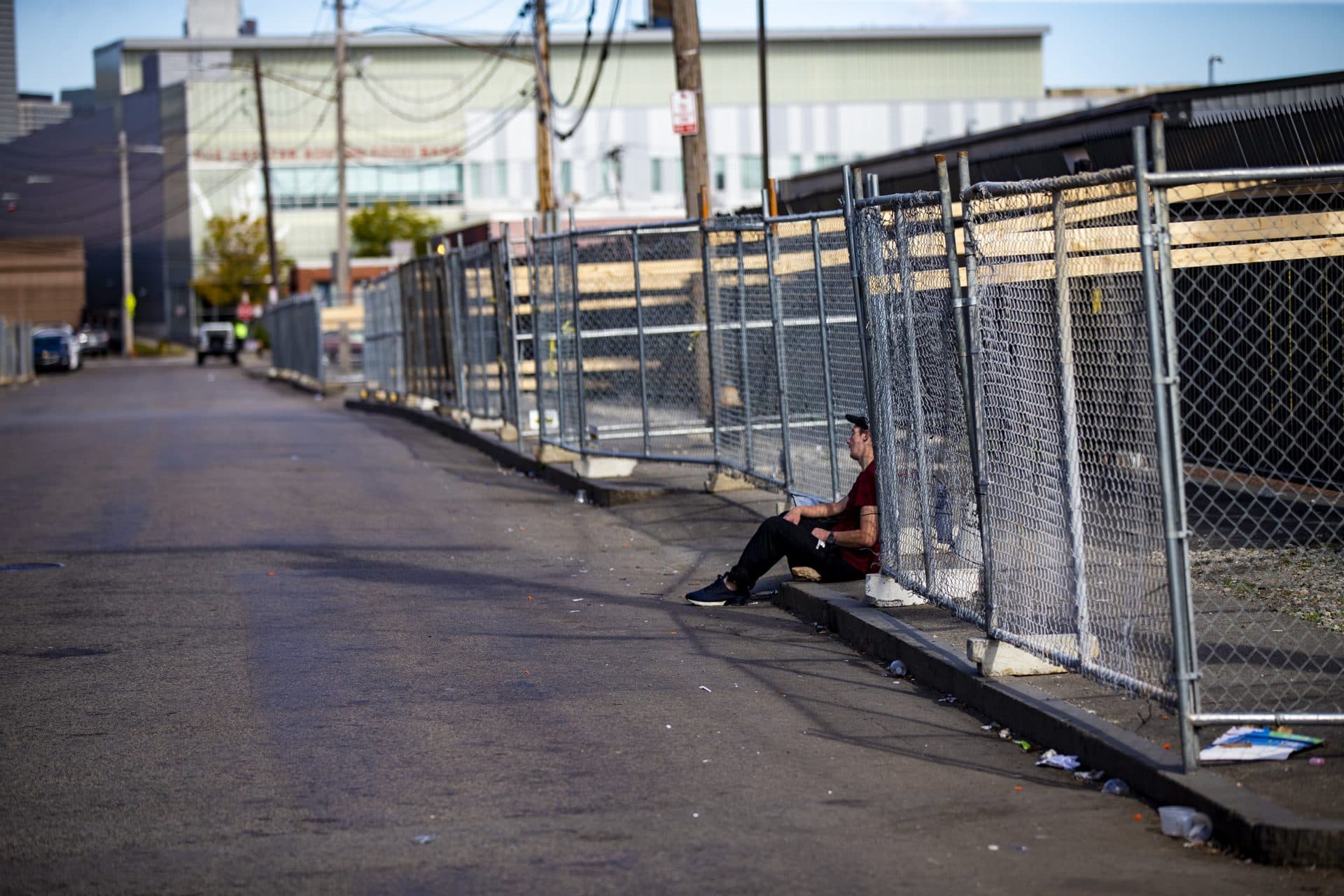 On private ways, some area business owners put up chain-link fencing on the sidewalks to prevent tents from being put up in front of their building entrances. That appeared to cause some of those living on the streets to move tents to other areas of the neighborhood.
City statistics showed some crime within a half-mile of "Mass. and Cass" was up so far this year compared to last year, especially reports of rape and attempted rape. There were also reports of fires inside some tents, which officials expected to increase once the weather gets colder.
Jim Stewart, director of the First Church Shelter in Cambridge and advocate for creating supervised drug consumption sites, repeatedly visited the area after Janey issued her order. He worried tents were already being removed, and added that many people will move on to other streets, farther away from addiction treatment services.
"You can't say this is justified, because it's a public health emergency," Stewart said. "And you can't just move people and tell them to go seek services that aren't available or are insufficiently resourced. People are being moved, and they're going somewhere. I'm willing to wager that they're not going somewhere that's making a positive difference in their lives. It's just a roust."
Some people who frequent the neighborhood said they were worried. They said they don't know when the city might again enforce the removal of the encampments, and they wondered what would happen to those who can't go to area shelters because they're active drug users or in the past were banned from them.
Others who often come to the area also questioned why city officials aren't considering the use of different buildings — not correctional facilities — to house those on the streets and offer treatment. Frosty Frost, a member of the self-described Boston drug users' union, said she has been living in and around the area for 15 years and has made proposals to city officials to renovate nearby buildings so people are not living on the streets.
"I think what we should look at is vacant buildings, these industrial buildings, to rehab those buildings and properties," Frost said. She acknowledged, though, that more than a building was needed to deal with the area's issues of poverty addiction, adding, "The answers are not going to be that simple."
Sheriff Tompkins said he knows there are no simple answers, but he believes he's got a plan that should be explored. He said his program would not just get people off the streets temporarily, but would also look to get people into long-term care.
"We are not trying to criminalize people," Tompkins said. "Jails are already the de facto mental health and substance abuse entities — just not under the heading of the health department. But a health care facility hasn't stepped up to do this."
Although Tompkins plans to be operating the facility and the court in just a few weeks, he said the cost of the additional programming and the medical vendor providing it were still not clear. Tompkins said he expects the state and the city will help with some expenses.
Some of those who frequent the neighborhood say it's become a part of Boston. With so many services at "Mass. and Cass" for the state's most vulnerable, they say people will still congregate there.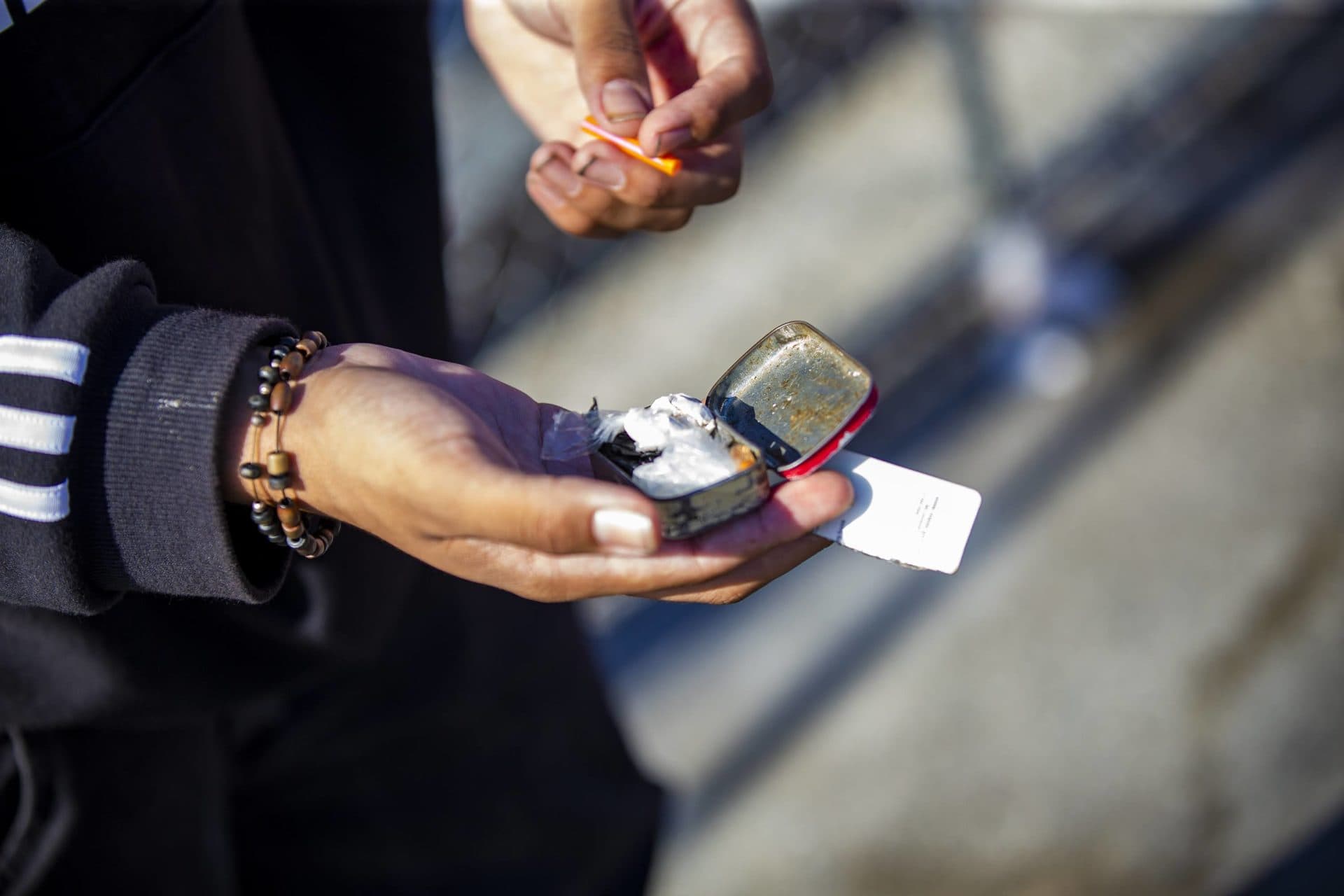 A 22-year-old man who goes by the name "Cabbi" said he regularly visits the area to buy the opioid fentanyl. WBUR is using his nickname to protect his identity, because he has admitted to illegal drug use. While he understands the hazards facing people living in tents, he said a community has been established on the streets, and city officials should try to work with those affected and put resources into services.
"It's almost become a community within the city," he said. "Even without tents, people will still come here."
This segment aired on October 25, 2021.