Wu's win in Boston headlines historic mayoral victories across Massachusetts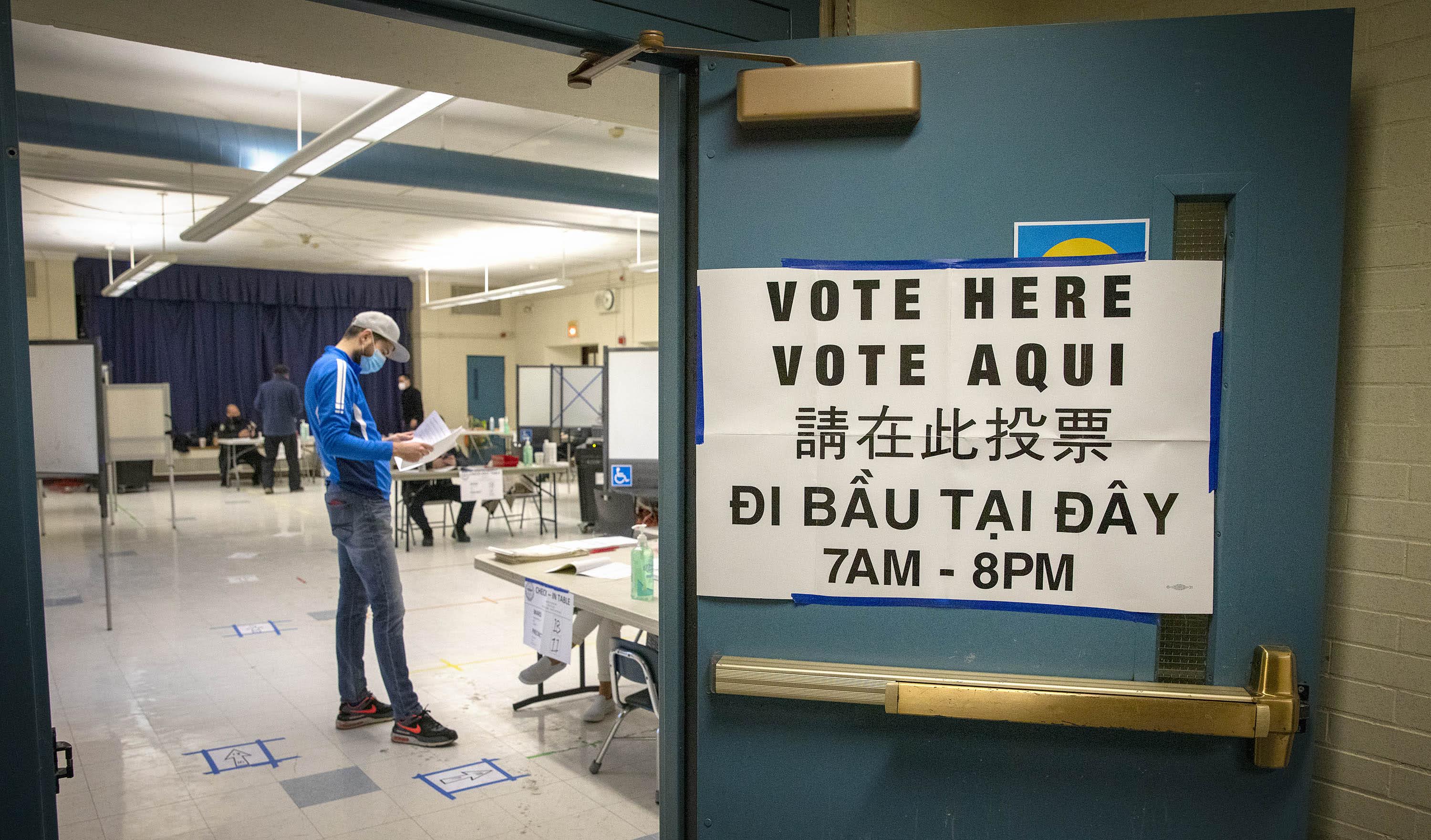 This article is more than 1 year old.
Michelle Wu became the first woman of color elected mayor of Boston, Somerville picked a new leader for the first time in almost two decades, and Holyoke backed the city's first Latino mayor in history-making local elections across Massachusetts Tuesday.
It was Election Day in about 60 cities and towns, with voters choosing some of their communities' most important leaders.
For Boston, it was the first mayoral contest without an incumbent since 2013 — and the first ever to produce a victor who is not a white man. Either of the candidates, City Councilors Wu and Annissa Essaibi George, would have been the first woman and the first person of color to win the city's top job in a popular vote.
In her victory speech, Wu quipped that men had led Boston in the past and would likely be elected mayor again in the future, "but not tonight."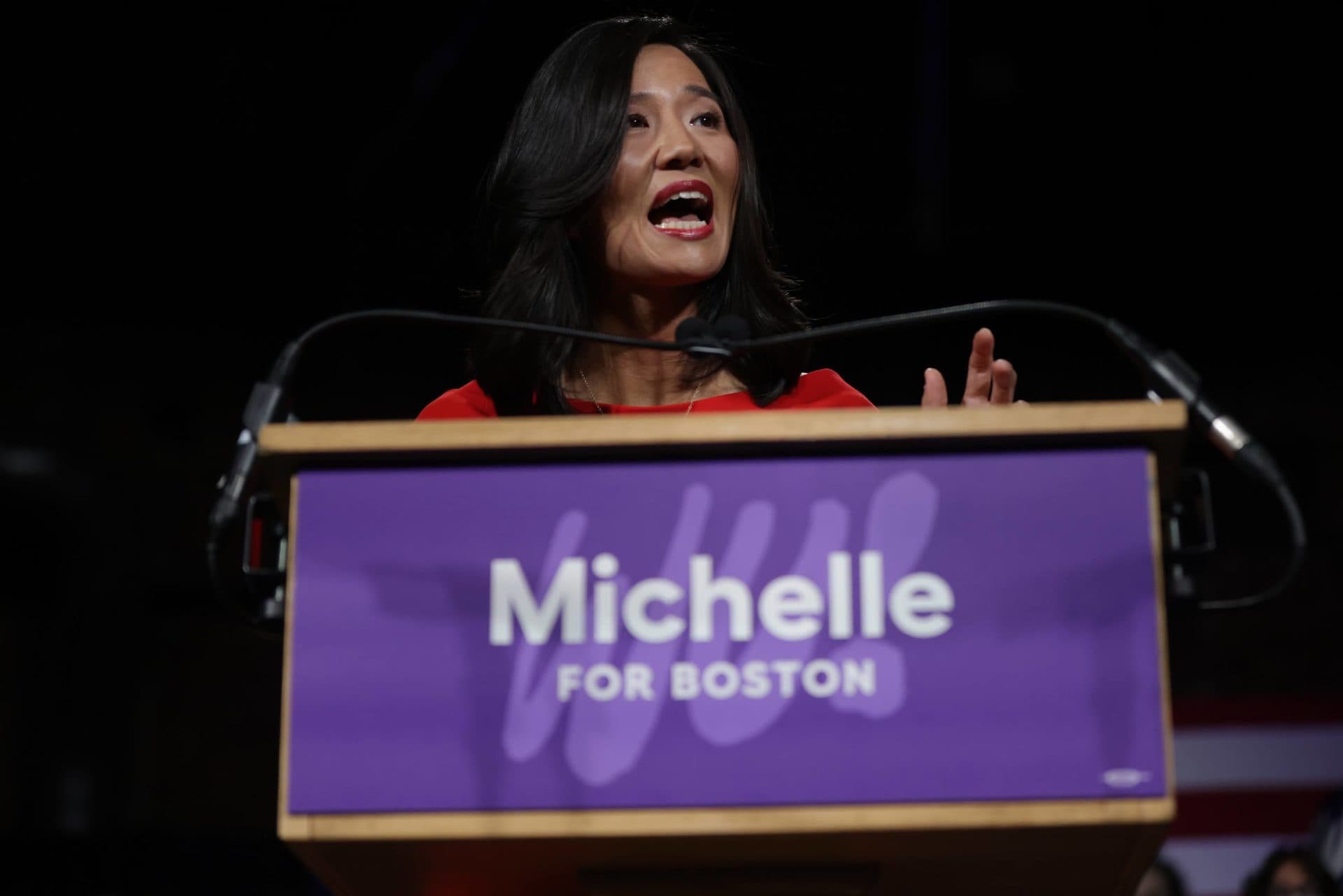 Essaibi George congratulated Wu in a concession speech, saying she was proud that a fellow mother would be Boston's top official.
Acting Mayor Kim Janey, the first woman and person of color to lead Boston, was eliminated from contention in preliminary voting in September. She endorsed Wu and received a robust round of applause when the mayor-elect introduced her to supporters.
Votes were still being tallied Tuesday night, but Secretary of State Bill Galvin had predicted Monday that the city's general election would likely produce a relatively low turnout, despite the significance of the race and last year's record turnout. Galvin estimated about 30% of Boston's roughly 440,000 registered voters would cast ballots.
"Based upon the level of enthusiasm that we've seen at this point," he said Monday, "my best estimate is 135,000 for a total turnout in [Tuesday's] election in Boston."
Both candidates were greeted by supporters as they cast ballots at their polling places Tuesday morning.
"We've been on the campaign trail for over a year now because this moment is so significant for Boston," Wu said Tuesday morning. She said her team would work throughout the rest of the day to make sure people came out to vote.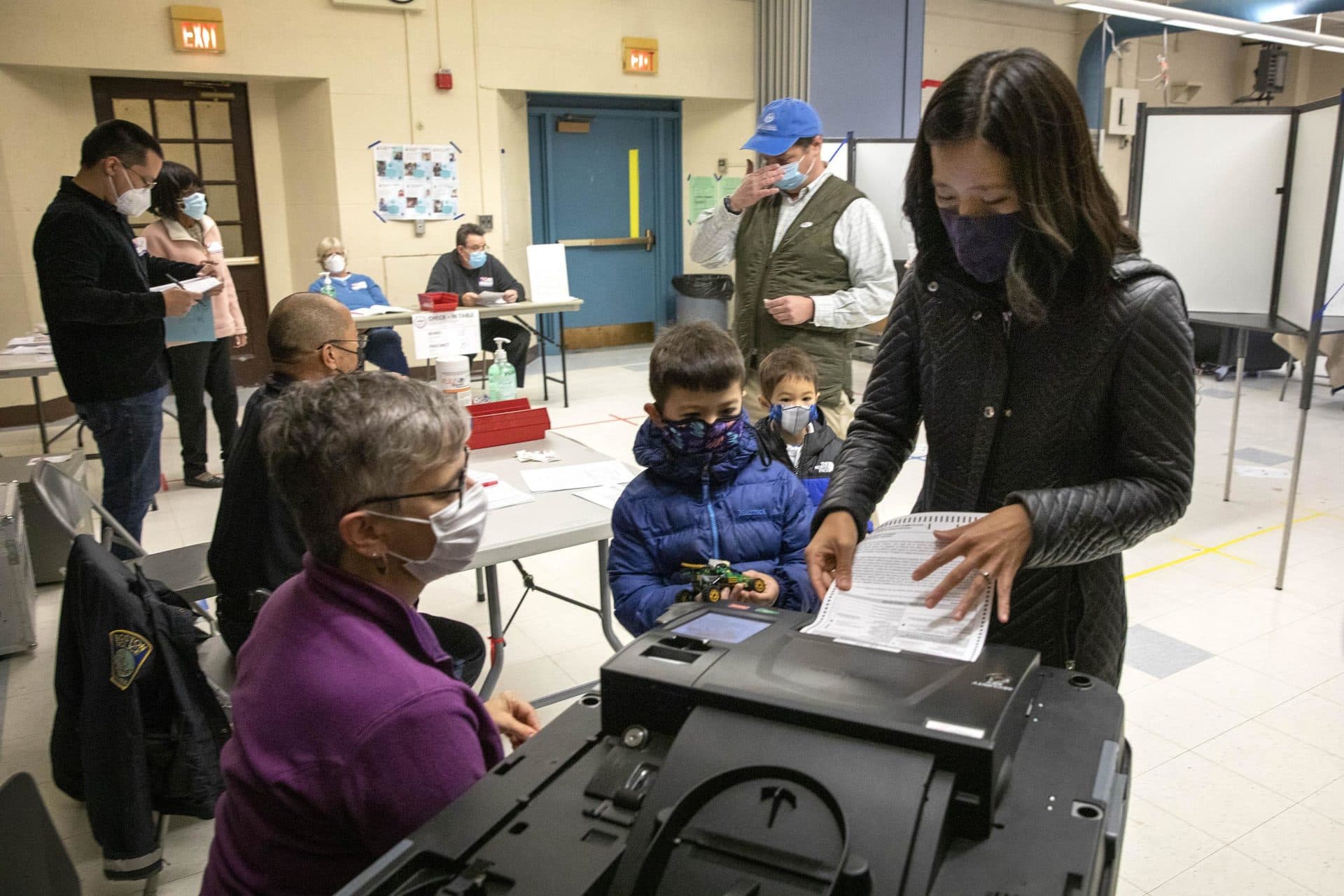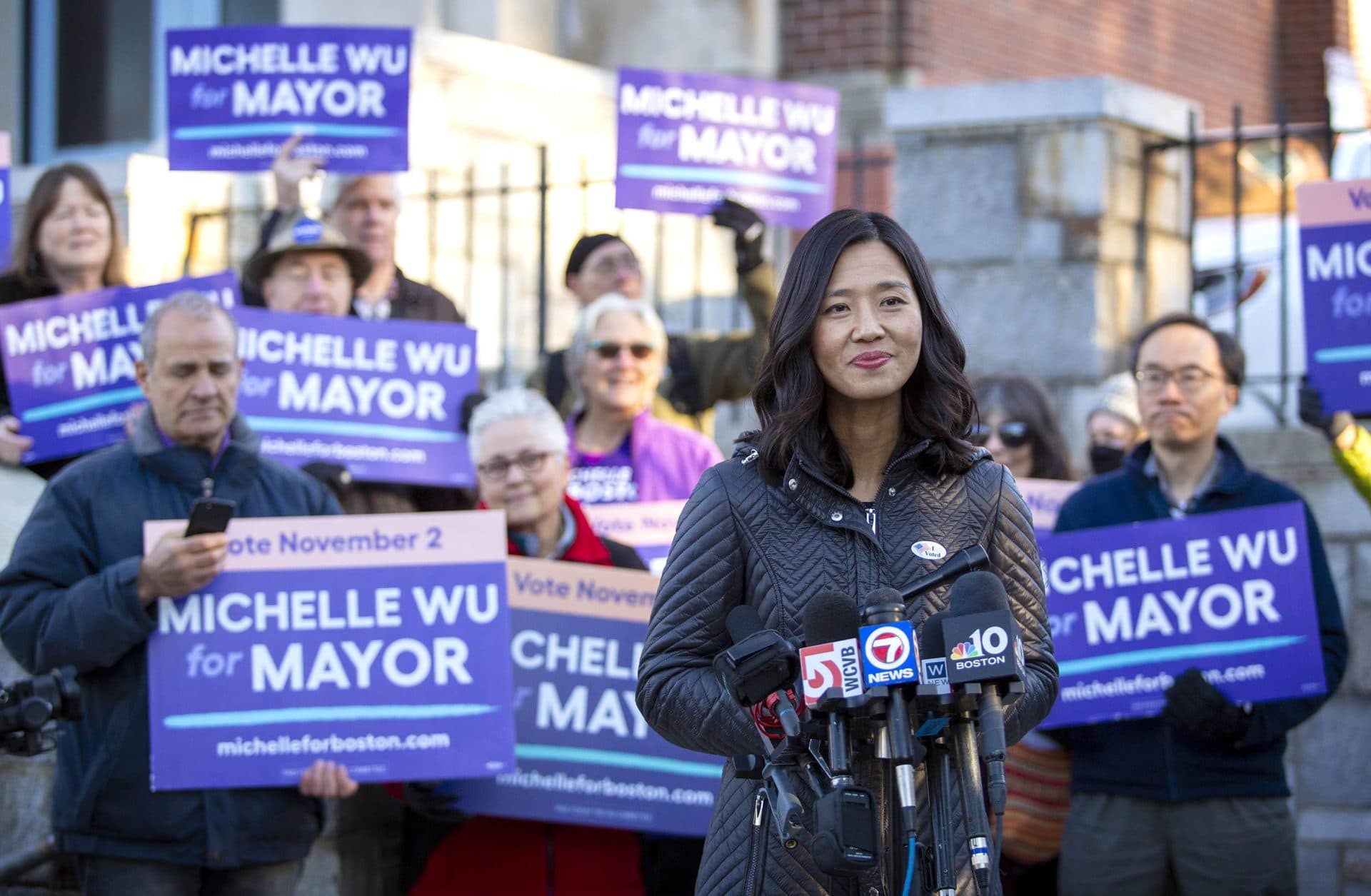 Recent polls had shown Wu with a wide lead over her rival and fellow councilor, Essaibi George.
After voting in Dorchester, Essaibi George predicted an upset.
"When I think back to September and the polls that were coming out in August, leading into the September preliminary — they had me in fourth place, and we knew those numbers were wrong, and I know the polling numbers that are out there today are also wrong."
Ultimately, however, Essaibi George's final push was not enough to overtake Wu, who was first to enter the race more than a year ago.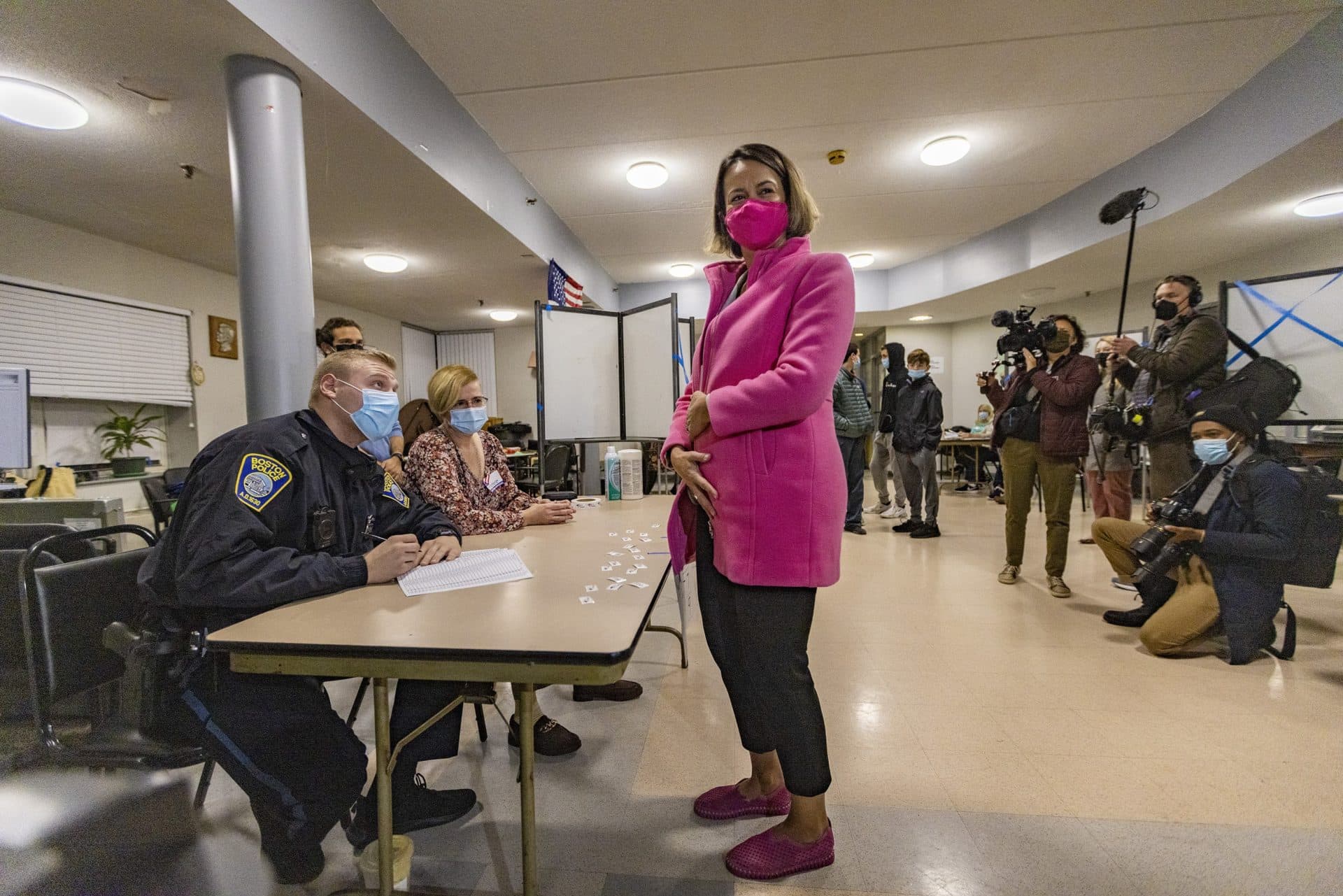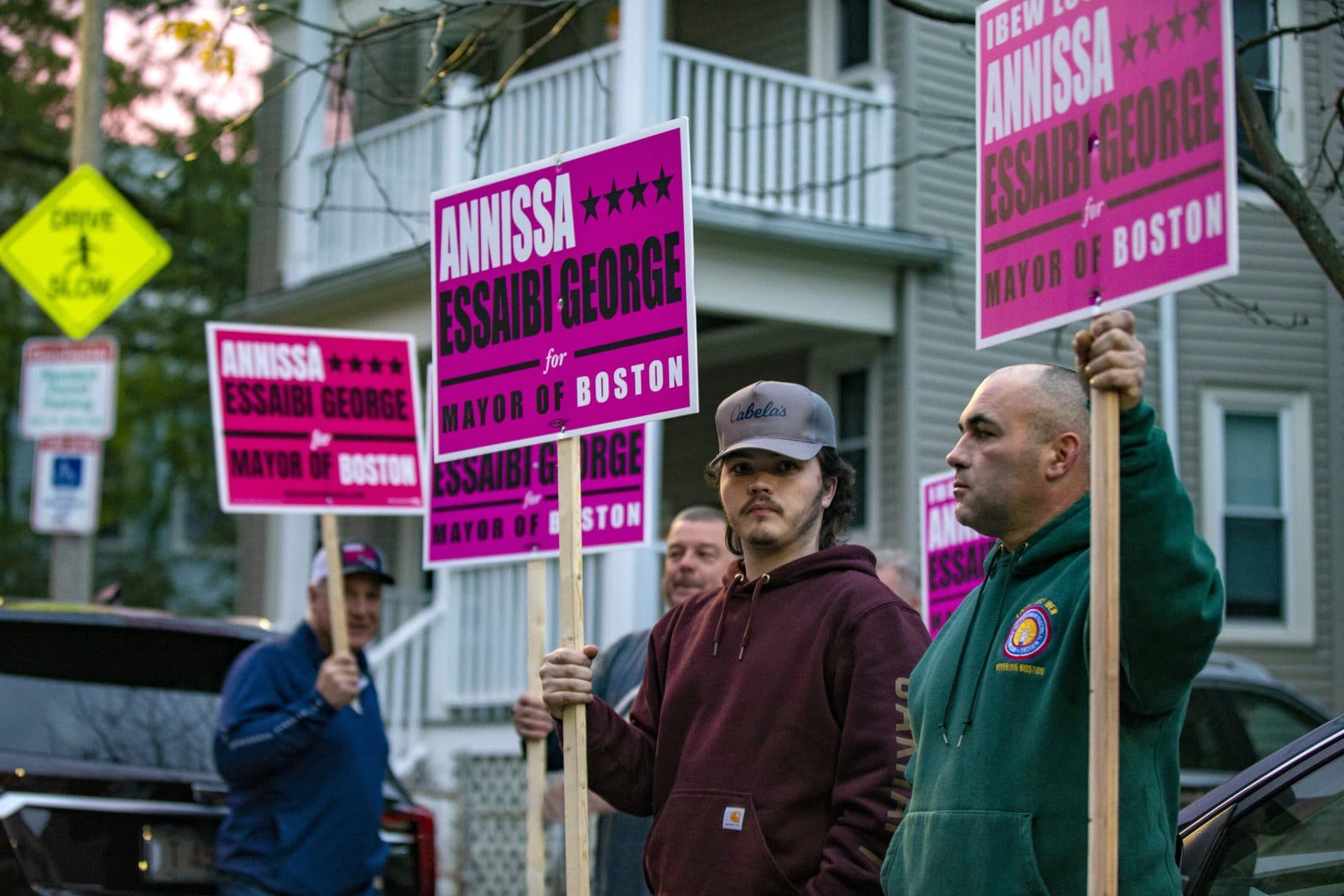 The candidates were among roughly 105,000 Bostonians who had cast their ballots as of 6 p.m., according to the city. That's about 24% of eligible voters, and more than had voted at the same point in the September preliminary.
Beyond the mayoral contest in Boston, all four of its city council at-large seats were up for grabs Tuesday, and voters weighed in on six other contested city council races.
As of Wednesday morning, The Associated Press was reporting that Michael Flaherty, Julia Mejia and Ruthzee Louijeune won three of the at-large seats. The fourth seat is still to be determined.
Frank Baker won District 3, Brian Worrell won District 4, Ricardo Arroyo won District 5, Kendra Hicks won District 6, Tania Anderson won District 7, and Liz Breadon won District 9.
The following Boston City Council races were uncontested:
District 1: Lydia Edwards ran unopposed.
District 2: Edward Flynn ran unopposed.
District 8: Priscilla Kenzie Bok ran unopposed.
In addition, Boston voters weighed in on three ballot questions — changing the city's budgeting process, rejecting a controversial substation and indicating a preference for an elected school board committee.
Voters approved of Question 1, a binding referendum that will give Boston city councilors more power in municipal budgeting.
Question 2 and 3 were non-binding, but voters sent a strong message with decisive votes on those questions. Residents rejected the construction of an electric substation in East Boston (in Question 2), and strongly approved of moving away from a mayor-appointed school board toward a citizen-elected board (in Question 3).
The tenure of Janey, who made history when former Boston Mayor Marty Walsh joined the Biden administration, will come to an end shortly after the election. The next mayor of Boston will be inaugurated in mid-November.
Here are some of the other towns and cities with significant mayoral races:
In Somerville, Katjana Ballantyne defeated fellow City Councilor Will Mbah and will take the seat held by Mayor Joseph Curtatone for the past 17 years.
In Newton, Mayor Ruthanne Fuller fended off former city councilor Amy Mah Sangiolo to win a second term. Fuller is Newton's first female mayor.
In Holyoke, Joshua Garcia defeated Michael Sullivan and will become the city's first Latino mayor.
In Lynn, school committee member Jared Nicholson beat City Council President Darren Cyr.
In Brockton, incumbent Mayor Robert Sullivan won in a landslide over Councilor-at-large Tina Cardoso, who was vying to be the city's first Black female mayor.
In Fall River, Mayor Paul Coogan staved off a challenge by City Council President Cliff Ponte.
In Salem, Mayor Kim Driscoll earned a fifth term by topping City Councilman Steve Dibble.
In Framingham, Mayor Yvonne Spicer lost her bid for a second term against challenger Charlie Sisitsky.
In Lawrence, City Councilor Brian DePena beat interim Mayor Kendrys Vasquez, who was seeking a full term.
In Medford, incumbent Mayor Breanna Lungo-Koehn warded off challenger John Falco.
In Northampton, Gina-Louise Sciarra knocked off Marc Warner to claim outgoing Mayor David Narkewicz's seat.
Beyond the usual municipal elections happening this year, voters on the North Shore in Hamilton, Ipswich, Manchester-by-the-Sea, Rowley, Topsfield and Wenham also voted in a special primary election for the 4th Essex House seat. Former Republican Rep. Brad Hill vacated his post when he resigned to take a position on the Massachusetts Gaming Commission. Jamie Belsito of Topsfield defeated Darcyll Dale of Hamilton to be the Democratic nominee; Bob Snow of Rowley defeated Lisa Marie Cashman of Ipswich to become the Republican nominee. They will advance to the Nov. 30 special election.

Tuesday's election also saw an expanded voter access option, with a state law extending no-excuse vote-by-mail ballot for all Massachusetts elections until Dec. 15. More than 100,000 voters statewide requested a mail-in ballot, Galvin said. He noted that he was "encouraged" by the "fairly robust" number of mail-in ballots received in Boston's race — about 38,000 submitted ballots out of about 53,000 requested mail-in ballots.
With additional reporting from WBUR's Steve Brown and State House News Service
This article was originally published on November 02, 2021.