Boston Acting Mayor Kim Janey Concedes Mayoral Race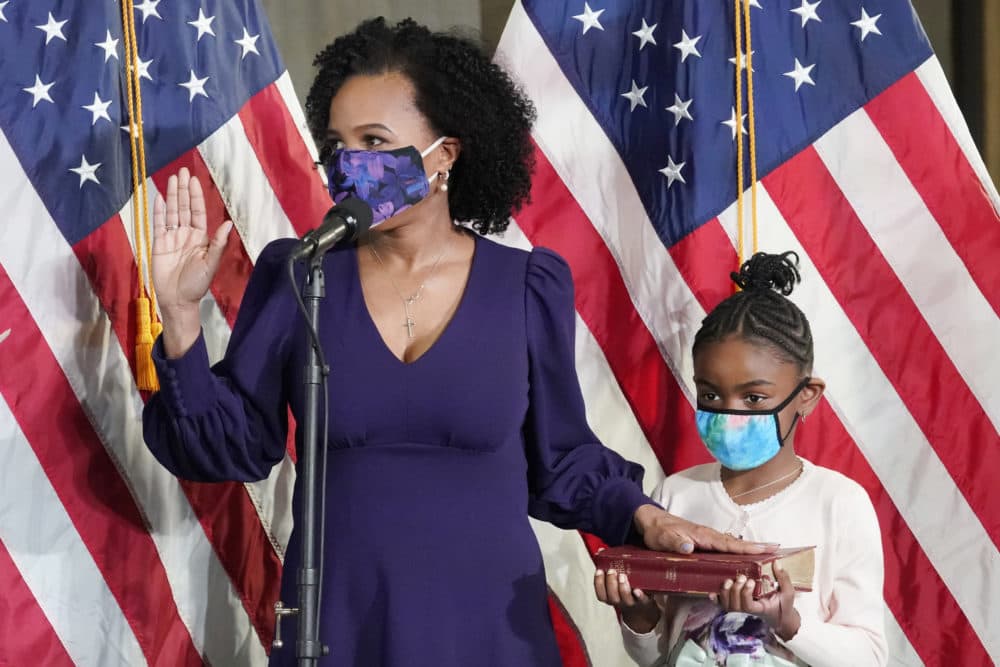 This article is more than 1 year old.
Boston acting Mayor Kim Janey made history this year, becoming both the first woman and the first person of color to lead the city.
But Janey's tenure will be much shorter than she hoped, as she struggled to stand out in a field that included three fellow city councilors and a former city economic development official. Three of the five leading candidates, including Janey, were Black. Four of the five were women.
It wasn't until 10 a.m. Wednesday, with 100% of precincts reporting, that The Associated Press made a final race call for Councilor Annissa Essaibi George. She, Janey and City Councilor Andrea Campbell had, until then, been jockeying in the tight contest for the final slot against Councilor Michelle Wu. The AP declared Wu the top winner in the election at around 3 a.m. Wednesday.
By midnight Wednesday, Janey had already issued a written concession speech, hours before the vast majority of vote tallies were released by the city.
"While tonight hasn't ended how we hoped, we have so much to be proud of. On the campaign side we built a multi-racial, multicultural, and multi-generational coalition committed to making Boston a more just, more equitable place to live for every single resident," Janey said in a statement early Wednesday.
"And at City Hall — as the first woman and first Black Mayor of Boston — we not only made history, but we made a difference," she continued. "Crime is down, people are staying in their homes due to work we've done with rental assistance and an eviction moratorium, our children are safely back in school, and Boston is one of the most vaccinated big cities in America."
Campbell also conceded the race at around 11 p.m. Both Campbell and Janey's campaigns offered congratulations to rivals Wu and George, who had both expressed confidence to supporters late Tuesday that they would be the pair to face off in the general election in November. Janey's term will end in January.
Janey, 56, had hoped to follow the path of Thomas Menino, who used his position as acting mayor to establish himself as an incumbent and vault ahead of other potential rivals in the subsequent election. No incumbent mayor has lost in Boston since James Michael Curley in 1949 — and that was only after Curley served a federal prison term during his term.
But Janey felt challenges, in part because the election was already underway when she took office. Both Wu and Andrea Campbell had launched their mayoral bids last year, long before Biden tapped Walsh to become U.S. labor secretary in January, giving both candidates a huge head start in fundraising, organization and voter outreach across the city.
The sluggish Senate confirmation process also gave rivals additional time to announce their campaigns and hunt for votes. By the time Janey, who was serving as city council president, was finally sworn in as acting mayor on March 24, John Barros, fellow councilor Annissa Essaibi George and state Rep. Jon Santiago had all jumped into the mayoral race as well. Santiago later dropped out.
Janey also faced significant controversy as acting mayor. Janey struggled to contain a pair of police scandals she inherited when she took office. (Her administration was sued four times for withholding records about police misconduct.) And, after facing heavy criticism, she walked back her remarks comparing New York's vaccine passport rules to slavery.
Still, Janey left her mark. She launched a three-month pilot program of a free bus service through Roxbury and Mattapan. She ordered all city employees to get vaccinated or tested regularly to help contain the coronavirus outbreak. She expanded assistance to first-time homebuyers, moved to end a zoning plan for the downtown waterfront, and launched another pilot project to have mental health workers respond to some 911 calls instead of police.
What's next for Janey and her remarkable rise in politics remains to be seen. Born in Roxbury, she was a child during a painful era in the city's history, when busing was introduced to try to end school segregation. Janey later became a young mother, giving birth to her daughter at 16. Her studies at Smith College were interrupted to care for her grandfather.
Despite all those challenges, Janey became a community organizer for Parents United for Child Care, and later a project director for the nonprofit Massachusetts Advocates for Children. In 2017, she was elected to the Boston City Council representing a district that includes Roxbury, becoming the first woman to represent the district.
And her fellow councilors elected her city council president in 2020, which eventually positioned her to become acting mayor when Walsh stepped down.
In the meantime, Janey said she will focus on leading the city for the next few months and to ensuring a smooth transition for the next mayor "so that SHE will be able to hit the ground running."
This article was originally published on September 15, 2021.