'Hadestown' takes an exhilarating ride to the valley below at the Opera House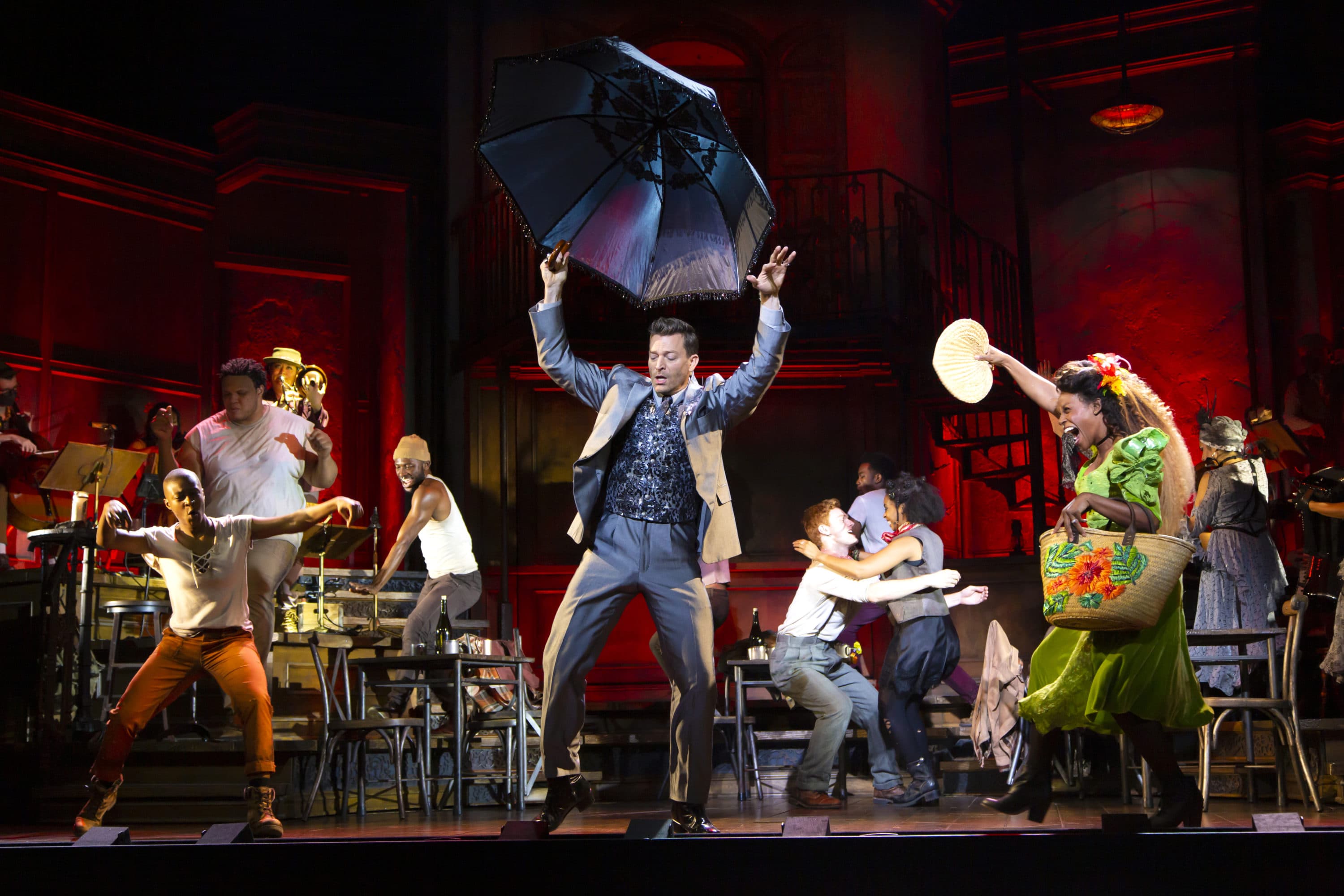 This article is more than 1 year old.
How far would you go for love?  When things get difficult would you stand strong? Or walk away? Those are the questions at the heart of the thrilling touring production of the Tony-winning "Hadestown," which Broadway in Boston is presenting at the Boston Opera House through Nov. 14.
Anaïs Mitchell's narrative — she also wrote the heartfelt music and lyrics — is an update on the Greek myth of Orpheus, the golden-voiced son of the god of poetry, who falls in love with Eurydice. But, Eurydice, who hungers for stability, soon finds herself ensnared by Hades, ruler of the Underworld and god of the dead.
The cast is chock full of formidable voices, but Hermes (Levi Kreis) the night's tour guide on the ride to the Underworld, the singing "Fates" (Belén Moyano, Bex Odorisio and Shea Renee) and Orpheus, portrayed by understudy Chibueze Ihuoma are show stealers.  Broadway in Boston had no comment on the status of Nicholas Barasch, the tour's regular Orpheus after Ihuoma appeared Wednesday and Thursday nights.
Kevyn Morrow's Hades has a lovely instrument too. The leather trench coat wearing king snags Eurydice with his dark, slithering bass notes in "Hey Little Songbird," melting her resolve.
Kreis' Hermes, clad in a shimmering silver suit and brocade vest, preens when he first steps onstage. He wants all the adulation fit for a god, and vocally he deserves it. His soulful crooning evokes the sounds of church revivals, gospel-tinged and urgent, particularly fitting for this show that grapples with matters of the heart, doubt and pushing through darkness.

Set designer Rachel Hauck makes full use the stage (which can feel small for such an epic tale) with a multi-level set fitted for the orchestra and a second-floor area with a balcony where Persephone — goddess of the seasons, flowers, fruit, and grain — first appears in a green velvet dress with a sequined applique. The enthusiastic Persephone (Kimberly Marable) is married to Hades. She's given to strong drink and her marriage is on the rocks.
Despite its dark underpinnings (sending people to hell and all), the story, with excellent direction from Rachel Chavkin, is one of altruism, hope and love. Ihuoma's Orpheus is working on a melody to help save the world. Eurydice demands that he sing what he's got so far and when he does, he slides into his falsetto and back again effortlessly as the ethereal melody hangs above the crowd. While working on the melody, assumingly, he misses Eurydice call for him before she heads off into the underworld. Once he learns of her whereabouts, nothing can stop him from trying to save her.
The world of "Hadestown" is like our own. In the show's notes, it says that "power and wealth reign supreme; the poor go hungry; seasons are unstable; and love is lost." There's also a song dedicated to a wall that Hades and his helpers built to keep them free and keep out the enemy of poverty and the poor which Mitchell penned in 2006.
But Orpheus truly believes he can help, and it appears the character's philosophy is not unlike Ihuoma's. The young thespian believes that "music and theater give voice to the stories of the unheard and remedy some of the pain we have inside."
There's a lot of pain in Hades' domain. When Persephone sees the world he's erected, she tells him "It ain't right and it ain't natural." He built a foundry with oil drums and fossils of the dead.  "Think of it as my desire for you," he says. Did you think I'd be impressed with this "neon necropolis?" she sings.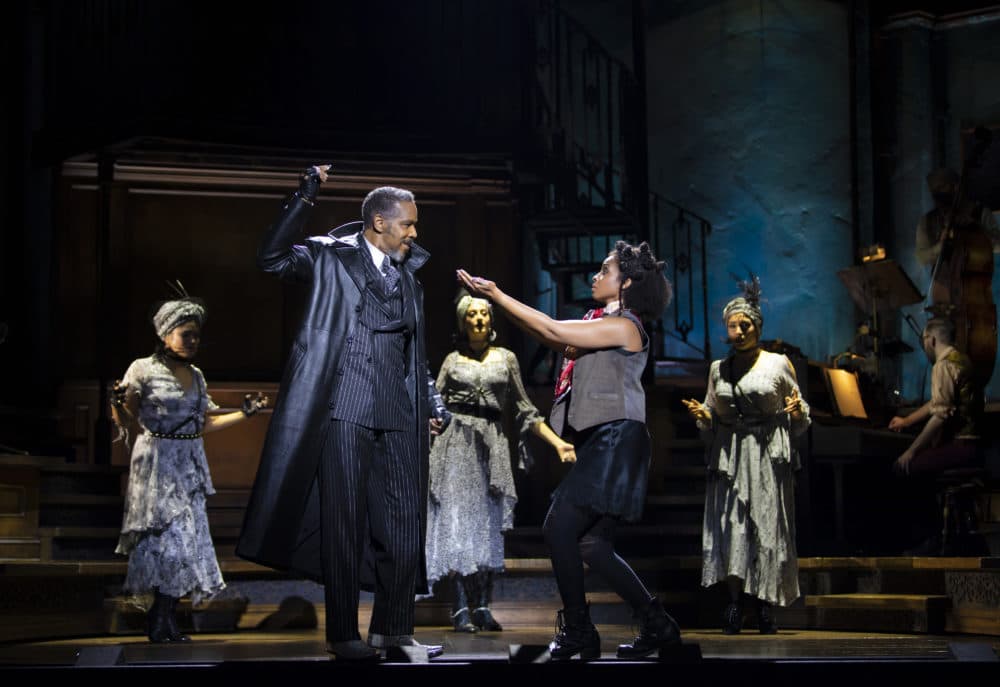 Meanwhile, there's a group of people in brown leather overalls with their heads down building whatever Hades wants, played by the same group of actors who are so exuberant above ground. When Eurydice meets them, she tries to engage them but soon learns that they have ears, but they don't care and "they can look, but they don't see."
The utter resignation of these prisoners is startling. The images of hell in many instances involve fire, brimstone, weeping and gnashing of teeth. But what's most frightening about the notion of hell is its hopelessness and the lack of love's light.
Later, encircled by the three singing Fates, curious about his next move, Hades, has a choice to make. He's lured Eurydice into his lair to toil forever, but her husband Orpheus charms the underground inhabitants and softens his own heart.
"Whatcha gonna do, whatcha gonna do, whatcha gonna do?" they snarl at him.
Audiences who aren't up on their Greek mythology can find out for themselves what the rest of the journey looks like for Orpheus and Eurydice, but the play certainly pushes us to consider the weight of our choices, to love or not, to wall ourselves in and others out or whether to persevere even when the odds are stacked against you.
"Hadestown" is at the Citizens Bank Opera House through Nov. 14.