Whitney White powers Lady Macbeth into the 21st century at the A.R.T.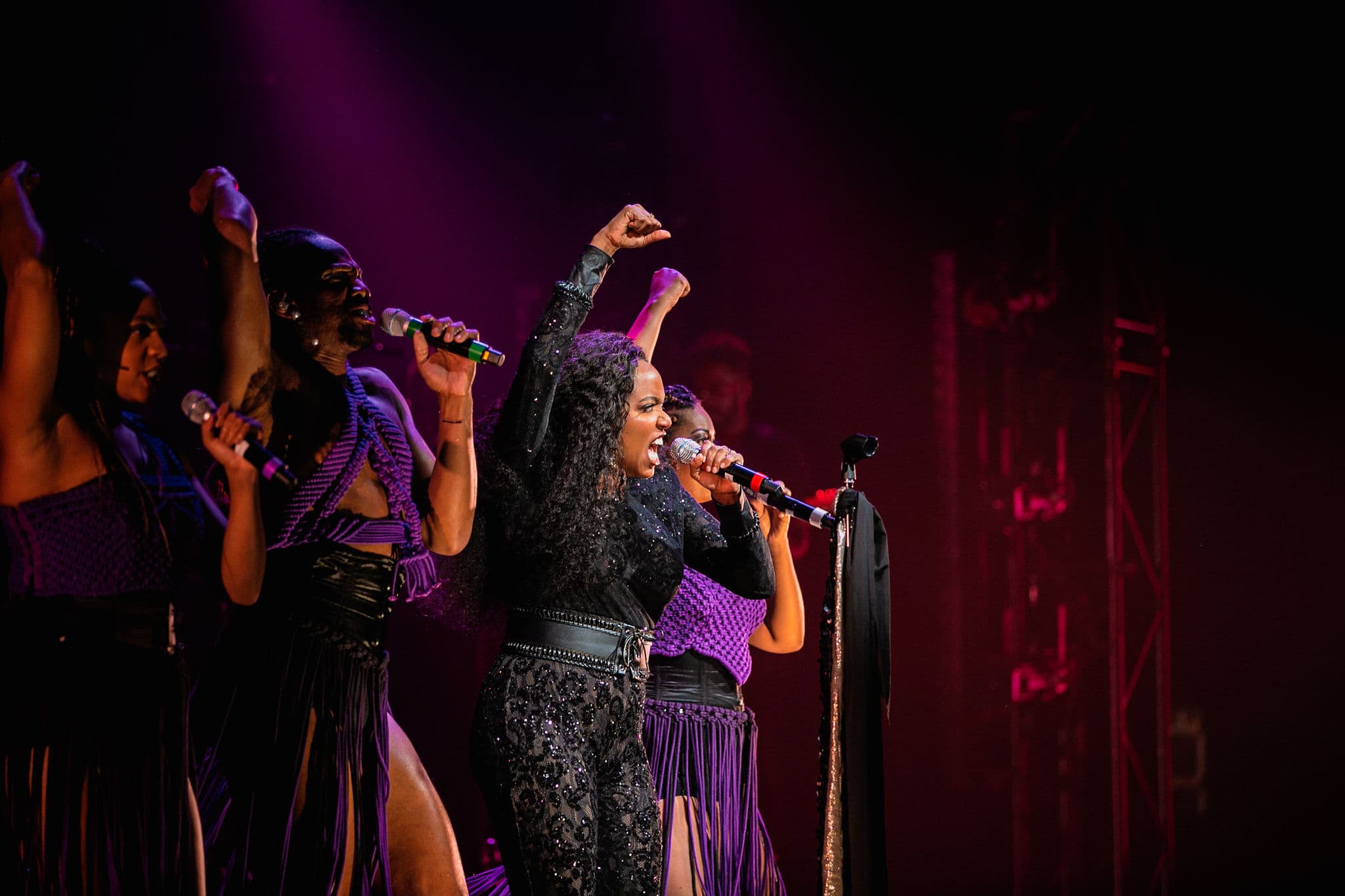 This article is more than 1 year old.
Singing witches, a little bit of rock 'n' roll and a whole lot of gospel mark actor and theater director Whitney White's world premiere of "Macbeth in Stride" at American Repertory Theater (A.R.T), through Nov. 14. Part theater, part concert, part real-talk — the show is a fascinating deconstruction of "Macbeth" that reimagines its leading lady as a boss Black woman angling for power. The narrative, under the strong direction of Tyler Dobrowsky and Taibi Magar, aims to "trace the fatalistic arc of Lady Macbeth while lifting up contemporary Black female power, femininity, and desire." And it succeeds.
On the multilevel stage with a black piano on one side and a band — including NwaSoul's Bobhartley "Boushe" Etienne — on the other is outfitted with what appears to be a glittering silver curtain at the start. The backdrop changes color throughout the evening; swathed in purple light while the witches don edgy purple fringe or dripping gold. White's costume changes — from a black sequined catsuit to purple velvet and a long gold jacket and matching tiara when crowned queen — are also eye-popping.
Shakespeare's "Macbeth" focuses on a man who receives a prophecy from a trio of witches who tell him that he will become king. Lady Macbeth hears news of the prophecy and encourages him to kill the current king, Duncan, and ascend as ruler. However, evil plans rarely go off without a hitch. And in Shakespeare's tales, just when the central character seems to have whatever they're thirsty for within reach, things take a tragic turn. Those searching for power or retribution only get a taste of it before meeting a terrible end.
"Macbeth" is no different, except White rejects the suicide death of her ambitious lady, which she says, "happens offstage...and she's not centered in any way." White gives a moving speech about how disturbed she is by the demises of Lady Macbeth and other female characters in Shakespeare's canon.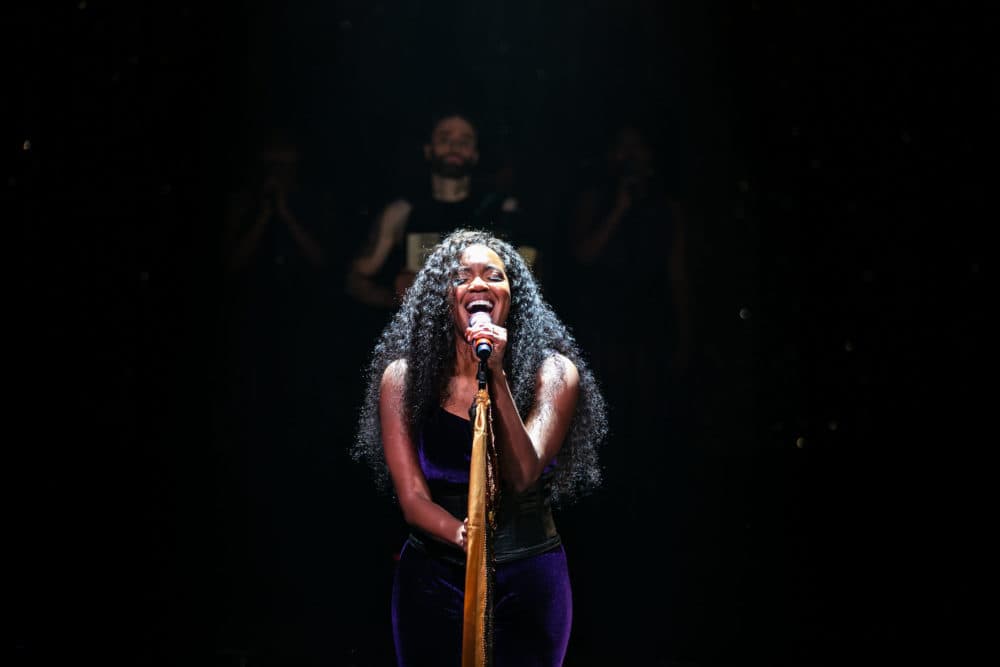 Early in the show, it might seem unclear what's happening and where it's going. But hold on, it gets more interesting when White's ideas on how narratives shape us — those the world tells about us or those we tell ourselves — and spill out alongside the story of "Macbeth."
She asks the crowd, "is there a story that framed you before you were even you?"
Then she addresses specific groups. "I'm talking about the Black us, the brown us, the femme us, the queer us." For those groups, she says, the stories are a little different. The witches sing in response, "lil' sister don't go too far, the man is watching don't be no star, do the best with what you have, work twice as hard, might still get had."
White, an Obie awarding-winning creative based in Brooklyn, approaches this multigenre endeavor with aplomb. She tells the witches she wants it all: power, to take up space and live in a world where people see her and don't cut her in line. She wants to exist in an unapologetically ambitious way.
"That's it?" the witches reply. As if ambitious, powerful women have it easy.
Discovering or viewing Lady Macbeth through her womanhood, her Blackness, and original music is refreshing. It allows us to see the play through a contemporary lens while understanding what was going on 400 years ago when it was written. "Macbeth in Stride" is the first of White's exploratory theatrical events. She's been commissioned by the A.R.T. to delve into five Shakespearean women, which will include Emilia, Iago's wife in "Othello," and Cleopatra.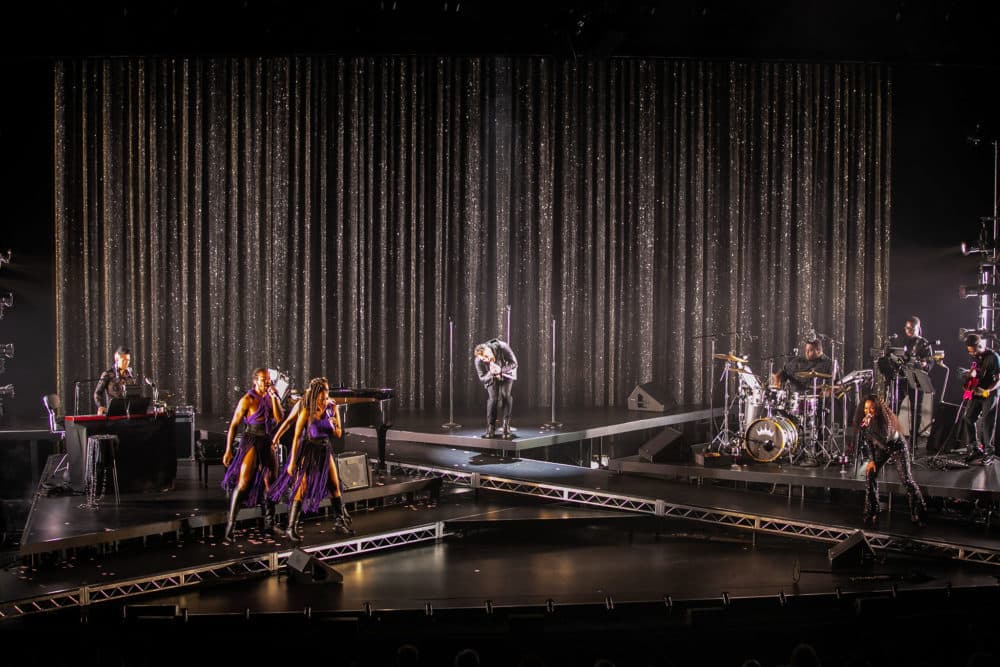 The raucous performance numbers like "Hallelujah," "If Knowledge Is Power/Reach For It" and "In Place of Love" get the crowd clapping and moving. The melodious songs, complete with modulations and tambourines, are exuberant even with occasionally muddy harmonies and diction that's sometimes drowned out by the band. But this is no mere rock musical and White's talents go far beyond her singing. She is a terrific actor. Her ability to succinctly deliver Shakespeare's original text with a personal punch makes for the most poignant occasions.
There's a moment when White's Lady Macbeth's use of the King James-style-English confounds her husband (Charlie Thurston, listed as "Man" in the program). He asks, "What does that mean?" Thurston does a fine job as Macbeth, but White's story isn't about him. It's about her. She explains in plain speak, eliciting some hearty chuckles.
The difficulty of understanding Shakespeare's work has been long debated. Reddit and Quora threads, posts on Medium.com, and more are full of inquiries about it. White's work mixing old vernacular and new, combined with musical renditions, makes the show accessible to various audiences. In an interview, White shares that "for 'Macbeth In Stride,' it doesn't matter what your education level is, what you do, or who you are — I'm working to construct the show so that every person in the audience can understand it and feel a part of it."
At one point, White asks the audience to call out what they want, which sparks answers that range from love to stabilized rent. But it's clear through this question and other times when she addresses show-goers that White's primary objective appears to be the cultivation of community. It's an imaginative journey she's nudging audiences to go on, where one can reimagine this classic work and others and, unlike Lady Macbeth's journey, one in which they can center themselves.
"Macbeth in Stride" runs through Nov. 14 at the Loeb Drama Center in Cambridge. Patrons must show proof of vaccination and wear masks.