After being sworn in as Boston's new mayor, Michelle Wu gets to work
Play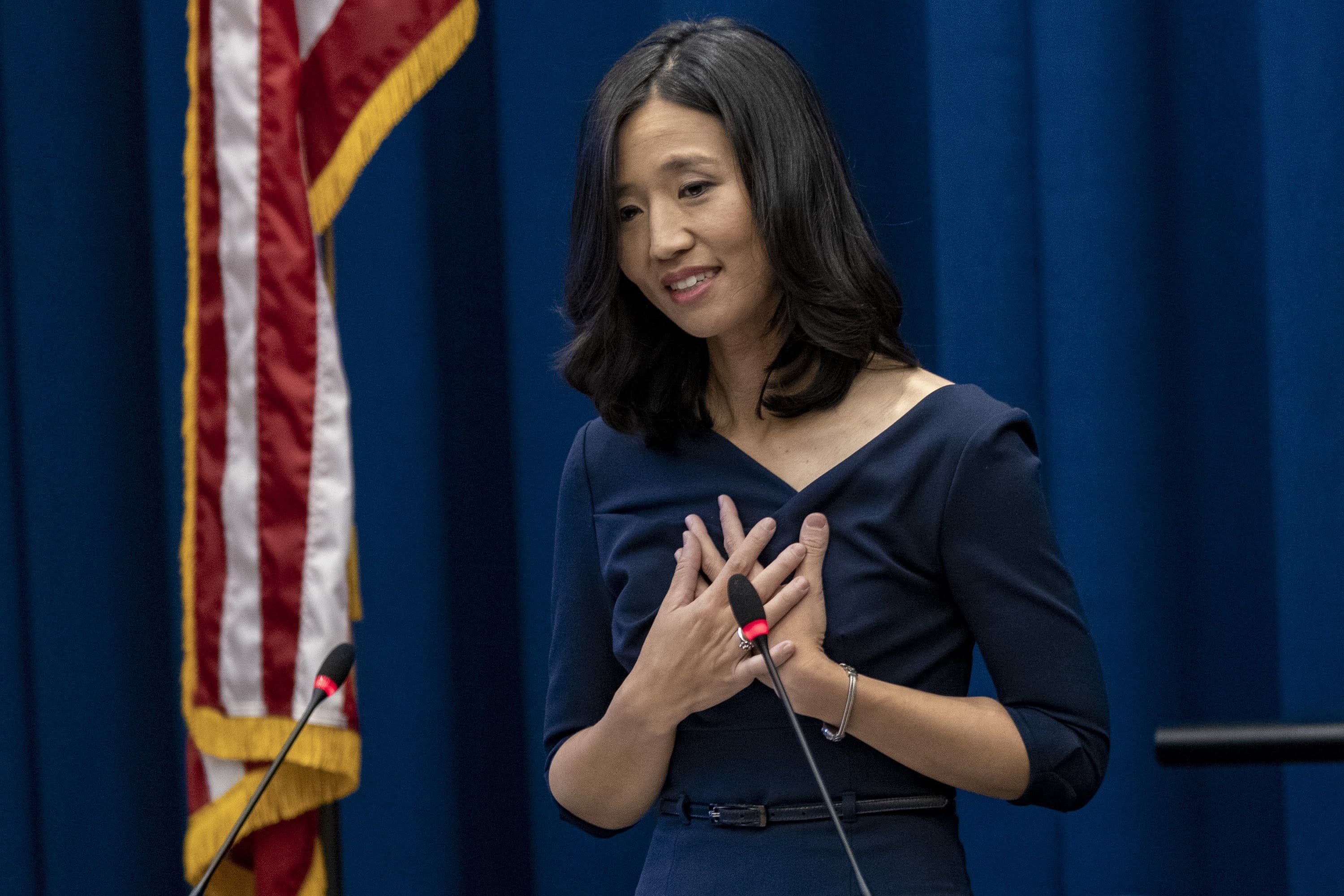 This article is more than 1 year old.
Boston Mayor Michelle Wu, a former city councilor and daughter of Taiwanese immigrants, made history Tuesday when she took the oath of office, becoming the first woman, the first Asian American and first person of color elected and sworn into the city's highest post.
Surrounded by family members as well as prominent state and local politicians, Wu pledged to immediately go to work.
"We have so much work to do, and it will take all of us to get it done," said Wu, shortly after being sworn in.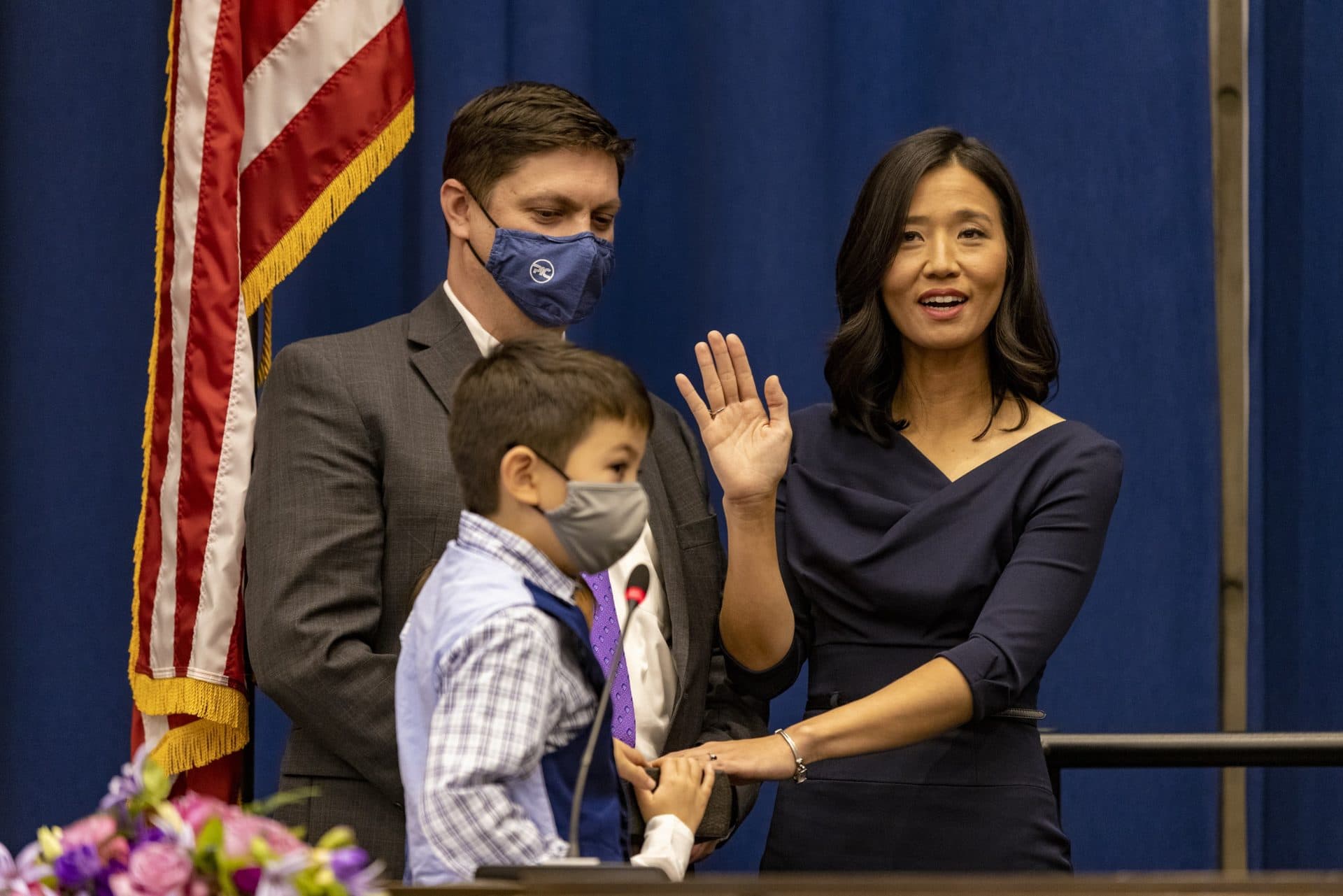 In brief remarks in the City Council chambers, Wu repeated a central theme of her campaign: a promise to deliver generational change — while also filling potholes and keeping the street lights on.
"Not only is it possible for Boston to deliver city services and generational change, it is absolutely necessary in this moment," Wu said.
Wu also said the city needs to chart a new course for families today and generations to come.
"After all, Boston was founded on a revolutionary promise: that things don't have to be as they always have been," Wu said.
At 36, Wu is also the city's first millennial mayor and one of the youngest people to run a major city in the United States.
Wu succeeds Kim Janey, who stepped in as acting mayor after Marty Walsh became U.S. Secretary of Labor in March. Janey made history in her own right as the city's first woman and person of color to lead City Hall. Janey unsuccessfully campaigned for a full term as mayor and endorsed Wu after being eliminated in the preliminary election.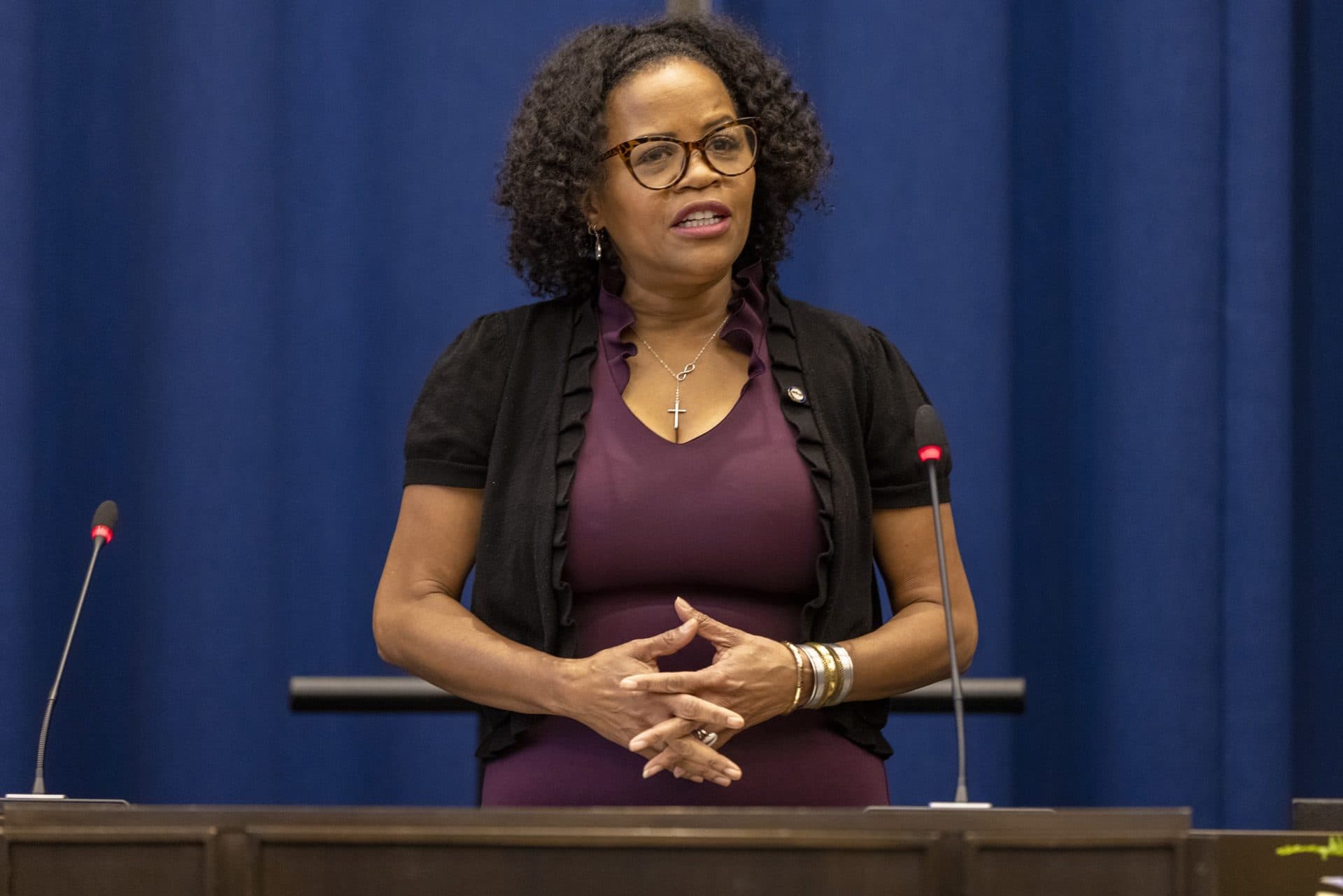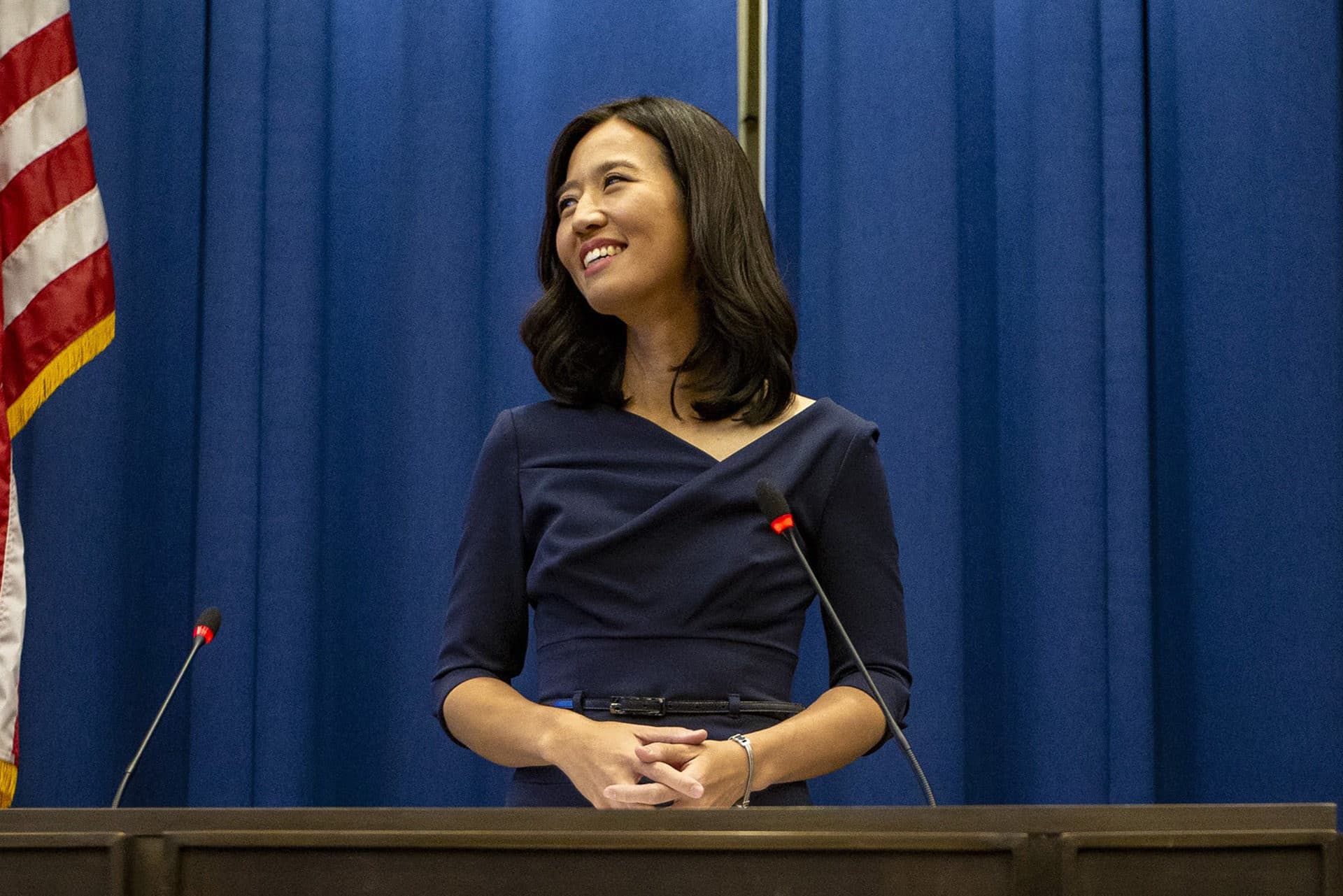 On Tuesday, Janey saluted her one-time rival.
"I'm confident that you will lead our city with integrity and that you will center equity in all that you do," Janey said. "I know that Boston is in good hands, and I am so glad to call you, 'Madame Mayor."
Before becoming mayor, Wu served as an at-large city councilor for eight years, including two when she also held the title of city council president.
A number of other prominent leaders attended the ceremonies, including Gov. Charlie Baker, U.S. Senators Elizabeth Warren and Edward Markey and U.S. Rep. Ayanna Pressley.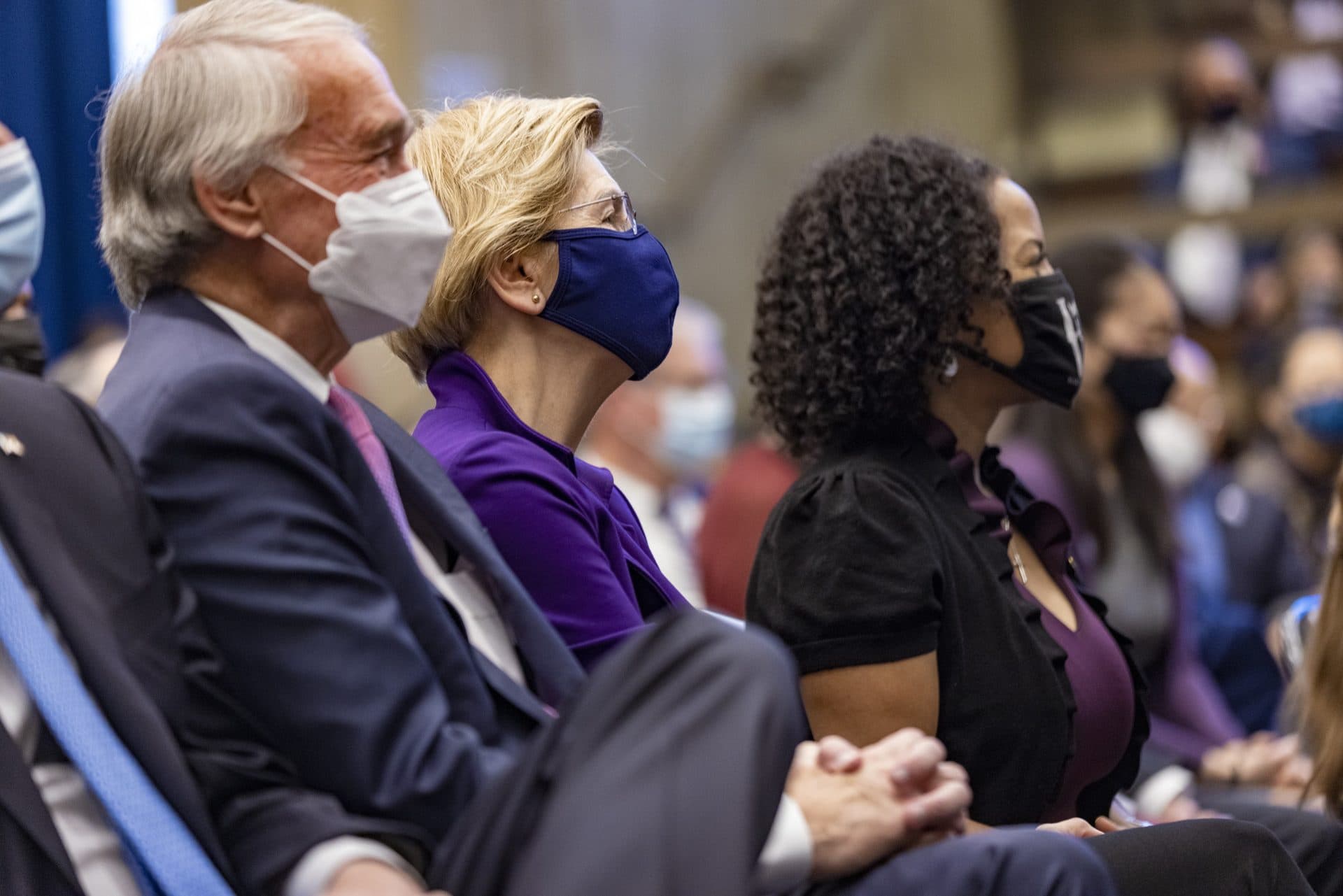 Wu had just two weeks — instead of the usual two months — to prepare for the job since she defeated councilor Annissa Essaibi George earlier this month. That's because of the special rules in the charter when a mayor leaves office early, as Walsh did when he joined the Biden administration.  So Wu is still putting together her team.
On Tuesday, Wu announced a number of key appointments, including Mary Lou Akai-Ferguson, who ran her campaign and will now serve as interim Chief of Staff. Wu said the big challenge is to hire the rest of her team while addressing pressing problems facing the city, including the approaching winter, needs in the public school system and cluster of addiction and homelessness around Massachusetts Avenue and Melnea Cass Boulevard.
Beyond the day-to-day challenge of running the city, Wu must also begin to make good on her campaign promises.
Wu ran on a sweeping progressive agenda, promising free public transportation, universal pre-k and a Green New Deal for Boston, which not only includes more trees and electric school buses, but also initiatives to attack poverty and close the racial wealth gap. Sen. Ed Markey, who co-sponsored a federal Green New Deal, and who attended Tuesday's swearing-in, said he believes Wu will bring historic change to Boston.
"This is going to be the Green New Deal City for the United States and the whole world," Markey declared. "It's going to be the model. And she is going to be the leader who shows that you can have prosperity and environmental justice at the same time."
Of course, Wu will no doubt face pushback as she tries to implement her progressive agenda.
But Tuesday was about Boston turning a page and installing a new Mayor — a leader who represents a new generation and a new vision for the city.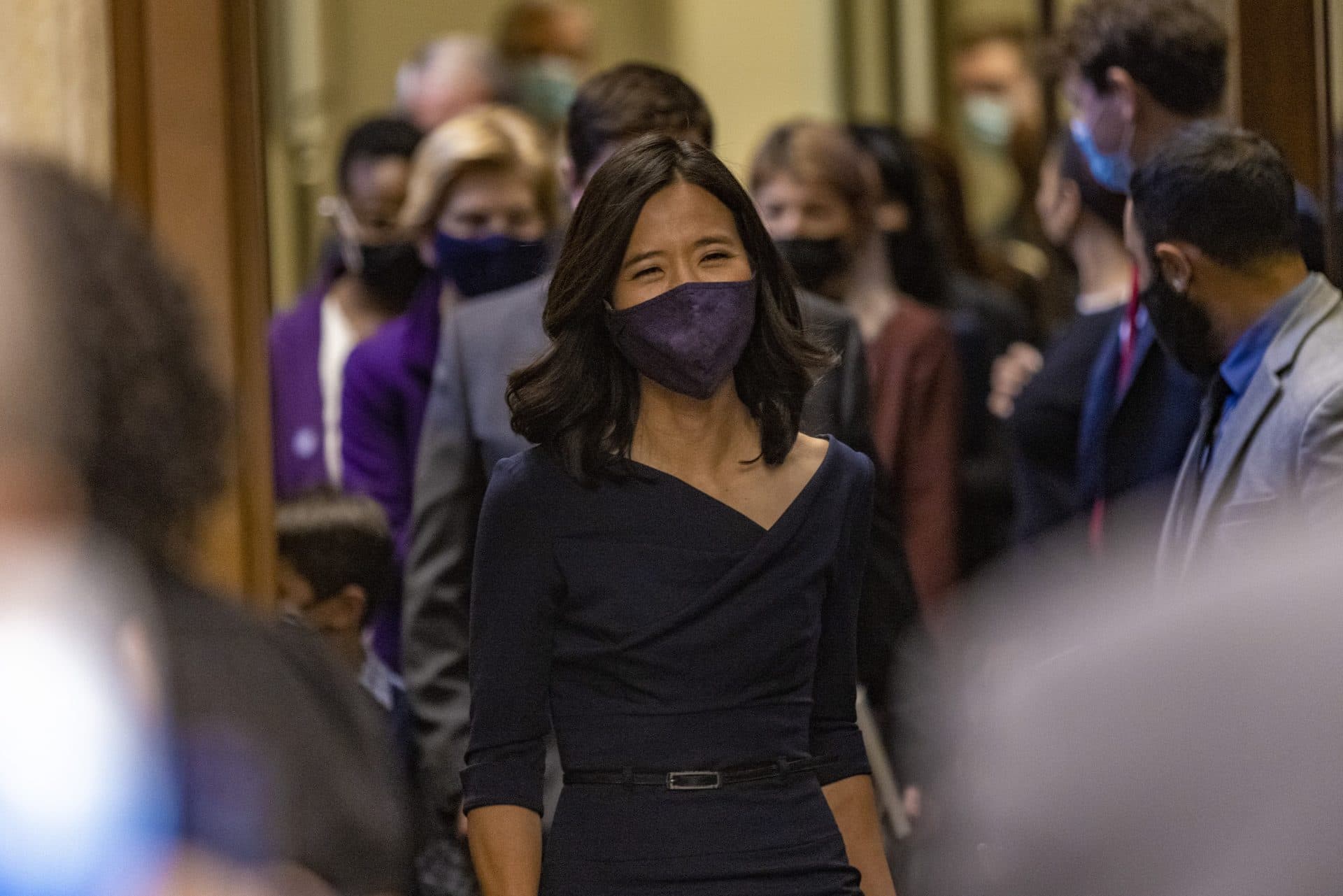 This article was originally published on November 16, 2021.