For Record Store Day, Aerosmith is releasing an LP of recordings made in 1971
Over 13 years ago, Record Store Day was created, a concerted effort to drive fans to buy actual hard copy products in an increasingly digital age. It's now a twice-a-year event and, as always, the second comes on Black Friday, a day when a myriad of bands release limited-edition rarities from their vaults.
Aerosmith has come up with a hard-rocking, bluesy doozy — and a mystery: It's called "1971: The Road Starts Hear," a 40-minute LP and cassette culled from a two-track tape done on a vintage Wollensak reel-to-reel deck owned by guitarist Joe Perry. It's a seven-song pressing of 10,000 LPs and 2,000 cassettes. Five of the songs showed up on their debut LP, recorded the following year and released in early 1973.
When this was recorded, the band — Perry, singer Steven Tyler, guitarist Brad Whitford, bassist Tom Hamilton and drummer Joey Kramer — was barely a year old. The existence or whereabouts of the tape was unknown for years, until a discovery was made in an old van the band once used. As to its provenance, well, that remains a bit of a mystery.
"This record is a bolt out of the blue," says Hamilton, via email. "All of a sudden, it's just there! When I first heard it, it was like hearing some young new band. 'Listen to those little s---- play!'"
"I'm still racking my brain to try and remember when and how we recorded this," he continues. "Tape? Demo? Rehearsal? For me, the thing that makes it so mysterious is that the guitar, bass, drum and vocal parts are almost exactly what eventually went on the [first] album. Joe seems to remember something about a two-track tape machine, but I can't figure out how we got the quality. I mean, it's funky and raw but everything's there."
"I know some people thought it was at a sound check at a gig in Lowell," says Perry, on the phone from his Sarasota, Florida home. "But I think from the way it was set up — we only had two microphones and we had to experiment where to get the best mix — it was probably recorded in the basement of the rehearsal room they gave us as a tradeoff at a Boston University dorm. It sounded like a more controlled environment and has the vibe of the way we rehearsed there."
Aerosmith's roadie and right-hand man at the time, Mark Lehman, set up two mics: One for Tyler's vocals and one for the rest of the band and pushed the record button. On "1971," you can hear a smattering of applause from invited friends or, perhaps, students passing by and stopping for a listen.
That was the nascent Aerosmith, which at that point, was mostly playing cover songs during club gigs. That was the way of the world in the pre-punk early '70s.
"To play clubs back then," says Hamilton, "you had to do Top 40 commercial crap and play five sets a night, six days a week which would have turned Steven's throat to gristle. At first, it was all covers, but then Steven and Joe started getting together and writing. Then, we only played gigs that let us play our originals along with the covers of our choice."
As to their developing sound, it was clearly blues-based and the band specialized in revamping old blues and R&B songs, but Perry says, "I thought it was the kiss of death to sit around and play slow blues. If it was a blues song that rocked, that was another story."
At BU, Perry says, they made a deal with the person who ran the dormitory: Aerosmith got to use the rehearsal room if they did some free gigs for the university.
"I think we got the better part of the deal," he says. "We only played two or three times. We played whenever they asked, but they didn't ask for too many and they liked the idea of having a rock band playing in the basement."
Aerosmith would pack up their gear after rehearsal and stuff it into closets, as a ballet company shared the space.
It is almost astonishing how crisp and tight "1971" sounds, given the likely setting and situation. Certainly, modern production can punch up the sound — it was co-produced by Perry, Tyler and longtime friend and consultant Steve Berkowitz — but Perry claims there was no extensive cleanup.
"Really, not much," he says. "They have programs you can run and if vocal is too far back, to a degree they can isolate that and make it a better mix. But this [tape] is pretty much natural." He maintains the difference from the original tape to what's now on vinyl is minimal: "I'd be hard pressed to tell if it were a blindfold test."
When they recorded their debut album for Columbia Records, Tyler brought six of his own songs; he and Perry co-wrote one and there was a cover of Rufus Thomas's "Walkin' the Dog." On "1971," there are four of Tyler's — "Somebody," "Mama Kin," "Major Barbara" and "Dream On," plus the Tyler-Perry co-write "Movin' Out," and their rocked-up rendition of Thomas's 1963 hit.
Rehearsals were not casual affairs. "Steven was definitely the maestro back then," recalls Hamilton. "Very demanding. So rehearsals were fun, but serious business. Every note counted. We knew what we wanted and we rehearsed in minute detail."
One treat is hearing the embryonic "Dream On" — the ballad that broke the band — with some different lyrics, and with Tyler putting his all into it, hitting the ever-accelerating high notes. In a rehearsal, mind you, never intended for airing outside the band. "It's really amazing to hear how close we were playing it then to how we play it now," says Perry.
Also of note: The other four guys initially weren't keen on recording the song. With its piano-based intro and slow build, "Dream On" was something of an outlier and, Perry says, they definitely envisioned themselves as a band where rock 'n' roll was key. "But we also knew 'Dream On' had something to it."
Perry says Tyler had the song in shape when he came into the apartment they all shared at 1325 Commonwealth Ave. "He had a piano in there. I'm not sure how we got a piano into that apartment. But we heard the riff over and over again and it became part of our DNA and we built it up. We also knew it was really hard to get a rock 'n' roll song on the radio past a certain point and with that ballad, we didn't know where it was going to go, but it worked."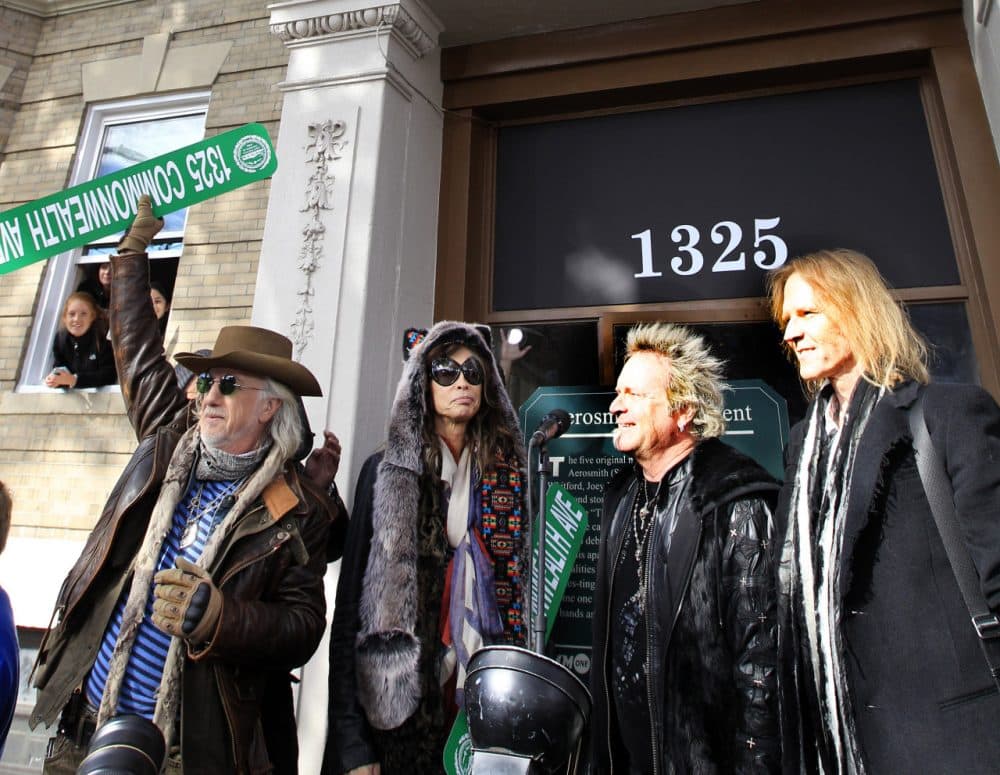 Aerosmith also has a multi-CD box set in the works. Perry says, unlike some bands, there's no massive backlog of unreleased new songs waiting to see light of day.
"It would be great if we had an album's worth of unheard material," Perry says, "but it didn't work that way for us. On the other hand, there are a lot of songs — like 'Dream On,' 'Sweet Emotion' and 'Kings and Queens' where there's a different vocal, or guitar solo or tempo. A different vibe. I think that would probably be more interesting for fans to hear."
Perry says those out-takes have the high-quality sound they achieved with producer Jack Douglas at the Record Plant in the mid-1970s, the New York studio where they did their first five albums. "I'm anxious to dig into some of those and hear some of those different takes."
And then there is the Aerosmith 50th anniversary tour, bounced from 2020 to 2021 because of the pandemic and then to 2022 because of the surge earlier this year. It is now slated to kick off June 1 in Lisbon with a skein of European dates ending in Moscow on June 17. They'll take a break and come back to America, and are booked at Fenway Park on Sept. 8.
The plan is to not just play the hits — "the core 15 songs," Perry calls them — but to dig deeper into their catalog for rarely played album tracks. He expects they'll rehearse for up to four weeks, possibly in Boston, but more likely in Las Vegas where they had a pre-pandemic residency and where most of their gear is stashed.
"Right now. I'm looking forward to getting back on the road," says Hamilton. "I have a feeling the world will be in better shape by then and when it is, we'll be ready. We'll see."
"Until we all get on the same page, in a global sense, [the pandemic is] really going to be around a while," Perry says. The band members — all of whom will be in their early 70s — are keenly aware of the unpredictability of the pandemic, its variants and potential severity. "I hate to be a pessimist about it, and I really want to go on the road, believe me. I've been living out of a suitcase since I was 14 years old."
"Everybody's got to make their own decision," he continues, about the vaccine, "but I think it would be pretty obvious that getting the vaccine is a better bet than not. If there's a downside to getting the vaccine, I'd rather gamble on that than not getting it and ending up in the ICU for God knows how long. I remember growing up and getting the polio shot and back then there was no question. There wasn't any 'No, I don't want it because you're making me do it, you're taking away my rights.' It's like 'This is what you do.'"