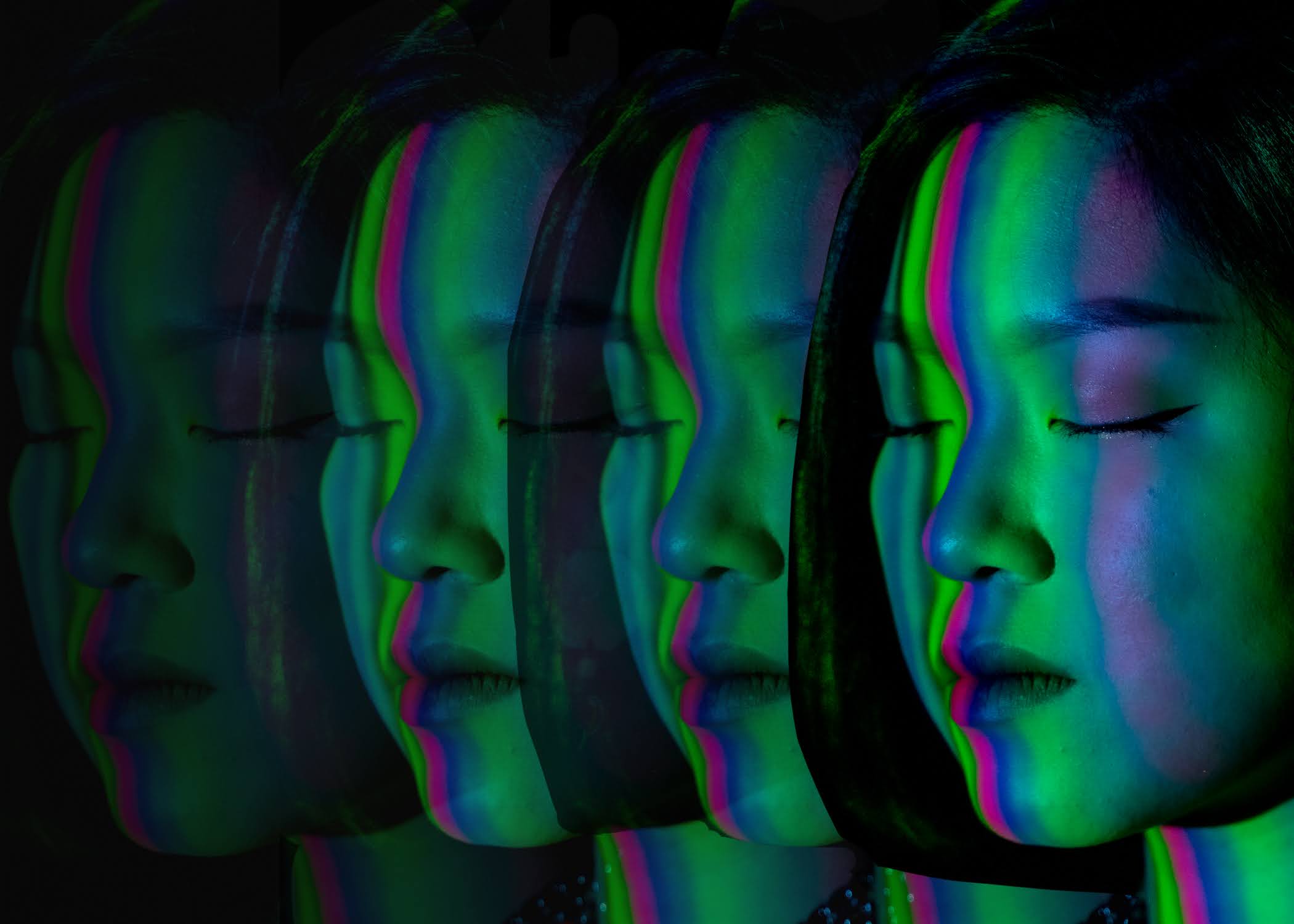 Local Tiny Desk favorite HEESU takes her cues from K-pop and soul
This article is more than 1 year old.
HEESU's 2021 submission to NPR's Tiny Desk Contest is, in certain ways, a classic of the genre, which often features musicians in spaces that can barely contain them. In the case of HEESU (the stage name of musician Heesu Yu), it's a small bedroom with posters on the wall. The bassist smushed into a back corner, the keyboard on the bed. A drum kit pared down to its essentials. The little row of green succulents arranged in the foreground, a pop of color in a humble scene.
The song itself, titled "Me," is easily appealing. A shimmying beat from the drums, a sly R&B mantra from the keys. And then there's the hook – an earworm of a melody that spins pleasantly around the back of your brain long after the song has finished. The arrangement is economical – there are no wasted notes, no showy indulgences. The band (Lorenzo Bellini, Kevin Barbar and Sunny Lai) plays with gentle confidence and obvious joy. At one point, Yu sings, "2020 was a time for myself." Relatable content.
---
---
It was for all these reasons that our five panelists (Dart Adams, Frances Forever, Peter Mulvey, Mano Sundaresan and myself) chose HEESU's "Me" as WBUR's favorite Massachusetts entry to NPR's Tiny Desk Contest. The song stood out for another reason as well — it was one of the few entries to make use of a language other than English. Yu sings the verses in English, but the chorus in her native Korean (and, trust me, that hook can still get stuck in your head even if you don't speak Korean). Captions in the video translate the chorus: "I just wanna focus on myself right now/ I wanna spend more time with myself/ I wanna get to know myself better."
This was one of my questions for Yu when I interviewed her for this article. Why did she choose to write the song in both English and Korean? In retrospect, I must have assumed she would say something about wanting to make the song accessible to an American audience. But she framed her answer in the reverse. "The Korean part, just basically — it's like a summary of the whole song," she said. "So if the Korean listeners, if they don't know the verses in English, they would just understand, like, 'Oh, this is what this song is about.'"
I'll admit it's not exactly profound. Artists with cross-cultural audiences are always making accommodations, in both directions, in order to communicate their ideas. But it struck me that Yu, when speaking about her bilingual approach, centered her Korean listeners. It was important that her song, an ode to self-discovery, be legible to them, too.

Earlier this fall, I met up with Yu on the roof patio of her old building in Boston. This is the apartment where she spent all of the COVID-19 quarantine and a good chunk of her time as a student at Berklee College of Music. The patio was especially good for parties. "I would invite my friends, and we would have dinner together," Yu says. A few months ago, after graduating from Berklee with a degree in songwriting, she moved to New York, crashing with a friend of her mother's in Manhattan.
Yu, 23, grew up in Seoul, South Korea. Her mother is a (now retired) composer and conductor of traditional Korean music. But the young Heesu was always happier at the city's nuraebangs (Korean karaoke rooms), belting out K-pop for hours at a time. "That was, like, my playground," Yu says.
She describes herself as an outspoken person from a young age. This, she says, put her at odds with the Korea of her youth, where women were expected to be self-effacing. She hastens to add that things are changing now. But 10 years ago? "You have to act a certain way because you're a woman," Yu says. "But I wasn't like that. …I was very blunt, bold, and I was just frustrated. And I really just wanted to travel the world and see what's out there."
"What's out there" turned out to be Rochester, New York — the city where she was sent, on a student visa, by a study abroad agency. More suburban sprawl than metropolis, Rochester was a striking change from Seoul. But she stuck it out for four years, even landing the lead in the school's production of "Seussical the Musical." She thought, for a moment, that she wanted to go into musical theater. "But now I was like, 'Nah, I want to write my own music,'" Yu says. "I want to be original."

So, off to Berklee she went. Her mentor and friend Tom Baskett, an assistant professor at Berklee, remembers when she started taking private voice lessons with him. "She looked and carried herself so differently then," he recalls. "She had long hair. She's small in stature. So she just seemed like this little, happy person. But I look back and see, you know, she was always very directed."
At Berklee, everyone wanted to sound like Jill Scott or Robert Glasper. "People were doing cool neo-soul, live band, jazzy, very groovy music," Yu says. "I thought I wanted something like that."
Reader: she did not, in fact, want something like that.
Baskett remembers the transformation well. "She began to say, 'You know, what I really love is cool electronic dance music,'" he says. At first, Baskett was skeptical. "And then, suddenly, she starts churning it out. And I'm like, 'Oh, well, this is good!'" He started giving Yu suggestions on how to improve her new songs; she would go home, tweak them, and bring them back. "I thought, 'This is amazing,'" Baskett says. "I was just watching a person invent what they want to be."
Which brings us to the present. Heesu Yu, the neo soul singer, has been rebranded as HEESU, the electronic artist. Instead of a live band, she's part of a group called Blu Soju – an artist collective and "pseudo label," as Yu says, founded with other students of color at Berklee. Over the past couple of years, she has released a string of singles, shimmery midtempo jams with dancy beats and yearning melodies.
The new sound, Yu explains, is just more "her." After all, she grew up on K-pop. As a teen, she discovered artists like the British electropop musician Aluna and the American alt-pop singer BANKS. She has written a lot of breakup songs — "Me" is about the aftermath of a long-term relationship — but she figures, at least she can try to make people dance.

A couple weeks after our conversation on the roof patio, Yu and I meet over Zoom. She's back in New York. We chat for a while about Yu's music and her recent foray into producing. I also want to learn more about her mother, who is an important figure in her life. Yu had mentioned in our first interview that she had her mother's last name, which is unusual in Korea. I ask — why?
Yu pauses. "I guess, I…" she trails off. To my surprise — to both our surprises — she's getting a little teary-eyed. She explains that her mother was her primary parent (though she saw her father every week as a child), so it made sense to take her mother's last name. "Growing up, she was like my mom, and like my dad, too," Yu says. She apologizes for crying, and I apologize for making her cry; for a while, we "sorry" each other in circles. "I didn't realize it was a sensitive subject," I say. Yu shakes her head. "No, it is not." She tries to explain. "Whenever I think about my mom, [I'm] just grateful," she says. "I really look up to her."
I suggest that perhaps her reaction has something to do with the fact that she spent so much of her most formative years apart from her mother. Yu nods. "Yeah, yeah," she says. "I think that's why."

In all our previous conversations, Yu has never shown much emotion. She tends to be good-natured, even stoic. It's easy to forget the enormity of her decision, as a young teen, to come to school in the States. To be plunked down in the middle of suburban America, half a world away from home. The loneliness of that. To find yourself a different person in the new context, at times defined, more than anything, by your otherness. The peculiar task of self-invention once you've been untethered from the person who raised you, and the place where you're from.
Earlier this year, Yu released a new single, "Honey Eyes," the first she ever produced herself. It's a song about falling into the seductive depths of someone's gaze, aka flirting. "Your honey eyes/ Your honey eyes/ You don't even try," Yu sings over blissful synths and a pulsing bass line.
The song features a sample of a gayageum, a Korean stringed instrument with a twangy, expressive timbre. It's a nod to Yu's heritage, and to her connection with her mother. Traditional Korean music was the backdrop to Yu's childhood, so constant as to constitute white noise. At the time, it barely registered. But at Berklee, she learned about the history of jazz and R&B, and came to understand the cultural meaning of those venerated American genres. It made her want to revisit the music of Korea.
The gayageum sample in "Honey Eyes" is obvious, a looping "plink" like a drop of magenta on a pastel canvas. But, Yu informs me, she also sampled Korean drums. She pitched them down, manipulated them, until they blended with the synthesized milieu. You wouldn't know it if she didn't tell you. But they're there, as steady as a drum machine, insistent as a heartbeat.
---
On Jan. 28, 2022, HEESU will perform at WBUR's Cityspace, with Miranda Rae — one of WBUR's other favorite NPR Tiny Desk local submissions — opening the show. Get your tickets here.