So long, OBERON: performers and staff remember a venue that was 'home'
In December, we ran a story about the closure of OBERON, the American Repertory Theater's so-called "second stage." For more than a decade, OBERON was the place where the A.R.T. staged its weirder and more experimental productions, helping it forge a new, edgier identity. But on many nights, OBERON opened itself to local, independent artists. It was these performers, more than anyone, who defined OBERON. And it was they who responded when we put out a call for memories of the beloved Harvard Square venue.
Home, home. Family, family. These words appeared over and over in the submissions we received. Usually, I'm more skeptical when someone compares work to family — are you trying to get me to stay late on a Friday? — but I think these comparisons say more about the bonds forged backstage in the heat of a performance, or behind the bar on a busy Saturday night. For artists, there was a sense that you could try anything, and fail spectacularly, and still be invited back. For staff, there was a feeling that no one else could truly understand what it was like to work in a bar where actors routinely swung from the ceiling. OBERON was as nurturing a place as it was absurd.
I count myself among the OBERON orphans. It's where I got my first job out of college, checking coats. At the time, the club was defined mainly by its marquee performance, "The Donkey Show," a disco reimagining of "A Midsummer Night's Dream," which ran on Friday and Saturday nights. The show was kooky and debaucherous, and attracted packed crowds; I was, out of necessity, promoted to waiting tables, which required me to dodge between gyrating audience members while balancing trays of wobbly pink drinks. Eventually, I convinced my manager to let me bartend, which I liked better. From behind the bar, you could survey the whole surreal scene from a safe remove, and a position of implied authority. It was the best seat in the house.
The big, climactic moment of "The Donkey Show" comes when a truckload of shiny silver confetti is released from the ceiling, sending the crowd into raptures. One of my jobs as a server was to sweep up the confetti, which was made of super reflective Mylar plastic, and stuck to everything. It spread everywhere, like some kind of festive contagion: inside the glassware, under our shoes, on the sidewalk clear on the other side of Harvard Square, its metallic sheen dimmed by a layer of grime. I can't think of a better metaphor for what it was like to work at OBERON, a place that could be transportive, even magical, but also tedious and dull, like any job.
I used to joke that OBERON would provide the fodder for my memoirs. But I was never much of a diary keeper, and my recollections of the place are patchy (unlike the Mylar, which is not biodegradable, and which I am still finding in my house). Luckily, other people were more than up to the task. Here is a (lightly edited) sampling of the community's favorite OBERON memories, submitted by performers, audience members and staff.
---
Baring All Onstage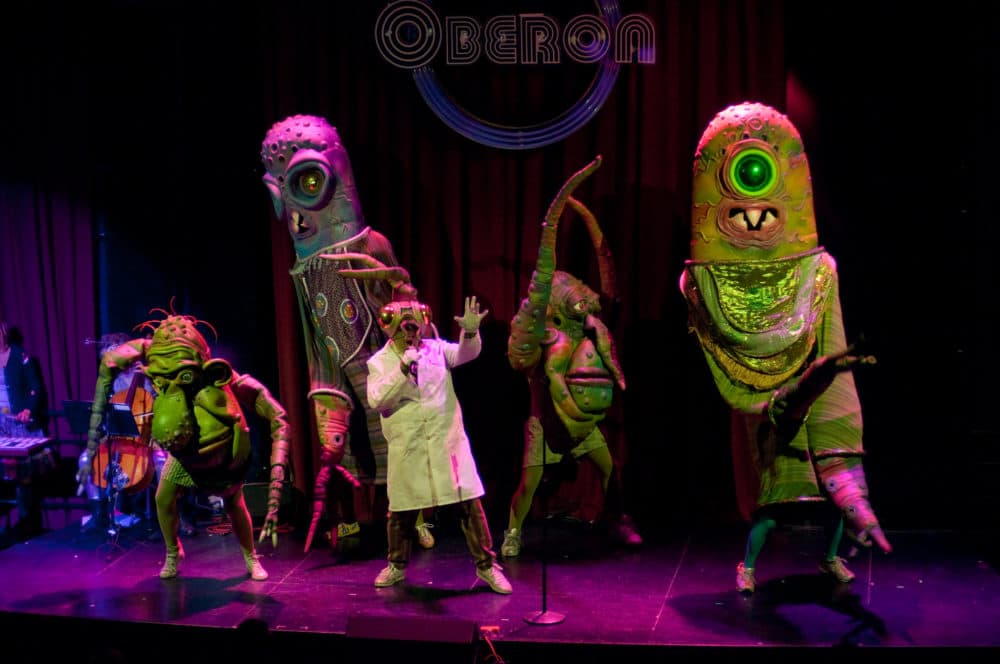 Tori Markwalder, performer
Getting to be a part of Boston Circus Guild's "Cirque of the Dead" for the last few years will always be a highlight in my career. One year, I was performing an act that had very specifically timed lighting cues. During one of these strategic blackouts, a stagehand would run in and pour fake blood into my hands, which I would then quickly throw onto my face before the lights came back on. During one show, however, the lights accidentally came on far too early, revealing me awkwardly standing on a disco block in the middle of the audience with wide eyes, two handfuls of fake blood, and a stagehand mid-pour. Oops!
3rian King, performer
Johnny Blazes and I produced a show called "Do You Queer What I Queer?" about our experiences growing up queer exactly 10 years apart in age. I can't imagine any other space in Boston where we could have had such an honest, raw conversation in front of an audience that was with us for every moment.
Kat Sistare, deck manager/stage audio engineer 
I have been working in that building since 2005. ... My most OBERON moment was perhaps when I participated in Mortified, the show where you air your embarrassing teenage self. I worked the show as usual, managing the floor and running the show. When my time came, I entered the stage wearing my headset as usual, shifted the mic and music stand around as usual, then stood behind the microphone. I took my com off of my ear, and told a room full of people about my first girlfriend and read terrible poetry. It felt electric.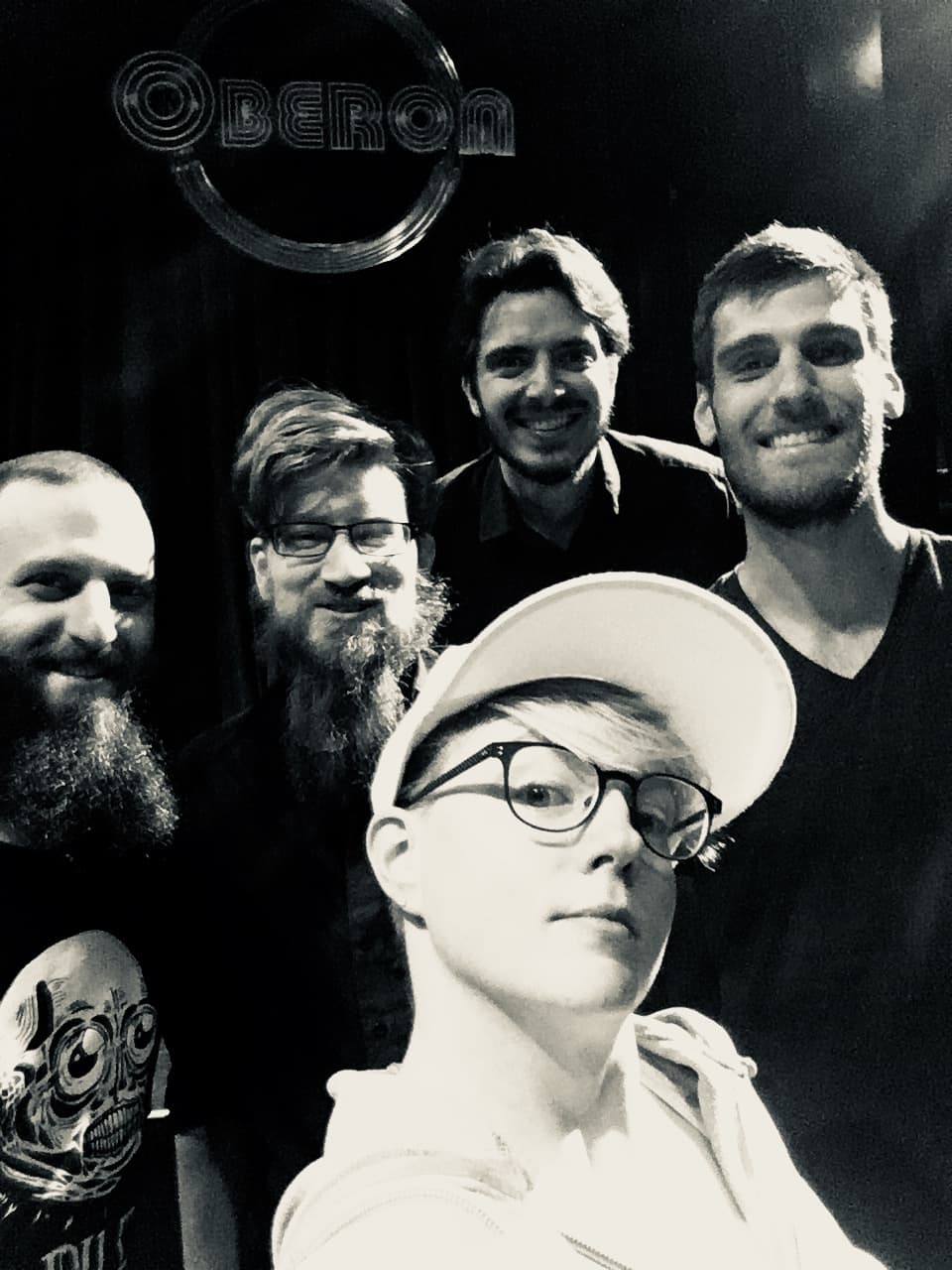 Brandie Blaze, performer
Opening for STL GLD was my first time performing in front of a sold-out crowd. It was incredible! OBERON has always been my favorite venue because it's absolutely gorgeous, the staff was always friendly and accommodating and the crowd was always lit. OBERON will always have a special place in my heart.
Petey Gibson, performer/producer
My collaborators and I produced a show early on called "Sloppy Seconds" — a burlesque show where the second act featured covers of the Act 1 songs, with the performers in new numbers. It was lit. I co-hosted with myself by performing as two different characters, who popped up in different parts of the venue all night, and I remember tearing through the back halls of OBERON, while quick-changing, and having techs throw me into place just in time for a spotlight to hit me. It was wild. And a true group effort all for the sake of wild, boundary-pushing art, which is what it was always ever about.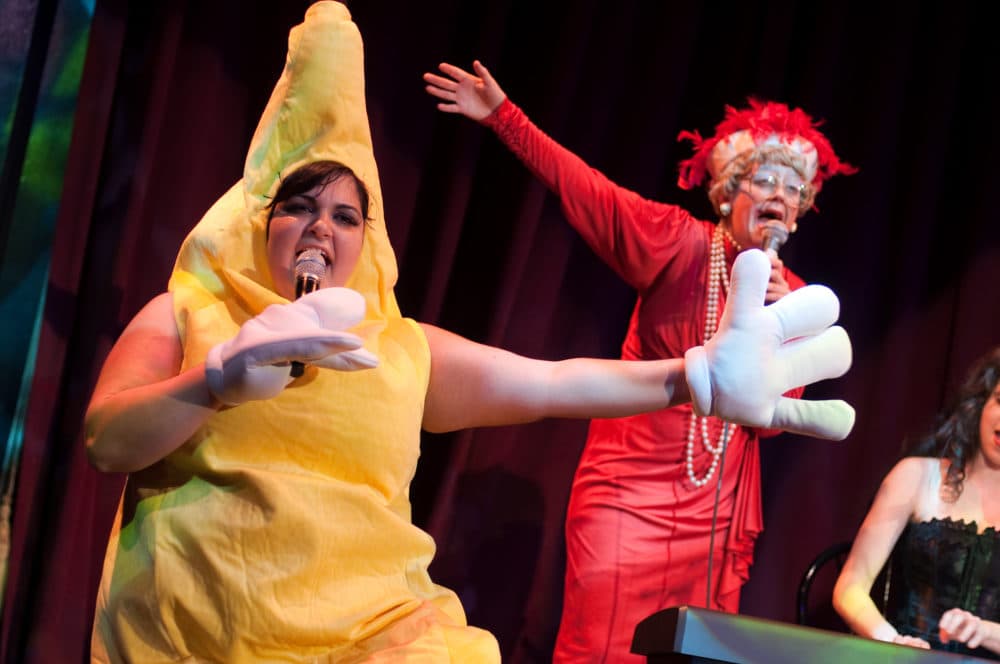 Ophelia Orchid, performer
I've struggled with body issues and body dysmorphic disorder ever since I can remember. Leading up to my burlesque debut, I had a couple of friends who had done burlesque. Due to the fact that I had extensive theater and dance backgrounds going way back to when I was a small kiddo, both of these friends had encouraged me to do burlesque for a while. Unfortunately, though, in my mind, my body issues and size stopped me. "No one would ever want to see all of this in motion onstage," I thought.
I first found myself at OBERON almost entirely by chance. ... The show was Slaughterhouse Sweethearts (now of course The Slaughterhouse Society) Present. This was the first burlesque show I had ever seen. As I sat at a floor table in the back left corner area, I was in awe of what I was watching.
There were performers [of] all different sizes. There were a couple of performers who looked like me. These performers were (and of course are) so incredibly talented and the audience went bananas for them. ... This is what flipped my huge mental switch in my brain for me that I had struggled with previously: maybe I could actually do this. Maybe people would actually enjoy watching me do this. ... I made my burlesque debut in that very room a little more than a year later.
Gabriel Rizzo, photographer
[W]hat I really loved was photographing the acrobats... During my first shoot of Boston Circus Guild's "Cirque of The Dead" during Halloween season in 2017, I was shooting one of them high above, and when she came down, she landed on the bar and bent backwards and looked at the crowd. I captured her at that moment and later shared that image online. The following year, BSG chose that single photo, selected out of thousands perhaps, for their 2018 Halloween season of the show.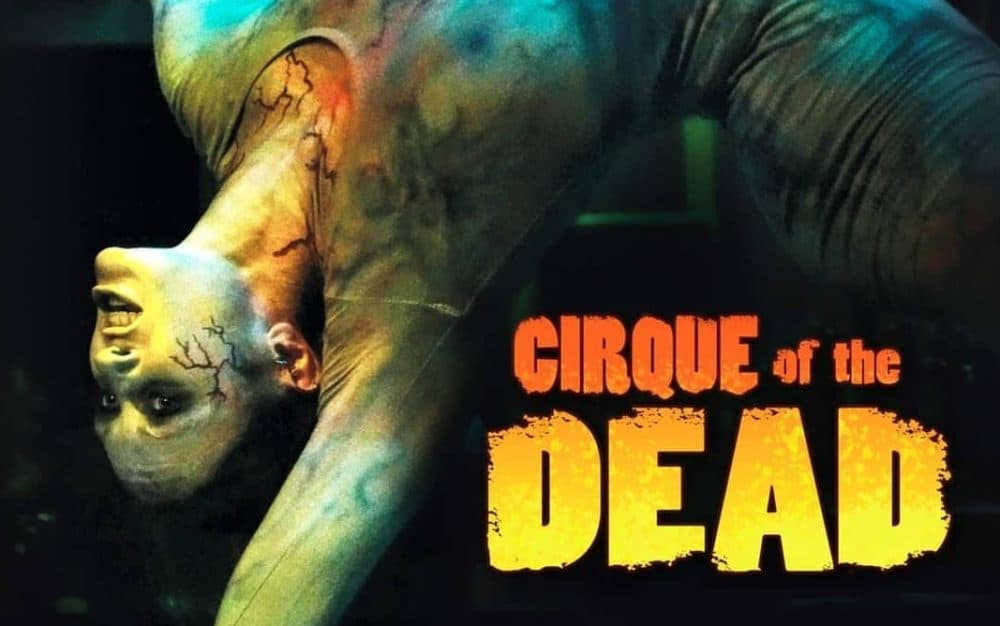 Behind the Bar
Eleanor Regan, bar staff
I once asked a man at one of my tables what he wanted to drink and he very gravely said, "Well, there is a problem." When I asked what the problem was, he said, "The name of the drink I want, it is too dirty for a girl to hear." And this while people were taking their clothes off all around us! I let him know that, unfortunately, that night we were an all-female bar staff, so he would have to tell someone or choose something else. He told me that he would think about it, and then 10 minutes later just left. I will quite literally go to my grave wondering what that man wanted to drink and I'll never know.
Amanda Hughes, bar staff
As a server, I loved seeing how everyone was equal at OBERON — from Justin Timberlake and Jessica Biel (during Hasty Pudding's "Man of the Year" celebration) to moms from Revere at "The Donkey Show" — everyone had a great time grinding, drinking novelty cocktails and celebrating art. I think my favorite performance, though, is "The Lily's Revenge." I've been thinking about the ambition and audacity of the show, and I fondly remember A.R.T. stalwart Tommy Derrah as a red velvet curtain who symbolized romanticism. Whenever I'm feeling stymied or underqualified, I still quote my favorite line, in which the Lily responds to being mocked for having one fewer petals than he should: "Yes, I have five petals... just like a star!"
Dennis Mayer, bar staff
For those of us working in and managing the space, we had such a weird challenge in supervising the environment without ruining it. So many of the shows staged at OBERON depicted behavior that, if the guests actually engaged in it, they would be ejected from the performance. (Drug use in the bathroom, public sex, severe intoxication... just anything you'd associate with a crazy night in a club. And that was just in "The Donkey Show," which was fairly tame by OBERON standards.) So our job was to let the performers create an environment where all this glorious debauchery seemed possible, but to make sure the crowd wasn't taking that as an invitation.
I remember one night when the drag show TraniWreck was featuring a "kink" theme, which meant that all the performers cranked up their enthusiasm to about 11, and found whatever ways they could to push the envelope in their acts. After the show was, as usual, a free-for-all in which the crowd that lingered could mingle with the performers, have a drink, hang out, what have you. That moment, after that particular show, always sticks out in my head as an example of how mundane the extraordinary could seem at OBERON. Some of the performers were go-go dancing in superhero costumes; one was suspended from a thick rope dangling from the ceiling, displaying bondage positions; more than one group was making out in three, four and more-somes. ... People were dressed in animal costumes, age-play gear, whatever. And I was supervising from the catwalk, just hoping everyone behaved themselves. There were certainly boring nights at OBERON, but even when the show was wild, it was still work. I'm still not sure how I wound up in charge of all that.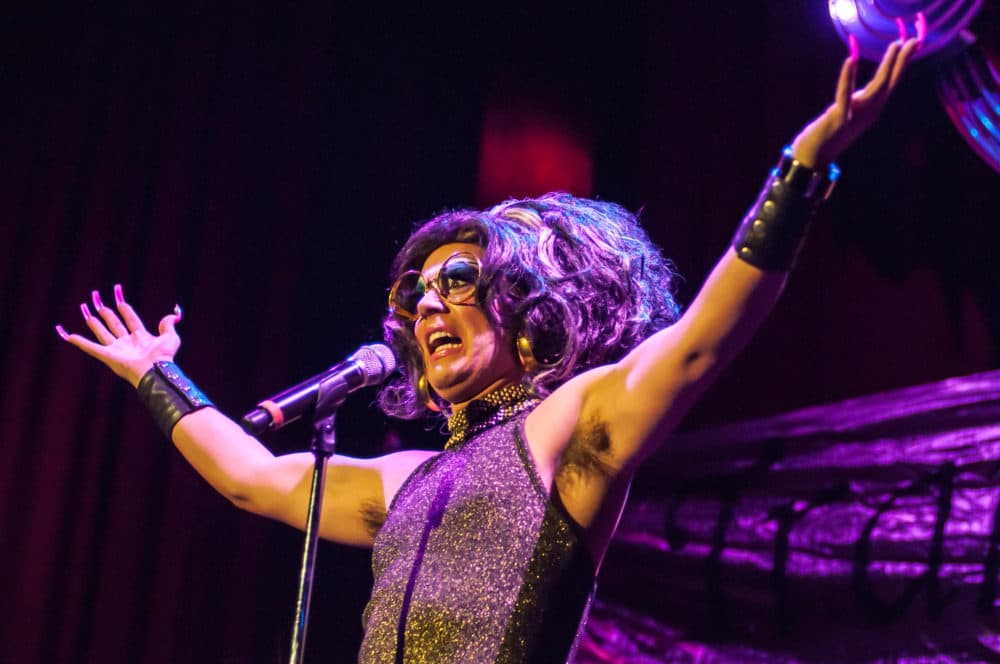 Home, Home. Family, Family
Brandy Wine, performer
I first attended shows in the space while I was still in college and it was the Zero Arrow Theater. When it took on its edgy club identity as the OBERON, that's when it became home. I attended shows at OBERON at least once a month, everything from The Moth and Mortified storytelling to burlesque, drag, and circus. When I started performing burlesque, my dream was to be on stage at OBERON. Not only did that dream come true, but I ended up performing there regularly over the past eight years, eventually producing shows of my own there. I've attended two weddings in the space, spent multiple Halloweens partying there at "Cirque of the Dead," and was presented with flowers on stage for my 32nd birthday while dressed as a mime. As a spectator there, I have cried tears of laughter, tears of grief, and tears of awe. It has been a badge of honor to find the ubiquitous Mylar confetti from OBERON stuck on my bags and shoe bottoms. It's a reminder of that theater magic that stays with you.
Sarah Schofield-Mansur, bar staff
[It's] cheesy, but OBERON gave me a whole family. Not only did I meet my spouse there, but the camaraderie and bond among the staff, and even between the staff and artists, really created this tight-knit bond that I think would be challenging to replicate elsewhere. Growing up and working in that space from ages 17 to 30 means that OBERON and the whole team really shaped my personality and worldview in meaningful ways.
Aaron Cohen, staff, performer and audience member
My wife and I got married at OBERON! Also, I proposed onstage there.
Ethan Marsh, performer
From our first show at OBERON, it was pure magic. I was backstage for "Old School Game Show's" country-themed show dressed like Waylon Jennings being mic'd up by our incredible stage manager, Kat. Just having such a professional crew fret over us, laugh during sound check and believe in us made me say, "Man, you're a real fancy comedy guy now. This is all you've ever wanted." Over the years, OBERON became a second home for us and we grew to love an amazing staff that went above and beyond to support not just our weird show but some of the most unique, bold and diverse voices in Boston. I used to love, after being onstage, putting on my civilian T-shirt, having a drink at the bar and listening to my friends receive booming laughter and applause from the audience. The sound of that feels so distant now, but I'll always remember it.
Stevie MacCleod, audience member
I remember that, at first, I tried to save all of my tickets to OBERON shows, because they, and so many blurry photos, were the evidence of my experience. Every time, it felt like coming home to your family... who happened to be covered in glitter and fake blood. I eventually stopped saving every one because there were so many, and I took that for granted.
Ari Barbanell, former A.R.T. director of special projects and OBERON producer
I think people had revelatory moments at OBERON, and I think people felt welcomed in a way that is not how theater normally welcomes you. We think of theater as entertainment — and it is — but also it changes lives and opens hearts. It makes you feel good. And I think a lot of people who needed to feel welcome got that at OBERON.
Jadira Figueroa, stage manager
One of my many memories is the last show that I stage-managed at the OBERON, October 2019, Yo Soy LOLA's "Las Que Sueñan." As a Latina performer/stage manager, I felt great pride in being part of a show that expressed the beauty of my community within its story and the team that helped bring it to life. To have this performance at the iconic OBERON … has been a highlight in my career. I will miss the OBERON team, from the way they greeted us to how we worked together. I will miss the OBERON and all the beautiful memories created there with incredibly talented artists!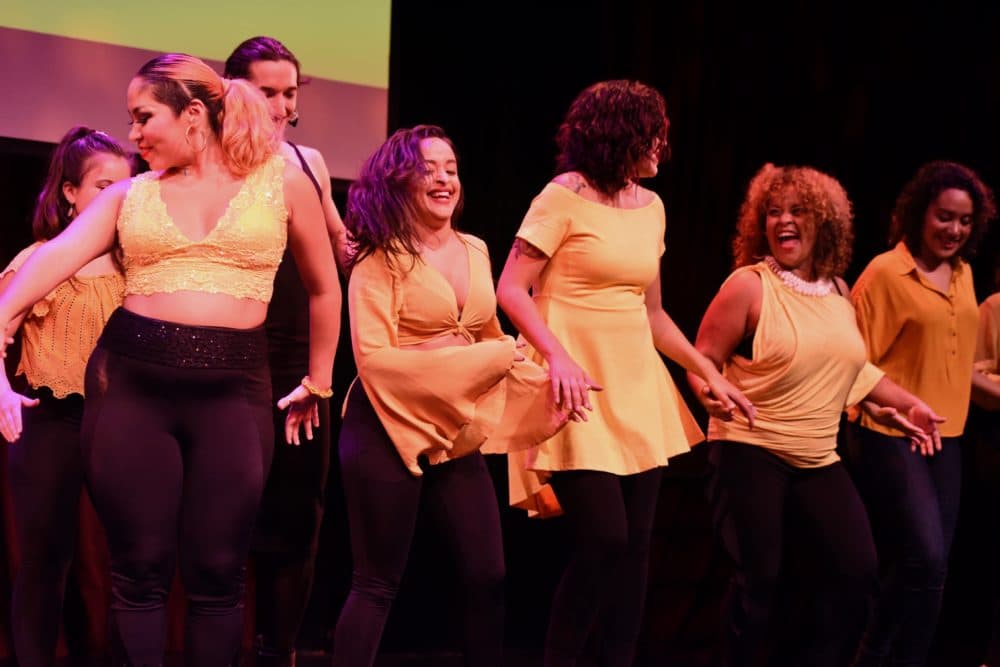 Alli Thresher, performer
There was a really, really special moment when my son, Vincent, was about 10 months old. I was pregnant with his little brother, getting ready to host one of Sirlesque's shows as my alter-ego, Alessandra, and I was simultaneously holding in barf while having a quiet, to myself, "stressed out pregnant human" moment when our special guest for the show, Tigger, gently put his hand on my back and offered me a pickle from his takeout plate. Pickles are my favorite thing and it was so what I needed. He then picked Vincent up and snuggled him for me while I ate what was the best damn pickle I've ever had and my child got to hang out with someone I have always been a fan of. That pickle was just what I needed.
... That small moment says so much about the community that OBERON created. And the sacred, special, bizarre, debaucherous and yet wholesome family that came out of that place. People just knew what others needed — whether that was comedy, stripping peacocks, disco dancing Shakespeare, or nearly naked gymnastics — and offered it up with a warm and gentle hand.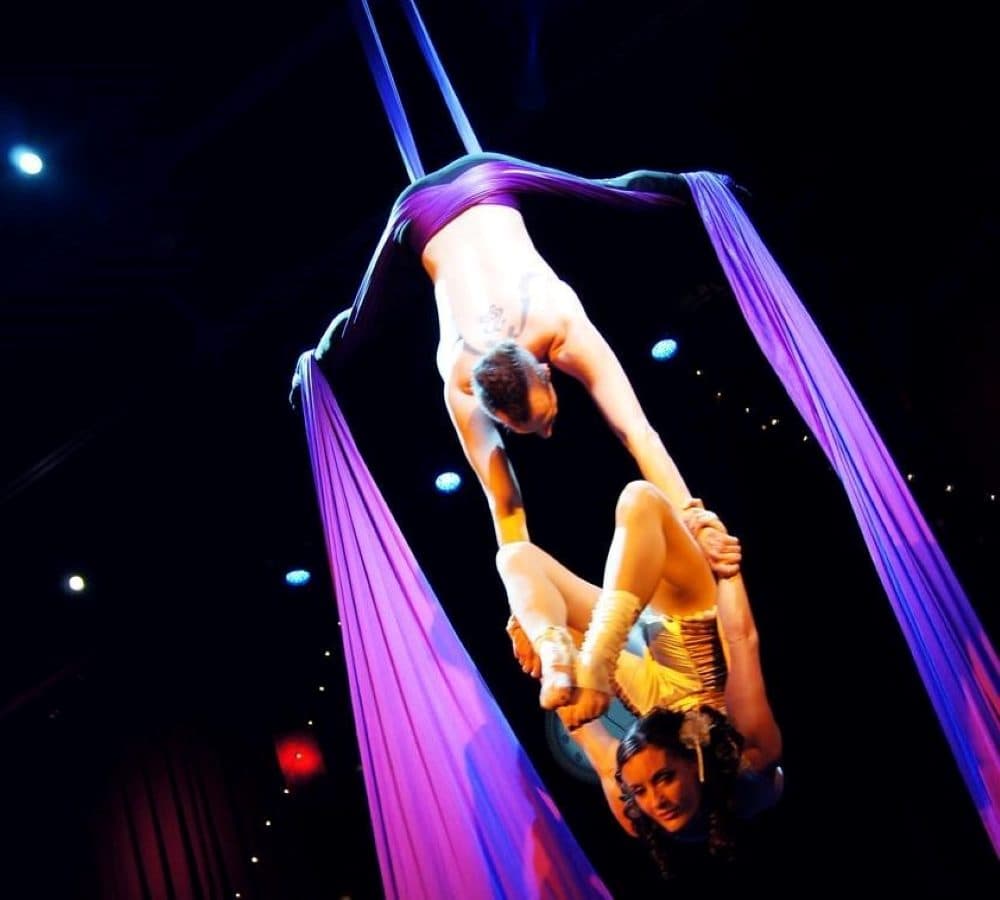 A Holy Space
J Sylvan, performer/producer
I'll never forget the last show I produced at OBERON. It was the workshop for "Beloved King: A Queer Bible Musical." After two years of work, it was going to go up on March 12 and 13, 2020. Of course, the plague hit, and at the last minute we refunded everyone's tickets. We decided to film a dress rehearsal in the empty theater, surreal and sad when we were expecting two sold-out crowds. Yet there was something holy about that just-for-us performance.
Lauren Robbins, performer/producer
OBERON was a home to me, but it was also something more. Every time I came to OBERON as a performer, I had the same thought: "I feel like I'm running away to the circus." It was a place where I was seen and heard by my peers, and a place where I could express a need and share an idea in the shape of an experience. It was the watering hole for all the animals you most trusted and admired, and where everyone had the permission to be exactly themselves.
Mark Sickler, bar staff
I was working security for a show, I forget which one, but it was a mostly subscriber audience. An elderly woman who was with her male companion were just about to enter the main doors of the space, when she asks her companion, "Gender neutral? Why do they have gender neutral bathrooms?" Her companion, without missing a beat, leans over and says, "Because it's the A.R.T., dear!"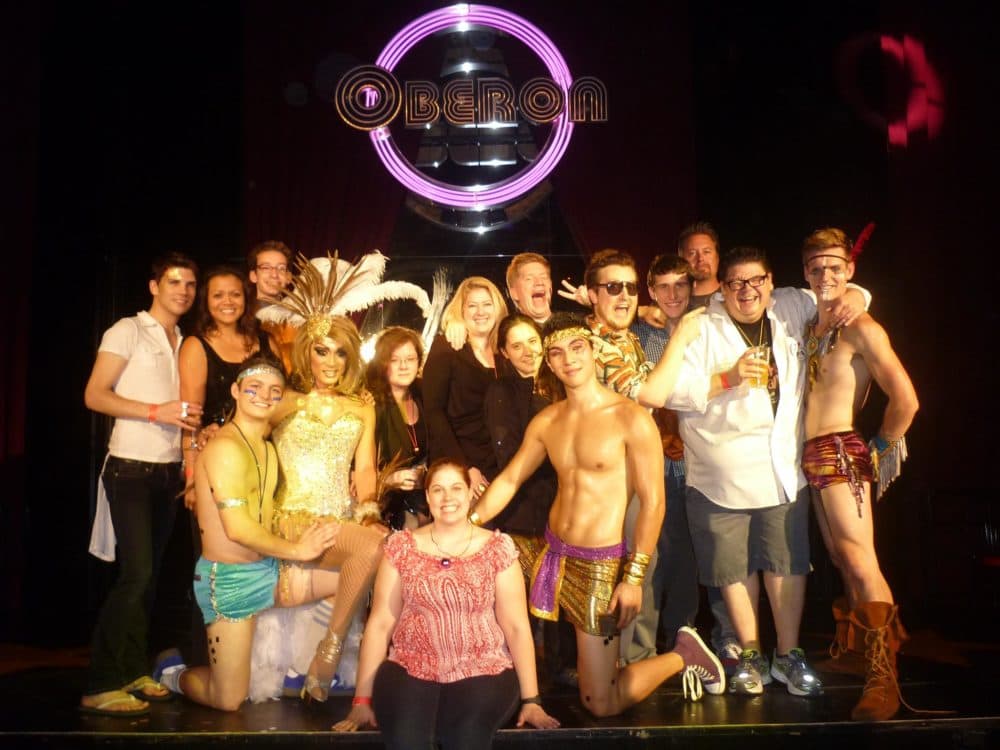 Tim Lawton, performer
There was nothing quite like performing at OBERON, but my favorite memory was one I shared with "The Rocky Horror Show," where I had to throw a saxophone blindly over a railing into the waiting hands of our stage manager, Victoria Coady. Somehow, besides lacking coordination or eye contact, we always made it work!
It meant so much more than a venue. It was an incubator, a laboratory, a blank slate where everyone could write a chapter. We are poorer without it.
This article was originally published on January 06, 2022.