The Ocean comes to its own defense in a new musical that confronts climate change
Resume
According to a recent United Nations report, climate change is causing irreparable damage to farmland, cities and coastlines. Environmentalists say getting the public to act on dire news like this is hard, but Harvard University scientists collaborating with the American Repertory Theater believe an immersive musical experience will help.
"Ocean Filibuster" stars a bold, battered, billions-of-years-old main character: the Ocean.
"No, I'm not here on behalf of the ocean, I'm not standing in for the ocean," actor Jennifer Kidwell clarifies on stage early in the production, "I am the Ocean."
She actually portrays two characters in "Ocean Filibuster" — that immense body of water, and she also plays against herself as a polished politician named Mr. Majority.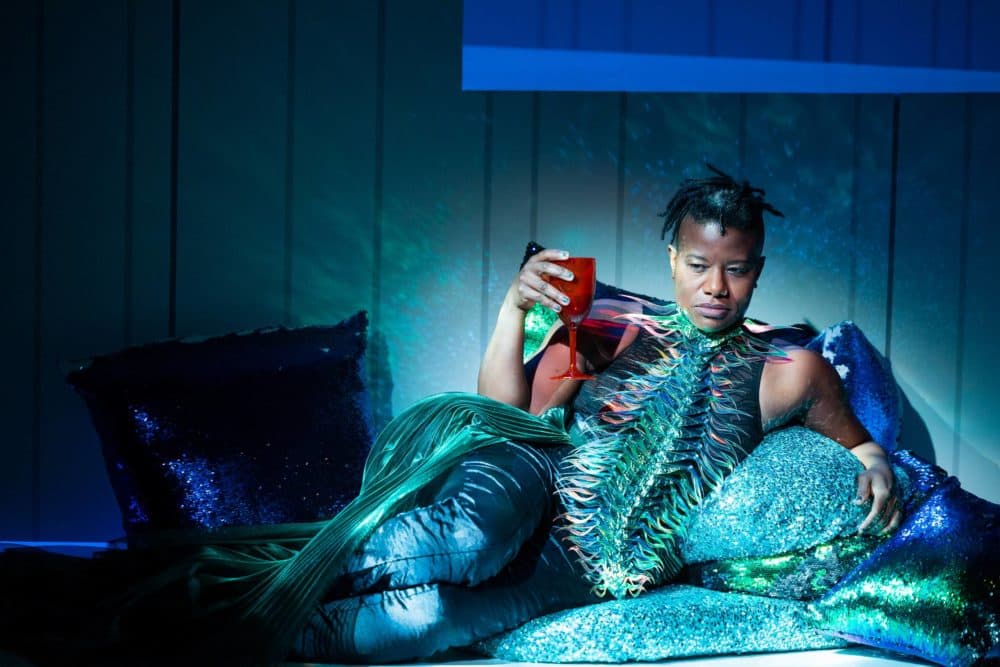 In the opening scene, Mr. Majority addresses a global senate in a dystopian future. The theater is set up like a government chamber and the audience plays a part in the proceedings. Mr. Majority tells us how superstorms, wildfires and drought have ravaged the planet. Cities like New York and Tokyo are underwater.
"Coastal landslides displacing entire countries, forcing the desperate masses inland, penniless and hungry to start anew," he says. "When we trace this devastation back to the source, we find ourselves standing on a beach, gazing upon the ocean."
Then Mr. Majority introduces his solution: an "End of Ocean Bill." If passed, it would divide the Ocean into seven manageable seas that would create more dry land on the planet. Mr. Majority sells his radical concept through pseudoscience and song.
"No more troubled oceans, only placid lakes and streams," he belts out, "refineries and wheat fields as far as you can see."
But the Ocean arrives to defend itself. Kidwell ducks behind the podium for a swift but subtle costume and attitude change. Then she cooly reminds Mr. Majority of their primal relationship.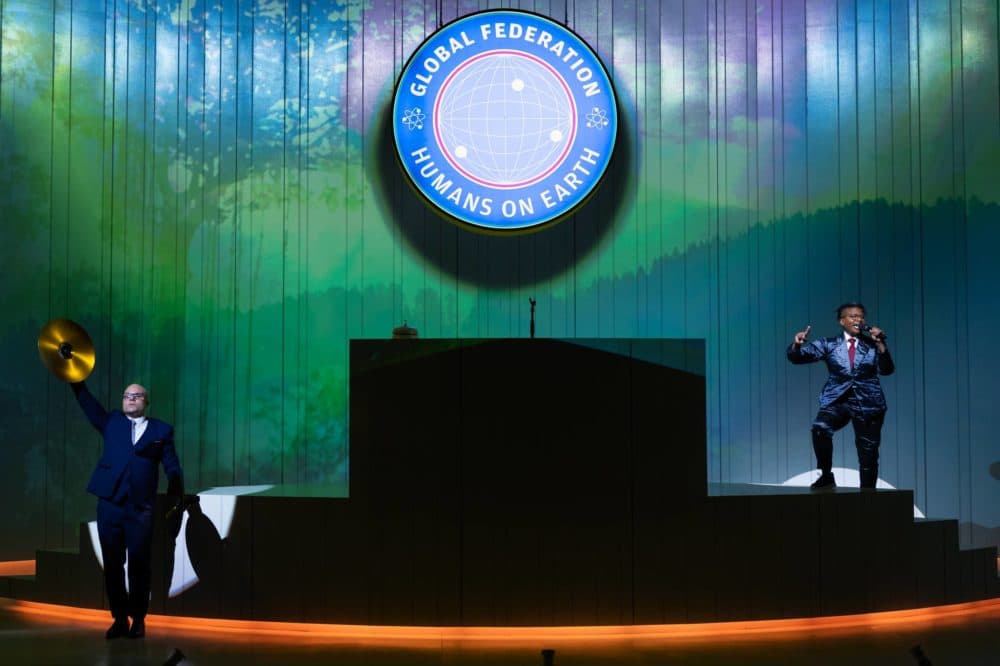 "Let's just remember that the human body is 60% water, and the salinity of human blood is the same as the salinity of me," Ocean says with a confident chuckle, "the moment I spit you out onto my shores as a microscopic, fishy, salamandery type thing."
Becoming the Ocean has been a wild, eye-opening trip for Kidwell. She even went scuba diving to prepare.
"There is a claustrophobia that came up emotionally," Kidwell says, adding she wondered, "if this feeling of being in a tight space is actually about the specter of the vastness and openness."
She focused on the sound of her own breath. Soon, she noticed the explosion of life teaming around her. A turtle swam by and Kidwell says she played hide-and-seek with a flounder. "There was this moment when I was dancing with millions of fish that were two or three inches long," she shared, "and there was no choreographer."
Kidwell distilled what she saw and felt into playing her protagonist.
"There's a boldness there, like a patience there, a vastness there — and playful," she says, "I think within the piece, one of the points that is made is how we take the ocean for granted."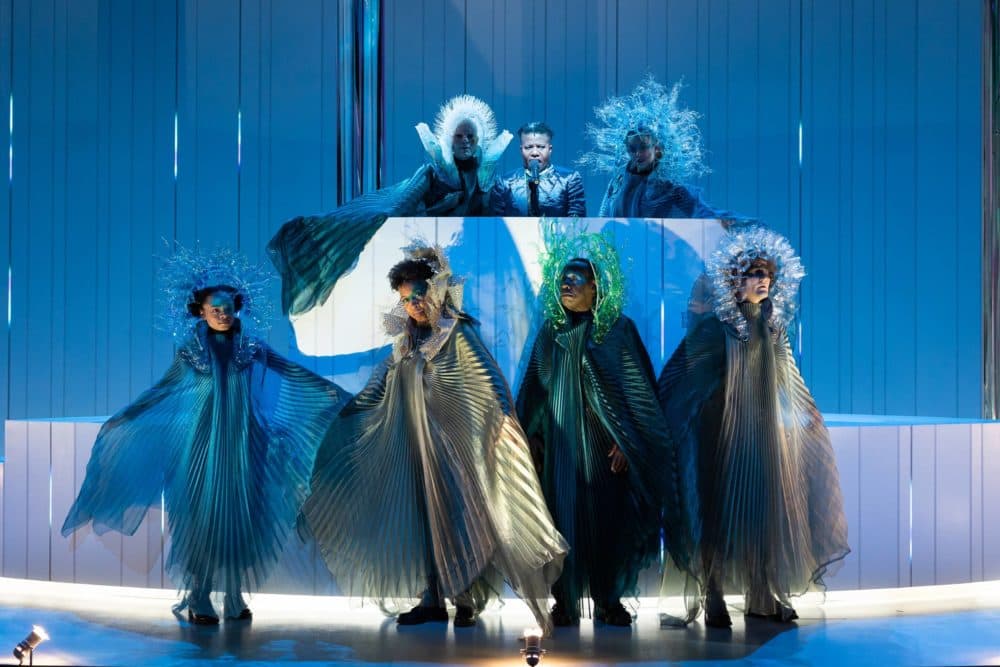 Mr. Majority calls the Ocean a shriveled "old lady" made sick by years of oil drilling and dredging.
"So while the senator is proposing to end the Ocean, the senator himself — the human — is very clear about the critical condition of the Ocean and about the reason why," Kidwell says.
The Ocean blames anthropocentrism, or, in the character's words: "humans at the center of everything."
Mr. Majority's bill includes a slew of sci-fi-like interventions that would help us survive without the Ocean, including farming phytoplankton and implants so people can self-photosynthesize. His plan would also sacrifice some of the planet's poorest nations and several "nonessential" water species would be eliminated.
To convince Mr. Majority how misguided these plans are, the Ocean embarks on a marathon filibuster taking the audience on a journey deep below the waves.
"I'm reasoning with you, I'm seducing you. I'm joking with you. Here's some songs I'm going to sing to you," the actor says, describing the Ocean's tactics. "I'm pointing out all of these beings that exist in me. I'm pointing out how you can't exist without me."
Kidwell sings about radiolaria, which are "related to amoebas and live in glass-like shells." Animated projections of other microscopic organisms and bioluminescent fish swim above the stage, illuminating some of the tiniest casualties of climate change. The Ocean asks us to imagine we're baby crabs whose shells won't harden because of ocean acidification. In mournful dirge Kidwell imagines, "The day we woke up to no ocean, the day we woke up to the dry bed."
Songs like that, along with innovative storytelling, have the power to stir people's emotions in ways teaching about climate change might not, according to Dan Schrag. He directs the Harvard University Center for the Environment. Schrag and other Harvard faculty members worked with the A.R.T. and performance team PearlDamour to develop "Ocean Filibuster" as a different way to raise awareness.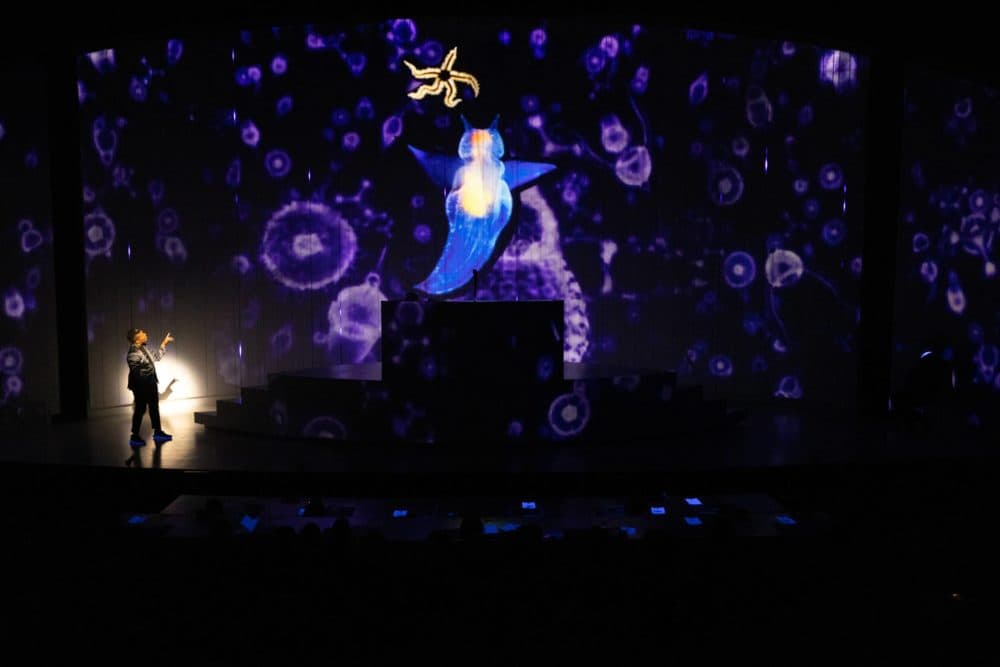 "Imagining the ocean as a character — imagining that a committee of politicians can end the ocean — is in some ways totally absurd," Schrag says. "But in other ways, that's exactly what we're doing. We are making decisions today that will fundamentally transform the ocean for tens of thousands of years. And I think a lot of people don't understand the scale."
He added most of us don't want to be lectured to — we want to feel.
"Climate change is a collective action problem, it requires [the] engagement of everyone, on this whole planet — and that's really hard," Schrag says. "Making that happen requires not just minds, but hearts as well. And hopefully, this will be a small step towards that direction."
Kidwell has her own hopes, including that audiences walk away from "Ocean Filibuster" realizing what she has: that the ocean is all around us — in the air we breathe, the water we drink, and the clouds over our heads.
"So instead of pretending it's something to visit in July, just remembering you're always chilling with the ocean," she says, "and how dare we not honor that?"
As Kidwell's character reminds us from the stage, the ocean doesn't really need us — but we definitely need the ocean.
---
"Ocean Filibuster" is onstage at the A.R.T.'s Loeb Drama Center through Sunday, March 13. An online version will be available to stream March 9-27 and the producers plan to take it on tour.