Experts predict a COVID 'swell' — rather than a 'wave' — as cases tick upward in Mass.
Play
In the past two weeks, the volume of COVID-19 detected in Boston-area wastewater has more than doubled. Case counts in Massachusetts are on a similar march upward. In Boston, the positive test rate is at 6.3%, which is well above the city's goal of 4%.
Although the overall numbers are still low compared to the height of the omicron surge, public health experts are noting the increases and calling for caution.
It's impossible to know for sure, but these experts said the situation in Massachusetts looks like a "swell," rather than a wave like the one the state saw between December and February, fueled by the original omicron variant, BA.1.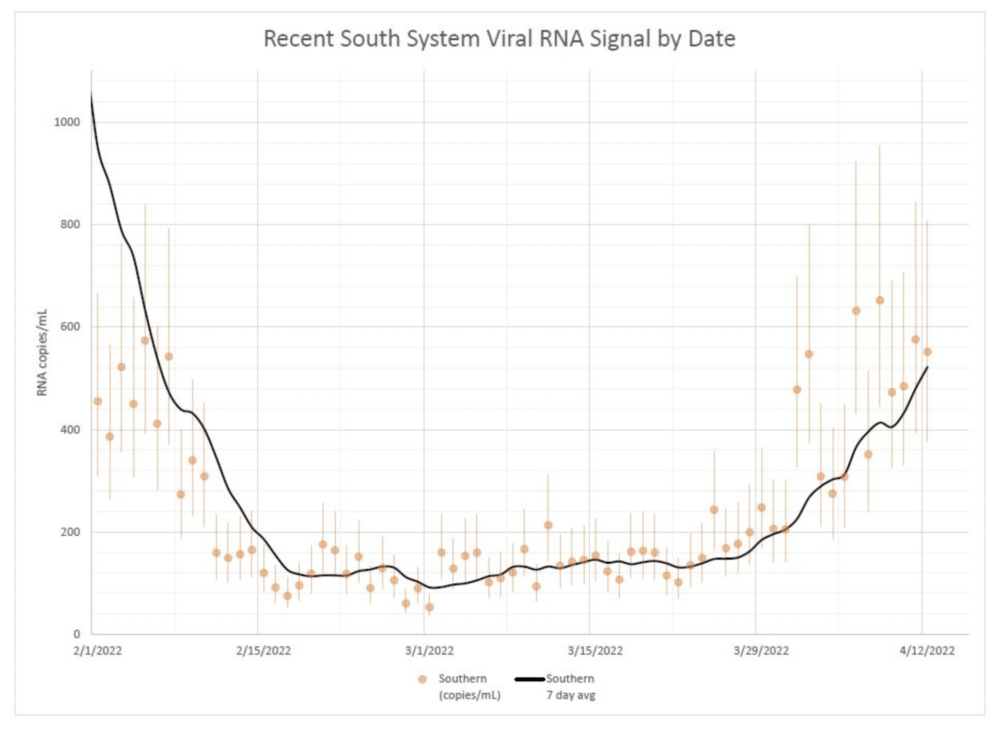 The big question is whether this swell could be the start of a new surge.
"That seems to be less likely, although it certainly is possible," said Sam Scarpino, vice president of pathogen surveillance at the Rockefeller Foundation's Pandemic Prevention Institute. "A swell would look more like a longer, persistent level of risk, where we're dealing with moderate risk levels for weeks and weeks and weeks moving into the summer months."
Scarpino said the situation will vary around the country, but in Massachusetts — with high rates of vaccination and likely high levels of natural immunity due to the original omicron wave — he expects to see a swell.
However, Scarpino warned, that can be disruptive, too.
"We may experience even more disruption in our day to day lives with a swell if we don't take action, just because it will persist for so much longer. You have teachers out of work, pilots and flight attendants out of work," he said. "And that will just lead to compounding disruptions."
Schools in Massachusetts have seen a growing number of COVID cases and, in recent days, COVID hospitalizations have creeped upward. On Wednesday, Massachusetts recorded 286 COVID patients in the hospital, a number that had hovered in the low 200s since early March. Health experts said the recent uptick in positive cases is likely driven by two factors.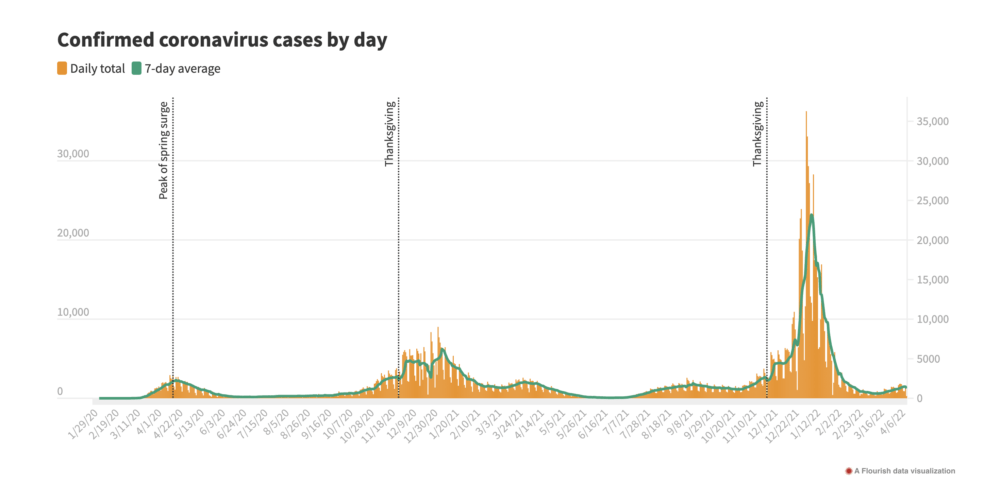 First, the variant that is currently dominant in Massachusetts is a cousin of omicron, called BA.2, and it is even more contagious than the original variant.
Second, it is a result of "everyone relaxing their mask wearing and being less careful about indoor activities," said Robert Horsburgh, an infectious disease physician and a professor of epidemiology at Boston University.
There are several unknown factors in the weeks ahead, including gatherings for Passover and Easter and families continuing to observe Ramadan. Next week is also spring break for many Massachusetts school children, and some residents may travel and gather with friends or relatives.
"I am indeed worried about spring break," said Horsburgh.
Several experts urged people to wear masks in public indoor settings and take rapid tests when gathering in larger groups. Scarpino, of the Rockefeller Foundation, would also like to see an increase in free testing sites and vaccination drives.
"Acting now is the best thing we can do," said Scarpino, "These early measures are all about ensuring that we can go about our lives in a safe, healthy way and avoid lockdowns, avoid school closures."
While COVID surges can strain hospitals, Jeremy Luban, a professor at UMass Medical School and part of the Massachusetts Consortium on Pathogen Readiness, is hopeful that Massachusetts will not see significant levels of hospitalizations and deaths going forward.
"I'm pretty optimistic that we won't have the kind of horror that we had over the first two years [of the pandemic]," Luban said. "My sense of it is that the level of immunity in the population has reached a point where really severe disease is being prevented."
This article was originally published on April 14, 2022.
This segment aired on April 14, 2022.