Poll: Mass. residents concerned about climate change, but more worried about health care, education and jobs
Massachusetts residents are concerned about the impacts of climate change, with majorities saying that climate impacts like heat waves, coastal flooding and more powerful storms are already or very likely to hit the state in the next five years.
But fewer than half of residents list climate change as a high priority; it trails behind worries about health care, jobs and the economy, education, taxes, and fuel costs.
The findings come from a new poll (topline, crosstabs) of 1,890 Massachusetts residents sponsored by the Barr Foundation and conducted by the MassINC Polling Group. The new survey suggests concern over climate change has declined since a similar poll in 2019 in which 54% of residents called climate change a high priority for state government. That figure now stands at 47%.
"That doesn't mean that it's not important and that people don't support action. In fact, when we asked about some policy-type questions in this survey we found pretty good support for them," said Richard Parr, research director at The MassINC Polling Group. But "people are weighing their concern about climate change, which is very real, with their concerns about a whole bunch of other issues as well."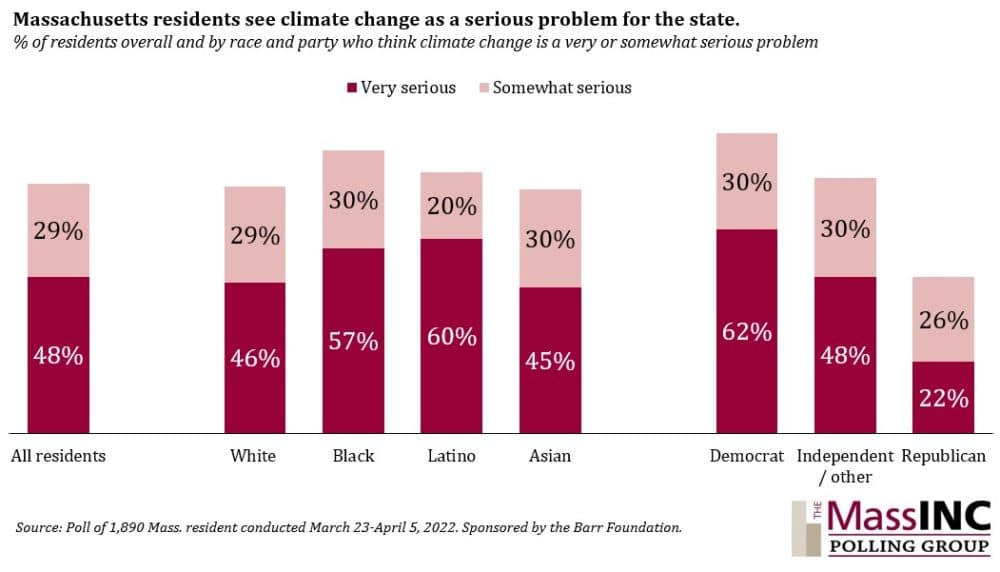 Consistent with national polling, Black and Latino residents are more likely to say climate change is a "very serious" problem for the state. The data also echoes national polling in showing a large partisan gap in climate concern, with 62% of Democrats and Democratic-leaning independents calling it a very serious problem, compared to just 22% of Republicans and Republican leaners.
Residents report they are taking some steps to mitigate their personal impact on the climate, most commonly recycling and adjusting their thermostats to save energy.  Only 34% say they currently vote based on their climate priorities. 
Only 13% of homeowners say they already have solar panels on their homes, and only 27% say they are considering installing them. Residents' interest in home energy improvements jumps up if there's some money in it for them — 60% of homeowners say that receiving an incentive or rebate would nudge them to make improvements; 54% say a tax break would do the same.
There's also strong support for the state requiring new and renovated buildings to use renewable power, be EV-charge ready, or to be fully electric. And 76% support updating the state's building codes to better account for threats from climate change.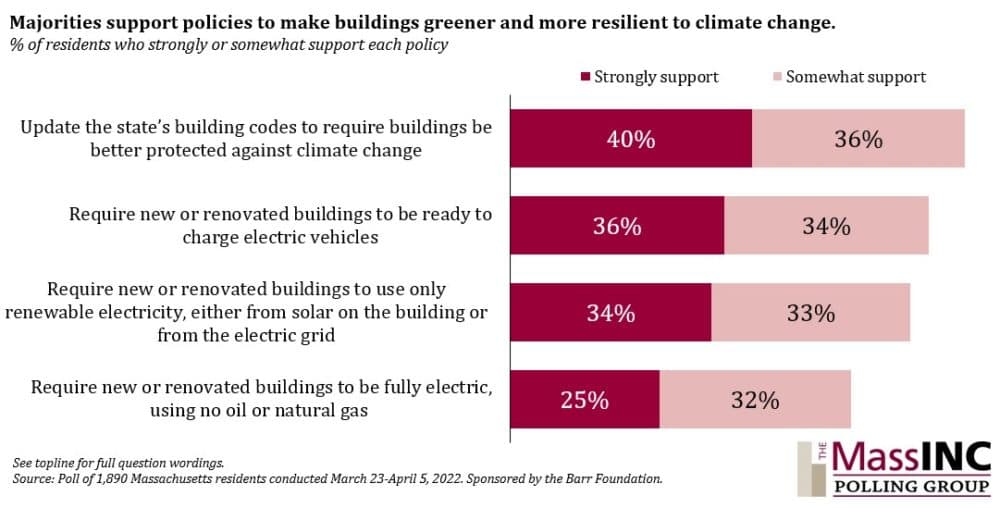 Some of the most surprising numbers came with questions about transportation, said Parr. Only 18% of residents say they are "very likely" to buy an EV for their next car, with interest highest among people with higher incomes and education levels. But 73% say they're willing to walk instead of drive for short trips, and majorities say they'd take public transit if it were more available (64%), reliable (61%), frequent (60%), or free to ride (62%).
"The conversation around transportation tends to focus on converting to EVs, but these numbers suggest a both/and approach," said Parr. "Many residents are willing leave the car parked altogether, least for some trips."