The Huntington's family saga 'Our Daughters, Like Pillars' plays out slowly but surely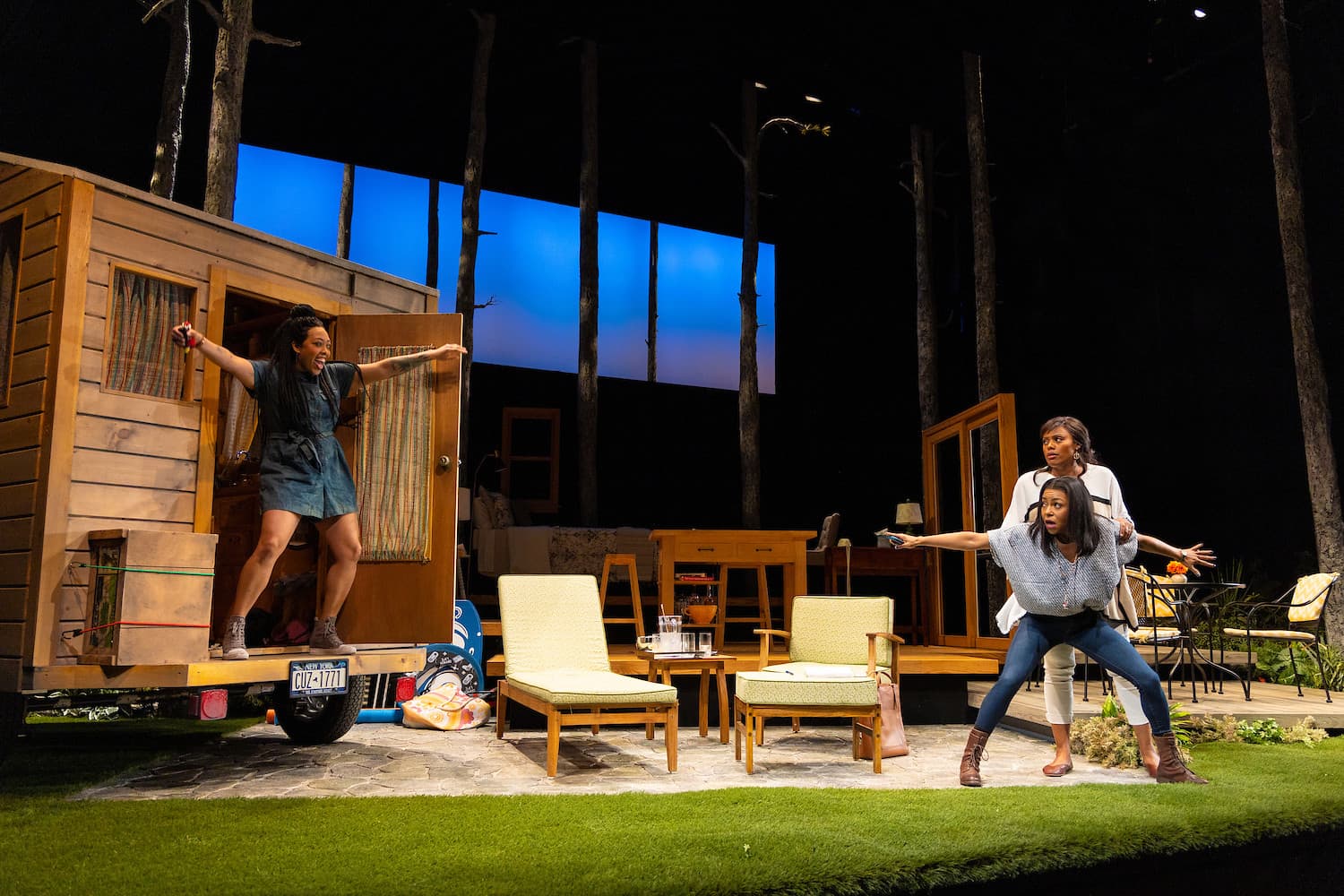 The story of the Shaw family moves slowly; it's thick and rich like molasses in Kirsten Greenidge's world premiere "Our Daughters, Like Pillars" at the Huntington Theatre Company (through May 8). Wounds seep without much tending to, and (some) old beliefs remain intact, but it's evident that the flawed troupe, bound by blood and loss, is stitched together with love. The four-person nucleus, made up of eldest sister Lavinia, followed in age by Octavia and Zelda, and momma Yvonne has gathered for a family trip in New Hampshire. But instead of luxuriating on lawn chairs and singing karaoke, the family finds out just how much they've bottled up inside.
Nikkole Salter (Lavinia) of "Godfather of Harlem" leads an incredible cast in the three-hour-plus show that includes TV's Arie Thompson ("Keeping Up with the Joneses") as Octavia, Lyndsay Allyn Cox ("Witch") as Zelda and film and Broadway actress Lizan Mitchell as Yvonne.
The poignant questions remain unanswered, echoing real life.
There's no major climax to make theatergoers jump out of their seats or weep. Instead, there's a slow dripping of information that highlights who these people are to each other, how they love, how they hurt and the experiences that shaped them. Memories sharpen and morph as the story unfolds, multiple mini-revelations come to light, and doses of intimacy and laughter balance it out. There are conversations between Thompson's always-aiming-to-please Octavia (who is ignoring her husband Tim) and Paul, Zelda's partner, portrayed hilariously by Julian Parker. Lavinia and her husband Morris (Postell Pringle) snatch moments to hug and talk in the kitchen and Mitchell's Yvonne, who seems to speak in poetic stanzas, dishes out life lessons between smoke breaks. She unleashes a world of hurt with just a few lines and unflinching stoicism.

"You begin marriage nestled inside each other. Then, if something shifts, you untether and you see a little more clearly. You become your own again," she explains.
The sprawling narrative, directed with heart by Kimberly Senior, was loosely inspired by Dorothy West's book "Living is Easy," in which the book's protagonist, a Black woman in the Boston area in the 1940s, wants her family to live together according to an interview with Greenidge. Lavinia also wants her loved ones to dwell together, but her family has lots to say about it.
At the production's start, Lavinia lays out her carefully made vacation plans to Octavia while they wait to see if their baby sister Zelda will show. When Zelda does make an appearance, even more drama spills onto the stage as soon as she opens the door. But it's an expected guest, Missy Shaw (Cheryl D. Singleton), who shows up and shakes things up even more.
The family's vacation takes place in an impressively constructed forest by set designer Marion Williams where trees stretch toward the ceiling above a blanket of lush green grass and plants. A light wooden frame outlines the home Lavinia and Morris rented for the family to stay in. Sound designer Jane Shaw created a sweet mélange of creeping bugs, crickets, and more as a soundscape.
In this woodsy setting, free of cell phones and TV, the fictional Shaws must reckon with their recollections and face newfound truths that cut like a thousand nicks. But doing so is never quick or easy, and for some, the truth is too hard to swallow. The story's vastness doesn't present the opportunity for a clean end where wrongs are righted, or harm apologized for. The show acts as an exploration of family dynamics, expectations and ritual that doesn't scream any sort of message. The characters, large and full, just exist, taking up space with their controlling, people-pleasing, numb-with-tragedy ways.

This slice-of-life offering gives audiences a glimpse into another family's story that offers no clear resolution. Rather, the ending is like a soft, resigned goodnight at the end of a long, emotional conversation where poignant questions remain unanswered, echoing real life.
---
"Our Daughters, Like Pillars" produced by the Huntington Theatre Company runs  through May 8 at the Calderwood Pavilion.