An unlikely 'Black Super Hero' takes the stage as Company One returns to live theater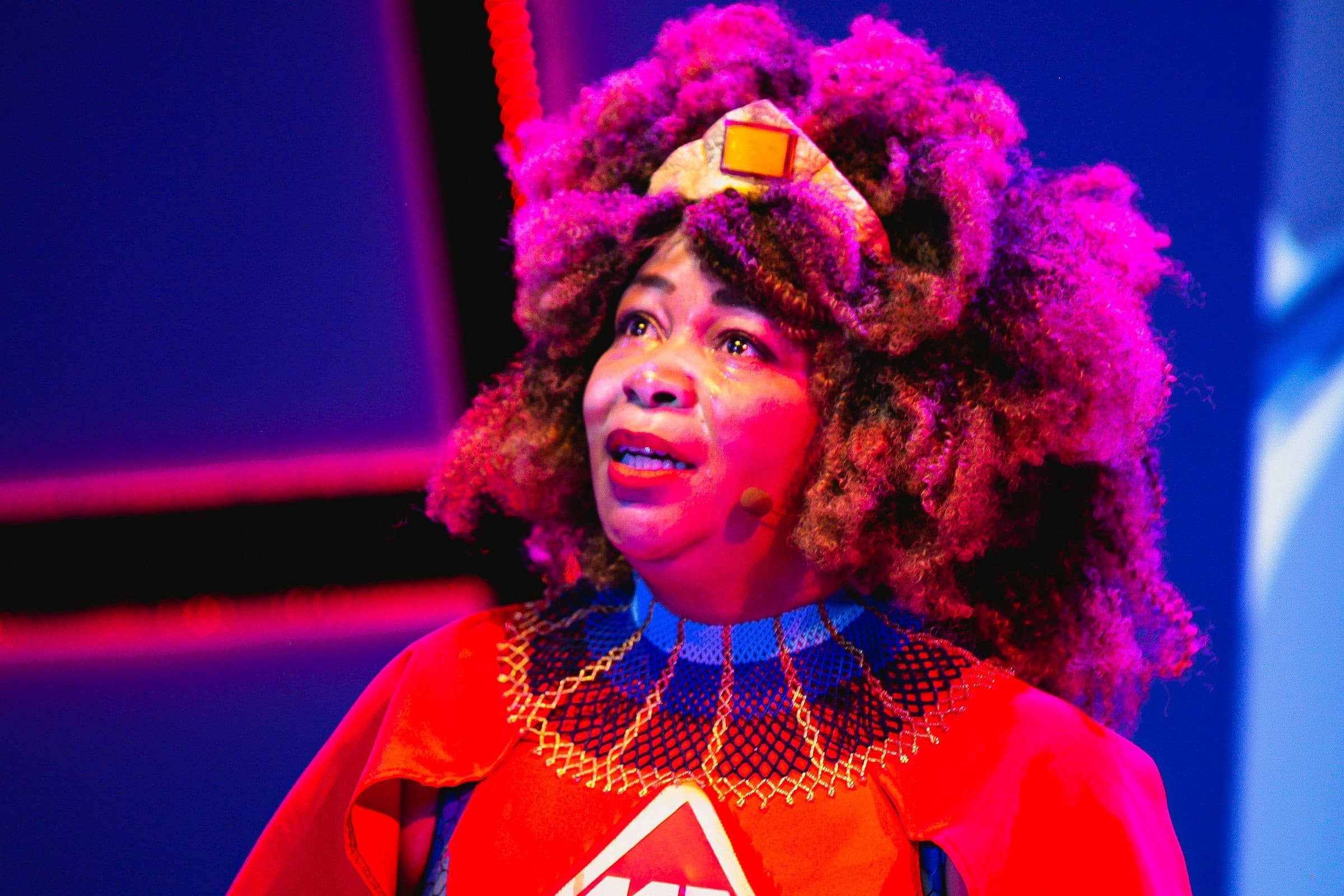 When catastrophe strikes, sometimes the mind can create a great escape. In Inda Craig-Galván's "Black Super Hero Magic Mama," violence courses through a family when a Black teenager, Tramarion, is gunned down by police after his trophy from winning a trivia show is mistaken for a weapon. His mom, Sabrina Jackson, goes on a fantastical journey of the mind, imagining herself as the superhero her son and his friend Flat Joe created, Maasai Angel.
The New England premiere presented by Company One Theatre, American Repertory Theater, Boston Comics in Color Festival and the Boston Public Library (at the BPL through May 21) is the first fully-staged in-person production by Company One since the pandemic.
The premise of the show is tantalizing. As Maasai Angel, Sabrina (Ramona Lisa Alexander) is a fearless, Afro-wearing warrior with colorful ethnic jewelry, a glowing chest plate and a spear in hand who must defeat a series of foes to find her son. On her quest, she meets a host of colorful characters, including Lady Vulture (Helen-Hy-Yuen Swanson, who also plays anchor Connie Wright) and the Human Hyena (Stewart Evan Smith, who also portrays TV newscaster Tom Blackman). Before the relatively recent releases of Marvel's pivotal "Black Panther" film, the "Luke Cage" series on Netflix and DC Comic's brilliant "Watchmen" and others, generations of Black children had no chance to see themselves as heroes on small and silver screens. So, centering a Black woman as more than just a victim -- a superhero -- is most welcome.
What hurts at first is that the kind-hearted, intelligent Tramarion (Joshua Robinson) is killed off at the beginning.  Maybe that's the point, though, since the ending of someone's life, especially one who is killed, always feels abrupt. Luckily, flashbacks take us deeper into his life and highlight his and the artistic, hilarious Flat Joe's (Anderson Stinson III) friendship which swells with love, friendly competition, and joy.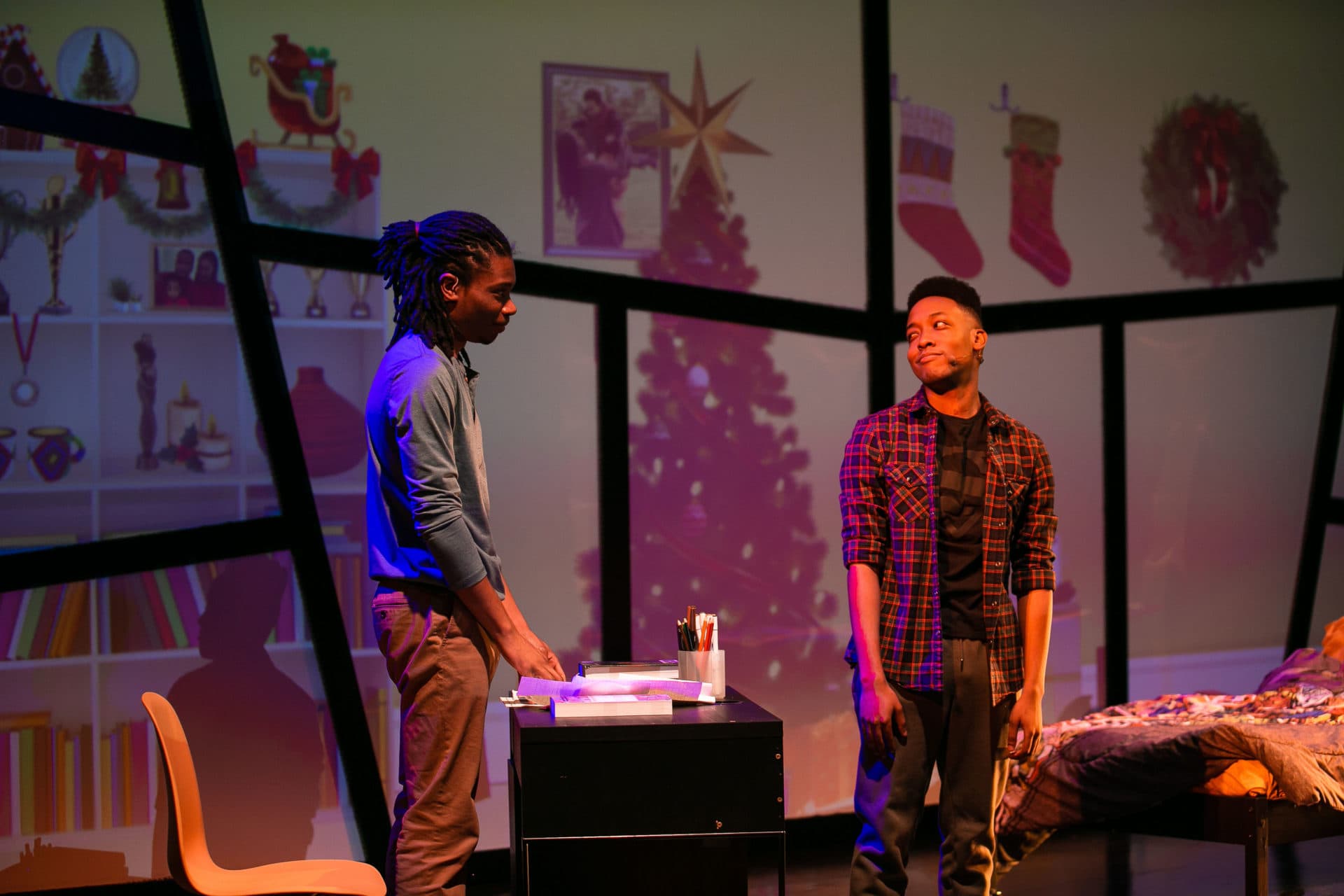 There were opening night kinks that should get worked out – a brief break for tech trouble, long pauses for costume changes, a character constructing an origami piece with little dialogue all make the show feel clunky. The long silences drag the pacing and make the show feel a bit too long.
Still, the play is an interesting commentary that aims to tackle the "systems of violence deployed against Black neighborhoods, the societal threats to Black motherhood, the way stereotypes limit and endanger Black boys and men" while also shining a light on "the joy, warmth, and vitality of Black culture, according to a note by Company One's Illana M. Brownstein, director of new work. And there's lots to unpack.
Data shows (and the public likely knows) police are nearly three times more likely to kill Black men and women than other races, even when they lack reason. Often, fingers get pointed at the media for using criminalizing language (like thug) while releasing unflattering photos of victims.
The play addresses that with images of conservatives (such as former talk show host Geraldo Rivera) who often spout controversial opinions about these happenings and replaces them with photos of smiling, happy Black people enjoying each other's company, sitting with their dogs and engaging in other activities. The actors even break the fourth wall to explain some of the playwright's choices and why they're essential.
Onstage there's a charged theatrical chemistry between Swanson's Connie and Smith's Tom, both as anchors and comic book villains, that makes the pair a delight to watch. At one point, Swanson's Connie asks Tom if Sabrina will attend the rote Unarmed Black Person Shooting Death Press Conference. Connie wants to know if Sabrina's aware of the timetable of events in these situations.
Tom, who is unsure, says, "Typically, there's the shooting followed by the first wave of protests, the acquittal, more protests followed by the next shooting of an unarmed black person."
In a short back and forth, they talk of Twitter activists planning marches, but without the victim's mother, there's no one there to set the tone, give a soothing word, be a calming presence or offer up a prayer or moment of silence.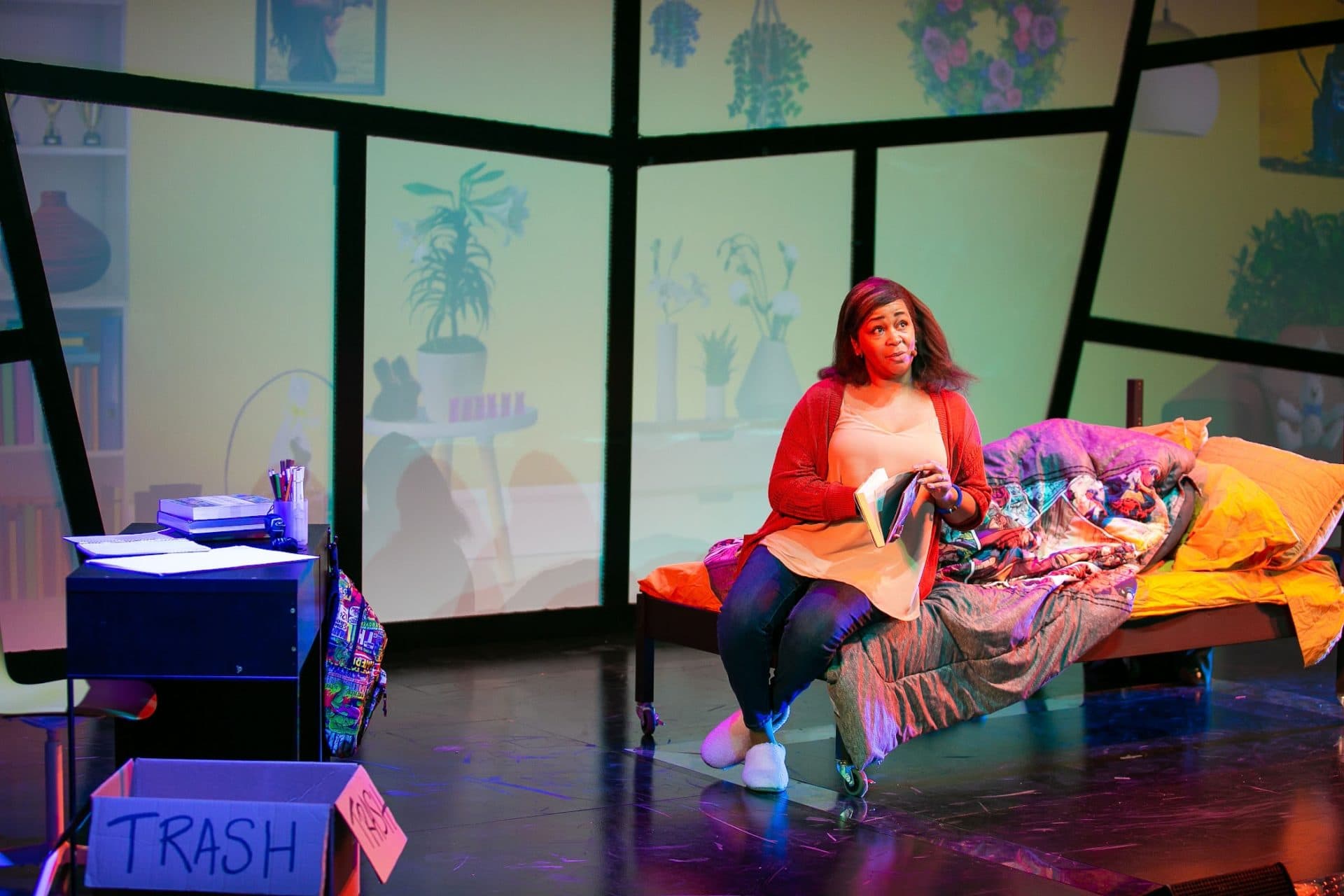 Alexander's Sabrina can't cope with the news, the conference, or any of it and calls to her house from the press go unanswered. Alexander's a natural performer, and she effortlessly transitions from holding pain one minute and beating up bad guys the next. She can be counted on for her consistency which was most recently evidenced by her role as Mama in The Huntington's "Bluest Eye." And Stinson III's charisma as Flat Joe and Black Superman is undeniable.
The set design here, by Baron E. Pugh, is noteworthy, too. A wall of geometric shapes acts as doorways and screens that help determine a sense of place for showgoers. Images of bookshelves, African art, plants and more by projection designer Maria Servellón suggest the Jackson's home and later, the screens show exclamatory booms and pows during fight scenes, complete with music reminiscent of Blaxploitation films and powerful illustrations of the Maasai Angel by Cagen Luse, animation design and comics consultant.
Though it's a little rough around the edges, the play cleverly highlights our nation's one-size-fits-all-approach to the killing of Black people by police with an ambitious, visually appealing, imaginative story. But the show will pack an even bigger punch with a little re-tooling.
---
"Black Super Hero Magic Mama" runs through May 21 at the Boston Public Library. The New England premiere is presented by Company One Theatre, American Repertory Theater, Boston Comics in Color Festival, and the Boston Public Library.