Ready to 'Cook'? Sustainable recipes to make the planet and your stomach happy
Better choices, for both you and the environment, are on our "Cooked" newsletter menu. We think making changes in the way you eat and cook — big or small — can have an influence on climate change and its impacts on New England.
So, grab your apron and head to the kitchen to try out some recipes shared by numerous acclaimed chefs and local food producers. Whether you go sweet or savory, veg or fish, you're in for a treat.
Check out our table of contents below to easily navigate to the recipes you're most interested in:
Callaloo stew (Tamika R. Francis, founder of Food & Folklore)
Crunchy chickpeas (Barbara Moran, WBUR)
Braised osso bucco with pork shanks (Judy Yao, Savenor's Butcher Shop)
Fridge cleanout okonomiyaki (Mei Li, cookbook author and food sustainability professional)
Fried cape shark (dogfish) (Tamika R. Francis)
Vegan pecan paht pie (Joanne Lee Molinaro, The Korean Vegan)
Vegan snickerdoodle cookies (Deborah Becker, WBUR)
Zucchini Pancakes (hobak buchim) (Nathan Phillips)
Tobu Triangles with Broccoli (Nathan Phillips)
---
Callaloo Stew
Recipe from Tamika R. Francis, founder of Food & Folklore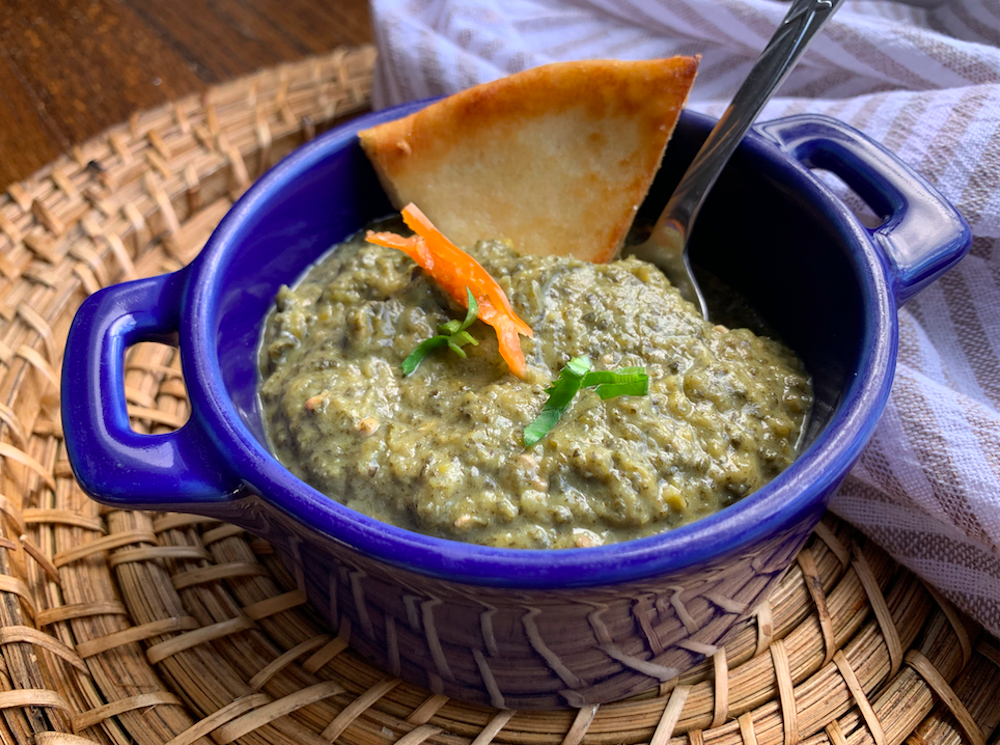 Callaloo refers to a dish of greens — usually dasheen, taro or spinach leaves — on some Caribbean islands. But on other islands and throughout the African diaspora, callaloo is known as the leaves of the amaranth plant, which is in the pigweed family and found in the wild here in New England.
The nutrient-rich plant grows easily during the spring and summer seasons in small kitchen garden plots. It can be cooked in soups and stews, serve sautéed or even added to smoothies just like kale.
For this recipe, Francis tapped into my frozen stash of callaloo (yes, it freezes as well as spinach or kale). Callaloo stew is usually made with crabs or pig's tail, but in this vegan version, she fortified the dish with extra vegetable bouillon and nutritional yeast for umami flavor. Check out the full recipe here.
---
Crunchy Chickpeas
Barbara Moran, WBUR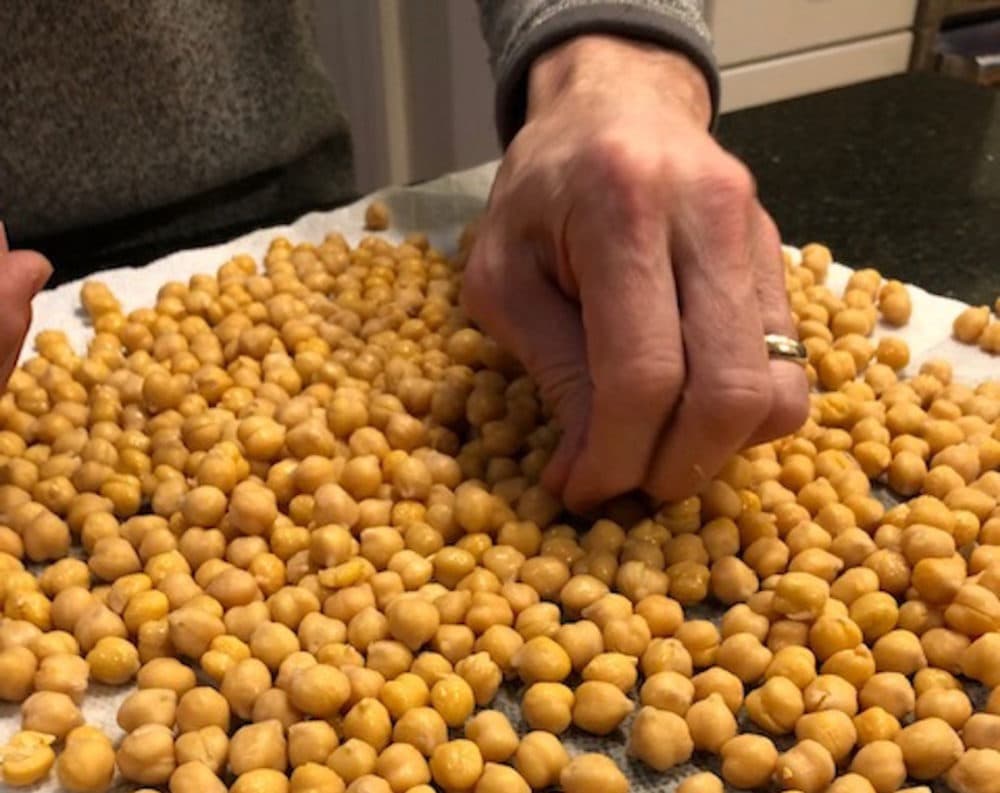 Try not to eat them all at once! Sometimes Moran puts cumin on them when they're done. It adds a little something extra!
INGREDIENTS
1 can of chickpeas
salt (or other spices) to taste
vegetable oil
STEPS
Buy a can of chickpeas.
Pour out the gooey chickpea water and save it. This is the magical aquafaba, and you can use it in many vegan desserts, like this vegan chocolate mousse from "Cook's Illustrated." (Warning: It's behind a paywall, but Moran said her kids love this stuff.)
Rinse the chickpeas with water and pat them dry. You don't need to peel off all the weird little chickpea skins, but if you find it oddly soothing, go for it.
Mix the chickpeas in a bowl with a little salt and vegetable oil.
Roast them on a cookie sheet for 30-40 minutes at 400 degrees, or until they are crispy. It doesn't hurt to shake them around after 15-20 minutes.
---
Braised Osso Bucco
Savenor's Butcher Shop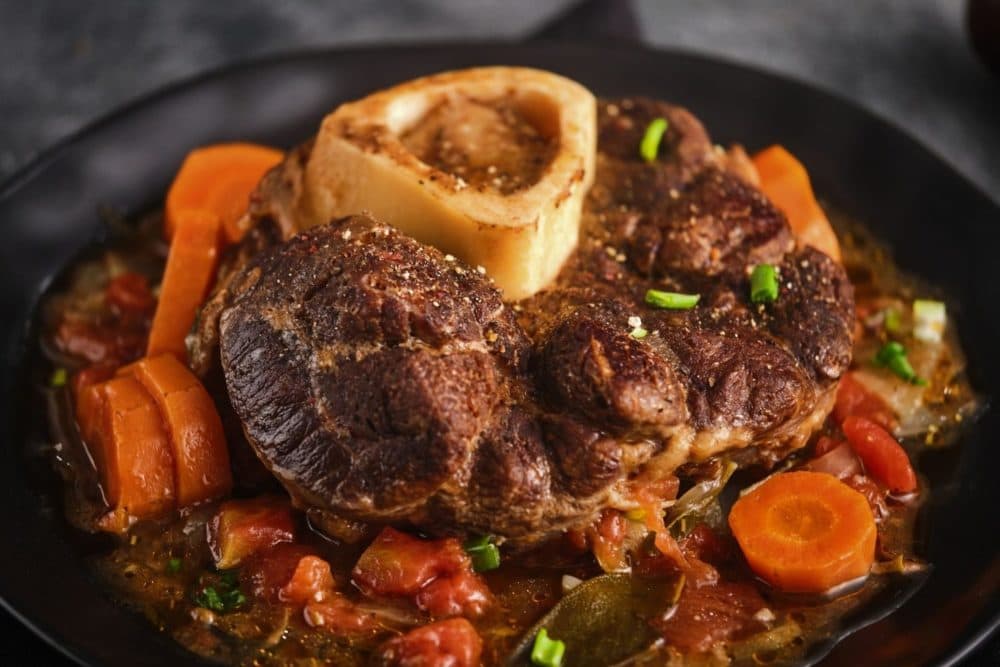 This is traditionally made with veal shank, but butcher Judy Jao also loves it with the Berkshire pork shank instead! The recipe is very versatile, regardless of the type of animal. But shanks are excellent, because — when braised — it's one of the most flavorful inexpensive cuts. It's also full of collagen and is a very cozy meal that's perfect for winter or spring meals — as well as leftovers!
INGREDIENTS
2-3 pounds of pork shanks cut into 1 inch pieces
1/4 cup butter
1/2 cup all-purpose flour for dredging
3 cups finely diced yellow onion (about 2 medium onions)
1 cup finely diced celery (about 2 stalks)
3/4 cup finely diced carrot (about 2 small carrots)
1 teaspoon dried oregano
1 large sprig thyme
1 bay leaf
3/4 cup dry white wine
2 tablespoons tomato paste
1 28-oz. can Italian plum chopped tomatoes
1 cup stock (beef, chicken, lamb, pork all work depending on preference!)
salt and pepper to taste
STEPS
Heat the oven to 350 degrees.
Season the shank pieces with salt and pepper. Put the flour in a dish. Dredge the shanks very lightly in flour, thoroughly shaking off the excess.
Place the shanks in a single layer on a baking sheet.
In a large heavy skillet, heat 3 tablespoons of the oil over medium-high heat. Put the shanks in the pan and sear until nicely browned on all sides, 2 to 3 minutes per side.
Move the shanks to the roasting pan. Repeat with the remaining shanks.
Pour off the excess fat in the pan (be careful; the oil will be hot). Return the pan to medium heat and add the butter and remaining oil. Add the onion, celery, carrot, oregano and 1 teaspoon salt. Cook the vegetables until soft and lightly browned.
Increase the heat to medium-high, add the wine and scrape up any brown bits until the wine is reduced. This will take about 2-3 minutes.
Stir in the tomato paste and add the canned chopped tomatoes, the broth, thyme, bay leaf, 1/2 teaspoon salt and a few grinds of pepper. Bring to a boil, and pour the contents of the pan over the shanks in a dutch oven or heavy pot. Cover tightly with heavy-duty aluminum foil.
Braise the shank in the oven until fork-tender, approximately 1-1/2 to 2 hours, checking the liquid occasionally.
If the liquid has cooked down, add enough broth to keep the level about halfway up the shanks.
The shank should pull apart easily with a light tug of the fork when it's done.
Serve with a nice bold wine! Bon appétit!
---
Fridge-cleanout Okonomiyaki
Mei Li, Food Waste Feast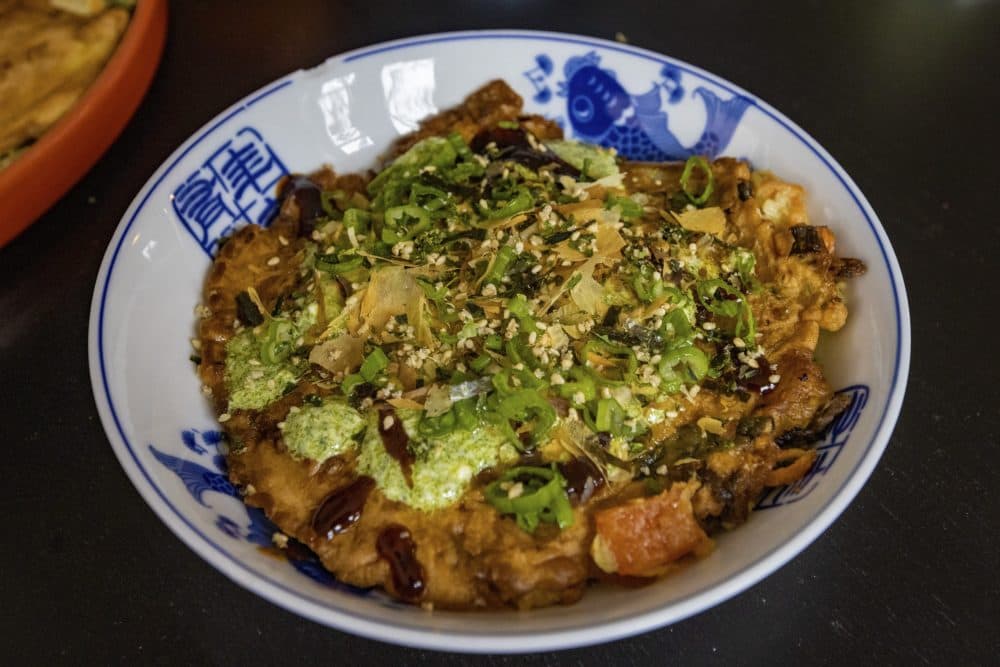 One of Mei Lee's favorite things about the Japanese pancake known as okonomiyaki is its translation: okonomi means "as you like it" or "to your liking," while yaki means grilled, cooked or fried. So given that it's "grilled as you like it," it's an ideal no-waste recipe, allowing you to use up all kinds of different ingredients you have around.
The common traditional ingredients are green cabbage, yams and pork belly, but you can use or leave out the meat and swap in so many different vegetables in place of the cabbage. You can use dashi broth, you can keep it vegetarian by using only water, the options are endless. Li says she's been ignoring a cabbage in her fridge for weeks — possibly months — so this is a great way to use up older veggies, too.
This version doesn't require too many special ingredients, other than the Kewpie mayonnaise.
INGREDIENTS
3 eggs
½ cup water, stock, or dashi broth (you can make your own or use an instant powder)
¾ cup all-purpose flour, or a GF substitute
1 teaspoon kosher salt
½ teaspoon baking powder
4 cups finely shredded cabbage of your choice (or swap out up to 2 cups for shredded Brussels sprouts, carrots or zucchini — anything bright and crunchy that you like)
4 to 8 scallions, thinly sliced
¼ cup thinly sliced Pickled Ginger or anything pickled in your fridge (not essential, but really delicious)
1/2 cup diced leftover meat, optional if you have something else you want to use up
Neutral oil, for frying
For serving: optional toppings include: okonomiyaki sauce (below or store bought), mayonnaise (Kewpie brand if you can get it; it drizzles more easily than American mayo), katsuoboshi (dried bonito flakes), nori (roasted seaweed), sesame seeds, extra thinly sliced scallions and pickled ginger.
STEPS
Lightly beat the eggs and water/stock/dashi in a large bowl, then whisk in the flour, salt and baking powder.
Stir in the cabbage and other vegetables, scallions, pickles and any additional ingredients until everything is coated in the egg mixture.
Heat a large skillet over medium heat and add a good pour of neutral oil until the pan is evenly covered. Scoop roughly half the mixture onto the plate into a large patty and fry until the bottom is set and golden-brown, about 7 minutes. Try not to press down on the pancake too much, you want to keep it puffy rather than dense.
Carefully flip it over and cook the other side until nicely browned, then transfer to a plate and cook the other pancake. When you're ready to eat, drizzle with the okonomiyaki sauce and mayonnaise and any other toppings you like.
If you want to make your own okonomiyaki sauce, you can whisk together the following:
2 tablespoons ketchup
1 tablespoon worcestershire sauce or ½ tablespoon oyster sauce plus ½ tablespoon vinegar, or a vegetarian version of either
½ tablespoon soy sauce
1 teaspoon sugar or honey
Taste and add more worcestershire or vinegar if you want it tangier, more sugar or honey if you want it sweeter, more soy if it needs salt. This is just a rough recipe; all brands will taste different, so it's up to you to adjust until you love the taste and want to smear it all over your okonomiyaki.
---
Island-style fried cape shark
Tamika R. Francis, founder of Food & Folklore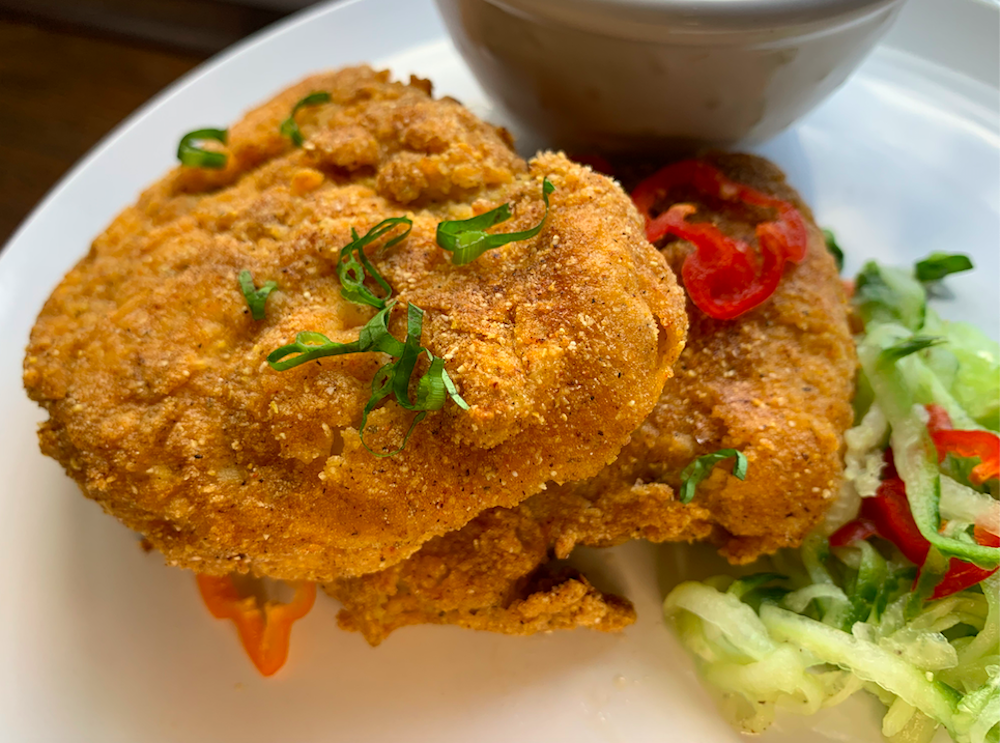 New England has been Tamika R. Francis' home for the last 15 years. It reminds her, in many ways, of the Caribbean. Yes, she knows how confusing that statement is, but hear her out. It's the relationship to the coastal communities and fisheries — and sadly the extent of our potential impact of rising sea levels due to climate change.
Dogfish or cape shark (Squalus acanthius) is found plenty in the Atlantic Ocean, especially Nova Scotia and Cape Cod. It is firm, has a sweet and mild flavor and lends itself to be a remarkable substitute for fish and chips; it brings the Trinidad street food Bake n' Shark to the New England.
Recently, Francis learned that most of the dogfish harvested here in New England is exported to Europe and marketing dogfish locally has been difficult. But with this recipe, she hopes to inspire more folks to try out cape shark as a vote with their palates for a more sustainable white fish option. Check out the full recipe, with an optional red pepper sauce, here. 
---
Vegan pecan paht pie
Joanne Lee Molinaro, The Korean Vegan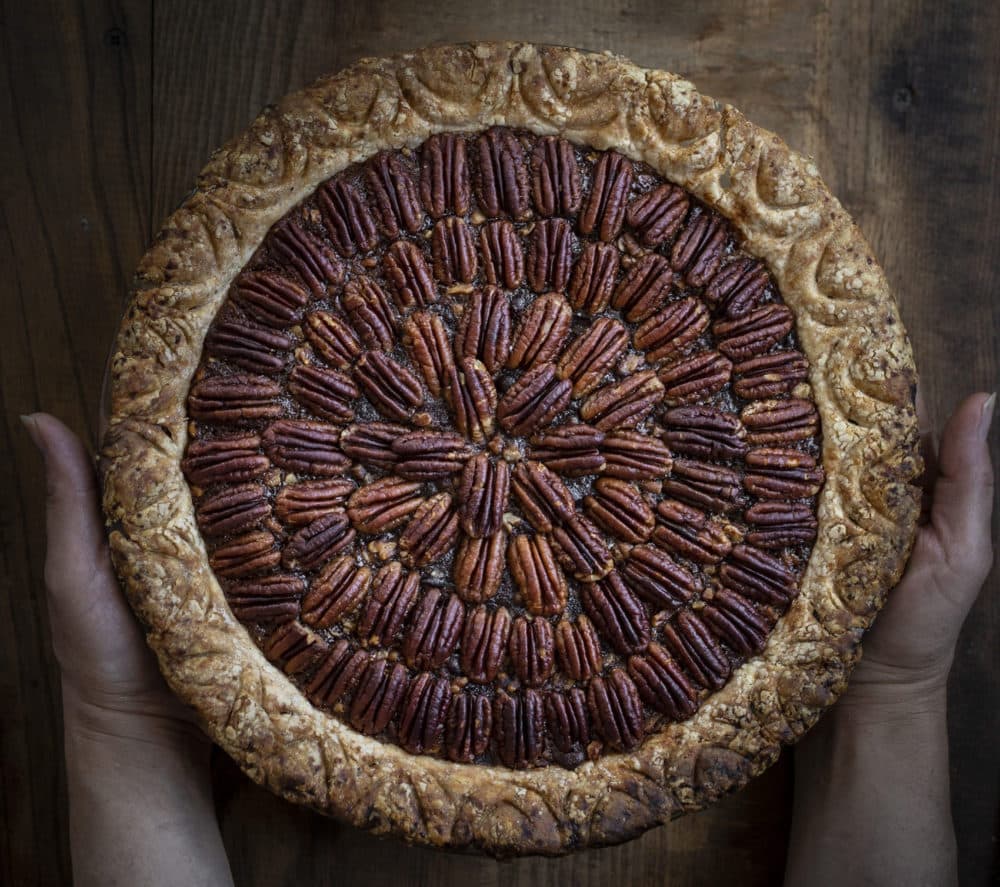 On one Thanksgiving, Joanne Lee Molinaro decided she wanted to make pecan pie that her family would actually eat. They're not fans of overly sweet desserts, but her father absolutely loves pecans.
The answer to creating a less cloyingly sweet filling was simple: paht! Not only is the red bean paste far less sugary than the typical custard-like filling of a traditional pecan pie, but she knew her family would instantly appreciate the familiar flavor. She presented her little pie that Thanksgiving, and since then has been asked to make it every year.
INGREDIENTS - PIE CRUST
1½ cups all-purpose flour
1 tablespoon sugar
1 teaspoon salt
⅔ cup cold vegan butter, cut into ½-inch cubes
3 to 4 tablespoons ice water
INGREDIENTS - FILLING & TOPPINGS
¾ cup brown rice syrup
6 tablespoons soy or oat milk
1 cup paht
¼ cup light brown sugar
4 tablespoons vegan butter, melted and cooled
½ teaspoon salt
1 teaspoon vanilla extract
2 cups chopped pecans
3½ tablespoons potato starch
1 cup pecan halves
STEPS
Make the pie crust: In a food processor, combine the flour, sugar and salt, and pulse while adding the butter, a few pieces at a time. Add the ice water, 1 tablespoon at a time, until a dough starts to form.
Shape the dough into a ball. Do not handle more than necessary. Wrap with plastic and refrigerate for at least 4 hours (but it's best if overnight).
Preheat the oven to 350 degrees.
Make the pie filling and topping: In a medium bowl, combine the brown rice syrup, soy milk, paht, brown sugar, melted butter, salt, vanilla, chopped pecans and potato starch.
Place the pie dough between two sheets of parchment paper. Using a rolling pin, roll out the pie dough gently until it is large enough to line a 9-inch pie pan. Ease the crust into the pan and trim any excess dough at the edges with kitchen shears or a sharp paring knife. Pour in the filling. Top the filling with pecan halves.
Transfer the pie to the oven and bake until the pie filling sets (i.e., doesn't jiggle too much). That's about 1 hour to 1 hour 15 minutes. Cool the pie on a wire rack for 2 hours before serving.
---
Vegan snickerdoodle cookies
Deborah Becker, WBUR reporter (and resident vegan)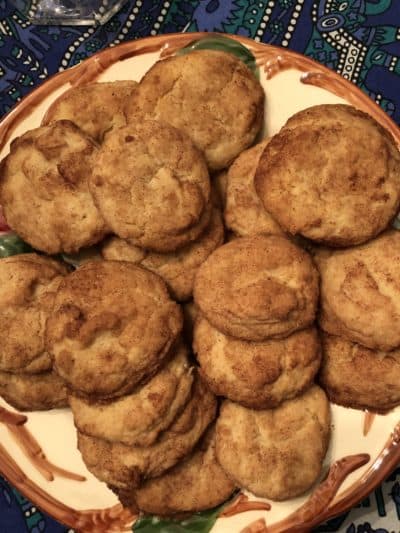 No one can tell they're vegan! This recipe makes about two dozen cookies. They can be frozen as well.
INGREDIENTS
2 and ½ cups flour
2 teaspoons cream of tartar
1 teaspoon baking soda
1 teaspoon baking powder
½ teaspoon salt
1 cup vegan butter (Earth Balance sticks are good)
1 and 1/3 cup sugar
¼ cup applesauce
2 teaspoons vanilla extract
Also for rolling dough:
2 tablespoons sugar
1 tablespoon cinnamon
STEPS
Preheat oven to 375 degrees.
Spray baking sheets with non-stick baking spray.
Sift together dry ingredients.
Cream butter and sugar in mixer.
Add applesauce and vanilla.
Slowly add dry ingredients and mix until combined. The dough should be fairly stiff. If it isn't, chill for about a half hour before proceeding.
Form cookies by using about a tablespoon of dough and rolling it into balls (I use a melon baller).
Roll the balls in the sugar and cinnamon mixture until completely covered with the mixture.
Place rolled cookies on baking sheets about 2 inches apart. Bake for 8-9 minutes.
Move to a wire rack after about 15 minutes.
---
Zucchini Pancakes (hobak buchim)
INGREDIENTS
1 zucchini, julienned
1/8th onion, chopped finely
1 egg
1/4 cup unbleached flour
1 tablespoon corn starch
Soy sauce
Sesame oil
Sugar
STEPS
Mix your julienned zucchini, onion, flour and corn starch.
Add the egg into the mixture and mix with a fork until the flour-egg mixture is uniform.
Cook on medium high (~350 F) for three minutes on each side, or until brown with crisp edges.
Enjoy with a soy sauce, sesame oil and sugar sauce dip.
---
Tobu Triangles with Broccoli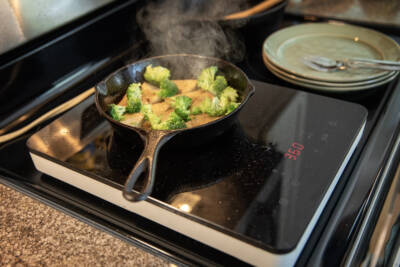 INGREDIENTS
Makes 2-3 servings as an appetizer.
1 block (about 1lb) of firm tofu ("tobu" in Korean), sliced into 1/4" thick triangles.
A high-heat tolerant neutral cooking oil (e.g. corn, canola)
1 tablespoon brown sugar (optional)
1 small head broccoli, chopped coarsely.
One thumbnail-sized ginger piece, chopped finely.
One clove garlic, chopped finely.
Gochujang, soy sauce, or other sauce, to taste.
STEPS
Fry the tofu triangles for about 5 minutes on each side, on a medium or medium high induction setting (~350 F) in a PFAS/PFOA-free induction-compatible skillet.
Midway through frying, sprinkle the brown sugar over the triangles. This will coat the triangles as they fry. Add the ginger, garlic and broccoli. Stir occasionally.
When triangles are browned on both sides, cover and continue frying for two minutes.
When broccoli is steaming, turn off the heat. Remove triangles and broccoli with a slotted spatula or other utensil and drain them on a paper towel.
Enjoy with your favorite sauce.
Bonus: Here & Now resident chef Kathy Gunst previously shared some tasty no waste recipes for Earth Day, which includes roasted carrots with carrot top pesto. Yum!