What to know about COVID's upswing in Massachusetts
When Jacob Lemieux looked at the latest COVID numbers from Massachusetts, he did not like what he saw.
"The reality is that things are really not going well at the moment," said Lemieux, an infectious disease physician at Massachusetts General Hospital and a member of the Massachusetts Consortium on Pathogen Readiness (MassCPR).
But when Gabriela Andujar Vazquez, an infectious disease physician and associate hospital epidemiologist at Tufts Medical Center, looked at the same numbers, she was not surprised.
"We know by now that we expect fluctuations in cases," said Andujar Vazquez. "I always get worried when cases go up but we should be okay."
With masks, tests, vaccines and widely-available treatments, she believes Massachusetts has the tools needed to address rising cases.
'We're Definitely Seeing An Upswing'
In Massachusetts, more than 5,500 people tested positive for COVID on Thursday. The seven-day average for case counts is over three times higher than it was in March. And the level of COVID found in wastewater from the Boston area is rising, which experts say indicates case counts will likely continue to climb for the next week or two, if not longer.
"We're definitely seeing an upswing in Massachusetts," said Robert Horsburgh, an infectious disease doctor and a professor of global health and medicine at Boston University.
While the numbers are far from their peak at the height of the omicron wave, some experts had hoped the spring would offer a reprieve from the coronavirus. That has not happened. Although cases fell precipitously between mid-January and mid-March, there has been a slow, persistent increase since then.
In recent days, the numbers have prompted several school districts, including Arlington, Belmont, and Cambridge, to urge masking in classrooms. Universities, including MIT, have also strongly recommended masking. Boston, which never lifted its school mask mandate, is now encouraging people to wear masks in indoor public places.
Hospitalizations Are Rising, Too
"What's really concerning about these data are that the hospitalization rates are also going up," Lemieux said.
While hospital officials do not report their facilities are overwhelmed by COVID patients, hospitalizations are on the rise. There are currently more than 700 patients in the commonwealth hospitalized with COVID.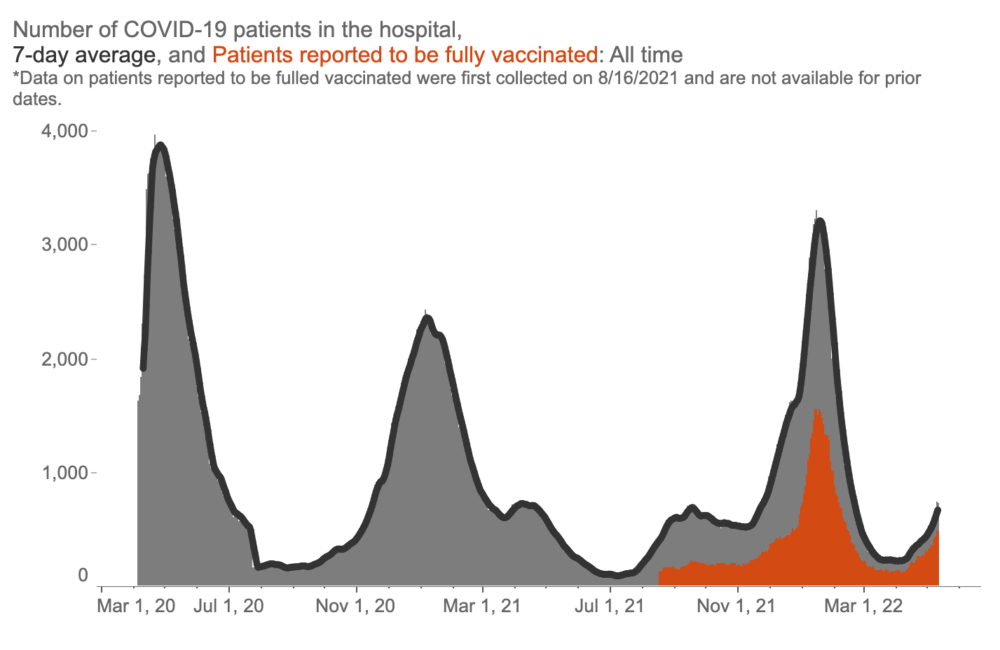 With the development of COVID vaccines and treatments, many medical experts were optimistic that cases could increase without an accompanying jump in hospitalizations. While recent COVID waves have not brought the surging hospital numbers seen early in the pandemic, Lemieux said there has not been "the complete decoupling that was hoped for."
Still, Andujar Vazquez  points out the majority of COVID patients who are currently hospitalized in Massachusetts — roughly 67% — are not there primarily for a COVID-related illness. They are sick with something else and happen to have COVID. That's "good news," she said, and a testament to the relatively high vaccination rate in the state.
What's more, according to Horsburgh, few of the current COVID patients in hospitals are gravely ill. As of Wednesday, just 66 COVID patients were in an intensive care unit, according to the Massachusetts Department of Public Health.
Even if the majority of COVID patients are not in the hospital because of COVID, it can be disruptive to hospital operations, cautions Bill Hanage, a Harvard epidemiologist.
"It's still tremendously problematic," Hanage said, because any COVID patient — whether or not it is their primary medical concern —  requires added resources and infection control measures.

COVID hospitalizations and deaths also tend to lag other increases, since it takes time for patients who become infected to get sick enough to require hospital treatment, and many people will experience only mild or moderate symptoms.
Why COVID Cases Are Rising
Experts say the current increase in COVID cases is being driven by changes in both the virus, and in behavior and policy.
"I think undoubtedly the removal of the mask mandate for public transportation and in flights is contributing to the current surge," said Amy Barczak, an infectious disease specialist at MGH and the Ragon Institute of MGH, MIT and Harvard. "Mask wearing is incredibly protective."
"It's likely it's a holiday effect," said Horsburgh, noting that the surge followed several major religious holidays and spring breaks for schools and colleges. He surmises that vacation travel and get-togethers gave the virus an opportunity to spread.

Experts estimate that the majority of cases in Massachusetts now are caused by a subvariant of omicron known as BA2.12.1. Jeremy Luban, a professor at UMass Chan Medical School and a co-lead for the viral variants program at MassCPR, said while there is still a lot to learn about this and other new variants, it does seem to be less deadly than previous variants.
"The case-fatality rate seems to be lower than it was, certainly than during the delta wave," Luban said. "Whether that's an intrinsic property of the virus or the level of vaccination-induced immunity or previous infection-induced immunity is not clear."
What is clear, according to MGH's Lemieux, is that it has the ability to drive up cases.
How Long Will The Increase Last?
Cases are still rising, and experts warn it's impossible to predict when this upswing will peak. However, many experts say warmer weather in the weeks ahead will likely help tamp down cases.
"We won't have transmission when people are outdoors. It's really indoors where the transmission is happening," said Horsburgh.
Andujar Vazquez is hopeful that case counts will plateau by late-May and return to significantly lower levels by mid- to late-June.
This article was originally published on May 13, 2022.