Thousands rally for abortion rights in Boston Common, show solidarity with other movements nationwide
Play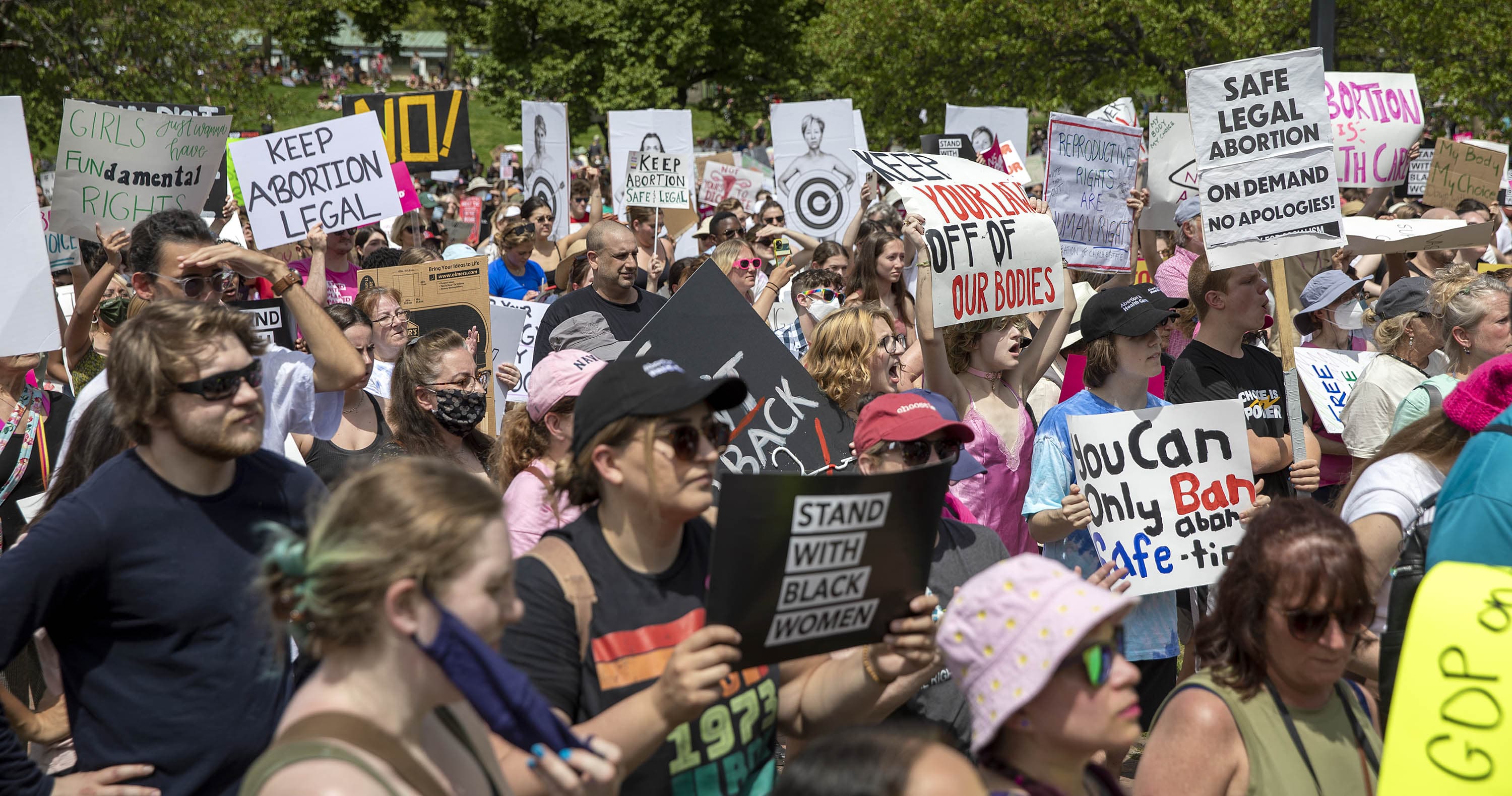 Protesters came out in droves to the Boston Common Saturday afternoon all in the name of abortion rights.
Spurred by the recently leaked draft opinion from the Supreme Court in favor of overturning Roe v. Wade, two organized protests took place in Boston, part of a national effort to defend the right to abortion access. Similar protests were organized across the country on Saturday.

Thousands of protesters holding signs showed up to the Boston Bans Off Our Bodies Day of Action event in the Boston Common. Music blasted across the commons and mixed with chants and rally cries of "bans off our bodies! Bans off our bodies!"
Massachusetts Attorney General, and gubernatorial candidate, Maura Healey and Senator Ed Markey were among the speakers who addressed the protesters from the Parkman Bandstand.
"Massachusetts will lead" in helping to secure abortion for those who need it, said Healey. "I will never support any abortion ban in the state of Massachusetts."
"I'm sorry to say, did we not expect this?" Healey said to the crowd. She attributed the potential overturn of Roe v. Wade to Mitch McConnell, the Supreme Court and the Trump presidency.
"The good news is, we're ready for this," she said from the bandstand. "We are ready for this in Massachusetts, and we are ready to make sure that Massachusetts leads this country, as we have on so many fronts."
As the rally was getting started, Sen. Ed Markey also decried the Supreme Court and gave a nod to the protesters in attendance.
"People are rallying, saying that they are not going to allow a ban on a woman's right to choose to have an abortion," he said. "And that's why it's so important that so many thousands of people have gathered here today, because the fight begins here. We are the revolutionaries. We have to take on Mitch McConnell, an illicit Supreme Court and all of the Donald Trump-sters in America."

Among those in the crowd, Linda Whittlesey, of Cape Cod, held a sign reading "NEVER GO BACK" in black lettering on a bright pink backdrop.

"We've been doing this a long time," said Whittlesey. "We've been going before 1973."
Whittlesey said she's surprised abortion rights in the country still need to be supported. "It's disappointing to say the least," she said.
"If nothing else, it will energize us," said Betsy Edwards, of Jamaica Plain, who attended along with Whittlesey. "It may not change any minds, but it really makes us sort of more and more militant when I think we need to be."
Caitlin Kauffman and Ezequiel Vega also attended the demonstration to support reproductive rights.
"I'm here to blatantly protect our rights," said Kauffman, who works in the abortion care industry. "We need to be able to make choices for our own bodies and it's ridiculous that it's being taken away by people who really have no care about my body."
"I support her, one, and I support equality," said Vega. "It's not fair for a female not to have choices, basically. Because that's what they're doing, they're removing their voice."
Both Kauffman and Vega said they believe more men should be involved in the movement.
"I think it's super important for males to be out here," said Kauffman. "It's the males that are taking these rights away, so I think it's the males that really need to step it up and help us put our voices up there."

Counter protesters were not seen at the Boston Common, and the Boston Police Department said no incidents of unrest had occurred during the event as of Saturday afternoon.
A second, smaller rally kicked off around 2 p.m. in Copley Square with a couple dozen supporters in attendance. Other similar rallies are expected to take place in numerous cities nationwide, including New York, Chicago, Austin and Washington DC.
This article was originally published on May 14, 2022.