Boston Calling resumes after festival-goers evacuated due to severe weather
Dark clouds bringing heavy rain and the threat of lightning dampened Boston Calling attendees as they were evacuated from the festival grounds Saturday afternoon.
Through the downpour, festival workers directed crowds to sheltered areas within Harvard Stadium or out to the Harvard Square area.
"Fans who exit the festive grounds will be permitted to re-enter," said an announcement to the crowd. "Stay tuned for updates."
Many festival-goers, especially those who had just arrived or were only attending for the day, were disappointed. Attendees did acknowledge, however, that it was just bad luck and that the weather can't be controlled.
Noah, 23, of Boston, said he arrived to the festival 10 minutes before the rain started.
"We basically got to eat, and then [we had to go], so I feel pretty bummed out," he said sheltering under an awning near Havard Stadium. "Hopefully it ends soon — the rain."
The weather, however, has been only one of many bumps in the road for this year's Boston Calling. Headliner Rage Against the Machine canceled in January, then Foo Fighters in March after drummer Taylor Hawkins died unexpectedly on tour. The Strokes — another headliner set to play Saturday — suddenly had to drop out due to a positive COVID diagnosis, disappointing many fans.
The band King Gizzard & The Lizard Wizard announced day-of that they also had to drop from Saturday's line-up due to a positive COVID diagnosis.
Spirits, however, attempted to stay positive as the crowd sheltering underneath an awning outside of the Havard Stadium began to clap and sing.
"We get to listen to at least some music," Noah noted with some levity as some of the crowd continued their claps and chants. "You can't be [angry], it's weather, right?"
Others held onto the hope that things would resume shortly as the rain moved through the area.
"I'm optimistic that we'll be able to go back in, but who knows with the weather," said Alison, 22, a college student and another member of the huddled awning-crowd. She said she had been checking the weather before the day kicked off.
"I just thought we would be partying in the rain," she said. "I didn't really think they'd stop and kick us out."
The crowd's optimism, however, was rewarded, as the rain stopped around 5:15 p.m.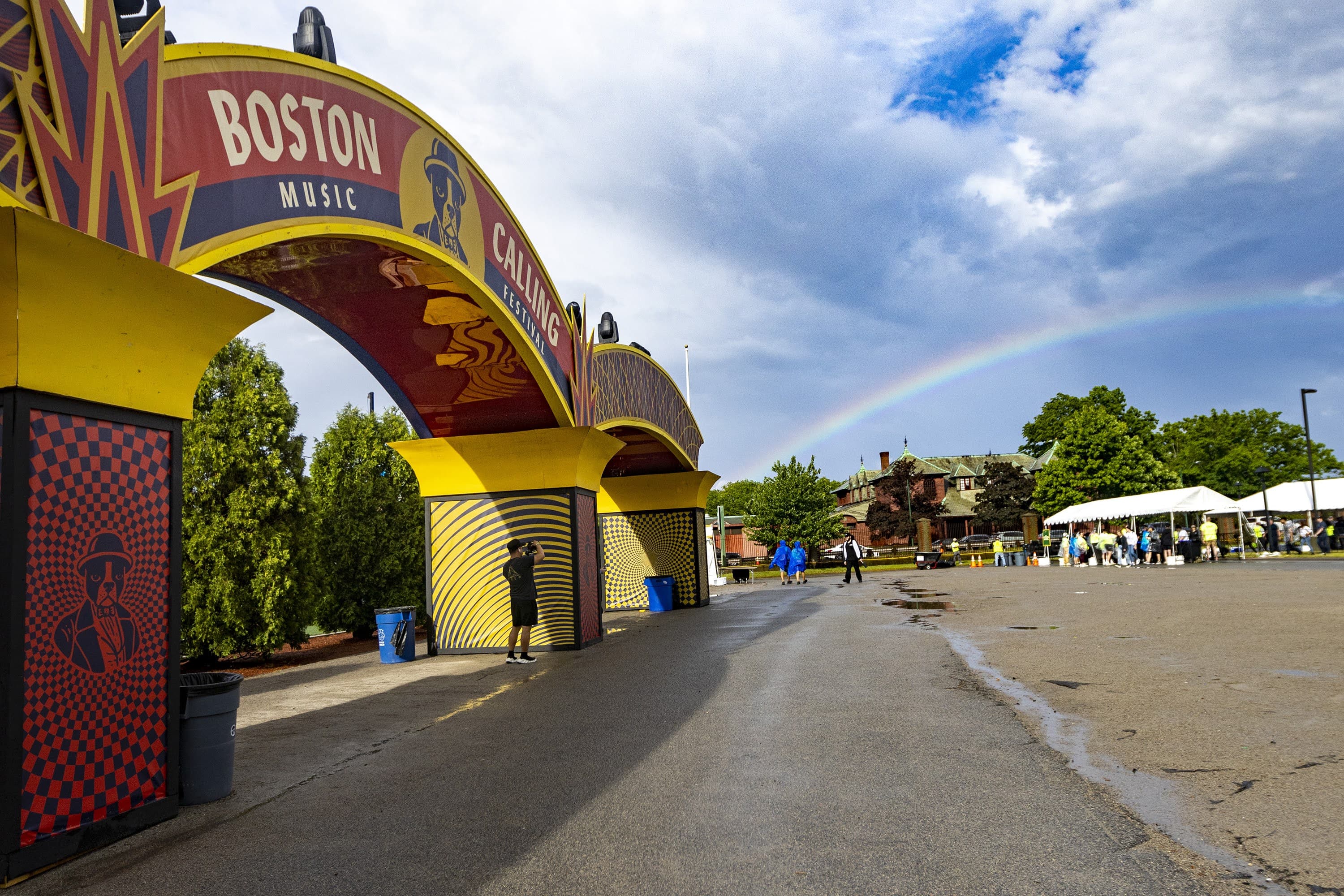 Boston Calling officially announced the festival would re-open at 5:30 and music would resume at 6 p.m.
And as crowds moved their way back into the grounds, a large rainbow stretched across the sky. Despite heavy rain, a two-hour delay and last-minute band cancellations, the show must go on.