A lost spiritual jazz record made in Boston resurfaces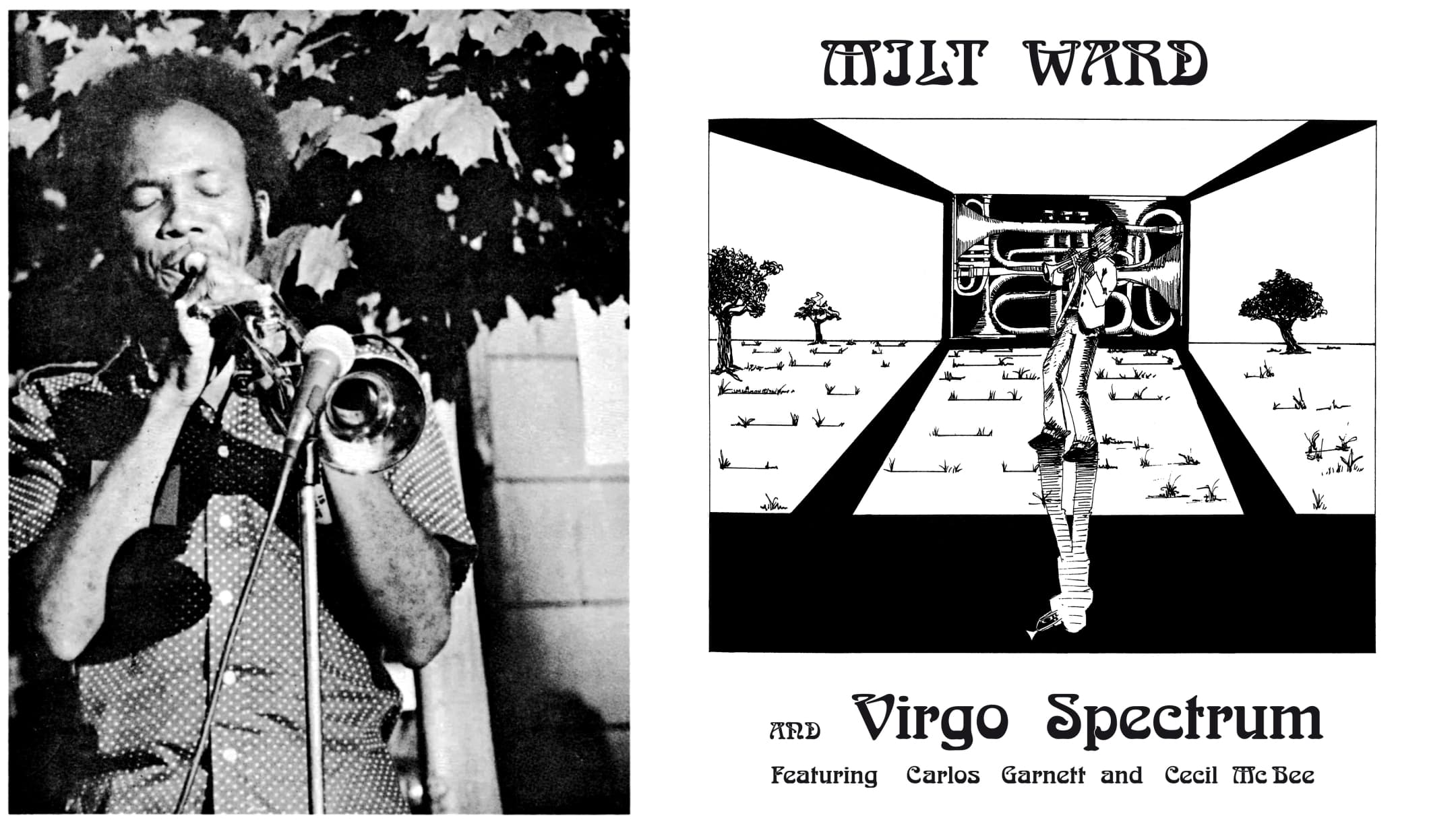 Sometime in 1976 or 1977, a Boston trumpeter named Milt Ward brought a hand-picked band into a local studio — most likely Dimension Sound Studios in Jamaica Plain — and cut the cosmos jazz record that he hoped would propel his career to the next level.
Like any number of excellent independent recordings, "Milt Ward and Virgo Spectrum" pretty much went nowhere. But over the ensuing decades, the album has become a cult classic. It has been bootlegged and one dealer is currently asking four figures for an original pressing. Now the record is finally getting a proper reissue from New York's boutique Frederiksberg label.
"I've been collecting records for a long time, and this one kept popping up, and it was really good," says Frederiksberg owner Andreas Vingaard. Vingaard tried looking for Ward, but discovered the trumpeter had died in 1987. "Eventually, I found his family on Facebook, and that's how I could sign a contract with them to license and release it."
If the world wasn't quite ready for "Milt Ward and Virgo Spectrum" the first time around, this might be the perfect moment for the disc. The record's contemplative energy puts it in the realm of "spiritual jazz" artists like Alice Coltrane and Gary Bartz, who are often cited as key influences by emerging jazz musicians. And by releasing the disc on his own Twin Quest label, Ward joined the legacy of Black-owned '70s jazz imprints like Strata East and Black Jazz, whose place in jazz history has received renewed attention in recent years.
"The spirit of the times was to be independent-minded — if a jazz artist couldn't get a big contract, they could do it themselves," says Bret Sjerven, who penned the reissue's extensive liner notes.
Ward was born in Michigan, but his musical story really began when as a young child his family moved to New Orleans. "Like everyone who comes from there, he had that second line influence in his music," recalls saxophonist Bill Pierce, who first met Ward when the two were at the Berklee College of Music in the late '60s, and who appears on "Virgo Spectrum." Like many great New Orleans players, Ward was part of the music program at Xavier University Preparatory School. As a young adult, Ward enlisted in the Air Force, and Sjerven thinks he served in or near Vietnam. Upon returning to the U.S., he enrolled at Berklee along with a high school pal and fellow trumpeter named Stanton Davis.
"Milton had a really strong influence on me when I got to Berklee, because he was a little older, and had lived more, and had the experience of serving in the military," recalls Pierce.
Besides honing their chops at the college, Ward and Davis soon joined R&B drummer and arranger Herschel Dwellingham's Orchestra. "He was an excellent musician, and was in the very first edition, right when we were asked to start the band," says Dwellingham from his home in Bogalusa, Louisiana. Initially started to entertain members of the Seven Rings social club in Boston, the band was soon the house orchestra at Boston R&B hot spots like Basin Street South and The Sugar Shack. They backed touring entertainers like Marvin Gaye and the Supremes. Stevie Wonder liked the horn section so much that he plucked several members, including Ward and Pierce, for a lengthy tour captured in this concert recorded in Brazil. Ward's first recording session was for a Dwellingham-produced song by soul singer Frank Lynch called "Young Girl." Released by record store owner Skippy White, the song seemed destined to be a hit until Lynch was shot and killed by a Boston police officer.
Throughout the '70s, Ward appeared at local venues with his Ultra Modern Jazz Quintet Plus Two. "The name was a mouthful," laughs Pierce, but the avant-garde outfit got steady work at jazz clubs like the Western Front in Cambridge. Ward lived the life of a working musician, teaching and playing with everyone from Count Basie to calypsonian King Wellington, as well as the band led by another New Orleans expat living in Boston, preacher and musician Freddie Gabriel.
The band Ward put together for "Virgo Spectrum" "was a real brotherhood," says Pierce. "Most of us had been friends for a long time. But the music was made unique by Milton's crazy approaches to music. He'd say his techniques were things he'd learned at Berklee, but I had been in those same courses and didn't remember learning about any of those things!"
After the record's release, Virgo Spectrum played its Kool & The Gang meets Sun Ra jazz around Boston through 1978 — including a Boston Jazz Week appearance at the Massachusetts Mental Hospital. Ward then moved to New York. Although he appeared on a record by Ray Charles saxophonist David "Fathead" Newman and taught, Ward soon drifted into relative obscurity, puncturing the myth that Boston jazz artists are more likely to find success if they move to New York. Stanton Davis and his Ghetto/Mysticism Band would also record a '70s Boston spiritual jazz record that years later would be reissued. (Full disclosure: I worked on a non-jazz project for the label that reissued the Davis record.)
Vingaard knows of at least one more Boston DIY jazz release he'd love to put out. "If anyone knows where Freddie Gabriel or his family are, please get in touch," he says.