'Patrick Kelly: Runway of Love' explores Blackness and queerness at PEM
I grew up thumbing through the old copies of Ebony and Jet at my grandmother's house and coming across the colorful spreads showcasing Patrick Kelly and his designs. Bright, slightly (or overtly) campy and always, always jubilant, Kelly had a way of utilizing fabric and adornment to imbue joy into his clothing.
But joy was just the starting point for Kelly. While he wanted his clothes "to make you smile," he used fashion to initiate conversations about Blackness and queerness that were pertinent in the 1980s. "Patrick Kelly: Runway of Love" at the Peabody Essex Museum celebrates the designer's artistic prowess while centering his layered identities as a Black queer man who drew much of his inspiration from his upbringing in Mississippi, along with New York ballroom culture.
"There's always more than meets the eye with Patrick Kelly's work," Petra Slinkard, director of PEM's Curatorial Affairs, told me as we walked through the exhibit. "He used his stage to dig into very important topics that were both personal, but also of the moment in our social history."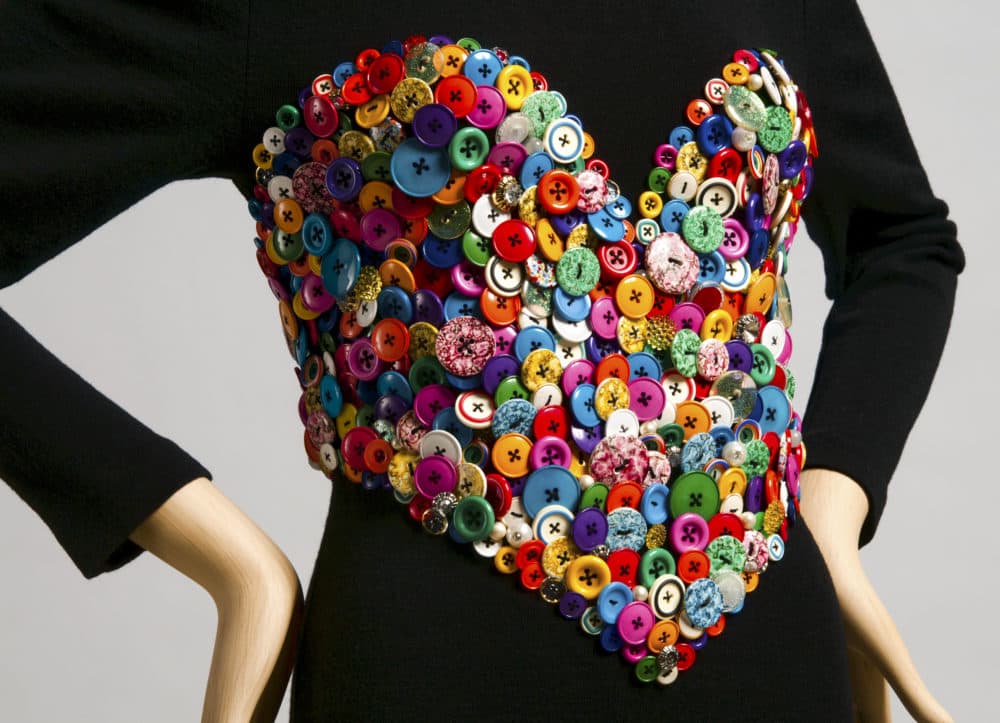 It isn't serendipitous that "Runway of Love" is still so relevant at this particular moment. It's merely a signifier that the issues Kelly was vocal about during his career in an incredibly Eurocentric and often homophobic industry are still persistent and ongoing. "He was very intentional and very subversive," Slinkard points out as we watch a recording of one of Kelly's runway shows at the start of the exhibit.
Like me, Kelly grew up pouring over his grandmother's old magazines. But unlike me, he didn't have the benefit of seeing Black models or fashion in ads or on the runway. Born in 1954 in Vicksburg, Mississippi, Kelly came of age in a time when magazines celebrating Black fashion were scarce. Ebony was still in its infancy, as was Jet, publications that would feature his work decades later. It wasn't long before he noticed there were no Black women in his grandmother's copies of Harper's Bazaar and Vogue. "She told him that 'nobody has time for Black women,' and he responded with 'Well, I will,'" says Slinkard.
As Kelly ascended to fame and became a darling of the fashion world (becoming the first Black person inducted into the Chambre syndicale du prêt-à-porter des couturiers et des créateurs de mode), Blackness remained a central motif in not just his work but his praxis. Influenced by his time spent in ballroom culture in New York City, Kelly runway shows featured an abundance of Black and brown models, including Grace Jones and Pat Cleveland. And like ball culture, his shows were never stiff, buttoned-up or restrictively formal. They were infectiously lively and interactive, unlike many of the other haute couture shows of the time.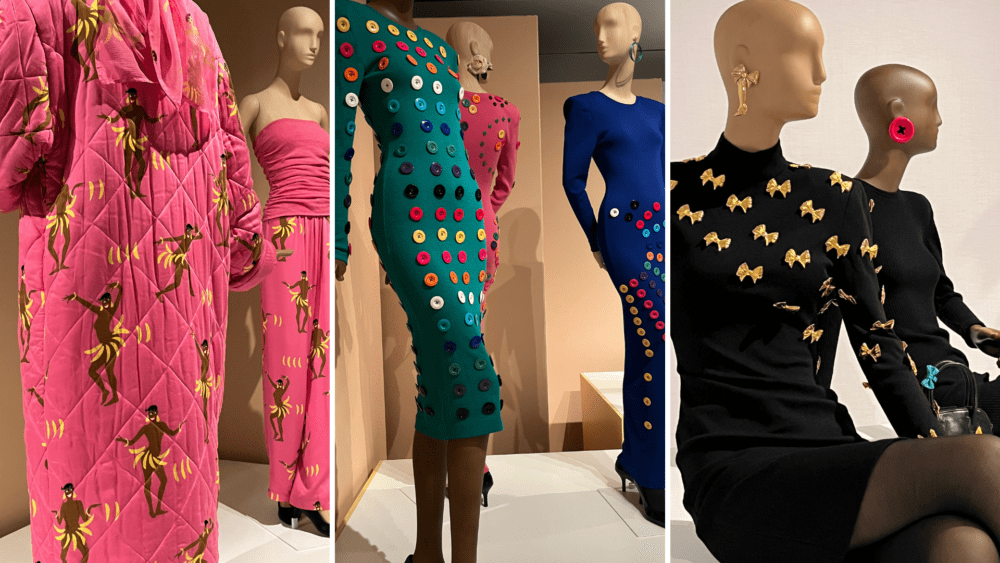 His skin-tight dresses adorned with colorful mismatched buttons speak to his youth, watching the women in his family recycle materials to mend clothing. A quilted pink rayon coat is printed with a cartoon rendition of Black performer Josephine Baker, who Kelly idolized. Another black dress is adorned with gilded hair bows, an item that reminds me of my childhood when I and many other Black girls sported heads full of them on the ends of our braids and twists. The use of denim in his designs, a popular fabric among Southern Black laborers, and Kelly's uniform of denim coveralls tell a similar story. His transformation and assemblage of the fabric are reminiscent of the Gee's Bend quilters in Alabama and other Black folk artists who use it extensively in their work. "It was a very deliberate choice to pay respect and to reference the tenant farmers and the civil rights activists of the 1960s," says Slinkard.
Kelly is perhaps infamously known for his adaptation of the "golliwog," a racist, cartoon depiction of Black children (similar to "Little Black Sambo") created by 19th-century children's author Florence Kate Upton. It eventually became his logo and he playfully utilized the image to spark discourse about the dark history of the racist caricature. "If they wanted in on the Kelly craze, collection-level fashion consumers of all races would have to grapple with the golliwog, an extreme trigger figure," writes Kibwe Chase-Marshall, co-founder of The Kelly Initiative, which supports up-and-coming Black designers.
Some may find Kelly's utilization of the golliwog and other racist material distasteful or offensive. But I found it fascinating. Kelly, in many ways, repossesses a captive figure (the golliwog) in our historical record and imagination. If we cannot interact with images as painful as the golliwog, how will we ever move past the conditions that created it? "I do these things so we don't forget each other," Kelly said, responding to criticism of his golliwog in a 1989 interview with Essence. Though bright and colorful, Kelly's golliwog pieces were visually disruptive and subversive, raising uncomfortable (and pertinent) questions. As Chase-Marshall points out, "Kelly knew that he had the right to deploy this sort of incendiary catalyst for conversation."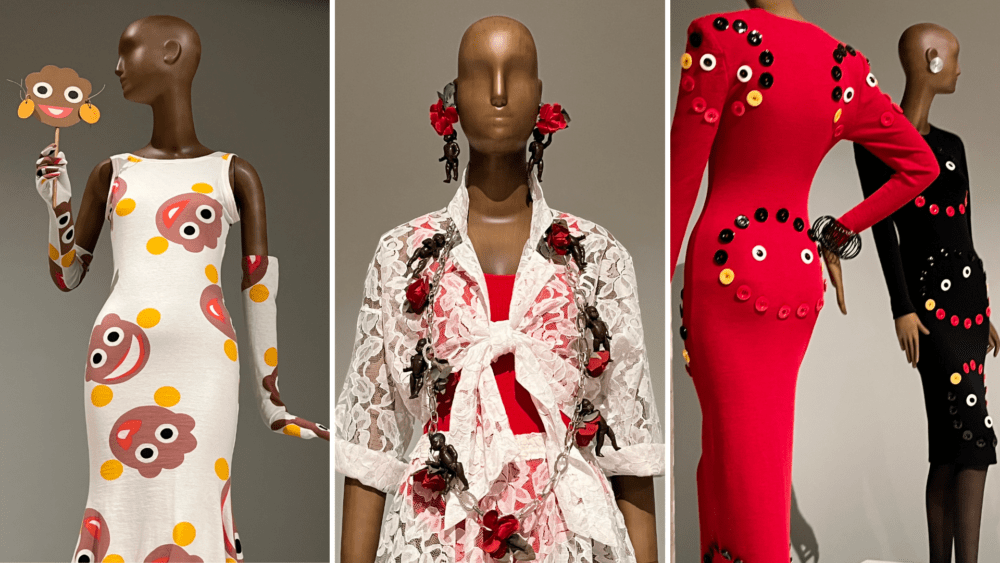 This exhibit opened at PEM right at a time when it sometimes feels like hope is scarce. It feels as though joy is hard to find when there's not a day that passes that there isn't news of another mass shooting, another law passed restricting reproductive and LGBTQIA+ rights or another police brutality victim. But what I learned from "Runway of Love" was that anger and frustration and a desire to change things are inextricable from joy and happiness. Kelly knew this intimately, fashioning clothes to make us smile right up until his death in 1990 due to complications associated with AIDS. He stayed quiet about his diagnosis because of the intense stigmas that still persist about the disease.
Kelly knew that rage and jubilance, and all of the other feelings that come with being Black and queer in a time (and world) that does not understand us, can co-exist at once. "I don't need to climb mountains; I don't need to build nations," he said. "What I do need is the courage to look deep inside, Cos I'm me and from me I know I can't hide. I don't wish to fly, I'm quite happy to glide. I am who I am and I'll be me with pride."
Indeed.
---
"Patrick Kelly: Runway of Love" is on view at the Peabody Essex Museum through Nov. 6.