Mass. cities scurry to contain rats with electronic traps, carbon monoxide and birth control
Resume
Traducido en español por El Planeta Media.
Just off the Somerville bike path, Michael Collins waded through the bushes and picked up a metal box.
Collins popped open the lid — and immediately noticed a rancid smell. A dead rat was decomposing inside.
"I'd say it's a juvenile," said Michael Collins, of Modern Pest Services, as he slid the rodent into a garbage bag.
All across Greater Boston and the northeast, cities and towns are battling a swelling rat population. In Boston alone, rat and rodent complaints climbed 48% from 2019 to 2021, according to the city's 311 data. And local officials are finding creative ways to respond.
Somerville is deploying state-of-the-art traps, which zap the rodents with a jolt of electricity and promptly send the city an electronic notice. Boston is gassing underground burrows. And cities like Newton are feeding rats birth control.
"It's very convenient and successful so far," Collins said. "Seeing the catches come in — it's something you look forward to waking up to."
Rats, of course, have long been considered a scourge — blamed, perhaps incorrectly, for the bubonic plague that swept Europe during the Middle Ages.  The brown rat, or Norway rat, likely came to the Americas as a stowaway aboard ships in the 1700s. And it quickly made itself at home in cities.
People have been fighting to eliminate them ever since.
A video produced by the U.S. government in 1950 called the brown rat a "killer."
"The rat problem is man's problem," the narrator warned.
In many parts of the country, the problem appears to have gotten worse during the pandemic.
Michael H. Parsons, an urban ecologist at Fordham University who studies wild rat populations, said lockdowns "almost certainly" forced rats to change their behavior.
Parsons and a team of researchers analyzed 311 data across all five boroughs of New York City and found complaints spiked in residential areas directly adjacent to restaurants.
Parsons said it appears rats moved from commercial areas into the surrounding neighborhoods when diners and bars shut down or reduced their hours after COVID cases spiked.
"It makes sense that with the closure of restaurants, rats are going to need new places to feed," he said.
That meant people used to seeing the occasional rat suddenly saw many more.
When restaurants reopened, some rats migrated back to their old haunts, Parsons explained. But others likely remained in their new territories, surviving off household trash and pet waste.
So more than ever, rats seem to be everywhere, especially at night.
In Boston, city crews are trying to exterminate the pests by filling their dens with carbon monoxide.
On a recent morning, city sanitation workers used a green metal machine called the BurrowRx to pump the gas in the underground nests on Boston Common.
"The rule of thumb is when you find a burrow, there's usually three burrows attached to it," explained Brendan Sheehan, an environmental health inspector.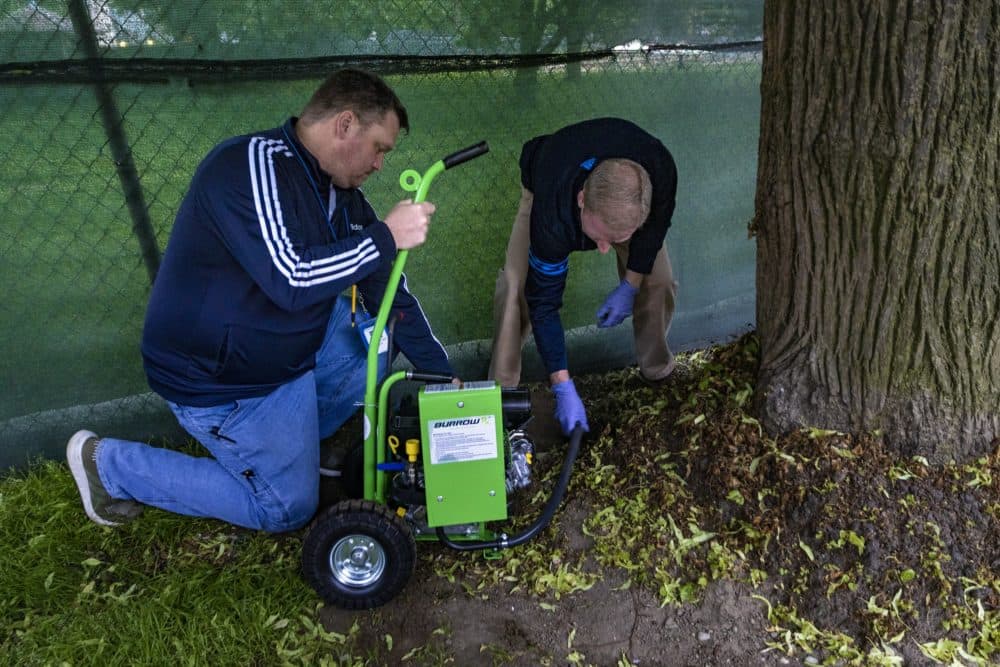 Other workers snaked a hose down into a rat's den near the visitor's center. As the white smoke seeped out of nearby holes, the crew tried to seal off any potential escape routes with dirt.
Sheehan says the gas is highly effective — though one or two rats usually get away.
He said only one "squirter" escaped the burrow that morning. "So it wasn't that bad."
Animal rights activists generally acknowledge that carbon monoxide suffocation is more humane than other forms of extermination, especially poison.
Most commercial rat poisons affect the animals' bloodstream, causing their blood vessels to burst.
"It can be really painful, especially if there's hemorrhages in the abdomen," said Holly Elmore, a researcher with the think tank Rethinking Priorities. "It's just a bad death."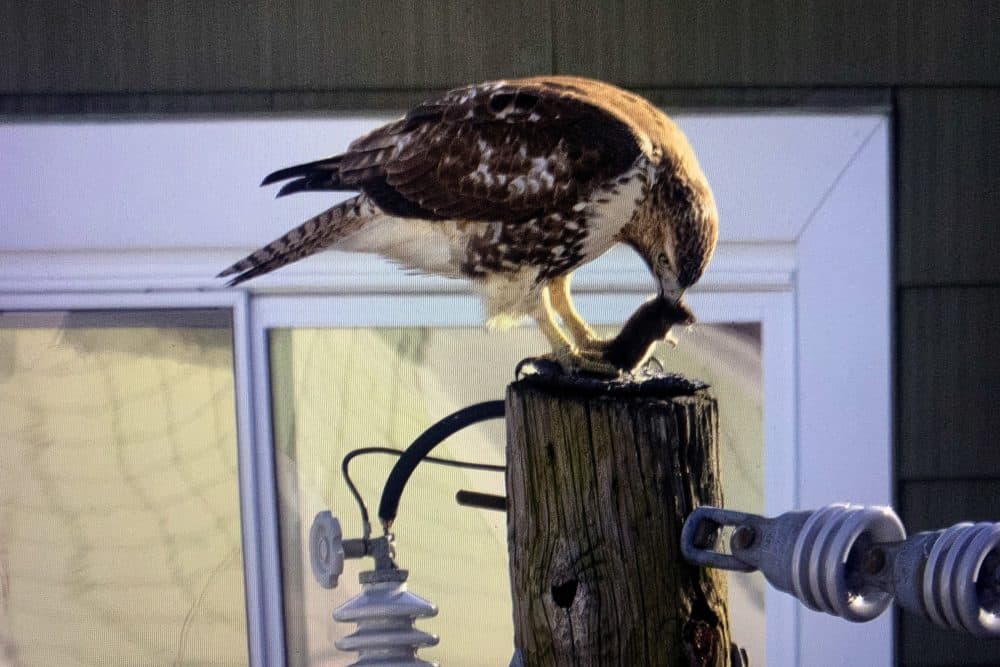 Rat poison also kills other animals like hawks, owls and eagles that eat contaminated rats. And it sickens an estimated 10,000 children in the U.S. every year. It even kills some pets.
A proposal on Beacon Hill would further limit the commercial use of rat poison in Massachusetts, creating some of the strongest restrictions in the country.
Elmore, the animal researcher, hopes more communities use an edible form of rodent birth control instead. Somerville has tried it in the past with mixed results, and Newton is using it now.
More than anything, Elmore thinks we need to give up on the idea that we can completely eliminate rats from the places we live.
"If they can't do that on islands where they put millions of dollars into eliminating every rat," she said, "you can't do it in your own house."
Somerville's self-described "rat czar" agrees it's hard to eliminate every rat, especially just with traps.
But the city is betting part of the solution could come with its state-of-the-art electric traps, loaded with gourmet bait like barbecue chicken.
Somerville is just the second city in the country to use the electric traps, called SMART boxes, which kill about 10 rodents a day. And every time they make a kill, the machines email the city.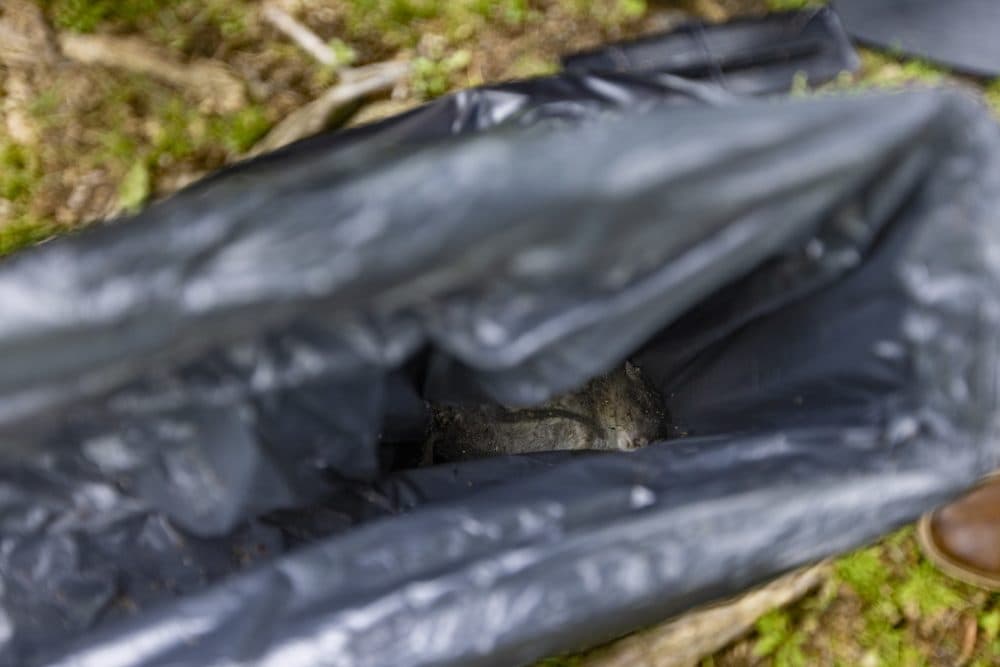 Zeigler, whose official title is Somerville's environmental health coordinator, said the data from the automatic messages help identify the locations of specific colonies. The city then can use that data to address problems nearby, like sealing off trash cans, filling in burrows and showing residents how to rat-proof their homes.
Local exterminators say the cutting-edge traps, carbon monoxide fumigations and rodent birth control are becoming important tools in the war on rats in Greater Boston.
But they also say a dry yard and tightly sealed trash is still the best way to keep the rats at bay.
This segment aired on July 25, 2022.