When it sticks to the characters, 'can i touch it?' sparkles at the Strand Theatre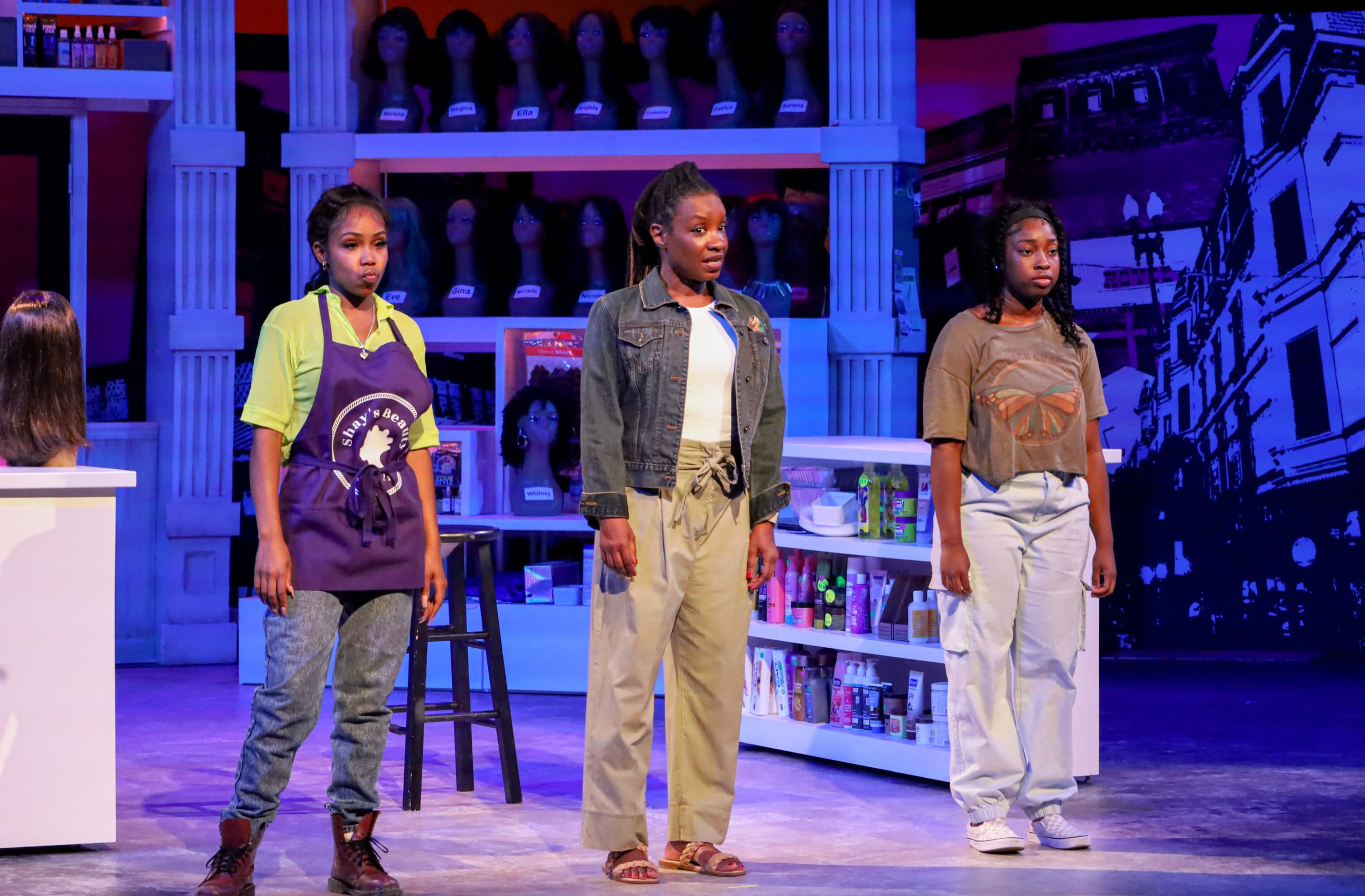 Using a small neighborhood business as the fulcrum, Francisca Da Silveira balances gentrification, political pressure around economic development and the power of community activism (with a little help from social media) against the anger and frustration of Black women who are ignored or worse, looked upon as curiosities to be examined and then dismissed.
But with "can i touch it?" at the Strand Theatre in Dorchester (through Aug. 13), Da Silveira's attempt to cover so much ground — there's even a moment of magical realism — leaves her spread too thin. Scenes full of insight and intrigue are juxtaposed with strident declarations that sound more like they were lifted from somewhere else. Da Silveira's dialogue is always fast-paced, funny and smart, but she is too easily distracted by trying to fit everything and the kitchen sink into her play, Company One's National New Play Network Rolling World Premiere produced in association with the City of Boston's Office of Arts and Culture.
The action focuses on Shay (an understated and believable Chris Everett), a single parent who has successfully owned and operated an African beauty store in Boston for years, but who finds herself suddenly facing default when the bank's interest rate skyrockets. Her efforts to renegotiate are denied, and she suspects it's because she's active in the community effort to wrest demands from a real estate developer with big plans for the long-vacant bakery next door to her shop. Determined to protect her teenage daughter Ruth (Jada Saintlouis) from worry as she dreams of going away to college, Shay keeps pushing even though she's exhausted by the effort.
The pulse of the neighborhood is brought to life by a quartet of actors — three of whom double or triple in roles — who do their best to anchor the meandering plot into an occasionally compelling dramatic arc.
Schanaya Barrows brings a delightful effervescence to the well-meaning but opinionated Meeka, Shay's niece and sole employee. Although she hasn't gotten involved in community action before, when one of her customers (Saintlouis as Lili) reveals the bank's complicity in both the gentrification plan and Shay's financial difficulties, Meeka calls in content creator Tory Bullock (playing himself), who shoots a video that embarrasses the bank and leads to a breakthrough for the community advocates. Barrows' enthusiasm is irresistible, whether she's counseling Lili on what kind of hair extension to purchase, threatening Lili to get her to tell her the truth about Shay's financial troubles or reminding her Somerville barber how much new business she's bringing in. When she's not playing Meeka, Barrows appears as Beth, the arrogant white bank representative who looks at Shay as if she's an annoying fly that must be swatted. Her pitch for the developer's plan, which includes advancing slides for an imaginary Powerpoint, makes it both hilariously — and painfully — obvious how disconnected the plan is from the community.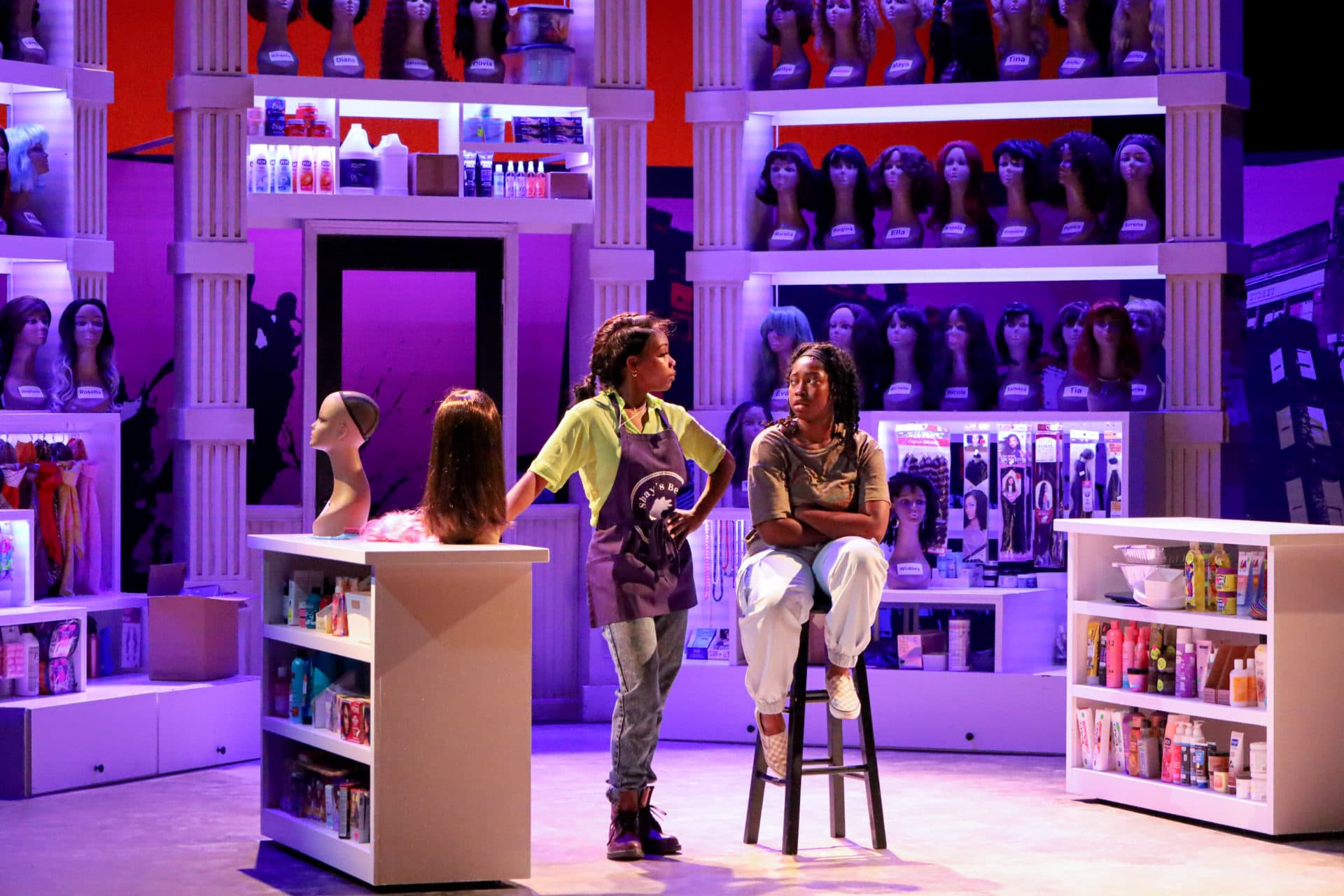 Saintlouis does a terrific job shifting between the teenage Ruth, ready to step into responsibilities of adulthood to Lili, the goofy, oversharing friend and bank employee who is finding her own way to work the system. Mark W. Soucy plays the earnest and well-intentioned Mark, Shay's fellow community organizer who is committed to the neighborhood but willing to negotiate with the enemy, making compromises to the bank Shay insists are unacceptable. At one point Shay says to Mark, "I want to say no and have people listen to me. It's a white man's privilege that people do what you say."
Da Silveira punctuates the action with a series of questions white people (mostly women) ask Black women about their hair, with Shay posing the questions and Ruth and Meeka responding with polite, socially acceptable answers. But as the play progresses, Ruth becomes more and more unsure of what the right answer is, while Meeka refuses to go along, saying exactly how she feels about these insulting questions. Both Saintlouis and Barrows are outstanding as they shift from recitations to more honest responses, even wondering if the efforts to tame and even change their hair are part of a bigger effort to erase Black women and force them to fit white beauty standards.
Looming over the action is Cristina Todesco's towering shelves of wigs, that would surely have a lot to say if given a chance. At one point the shelves start to tremble and some wigs tumble to the floor. It's exciting and scary and suggests how deep the roots of the community go. But after scrambling to catch some things, Meeka climbs up and grabs a book that tells Ruth what to say. Everything in the play seems to be building to this moment, but once the two girls recite the correct answers, the wigs stop shaking. Instead of a true transformation, in the next few minutes, Da Silverado resolves all of her disparate plot threads. Wait, what?
Award-winning director Summer L. Williams lets her ensemble loose with their great banter, but gets bogged down in cumbersome scene changes. The strength of Da Silveira's play lies in the story of a woman, her daughter and her niece, and how powerful they are when they defy expectations to make change. Whenever Da Silveira focuses on them, "can i touch it?" soars.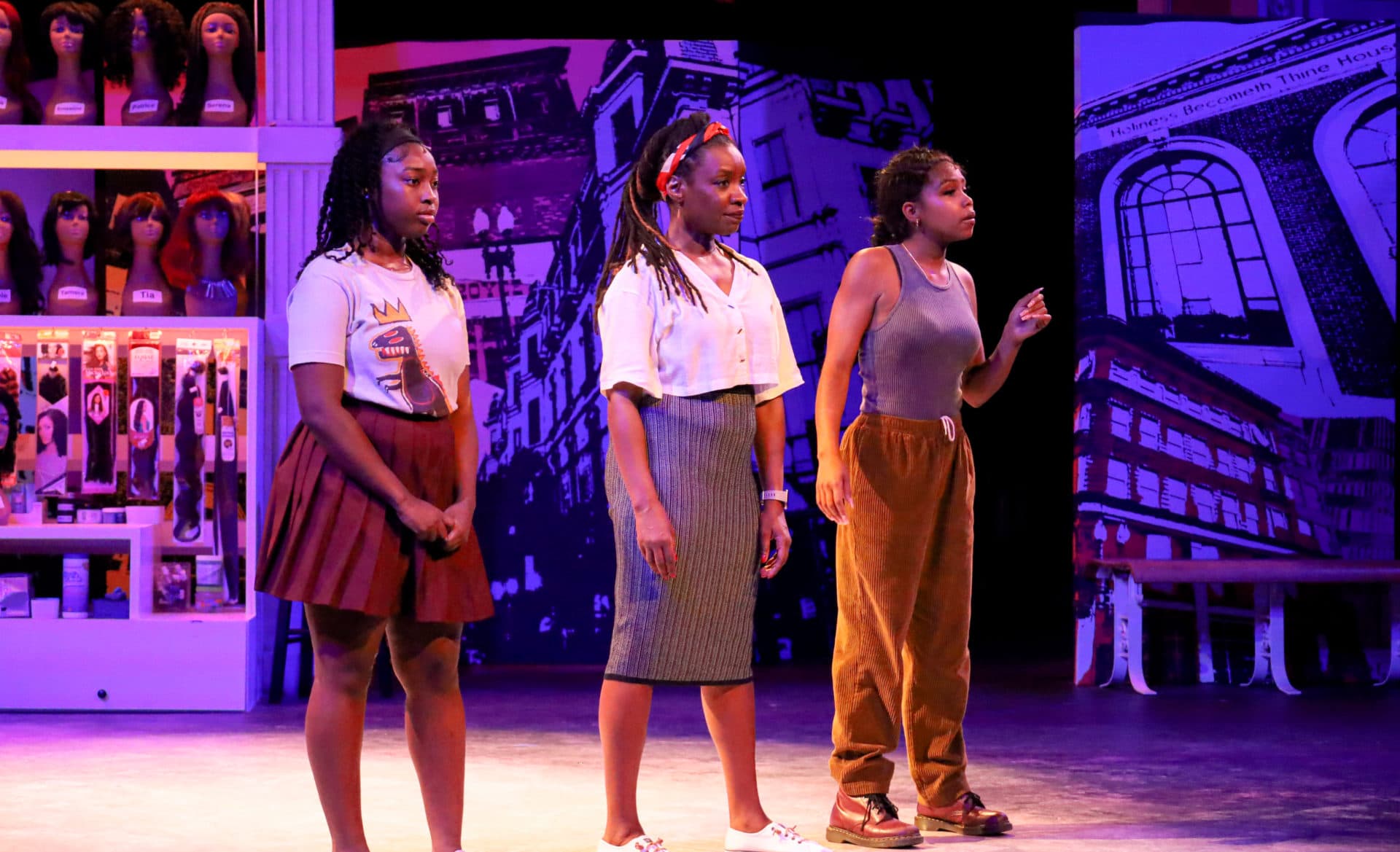 ---
Company One Theatre's National New Play Network Rolling World Premiere of "can i touch it?" produced in association with the City of Boston's Office of Arts and Culture continues at the Strand Theatre through Aug. 13.