New project over Mass. Pike may stitch long-separated neighborhoods back together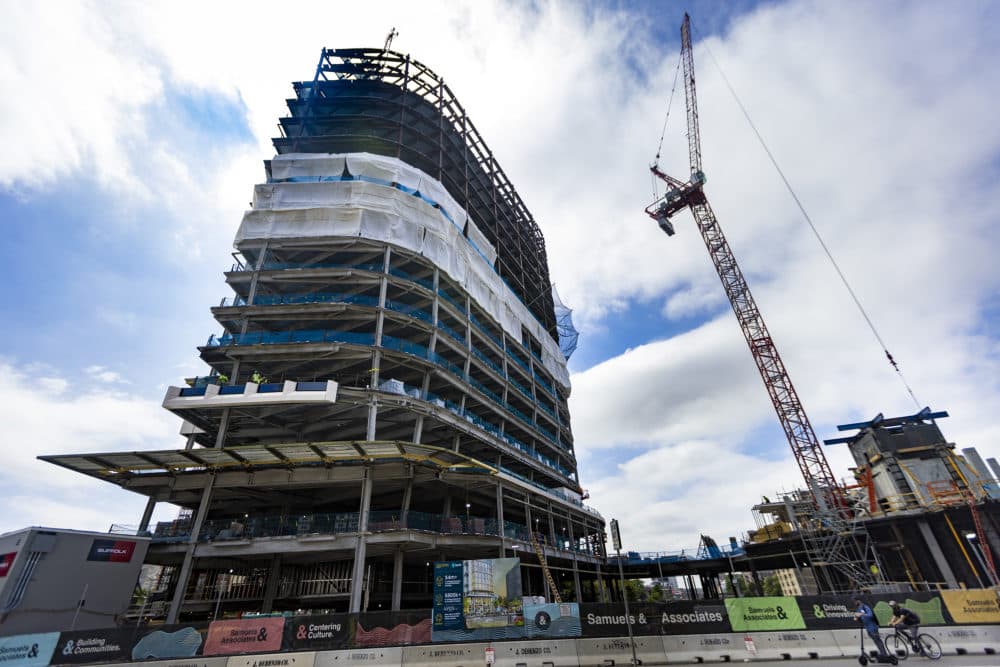 Construction is ramping up on the first project of its kind in Boston in 40 years.
Parcel 12 is a two-building complex connected by a public plaza that stretches across the Massachusetts Turnpike at Newbury Street at Massachusetts Avenue.
Construction crews are already done building the decking that will support the development, and a 20-story steel skeleton now towers above the interstate.
The project is largely built over once-empty space above the Turnpike, so developers Samuels & Associates had to secure special air rights ahead of construction. It is the first air rights development to get underway in Boston since Copley Place was built in the early 1980s.
When construction is complete in summer 2023, Parcel 12 will be home to the new global headquarters for car-buying giant CarGurus.
It will also be the site of a new CitizenM hotel, which is expected to be one of Boston's first all-electrified buildings.
Abe Menzin, Executive Vice President of Development for Samuels & Associates, said the project will bring nearly 3,000 new jobs to Back Bay and reconnect the neighborhood to the South End and Fenway.
"The vision of this project has always been to reconnect these neighborhoods together that were once separated by the Pike," Menzin said. "It's really changing and repairing this scar of 1960s car-oriented infrastructure."
The project includes elements like improved sidewalks and bike lanes, which Menzin said will create a safer environment for pedestrians and drivers alike.
Construction crews are also working with the MBTA to renovate the currently-closed pedestrian tunnel under Mass. Avenue, which will serve as a connection between Parcel 12 and Hynes Station.