Suffolk County DA race turns nasty. Both Hayden and Arroyo face questions
Play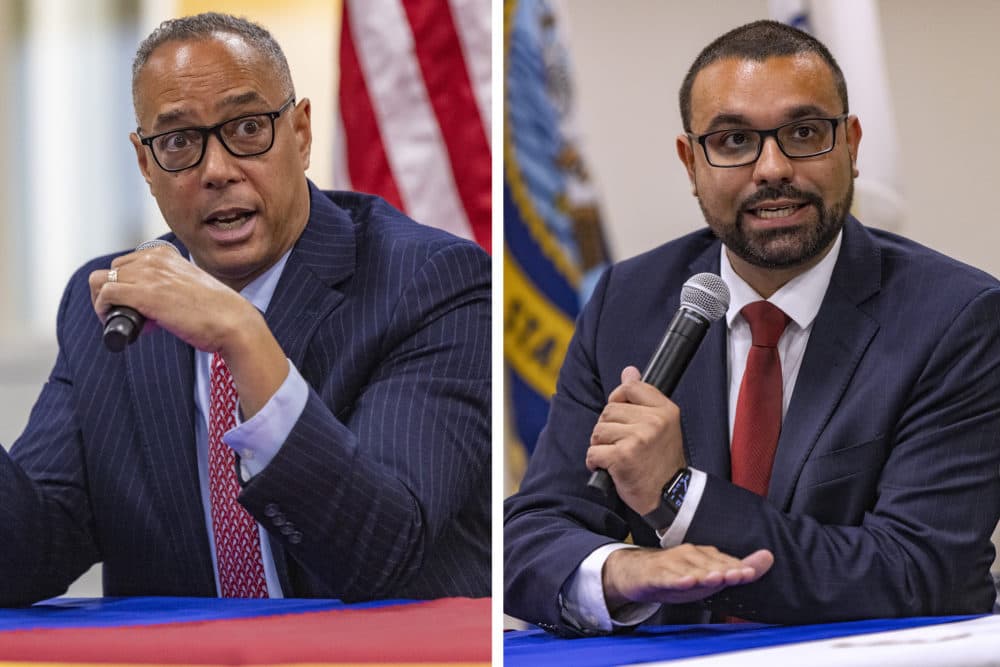 Elections for district attorney often fly under the radar.
But not this year. Especially not in Suffolk County in Massachusetts, where the race has turned into a brawl.
Interim Suffolk District Attorney Kevin Hayden and Boston City Councilor Ricardo Arroyo are both competing for the Democratic nomination. And the fight has quickly turned into a feud.
Arroyo is defending himself after a Boston Globe report that found he was the subject of two sexual assault investigations more than a decade ago. Arroyo denied the allegations and said he was not aware of the complaints, which never resulted in criminal charges.
"So just to be clear I never sexually assaulted anyone in my life," Arroyo said at a press conference Wednesday.
Arroyo said he also believes Hayden or his supporters leaked the complaints to the Globe to smear his campaign.
"Nobody who makes a complaint should believe that those who have access or the power to leak those documents or those complaints for a political purpose ever does so," Arroyo said. "I think that's an incredible violation."
Hayden denied his office leaked the documents. "In accordance with state law, we do not release sexual assault investigation files," a Hayden spokesman said in an email.
In another wrinkle to the accusations, a lawyer who says she represents one of the women involved in the complaints also appeared at Arroyo's press conference.
Attorney Brigite Melo-Cronin read a statement from the woman, saying Arroyo never assaulted her and the complaint was being used for political gain.
Melo-Cronin also said a former Boston police officer, who is now a private investigator, contacted the woman last month and warned her that she was going to be part of a political scandal.
Meanwhile, Hayden has been busy responding to a separate allegation that his office tried to spike a police misconduct case.
Hayden insists his office never stopped looking into accusations that an officer pulled a gun on a Black motorist in a road-rage incident, refuting claims in a Boston Globe article earlier this month. Following that story, Hayden asked a grand jury to investigate.
"This case has always remained open because I'm the one that makes that decision," Hayden said. "And I never determined to close the case. And it's always remained open. And it will continue to remain open until until we come to its conclusion."
Just a few weeks ago, though, it seemed like an ordinary DA's race.
Both men spoke at events in Boston marking National Night Out, which honors first responders and law enforcement.
As police officers handed out free pizza and ice cream, Hayden reminded voters of his work.
"I was responsible for cases coming out of this neighborhood, where I was on the gang unit and safe neighborhood initiative," Hayden told the crowd.
Arroyo was there, too, mingling with constituents. He says he wants to continue the progressive policies of former Suffolk District Attorney Rachael Rollins, who left the job to become the U.S. attorney for Massachusetts in January.
"I would say this is very much a clear question about whether or not we're going to continue forward with policies that were put in place by Rachael Rollins," he said. Arroyo went on to say the policies "that have been sort of left on the wayside," since Gov. Charlie Baker appointed Hayden to serve the rest of Rollins' term in January.
Hayden says he deserved to be elected because of his experience as a former prosecutor and former chair of the state's Sex Offender Registry Board. Arroyo counters that he is the best person to continue reform efforts because he witnessed racial disparities in the legal system as a public defender.
But consultant Susan Tracy says the scandals may be the biggest factor in the election next month.
"Issues come up during campaigns — that's what happens," Tracy said. "The question is whether they're credible and how do the candidates respond to them. And then how in turn do the voters view those responses."
Voters will respond in the Democratic primary on Sept. 6. There are no Republicans in the race. So whoever wins that race will likely be the next district attorney in Suffolk County.
---
Correction: An earlier version of this post misspelled Brigite Melo-Cronin's first name. The story has been updated. We regret the error.
This segment aired on August 26, 2022.