Campbell wins Democratic primary for attorney general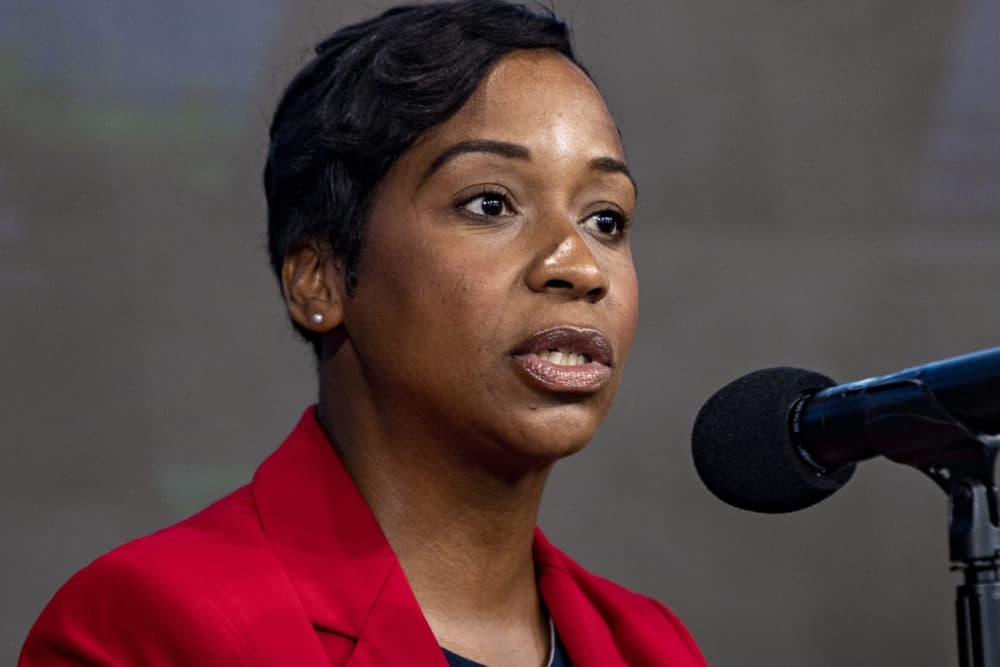 Former Boston City Councilor Andrea Campbell will be the Democratic nominee for attorney general, fending off a well-heeled challenge from trial attorney Shannon Liss-Riordan in a head-to-head matchup, according to the Associated Press.
Former assistant attorney general Quentin Palfrey dropped out last week, with polls showing him consistently trailing his two opponents. He endorsed Campbell, praising her "devotion to public service."
Campbell also secured the endorsements of prominent Massachusetts Democrats like outgoing Attorney General Maura Healey, Congresswoman Ayanna Pressley, and Massachusetts U.S. Sen. Ed Markey.
Campbell campaigned on a long record of public service, from working as deputy legal counsel for Gov. Deval Patrick, to becoming the first Black woman to serve as president of the Boston City Council.
She often framed her passion for reform in the context of her own family's experience with the criminal justice system. Her father cycled in an out of prison, while her twin brother, Andre, died in police custody awaiting trial.
She also proved a prolific fundraiser, securing support from outside groups like the Environmental League of Massachusetts PAC. But that Super PAC spending — and her refusal to sign the so-called People's Pledge to curb outside spending — was a frequent target of criticism.
Liss-Riordan spent millions of dollars of her personal money to support her campaign, including on direct mail, radio and TV ads.
The nationally-recognized labor attorney has collected significant legal fees from suing companies like Uber and Starbucks. Critics have accused her of taking too much and leaving less for the workers she represented.
Liss-Riordan secured strong support from organized labor, as well as late endorsements from Massachusetts U.S. Sen. Elizabeth Warren and Boston Mayor Michelle Wu.
The winner of the Democratic primary will now take on Republican Jay McMahon in November's general election.
McMahon, a trial attorney and vocal supporter of former president Donald Trump, ran against Healey in 2018. He won about 30% of the vote.