Boston University grad students re-launch union drive, citing low pay amid high cost of living
Boston University graduate student workers plan to try to form a union, according to a news release sent Monday, which says many of the institution's 3,000-plus graduate students are struggling to afford life near campus.
An earlier drive at the private university stalled during the Trump administration, when the National Labor Relations Board — then formed of all Trump appointees -- seemed prepared to block new grad-student unions in 2019. The earlier effort was also opposed by the university administration.
Now with that proposed rule shelved, and a more labor-friendly Joe Biden in office, organizers at B.U. have resumed the fight.
Doctoral students typically don't pay tuition — and receive stipends based on their work as teachers and researchers. In the last academic year at Boston University, those stipends were at least $24,521 for eight months, or $36,782 for year-round work.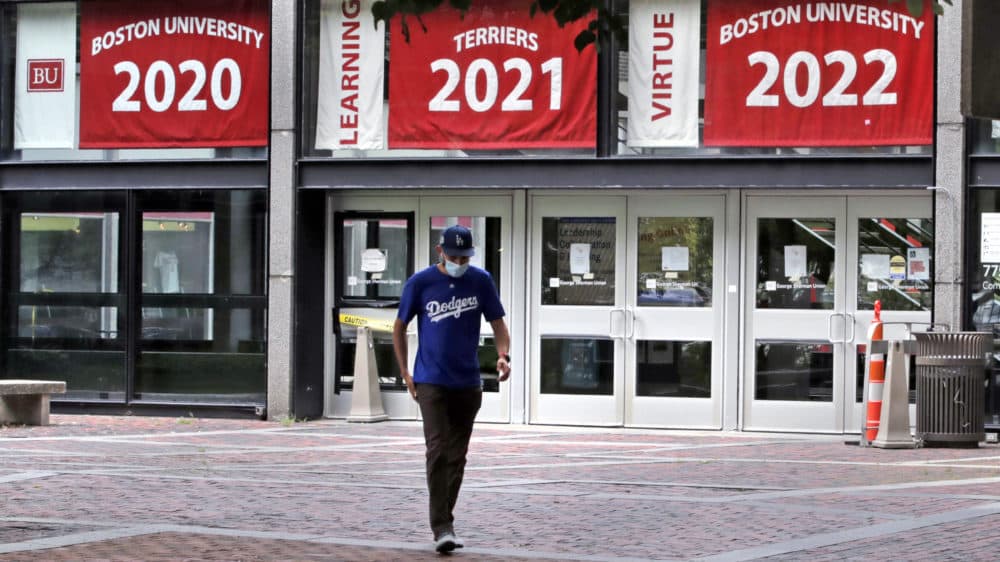 Alex Lion, a fifth-year graduate student in biology and part of the organizing effort, says those stipends are relatively low compared to other local institutions, and leave many B.U. grad students earning much less than a living wage. (An online calculator hosted by researchers at MIT estimates that the annual living wage in the Boston metro area is around $47,000 for a childless single adult.)
Lion said that low and irregular pay has sometimes pushed her into extreme economizing over the past four years: sharing an apartment with four or more roommates, skipping meals or bus rides, or "neglect[ing] to get medical care."
"We feel that we're not valued for the work that we're doing for the university," Lion said.
Another organizer, Greer Hamilton, a fourth-year graduate student at the university's School of Social Work, said she works "two to three jobs" off-campus during months when she has to go without stipend pay — but that many international students aren't permitted to do the same under their visas.
The student-organizers are hoping to join the Service Employees International Union Local 509. Their goals include workload limits, better pay and year-round stipends, more affordable health care and specific supports for international grad students.
Officials with Boston University declined to comment on the union drive, citing a policy not to comment on labor matters. (Boston University holds the broadcast license for WBUR.)
Organizers said they were prepared to push for a union regardless of who is leading B.U., whose endowment is now valued at over $3 billion. They announced the drive on Sep. 2, five days before B.U.'s longtime president, Robert Brown, announced he will retire from that role at the end of this academic year.
But Lion says a sense of momentum in greater Boston and beyond did play a role. B.U. graduate student workers have watched successful drives at Harvard, MIT and Tufts in the past five years, and are aware of a growing "national movement" toward organized workplaces.
Lion says today's union leaders at B.U. are "energized" and hope to form the union — and negotiate a first contract — within the next year.