Doctors urge COVID vaccination ahead of winter, but worry about weak demand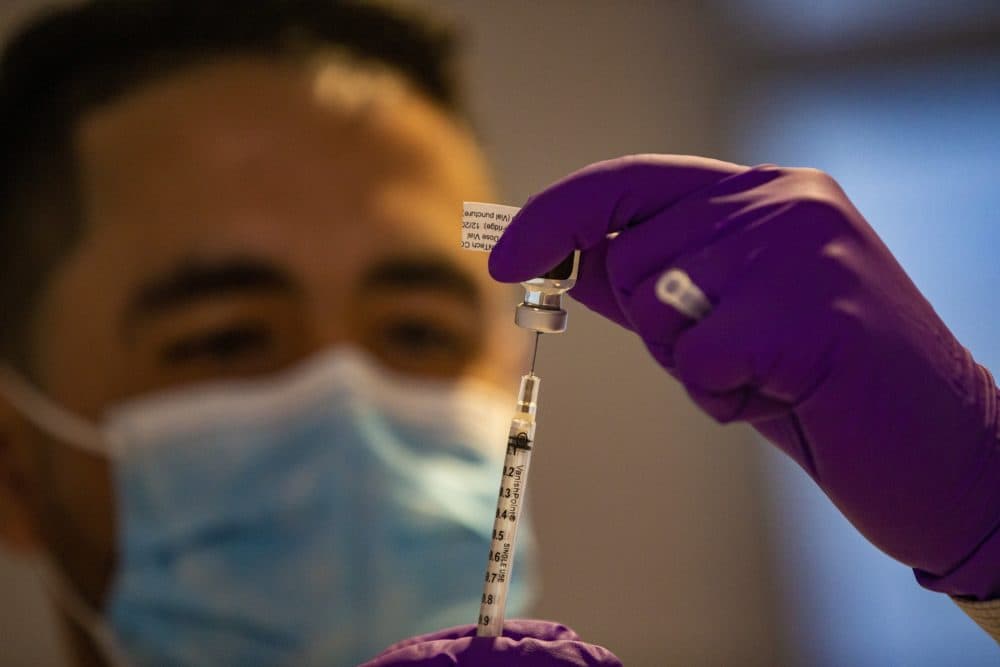 Health care providers across Massachusetts are gearing up for a fall campaign to vaccinate people with new COVID boosters that promise to provide better protection against the latest strains of the coronavirus.
But as they reach out to a public with pandemic fatigue, they worry they'll see tepid demand.
Dr. Paul Biddinger, who leads emergency preparedness for Mass General Brigham, expects this rollout will be an uphill battle.
It's harder than ever to draw attention to COVID, he said. People are weary of the pandemic and might not understand that another shot is helpful at protecting against severe illness and long-term symptoms, even if they've already had COVID.
Doctors and public health officials say the updated boosters add an important layer of protection going into fall and winter, when COVID cases are expected to rise again.
"This is a very, very safe way to protect as many people as possible — including yourself," Biddinger said.
"If you're eligible, you should get the booster." And while you're rolling up your sleeves, Biddinger said, get a flu shot, too.
Boosters help to restore immunity that develops from initial vaccinations, but wanes over time. Anyone 12 or older who completed their initial vaccinations or received a booster at least two months ago is eligible for the new boosters. Anyone who has had COVID also can get the booster, as long as they've recovered from their infection.
Mass General Brigham, the state's biggest health care provider, plans to email employees and patients to remind them about the new vaccines.
"We want to try and mount a really aggressive booster campaign so that we can have as safe a fall and winter as we possibly can," Biddinger said.
The new COVID boosters arrived in Massachusetts on Sept. 2, the day after the US Centers for Disease Control and Prevention recommended their use.
The vaccines are available at doctors offices, community health centers, hospitals, pharmacies, and other locations — though the state is no longer operating mass vaccination sites as it did last year.
State health officials said they will urge the public to get vaccinated and boosted through TV ads, social media posts and billboards.
And while federal COVID funding has dropped off, the Baker administration is seeking an additional $108 million in state funds to support COVID-related costs, including for personal protective equipment, testing, treatment and vaccines.
Not all doctors agree on the best time to get a booster — whether people should roll up their sleeves immediately, or wait until closer to the winter holidays so they have the highest level of immunity when they have more potential exposures to the virus.
State officials urge people to get the booster "as soon as possible."
CDC director Dr. Rochelle Walensky has said "there is no bad time to get your COVID-19 booster."
There's a temporary supply shortage of Moderna shots at some CVS pharmacies. Pfizer's new boosters appear to be widely available.
But it may take time for the shots to gain traction.
The staff at Whittier Street Health Center in Roxbury are texting patients about the new vaccines, and reminding them to get shots when they arrive for regular appointments.
But it can be a hard sell, said Dr. Stephen Wright, medical director of the health center. Some communities are still resistant to taking new vaccines because of previous mistreatment in the health care system.
"We're hitting it from all angles, and still it's not enough," Wright said. "There are a lot of people that are reluctant to get the vaccine for various reasons. But we're doing everything we can."
"We hope it catches on. We're spreading the word, because we really need it. We need some protection."