New Boston schools superintendent officially starts her new role
Mary Skipper's official start date as new Boston Public Schools superintendent is Monday.
As the sixth person to hold this role in just the last decade, all eyes will be on how the Boston native and veteran school administrator will address longstanding challenges in Massachusetts' largest school district — and whether she will have staying power.
"I am excited that Monday is finally here," said Boston School Committee chair Jeri Robinson. "Mary has been very involved behind the scenes ever since she signed her contract."
Skipper, most recently the leader of Somerville Public Schools who agreed to a four-year contract with a $300,000 annual starting salary in her new role, was not available for an interview for this story. In recent public remarks at the Boston Globe Summit, though, she has emphasized her intention to continue the work done under acting superintendent, Drew Echelson.
"It's wonderful to be back," Skipper, a former Boston Public Schools teacher, principal and administrator, told WBUR's Radio Boston in an August interview.
"It's wonderful to reconnect with so many colleagues here in BPS doing great work. It's also wonderful to be welcoming back some who have left and who are coming back to join the fun as we build BPS back," she added.
The Boston School Committee by a 4-3 vote in June chose Skipper for the role over BPS regional superintendent Tommy Welch. Though Boston students' first day back was Sept. 8, Skipper's own start date was delayed so she could wind down her role in Somerville.
The start of the new school year for Boston students was challenged by transportation issues, including a month-long shutdown of the Orange Line that complicated transportation options for thousands of BPS students and families.
On-time school bus arrivals will be an ongoing focus this year, as will be making significant improvements in services for English-language learners and students with disabilities, per a school improvement plan the district negotiated with the state education board over the summer to avoid receivership.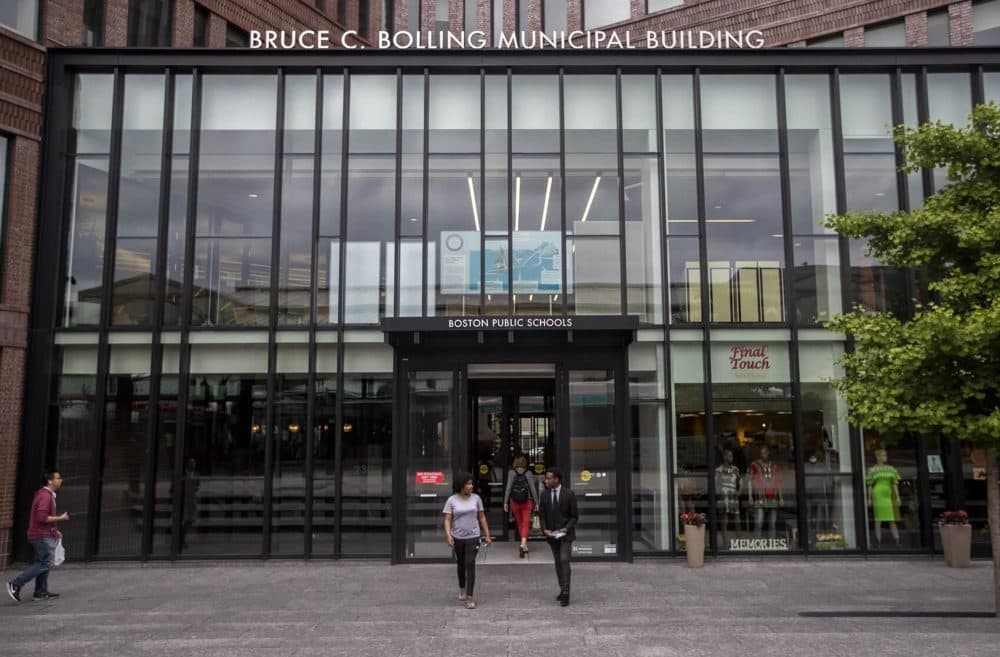 Though Skipper is entering the BPS system at a time of significant scrutiny, she hasn't released detailed plans for how she will lead the district to success.
She said back in August she wants to develop "healthy student-centered schools" that includes "prioritizing and acceleration of academic performance" and "building back and improving access to social and emotional learning for our students."
"I think Mary Skipper is coming in with such incredible experience and talent. So I'm excited about moving forward and taking this opportunity to support her in this work but also continue to ask the hard question to make sure we're doing right by our kids," said Boston school committee member Brandon Cardet-Hernandez.
Wanting to 'build BPS back'
Skipper comes to Boston with a record of school improvement at Somerville Public Schools. During her seven-year tenure, Somerville schools continued on a positive trend of improving graduation rates, attendance and MCAS performance. Dropout rates fell during her time there, according to data collected by the Massachusetts Department of Elementary and Secondary Education.
Skipper recently told WBZ-TV she feels confident about her ability to transition from Somerville Public Schools, which serves around 4,600 students, to the BPS system, which is about ten times larger.
"I am a practitioner, I am someone who has come up from the field, I've been a teacher, a principal, I've managed a network of schools," she said.
Much of Skipper's career was spent at BPS. She spent 15 years working in Boston — first as a teacher, then principal, and finally an administrator in the district's central office. She also helped launch TechBoston Academy, a technology-focused school, in 2002.
The Dorchester resident and parent of three is the fourth permanent superintendent to lead Boston schools in a decade — sixth if you count the interims. Her predecessor, Brenda Cassellius, left after three years.
Skipper acknowledges the transience of this role and said she hopes to bring a sense of stability to the district — her time at BPS spanned an era that she says was more stable than it is now.
She told Radio Boston's Tiziana Dearing in late August that she considers the school improvement plan to be the baseline for the district's goals and said the school system should aim higher than what has been laid out.
Filling the district's open positions with diverse educators is also a high priority.
Skipper told WBZ-TV in early September that she hopes to fill many roles by promoting staff who are already working with the district and familiar with school culture. One example she's cited is helping paraprofessionals earn their teaching licenses and encouraging current teachers to become certified in additional skills.
Boston Mayor Michelle Wu says she feels confident about the future of BPS under Skipper's leadership.
"We are going to get this right," Wu told WBUR in August. "We are going to hit all of our hurdles and benchmarks as much as possible. Not because we need to be in compliance, but because our students deserve every resource and every opportunity."
Robinson, the school committee chair, said success in the Boston Public Schools is going to take more than just the energy and ideas of a new leader. It needs to be a team effort.
"This is not the magic of one individual," she said.
"My question is, is Boston ready to support its superintendent?" Robinson added. "We've got 10,000 employees, 50,000 families, a City Council, more resources than any other part of the country. Do we want the Boston Public Schools to succeed as a city? And if so, what [are we] willing to do to make sure that happens?"