In Boston, BPS students navigate around Orange Line shutdown on first day of school
It was the first day of school for nearly all students in Boston Public Schools Thursday, and a key issue for many was how to get to class with the Orange Line shut down.
Roughly 4,600 students live in close proximity to the shuttered transit line, and now will have to hop onto shuttle buses, transport vans or yellow school buses to get to and from school.
The transportation issues add to the already challenged on-time arrival rates for BPS school buses. Just half of all school buses arrived at schools on time Thursday, while roughly three-quarters arrived 15 minutes after the opening bell. The vast majority, or 92%, of buses arrived within a half-hour of the opening bell while 42 trips lacked a driver altogether, according to BPS officials.
The bus drivers union head said there are still about 75 open bus driver positions, but Boston Mayor Michelle Wu said all routes are fully staffed.
"This year, we were aiming even higher to make sure that we could have an extra cushion, especially with the Orange Line situation," Wu said. "So we've actually expanded our capacity in terms of the number of drivers that are trained and ready to go, the number of routes."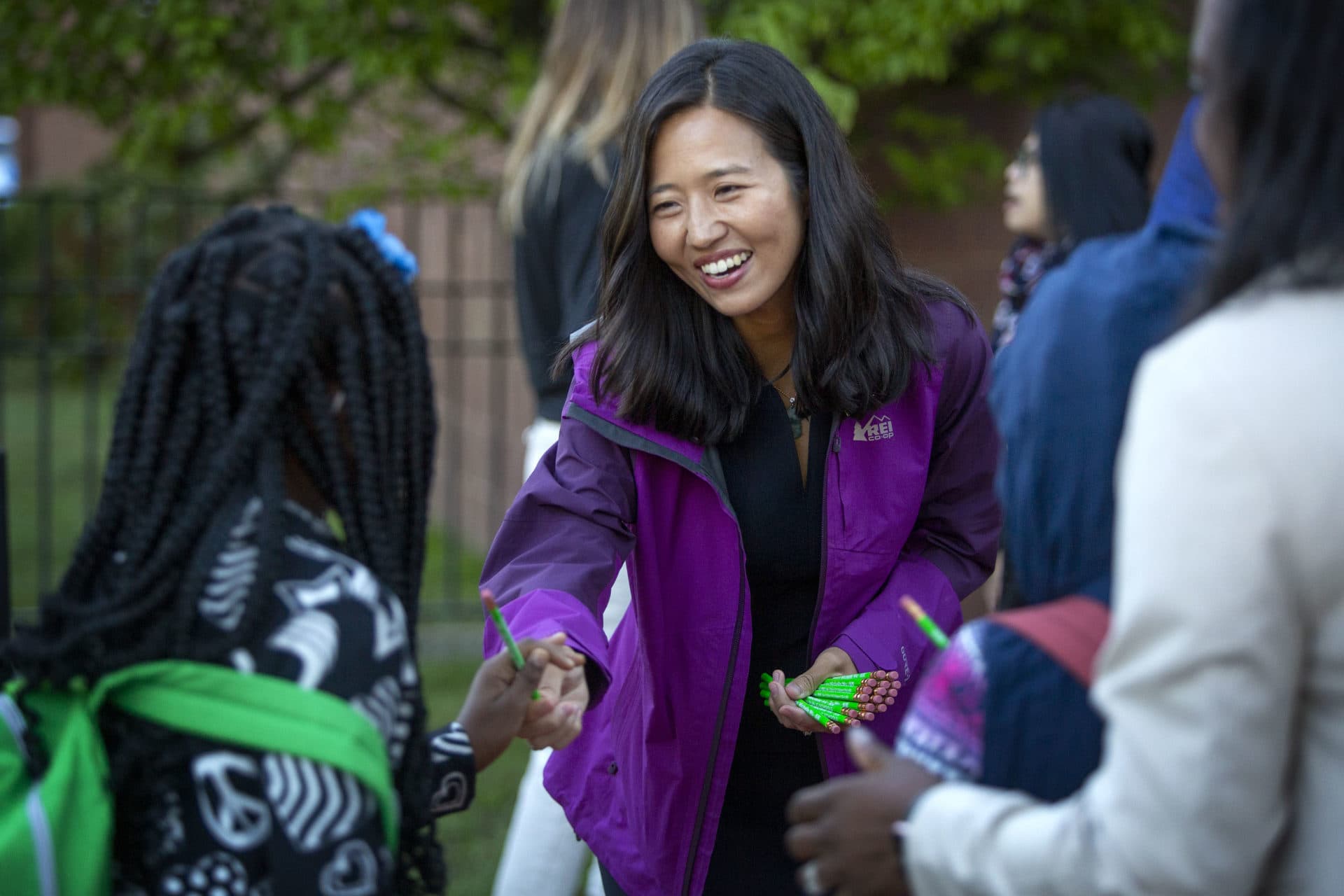 Wu said she's keeping an eye on how the Orange Line closure affects students' commutes to school. She was at the Readville Bus Yard in Hyde Park Thursday morning, where she boarded a bus to Forest Hills.
"We have hundreds of buses ready to go, drivers who have been preparing and getting ready so we can get our young people to school so we can have a great day and great start to the school year," Wu said.
The 30-day Orange Line shutdown, which ends Sept. 19, overlaps with the start of the first few weeks of school for thousands of public school students.
There are 28 BPS schools along the Orange Line, according to school officials. The MBTA has released a "Rider's Guide: Student Edition" with tips on how to get around.
On his way to the first day at John D. O'Bryant, 15-year-old Jack Ramirez waited for an Orange Line shuttle.
"I think it's going to be complicated to get to school now, since there are a lot of people waiting on the shuttle bus," Ramirez said. So, I'm just trying to you know... get to school."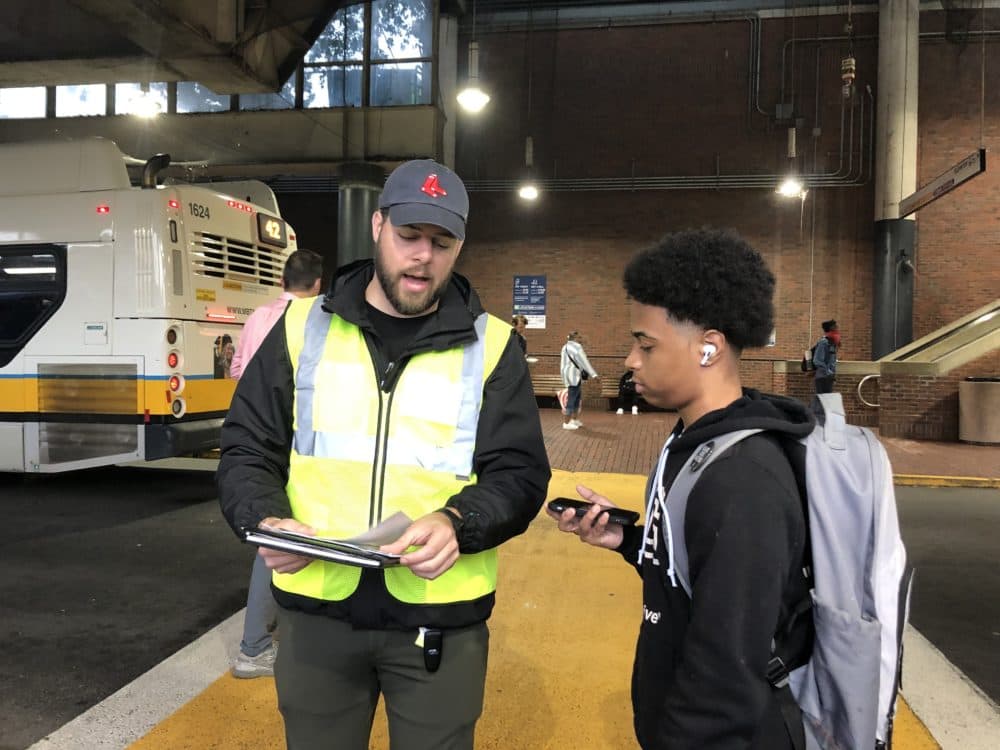 In recent days, city leaders unveiled some measures to blunt the impact to student commutes, such as contracting 70 transport vans to get students to schools outside the city and allowing families of older children in 7th and 8th grades to apply for yellow school bus waivers.
The Orange Line shutdown means some families are leaving extra room in their morning schedules to arrive on time.
Sally Wattles, an art teacher, and her daughter, Alice Dwyer, a 5th grader at Josiah Quincy Elementary near Chinatown, live in Jamaica Plain. They ordinarily would take the Orange Line to get to the school, but took the shuttle bus Thursday, leaving their home at 7:30 a.m. and arriving an hour and 10 minutes later.
"It took us a long time," Wattles said. "We're really hoping it's done when they say it's going to be done," she added.
"Because it is really disruptive. I hope they get it right."
Communication and bus timeliness an issue
In other Boston neighborhoods, the timeliness of bus arrivals — and a lack of communication — tested parents' nerves.
Even far from the Orange Line, Boston saw some familiar issues with the timely arrival of school buses. At busy stops along Dorchester Ave., several families waited 20 minutes or longer beyond their planned pick-up times — with many eventually giving up and finding other ways to school.
Theresa Hines, waiting with her son, spoke of the late arrival as a local tradition, however inconvenient. "The first day of school, it usually doesn't show up. We come here hoping the bus comes, then we drive in," Hines laughed.
Hines and her son did eventually abandon the bus stop, as did Joanne Matthews and her daughter — about 15 minutes before school was about to begin.
"I put two [children] on the bus at 7 this morning — and that was on time," Matthews said. But she had no such luck with her daughter, waiting until about 15 minutes before the bell before walking to the car.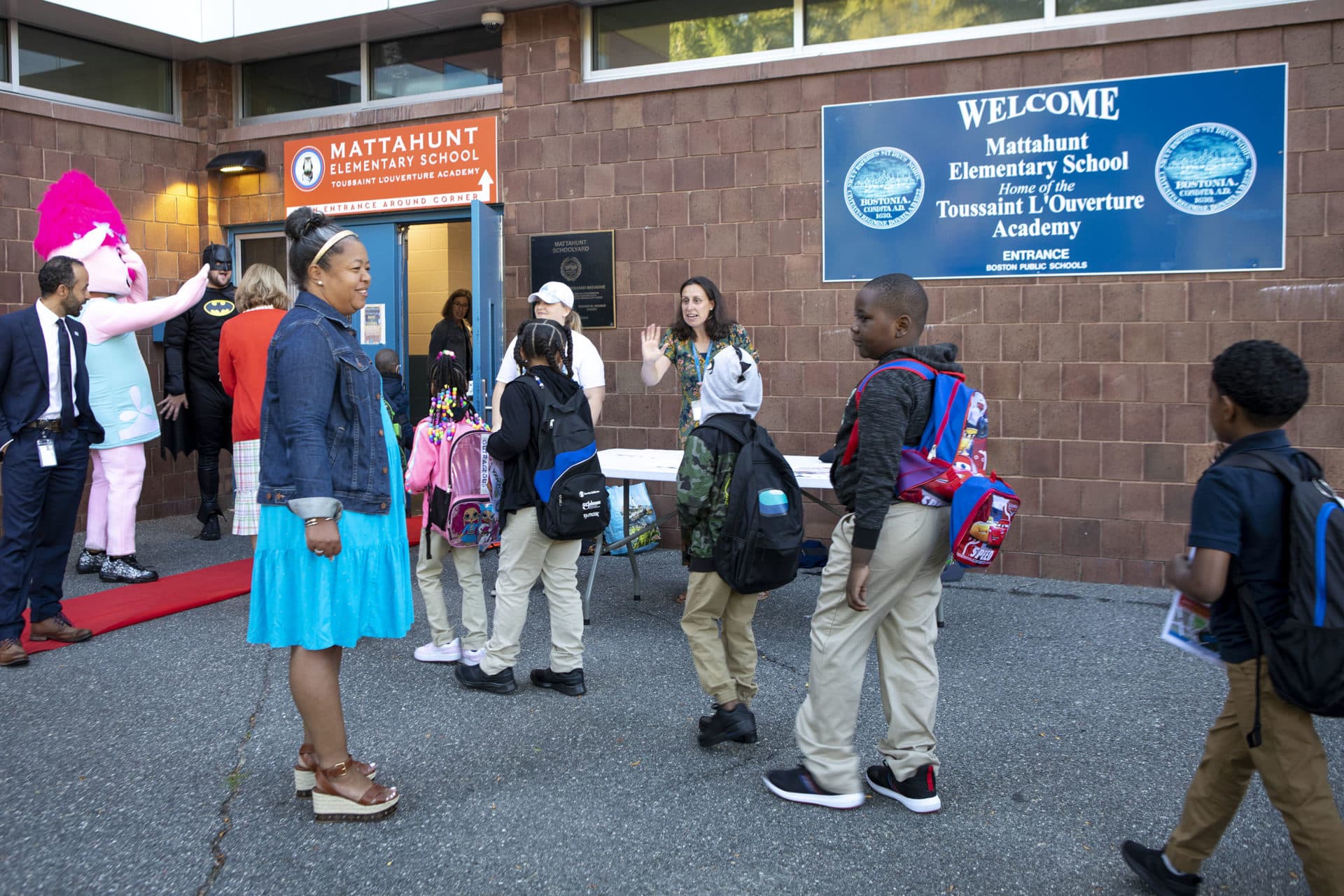 Matthews said "lack of communication" between the schools, the bus contractor and families is part of the reason for the delays — and that the city's bus-tracking app wasn't working as this year began.
In Chinatown, Tasha Flores said she got an email notification early this morning that there were no bus drivers for her kids' stop, so she had to drive them to school.
"I found out literally this morning at 7 a.m.; school is set to start at 9:15 a.m," Flores said. "Luckily, I live pretty close, but I had to rearrange some of my morning routine to make sure I got them to school in time."
She added there was no communication about whether school buses might resume for Friday, "so it's still up in the air."
Thursday's school bus arrival rate is largely typical of first days in previous years. Last school year, 57% of school buses arrived on time on the first day, but that improved to an 82% on-time rate by the fifth day of the school year.
Boston Public Schools, the state's largest district, recently negotiated a district-wide school improvement plan with state education officials that includes a commitment to ensure 99% of its buses arrive at schools within 15 minutes of the opening bell.
This article was originally published on September 08, 2022.