Fighting the Salem scaries: How to navigate Witch City this October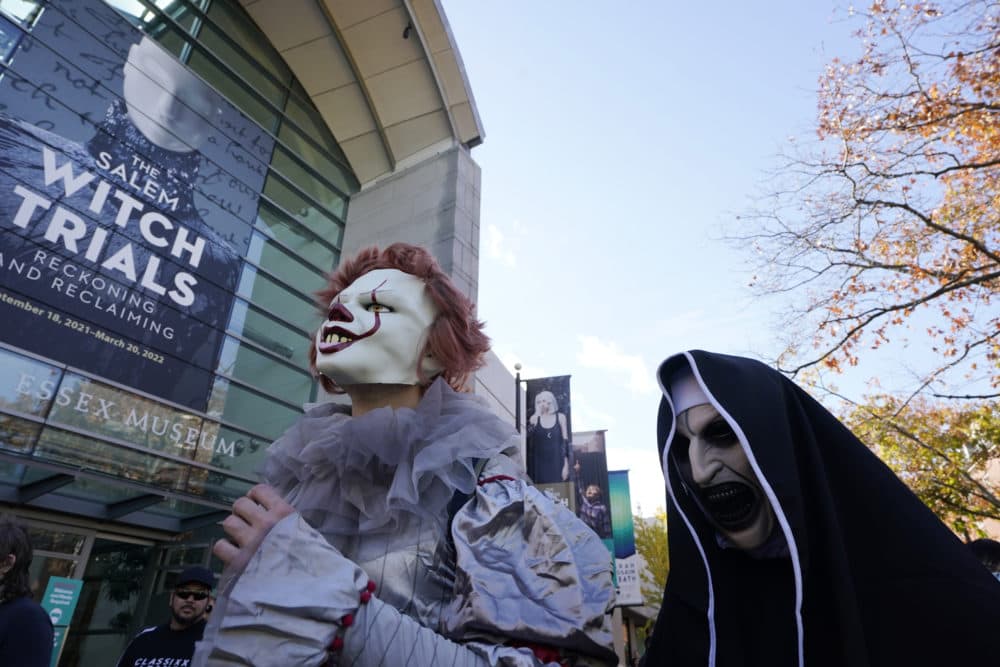 Editor's Note: This is an excerpt from WBUR's daily morning newsletter, WBUR Today. If you like what you read and want it in your inbox, sign up here. 
---
Welcome to October, the spookiest month of the year. "Haunted Happenings" are already underway in Salem. And perhaps the only thing scarier than darkly lit haunted houses or the fate of Giles Corey is trying to drive into Salem this time of year.
Let's start off with a couple reminders, if you plan on being one of the hundreds of thousands of people visiting the Witch City this month.
Dominick Pangallo, the chief of staff to Salem Mayor Kim Driscoll, says their overarching message to visitors this month is "don't drive, have a plan and be respectful" of others during festivities. Seriously, it's a bad idea to try to just drive downtown, especially on weekends. Traffic is a mess, parking is limited (and more expensive in October) and there'll be a number of different road closures in the next few weeks leading up to Halloween. Salem also ramps up its public safety and parking enforcement efforts during October, so trying to skirt the rules for a free spot probably isn't a great idea, either.
If you're coming from Boston, officials suggest the commuter rail (the T still offers those $10 weekend passes) or the Salem Ferry. However, if those aren't convenient options, the city does have a free satellite parking lot with a free weekend shuttle to take you downtown. There's also several local transportation options for getting around the city once you've left your car.
Unlike last year, there's no citywide COVID test requirements or any other such restrictions. However, some private businesses and attractions, like The House of the Seven Gables, do require masks.
Make your plan: You can check out the full event schedule here. The city also has a more in-depth FAQ page and public restroom locator on the "Haunted Happenings" website. There's even an app that puts all this info on your phone. Maybe it's not so scary after all! (Except the costumes; some of the costumes are scary.)
In other news, after being halted by the pandemic and a bus driver shortage, the Logan Express bus service has made its return. The bus service from Back Bay Station between Logan Airport resumed this morning for the first time in over two years, offering rides every 30 minutes.
The bus from Back Bay to Logan costs $3 and runs 5 a.m. to 9 p.m., while the trip for travelers coming back from the airport is free and runs from 6 a.m. to 10 p.m.
There's also an extra perk for departing travelers: According to Massport, their ride to the airport comes with a "Ticket to Skip," which puts them at the front of the TSA security line.
Heads up MBTA riders: While we get a five-day break before the next Green Line D branch diversion begins on Saturday, there is some scheduled maintenance work this week.
T officials will shut down the Red Line's Ashmont leg early each night at 8:45 p.m. today through Thursday for track work. That means shuttle buses will replace trains from JFK/UMass to Ashmont.
T officials are also warning that commuter rail riders on the Needham, Franklin/Foxboro and Providence/Stoughton lines may see delays to the tune of 10-15 minutes this week because of work above the tracks and platform at Forest Hills.
Want a peek inside The Broad Institute's new Discovery Center in Cambridge? The MIT and Harvard-backed research center is opening its educational space in Cambridge for a free preview today through Thursday as part of the Cambridge Science Festival.
Broad Institute leaders say the center features interactive exhibits highlighting pioneering work in biomedicine and how researchers are trying to understand disease at the most molecular level.
P.S.— Need a cure for your case of the Mondays? How about wine and cheese? Swing by WBUR CitySpace tonight for a conversation with the husband and wife duo behind The Urban Grape wine shop in Boston's South End. You'll get to hear about why they organize wine by body rather than varietal or region and their commitment to promoting people of color in the industry — and yes, enjoy tasty wine and cheese.