Step Afrika!'s 'Drumfolk' offers a movement-focused history lesson at ArtsEmerson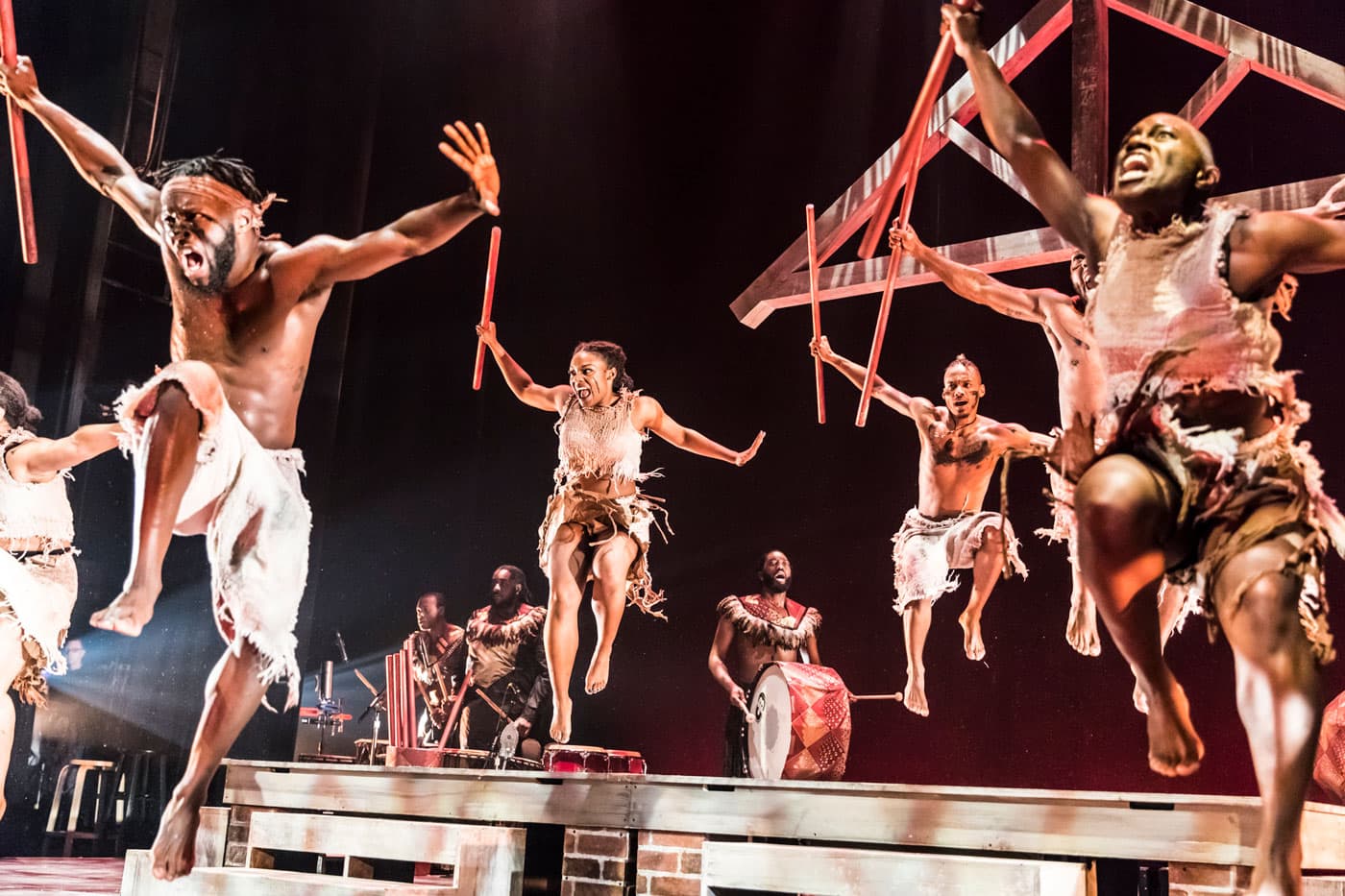 On an upraised platform flanked by tall, clay-red sticks, sinewy bodies soar through the air and step to the beat of bellowing quick-paced drums. More than a dozen performers gather onstage, stepping, chanting and ushering the audience through time in a movement-focused history lesson centered on the Stono Rebellion of 1739 — where traumatized enslaved people rose up in pursuit of freedom. In "Drumfolk," a new work by Step Afrika! at ArtsEmerson through Oct. 16, the company explores the uprising's impact on African American music and dance culture. The show marks the start of the theater's 2022-23 season.
During the Stono Rebellion in South Carolina, a group of enslaved people shouted for liberty while beating the drums, historian Peter H. Wood writes in the "Encyclopedia of African-American Culture and History." Properties were damaged and colonists were killed during the uprising. Once it was over, colonizers took swift action and killed most of those who rebelled. The episode led to the passage of the Negro Act of 1740, which forbade enslaved people from learning to read, assemble in groups, grow their own food and even banned the use of the drum.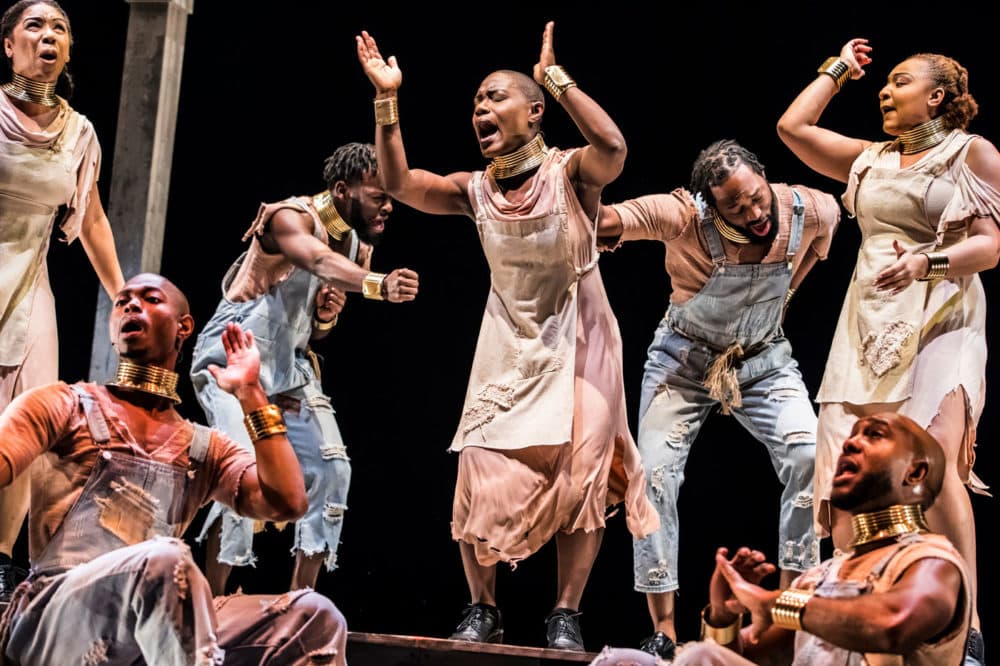 But they couldn't stop the beat, the performers — powerful in spirit and technique — shouted onstage. Once the use of drums was banned, the enslaved Africans made percussive sounds with their bodies, clapping and stomping out the music coursing through them and the urgent messages that needed to be communicated.
With Step Afrika!'s incredible musicians and cast, the jubilant "Drumfolk" — a reclamation of the history of those who fought ardently for freedom — pulses with acuity and offers more than exquisite dancing. The show, thrillingly directed by Jakari Sherman (who is also the choreographer), reaches and engages audience members along the way. It cleverly wraps some (personally intrinsic) experiences such as the religious ring shout tradition, ceremonial dance, rituals and collegial stepping popularized by Black fraternities and sororities and provides texture and meaning in way that's palatable for various audiences.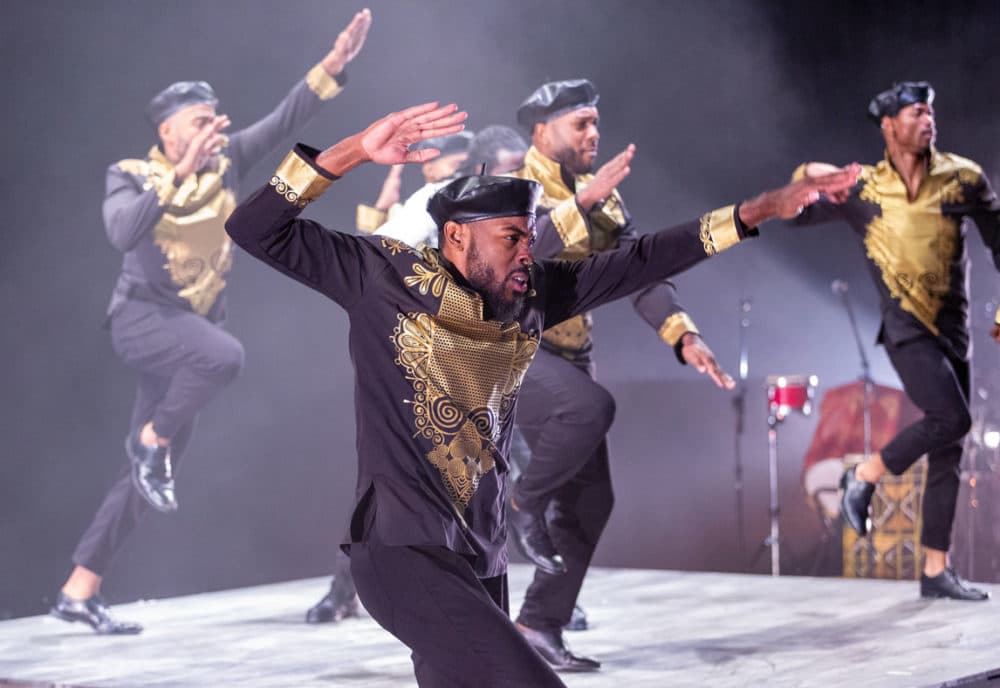 C. Brian Williams, founder and executive producer of Step Afrika!, notes in the program that "Drumfolk" "celebrates the African American experience in America and is grounded in extensive research and more than 28 years of percussive practice." The show, he adds, "reveals hidden, transformative events that greatly impacted American life, and the performance explores the drum as an instrument of community, resilience, and determination."
To get even more specific, in an online talk, Sherman, the choreographer, talks about the "history of stepping and what it reveals about resistance."
It's a point I didn't consider while watching step shows at the historically Black university I attended for a few years in undergrad. The sounds and movements onstage at "Drumfolk" are eerily similar to some of the vocal orchestrations and dance offerings of the various fraternities and sororities I watched perform on campus. Armed with the knowledge about enslaved Africans losing the ability to use the drum makes those moments at the step shows more impactful and sharp-edged.
There are other cultural touch points explored too. In one scene, masked company members are covered from head to two in colorful fringe reminiscent of  Zaouli trance dances. They also bring to mind the bright, feathered headdresses at Caribbean carnivals and point to Nick Cave's celebrated "Soundsuits" inspired by African masquerade, ceremony and identity. The Soundsuits are often created in response to social happenings.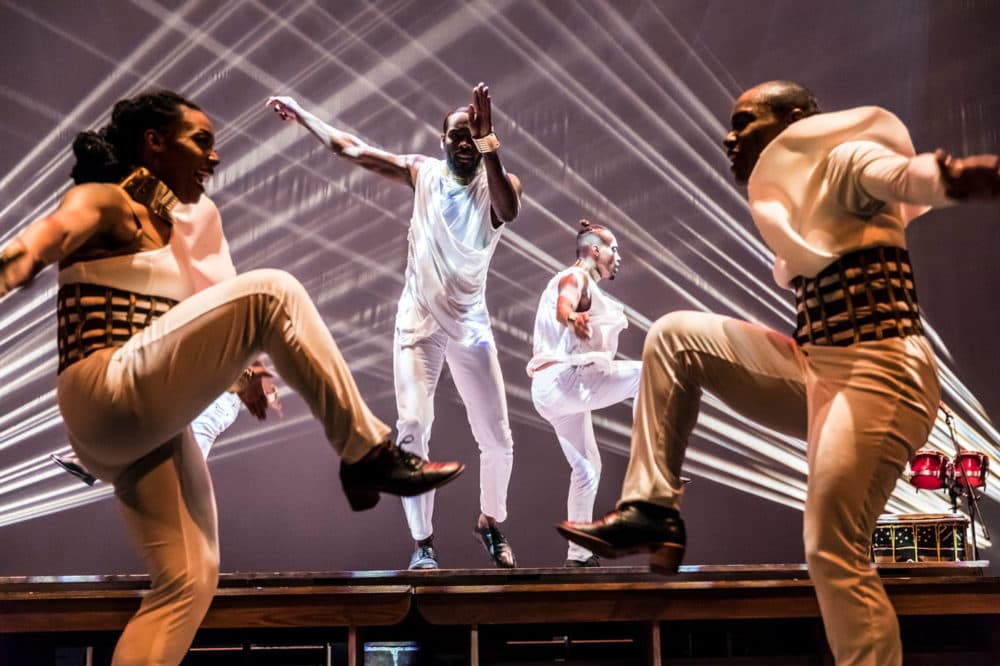 The scenes documenting African American contributions to movement and music connect the dots from slavery to hip-hop and feature music and lyrics from Steven M. Allen and Paul Laurence Dunbar, and a cast member who acts as an exquisite human beatbox. One dancer, adorned with white paint, was particularly moving, dancing to Tuskegee Institute Choir's "Ezekiel Saw de Wheel," arranged and conducted by William L. Dawson.
Against a backdrop of bold, changing primary colors and clad in white with gold bracelets curled around wrists or donning dashiki-like black and gold shirts courtesy of costume designer Kenaan M. Quander, the cast's unrelenting stamina, fierce facial expressions and commitment to their craft was exhilarating to behold.
The show is a testament to the influence and endurance of these cultural movements and instruments. Percussive dance, drumming, and vocal calls from hundreds of years ago have survived and morphed through history, bodies and time. The remembrance and celebration of these movements pay homage to those freedom fighters who lost their lives in battle and to all who never stopped singing, shouting, dancing or drumming, no matter the consequence.
---
Step Afrika!'s "Drumfolk," presented by ArtsEmerson, shows now through Oct. 16.