From the Massachusetts Tiny Desk: High Tea sings a lonesome cowboy's woes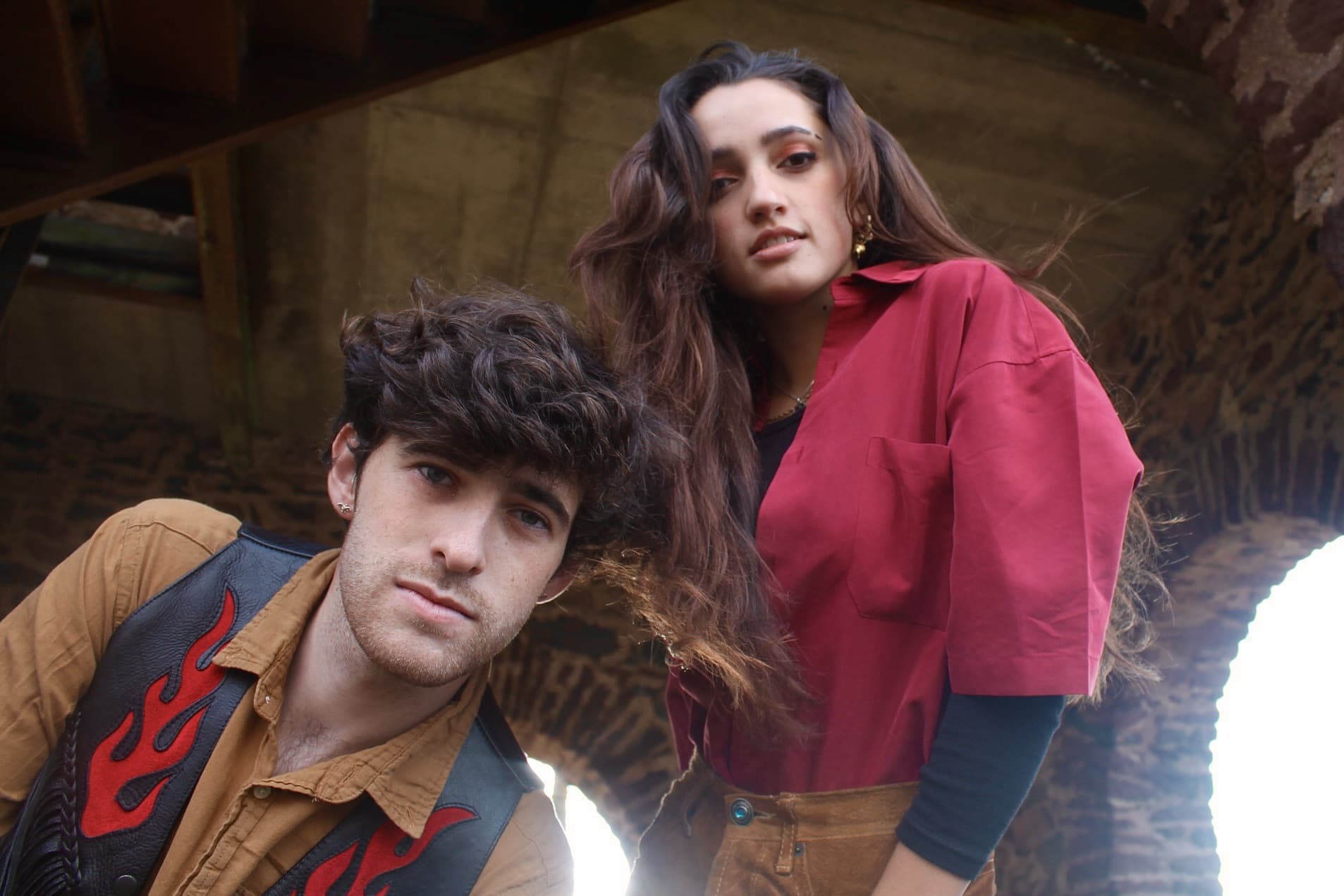 There were nearly 150 entries from Massachusetts to this year's NPR Tiny Desk Contest. Five panelists — Billy Dean Thomas, Erin Chase, Christian Burno, Charley Ruddell and Amelia Mason — were tasked with choosing a favorite. But it's hard to pick just one. So as we prepare to reveal the panel's top choice, we're highlighting a few entries that left an impact.
---
---
The video opens with a shot of a cowboy hat tossed onto a table next to a horseshoe, a pair of shot glasses and two bottles of what we can only assume are moonshine. Instantly, the saloon vibes are apparent — and fitting — for a song called "Old Cowboy."
But the Greenfield duo High Tea didn't capture our attention on vibes alone. "Old Cowboy" is a master class in musical pacing, and patience; a contemplative start with a bare-bones guitar riff blossoms gradually into a feverish crescendo. For High Tea, all it takes is one guitar, a single drum and two voices to fill up a room.
High Tea's Isabella DeHerdt and Isaac Eliot met as teens at a Berklee College of Music program for high school students. They've been a couple for five years, but only started collaborating musically when they found themselves isolated together at the start of the pandemic. The duo self-recorded and released their first album, "Hell of a Ride," in 2020, and a year later, released an EP. They are in the process of finishing their second album, due out in 2023.
DeHerdt says she wrote "Old Cowboy" around that opening riff, a bluesy lick that starts off with a questioning twang and descends with a trace of foreboding. "It was one of those songs that kind of presented itself to me, like it unfolded in front of me while I started playing," DeHerdt says. The song centers around a cowboy who walks into a saloon, sits down at the bar and confides his woes to a stranger. He expresses a kind of resignation toward a life filled with grief: "At the end of this long road/ Honey, we all gon' turn to bone."
DeHerdt says she tends to channel her own emotions and experiences into made-up characters. "None of us are cowboys walking into a saloon telling a stranger secrets about whatever we've done in our lives," she explains. "But there are points where you kind of feel that guilt or you feel that that weight on you, and it's hard to know how to let it go and how to hold yourself accountable, or let yourself find your own peace."
"Old Cowboy" was filmed by Wyatt Andrews at the Institute for the Musical Arts in Goshen, Massachusetts. His roving camerawork captures the intimacy of High Tea's performance, something the duo has been honing in live shows over the past year. Eliot opens the song in the part of the lonesome cowboy, with DeHerdt taking the third verse from the perspective of his drinking companion, who describes a contrasting reaction to life's hardships, a kind of hardening of the heart. "You don't just want agreement in a story," DeHerdt says. "You want a little bit of friction." But "Old Cowboy" reaches its apex when the two singers lock into harmony on the chorus. "I've always been obsessed with harmony," says Eliot, who sang in choirs as a boy. The two singers have very distinct voices — hers husky, his unadorned — but side by side they momentarily melt into one.