Activists chain themselves to Faneuil Hall in protest of its slaveholding namesake
A group of activists escalated its campaign to change the name of Faneuil Hall when three of its members chained and locked themselves to the doors of the building on Wednesday.
"This is an urgent and faithful appeal for racial repair," Rev. John Gibbons announced as a crowd began to gather. "We seek real and lasting racial justice in Boston, justice that has eluded our community for way too long."
The protestors demanded that the national historic landmark be renamed due to its historical ties to the transatlantic slave trade. Peter Faneuil, the wealthy colonial merchant for whom Faneuil Hall is named, traded goods produced by slave labor and, at the time of his death, held five enslaved individuals.
The three activists, all clergy members, chained themselves together and then locked themselves to one of the entrances to Faneuil Hall facing Quincy Market. They stood before a scrum of reporters on the steps of the building and took turns reading from a statement, which outlined two demands: that Boston Mayor Michelle Wu meet with the activists immediately, and that the City Council hold a hearing to consider renaming Faneuil Hall.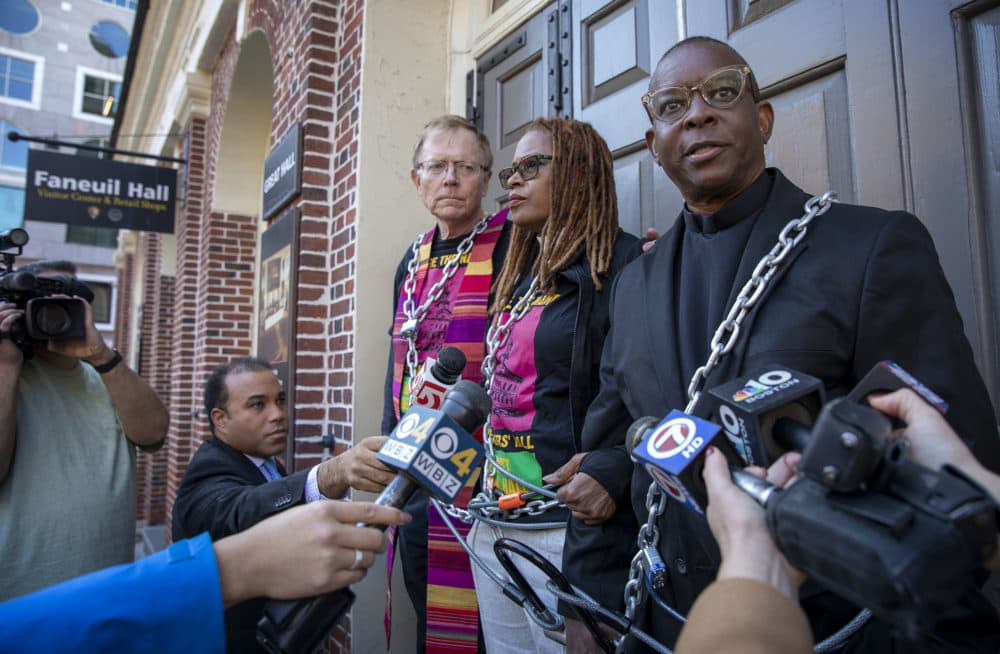 "Having a hearing around racism is important, is imperative and it's vital," said Rev. Kevin Peterson of the Metropolitan Baptist Church in Dorchester. "And for our politicians to kick the can and ignore this issue is a show of cowardice."
"Symbolism matters," said Valerie Copeland, pastor of the Neighborhood Church of Dorchester. "We need to understand that when we name something after a slave trader, we are sending a message that he's a person who deserves to be celebrated."
The protestors explained they were moved to act because Mayor Wu had ignored repeated requests to meet with them. They said they were prepared to be arrested for their protest.
A city spokesperson did not comment directly on whether the City Council or Mayor Wu would address the protesters' demands.
"The City of Boston is recognized throughout the world for our role in this country's founding, but it is critical to acknowledge and address the role of slavery in our nation's founding and the deep inequities that remain today," the spokesperson said in a written statement. "As we work to build an equitable Boston for everyone, the city is committed to advancing racial justice and learning from our past and right wrongs."
Members of the crowd clapped along as the activists sang "Woke Up This Morning With My Mind Stayed On Freedom."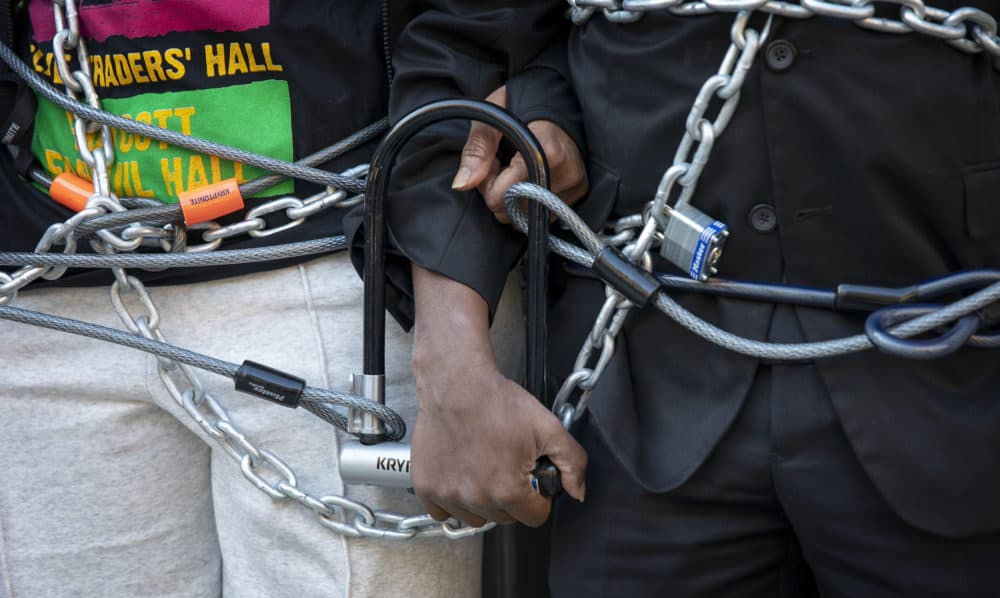 "I love that church leaders are doing their part and getting involved in this, and putting not just money on the line, but their neck on the line," said Sarah Turner of Quincy. She was in favor of changing the name. "It should definitely be a democratic process, like if all of Boston could get involved," she said.
But some passersby were not so sympathetic.
"You know what? When you kill our history, you kill our future," said Wanda Smith, who was visiting from San Diego, California. "Everybody's history, including this nation, has bad and good and the bad helps us remember … and make things better. But if nobody can remember, they're not going to know what the issues really were at the time and how we came out of them and how we addressed them."
Asked if she knew that Peter Faneuil owned slaves, she replied, "Lots of people owned slaves. It was a thing back then."
Robert Aldrich of Dorchester heard about the protest and came out to lend his support. He said that as a kid growing up in Boston, he had no idea Faneuil Hall was named for a slaveholder. "The truth needs to be told," he said. "A lot of people know the truth is being put out there, but they would rather continue to live a lie."
The crowd dispersed slowly as the afternoon wore on. A few police lingered nearby but made no move to approach the protestors. At around 6:15 p.m., the activists unchained themselves from the door and concluded their demonstration.
This article was originally published on October 19, 2022.